Sneered at, criticized, and belittled for being a woman with ambition, Anny Divya made history by becoming the youngest female pilot of the world's largest twin jet, the Boeing 777. Anny had to toil really hard to make this possible, but after all, when was achieving one's goals an easy task, especially when the person belongs to a particular gender, right?
---
Suggested read: Here's The Inspiring Story Of Women In Aviation
---
Anny Divya, a 30-year-old woman from Vijayawada, a metropolis in Andhra Pradesh, who had never been a passenger on a plane, until she learned to fly one, became the youngest ever female commander of a Boeing 777 aircraft that belongs to a family of long-range wide-body twin-engine jet airliners developed and manufactured by Boeing Commercial Airplanes. It has a capacity of up to 396 passengersIn today's post, we will share Anny's story that has all the elements of what makes a success story; the apparently unachievable goal, the drive to accomplish it despite all odds, the obstacles, and finally the sweet taste of the fruit of hard labor. So please fasten your seat belts, and get ready for takeoff in 3, 2 and 1.
Coming from a small town didn't stop Anny from dreaming big. Anny wanted to be a pilot though she had never stepped into a plane. To give wings to her aspirations, Anny enrolled at the Indira Gandhi Rashtriya Uran Akademi, at the age of 17. For those of you who are not aware, the Indira Gandhi Rashtruya Uran Akademi is a government-run pilot training school in Raebareli, U.P.  When only 19 years old, Anny was recruited by Air India, and started learning how to fly the Boeing 737, a short- to medium-range twinjet narrow-body airliner. And soon, she was flying the largest twin jet in the world, the Boeing 777. Though the journey seems easy, the struggle it veils will, the struggle that emboldened Anny's drive, will amaze you and inspire you to believe in yourself and your dreams.
Anny's family, before her birth, lived in Pathankot. Their house was near an army base camp. Anny's father could not continue his education, and was forced to drop out of school because of his family's poor financial conditions. After dropping out from school, he joined the army as a soldier. He voluntarily retired after serving in the Indian Army for 19 years, and he and his family settled down in Vijayawada.
Since Anny's parents were not educated, they could not help her with her studies. Her schooling suffered major ups and downs. Anny was recently interviewed by Business Standard, where she said,
"My mother helped us till she could with her limited education — Class IV or so — and then she left us to our own devices. No pressure was ever put on us so sometimes we did well and sometimes we didn't."
Anny completed her schooling from Kendriya Vidyalaya in Vijayawada. Since she spoke in Hindi and Telugu at home, English was a huge challenge for her.
---
Suggested read: Can We Build A World Worthy Of The Girl Child? These 5 Indian Communities Might Just Be Handing Out Handy Inspiration
---
Talking about her struggle with the English language, Anny told the Daily Mail,
"Learning English and communicating with my peers was a struggle. But time and perseverance teaches you everything. So I am grateful to the people from whom I learnt every day."
So when did Anny fall in love with flying? According to her,
"From a very young age when I used to look up at the sky, I always wanted to touch it and fly through the clouds. But it was only after my mother said I should become pilot and that I started to realize the dream it was possible."
Anny says that when she and her family lived near Pathankot air base, her mother would often say how she wanted the middle child to be a pilot. Her mother's love for flying infected her, and soon she was trying to get information regarding how she could make her dream a reality. She worked so hard that she earned herself a scholarship, and at 19, she had trained to fly the Boeing 737.
She told The Independent,
"I had the option to take command on a 737 but the Boeing 777 is the plane I always wanted to fly, so I had to wait a bit longer. This is what I wanted to do."
While working for Air India, Anny completed her degree in BSc in Aviation. She also learnt how to play the classical keyboard, another one of her passions.
Gradually she climbed the ranks at Air India, and completed her advanced pilot training in London. That is where she first flew a Boeing 777 aircraft. Talking about her profession, Anny says,
"Flying is one profession where you better be good at what you do. You better be good at what you do, because people's lives depend on you."
When asked what makes a pilot a good one, Anny says,
"Aside from having a good head for math and physics, you need good motor skills, situational awareness, communication skills and multitasking abilities."
And does achieving one's dream in aviation become harder when the person is a woman? Anny says,
"I faced similar challenges as many other females in similar professions, so it was important to stay focused. Having a sense of professionalism at all times helped. Also I am blessed to have had good bosses – people with integrity and a very high sense of responsibility."
---
Suggested read: Inspirational Quotes By Women Who Have Done A Wow!
---
According to Anny the best thing about her job apart from the flying and travelling (she flies about 80 hours a month!), is the pride she feels when she slips into the uniform. She says that it is hard for her to put that feeling into words, but all she can say is that there is no feeling quite the same.
When she was asked if her passengers were ever shocked on realizing that such a young woman was the captain of their flight, she revealed,
"No. To the contrary, they are pleasantly surprised. Most people have been very appreciative. Sometimes they are awestruck."
Anny has been a solid support to her family and friends. She has funded her siblings' education. She wanted them to study abroad and made that a possibility for them. She has also bought a house for her family, who cannot stop beaming with pride in Anny.
Anny's story is an inspiration for all of us. To encourage the women who dream Anny Divya says,
"All women should pursue their dreams, especially right now."
We hope you will pay heed to her advice and take charge of your life.
Summary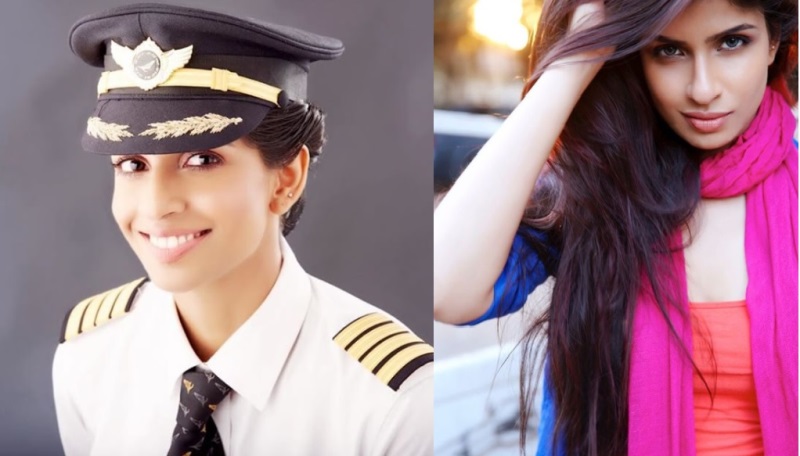 Article Name
Air India's Anny Divya Becomes The Youngest Female Boeing 777 Pilot
Author
Description
Sneered at, criticized, and belittled for being a woman with ambition, Anny Divya made history by becoming the youngest female pilot of the world's largest twin jet, the Boeing 777.