Most people associate the idea of women and aviation with Amelia Earhart, the first woman to fly across the Atlantic Ocean on her own. She is assumed to have perished when she attempted to traverse the world, and in doing so, was the first woman to attempt anything of the sort. However, a series of recent events have sparked a conversation about the role of women in aviation, and their actions throughout history, which has allowed more than 500 women today to become pilots of various passenger aircrafts and captains of several other airliners in the world.
---
Suggested read: The World Is Full of Wonder Women: Pregnant Women & Their Wonderful Achievements
---
How it all began 
Even though mankind has been able to fly since 1903, the role that women have played since that time is more often than not excluded from the pages of history. The invention and successful first flight of men in an aircraft is accredited to the Wright brothers, but there also existed a lesser known Wright sister, Katherine Wright, who was the sole financer of the entire project, earning and providing the money that her brothers required to purchase the parts of the airplane that they were building.
In a time when people believed that the place of women was "at home, more specifically, in the kitchen," the idea of women flying aircrafts was certainly considered a joke. The failure of their aircrafts was used as an excuse to espouse how women were incapable of flying, and if they survived these mishaps and accidents, it was used to demonstrate the safety and durability of aircrafts. In an awfully crippling time like this, several incredible female pilots and aerospace engineers appeared who not only created history, but also paved the way for women of all succeeding generations to foray into the world of aviation.
Between 1903 and 1920, women like Blanche Stuart Scott, MelliBeese, Katherine and Majorie Stinson dominated the aviation scene, despite people refusing to give them their licenses and even sabotaging their aircrafts. By 1920, however, women were very much involved in flying, including actresses.
Women aviators during WWI and post it 
With the onset of World War I, when civil aviation was banned, women found new and innovative means to stay involved with their aircrafts. Not only did they fly for the Red Cross, but also took up jobs as aeronautical draftsmen in Britain and America for the Air Force and the Navy. Despite not being allowed to fly in combat, they managed to turn a novelty that was vocational flying, into a lucrative career of legitimate means.
By the 1930s, every time a woman stepped into an aircraft, it was flashed all over the news, making it an accessible idea for women around the worldthat flying was safe and that women could fly. One of the most successful results of this propaganda was of course Amelia Earhart, who continues to inspire generations of women till date. According to Jacqueline R. Luedtke, Associate Professor and Chair, Safety Science Department, College of Aviation, Embry-Riddle Aeronautical University,
Many women were involved in the furthering of aviation safety and visibility. Unfortunately, the history books generally do not relate these women's stories to any degree. Nonetheless, women made significant inroads during the infancy of aviation. They found various ways of making money in order to fly; some became barnstormers, stunt pilots, wing walkers, and acrobatics. Women became instructors, they worked with the federal government in various aspects of aviation, they became spokespersons for various aircraft manufacturers, they founded flying organizations for mercy missions, they participated in races.
After Earhart, the most successful woman in aviation was probably Jacquelin Cochran, who set multiple records in aviation by flying higher and faster than most men in the profession. She founded the Women Air Force Service Pilots (WASP) and the Whirly Girls (1955)which was the firstgroup of women helicopter pilots.With the outbreak of World War II, women began to take part in active combat while flying with the Air Force and got their own division.
Tracey Curtis Taylor and the Spirit of Artemis 
Fast forward to today, we have so many stories of women aviators who are recreating history and some others who are scripting new ones. Among the most recent is British aviator Tracey Curtis Taylor.53-year-old Taylor retraced a solo journey from Britain to Australia in an open-cockpit 1942 Boeing Stearman, named, 'Spirit of Artemis'. Though the journey was inspired by Amy Johnson who pioneered this flight from Britain to Australia in 1930, Taylor had to make a few changes to her route, because of which her trip was 3000 miles longer than Johnson's. Talking about it, she said,
There wasn't the red tape and bureaucracy in 1930s that I had to face while traversing through different air spaces. While Johnson flew through Syria, Iran, and Iraq, I couldn't, so I flew over the Mediterranean and Saudi Arabia and face dust storms and other obstructions.
It is absolutely inspirational that a 53-year-old woman challenged herself to an almost herculean task, and achieved it. Undoubtedly, the number of women in aviation has risen in the modern times, but they still form a very minute fraction of what constitutes the aviation industry. Just about 6 per cent of the world's pilots, commercial, sports, and recreational, are women.
---
Suggested read: By Women, For Women, Of Women: The NLT List Of Books By Women Writers You MUST Read, If You Haven't Already
---
Trailblazers in flight 
So does there exist a glass ceiling in the clouds too!? Yvonne Pope Sintes, who was the pioneering British female jet airline captain, in her book, "Trailblazer in Flight: Britain's First Female Jet Airline Captain," revealed some dark truths about the hurdles women have to face when they try making a dent in the aviation sector. Almost until the 1960s, being an air stewardess was the only feasible airline career a woman could aspire for. Yvonne, too, started her career as a stewardess after she was rejected by the RAF who wouldn't train a woman pilot. Yvonne says that the reason she became a hostess instead was because she hoped she would learn the art of flying from the pilots. Crazy, right? But imagine the passion this woman had for aviation! And believe it or not, one captain agreed to instruct her. He tutored her after she had attended to the passengers.
In 1965, Yvonne joined the Motion Air Services, battling all the odds. But criticism continued in the form of suspicious glances and chauvinist comments by her colleagues, both men and women. It got really ugly when some of Yvonne's fellow pilots threatened to resign after her employment was announced. Despite all of this, she went from strength to strength, and in 1972, she became a captain with Dan-Air.
Shattering the glass ceiling in the clouds
Though women are still facing challenges in aviation, the nature of these challenges are a little different. Most of these obstacles, women report, are more due to deep-rooted typecasts rather than those caused by policies. You will still see a picture of a man as a pilot and a woman as an air hostess in children's books.
In 2015, the British Airways conducted a poll, according to which almost 63 per cent of the women said that their career as a professional airline pilot was held over while they were growing up because of an absence of visible role models, among other reasons.
While some said that when they were growing up, they saw that pilots were always played by men in movies, others informed that they had never boarded a flight flown by a woman, and so believed that women only served as the cabin crew.
In 2014, almost 80 years after Amelia Earhart had kicked off her mission to travel the globe, Amelia Rose Earhart, a 31-year-old then, completed a 24000-mile trip around the earth to become the youngest woman to ever do that in a single-engine airplane. In case you were wondering, the two women aren't related.
Earhart, in a conversation with Huff Post Live, revealed that when she was at the European Business Aviation Conference and Exhibition in Geneva, she was met with a pretty shocking, sexist comment,
A pilot who had no idea what we were doing walked up to me as I was standing on the steps of the plane and said, 'Excuse me, ma'am. Would you like a pilot in your photo?' I said, 'Sir, there is a pilot in my photo — me. I'm about to fly this thing around the world.' And he looked at me with the biggest look of shock on his face.
There exists an entrenched gender bias in the world of aviation, and women like Earhart, old and new, Johnson, Cochran, Yvonne, Taylor and others, despite the barriers, are foraying into it. They were/are fearless women, who are fiercely passionate about flying, and will not let the world stereotype women in aviation in roles that are only of attendants, passengers or passive onlookers.
---
Suggested read: 7 Most Influential And Famous Feminists Of The Modern World That Everyone Should Look Up To
---
We, at NLT, salute these women and their fighting spirit!
Did you like what you read? Let us know in the comment section below.
To receive these posts in your mailbox every day, sign up for our daily newsletter. Ciao!
Featured image source: Instagram
Summary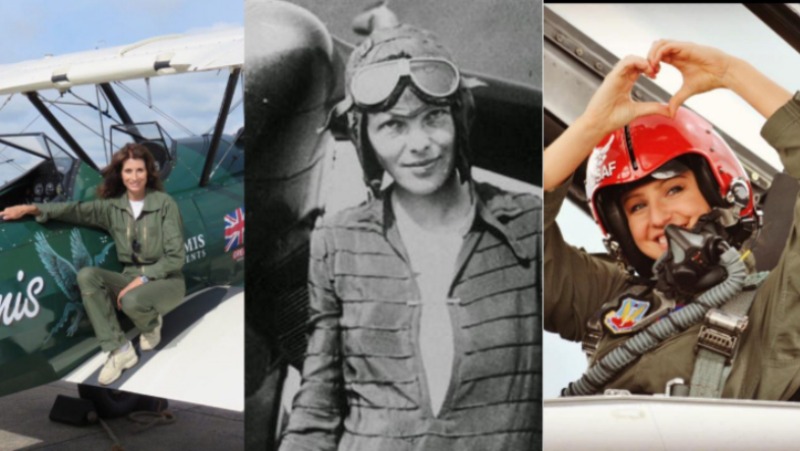 Article Name
The Inspiring Story Of Women In Aviation
Author
Description
A chronological account of the first women who flew in aircrafts, to the role and contribution of women in aviation in the contemporary world.