Deborah Sampson was the first woman who disguised herself as a man and served the Continental Army during the American Revolutionary War. She served in that army for 17 months as "Robert Shirtliff" of Uxbridge, Massachusetts. She was wounded in 1782, and honorably discharged of her duties in the following year.
Sampson was born on the 17th of December, 1760, in Plympton, Massachusetts. The family she was born into was of modest means; her mother, Deborah Bradford was the granddaughter of William Bradford, Governor of Plymouth Colony. A bunch of Deborah's ancestors belonged to the Mayflower.
---
Suggested read: #WonderWomen Edith Wharton:The First Female To Win The Pulitzer Prize
---
Though the Sampsons were told that their father had disappeared at sea, there is evidence which suggests he actually abandoned the family and took a common-law wife in Lincoln County, Maine. He had two children with his second wife, Martha, and returned to Plympton sometime in 1794 to be a part of a property transaction.
After her father's abandonment/death, Deborah's mother could not provide for all the children, and so, she placed each one of them in the households of her friends and relatives. This was a common practice in England during the 18th century. Deborah was placed in her maternal relative's house, and shortly after her mother died, she was sent to the house of Reverend Peter Thatcher's widow. The latter was in her eighties, and according to historians, helped Deborah learn how to read by making her read Biblical verses to her.
Once the widow died, Sampson had to go live with Jeremiah Thomas' family in Middleborough. Here she was taken in as an indentured labor for 8 long years from 1770 to 1778. Though evidence suggests she was treated well the family did not send her to school like the other children because Thomas did not believe in the education of women.
To deal with Thomas' opposition, Sampson started learning from his boys instead who were happy to help and share their school work with her. When she turned 18, Sampson's time as an indentured labor was over, and she made a living by giving summer lessons to kids in school. In the winters she worked as a weaver. She was highly skilled, and worked for the Sproat Tavern and also for Bourne, Morton and Leonard families.
Sampson was 5 feet and 9 inches tall, and compared to the average woman of that time, she was very tall. Hermann Mann, Sampson's biographer who was also a close friend of her hinted at the fact that she was not very thin when he wrote, "her waist might displease a coquette." According to him, Sampson's breasts were small too, and she used linen cloth to hide them when she was serving in the army. Mann also wrote, "the features of her face are regular, but not what a physiognomist would term the most beautiful."
In the army
In 1782, Sampson only wore men's clothes and joined the Middleborough army unit as Timothy Thayer. She received a bonus, but she failed to meet up with her company as was scheduled. On further inquiry by her commander, it was revealed that Sampson was a woman, and as a result, she had to return the bonus amount, though the Army did not punish her. When the Baptist church got a hint of this, they declared dissociation with her until she apologized, which she didn't.
Again in May the same year, Sampson got herself enlisted in Uxbridge, Massachusetts as Robert Shirtliff. She joined the Light Infantry Company of the 4th Massachusetts Regiment, under Geroge Webb, the commander. Her unity had about 60 men, who were first quartered in Bellingham, Massachusetts, and later at Worcester with the entre regimen commanded by Colonel William Shepard. This infantry included elite troops, who were taller and stronger than the rest. Their responsibilities, among others, was to provide rapid flank coverage for advancing regiments. They were also required to rearguard and forward reconnaissance duties for units that were on the move.
---
Suggested read: #WonderWomen Savitribai Jyotirao Phule: The First Feminist of India
---
Since this infantry had all elite troops, Sampson wasn't doubted. She fought numerous skirmishes. During her first battle, the woman took two musket balls on her thighs and a deep cut on her forehead. She asked her fellow soldiers to not let her die, so she was carried by one of them on a horse and taken to a hospital, where the doctor treated her head wound. Before her leg could be treated, she ran away from the hospital fearing detection. She removed one of the balls herself using a penknife and sew the wound with a needle. The other one had got lodged too deep, and so she could never heal it. Next year, she was reassigned to new duties; she seven months working as a waiter to General John Paterson.
Though the war was believed to have ended after the Battle of Yorktown, due to no official peace treaty, the Army had to stay uniformed. On the 24th of June, President of Congress asked George Washington to send in a contingent of soldiers under Paterson to Philadelphia. This contingent was supposed to help quash a rebellion of American soldiers protesting delays in payments and discharges. In Philadelphia, Sampson became ill and had to be taken care of. Doctor Barnabas Binney had to remove Sampson's clothes to treat her, and that's when he discovered the linen cloth with which she bound her breasts. However, the doctor did not disclose her identity to army authorities and took her to his house. Here his wife, daughters and a nurse took care of Sampson.  The doctor's niece fell in love with Deborah thinking she is Robert, and the truth had to be revealed.
After she was treated, Doctor Binney asked Deborah to take a note to General Paterson. She correctly guessed that the note would reveal her identity, but she was surprised when instead of being reprimanded and punished, the General gave her an honorable discharge. He also gave her a note with some kind words and money for her to travel home safely.
Deborah Sampson died of yellow fever in 1827, at the age of 66. She was buried at Rock Ridge Cemetery in Sharon, Massachusetts.
---
Suggested read: #WonderWomen Marie Curie: The First Woman To Win A Nobel Prize
---
That is all we have on today's post on Deborah Sampson: The First Woman Soldier in The American Army. Let us know if you enjoyed reading this and if this was helpful. In case we missed out on some more interesting facts about this remarkable woman, please add them in the comment section.
See you again soon with another extraordinary woman who has made history and all of us proud. Until then!
Featured image source: Instagram
Summary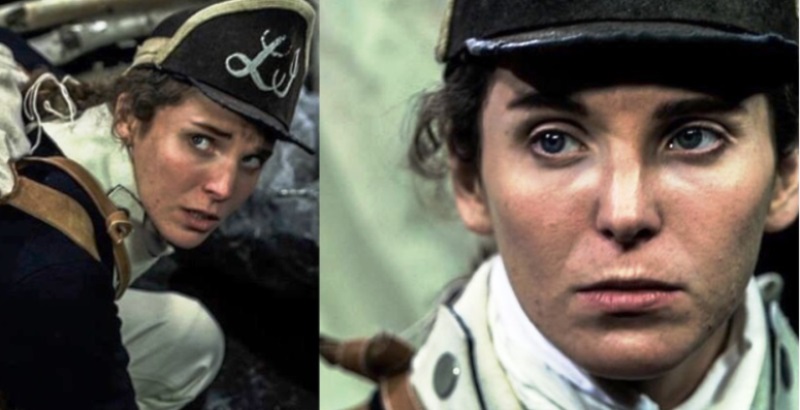 Article Name
#WonderWomen Deborah Sampson: The First Female American Soldier
Author
Description
In today's post, we talk about Deborah Sampson, the first woman to disguise herself as a man and serve during the American Revolutionary War.