Looks like the time's up for the members of the cheating website Ashley Madison. Hackers who stole sensitive information pertaining to users' credit card info, emails, and physical addresses, along with their sexual inclinations, have apparently made good on their threat and posted all the data online.
Oops!
The hackers claim to have posted about 32 million users' info online on what is known as the 'Dark Web,' the shady part of the Internet that is not available through Google or any other common search engines. In fact, it can only be viewed with a special Tor browser. And if AM users thought that their data would be hidden if its buried deep in the 'Dark Web,' then think again, for it's relatively easy to copy and paste that info anywhere on the Internet for all to see.
Oops, again!
Another blow for all the users of Ashley Madison – apparently, the credit card numbers found in the data dump are all valid, and some of them still active, according to Per Thorsheim, who is a cybersecurity expert in Norway. He also said that the post made by the hackers has a massive amount of data, which when compressed, came to about 9.7 gigabytes. Whoa! That's a lot, like, a hell of a lot of data.
---
Suggested read: Ashley Madison hacked; hackers threaten to expose millions of cheaters
---
The data dump is believed to have seven years' worth of credit card and other payment information from users, going back to 2008. One analysis of email addresses from the data dump apparently shows some 15,000 .mil or .gov addresses.
The initial round of hack happened almost a month ago by hackers who called themselves the Impact Team. They demanded that Avid Life Media, the company that owns Ashley Madison and its sister site EstablishedMen, be shut down. While the former is the well-known cheating site, EstablishedMen is a sugar daddy website, which promises to help connect beautiful young women with rich men, 'to fulfill their lifestyle needs.' Another interesting point to note is that another site, CougarLife, also run by Avid Life Media, which promises to connect older women with younger men, wasn't a target of the hack.
Despite threats from the hackers, Avid Life Media kept both sites online, even after the breach, assuring its users that it had increased security of its networks. But this assurance was too little too late for those users whose data was revealed during the first breach. The current slew of 32 million users face a major fallout from this second breach – public embarrassment, the ire of their angry partners who were cuckolded, and potential fraud from anyone who has access to users' personal data from the data dump.
The recent post read thus: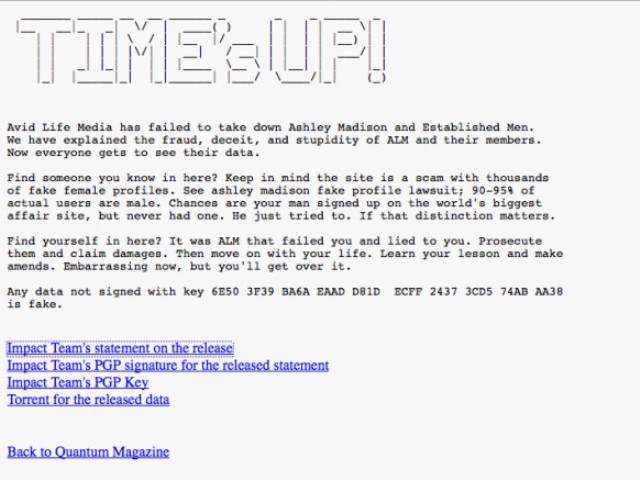 Image source: Kim Zetter
Time's Up!
Avid Life Media has failed to take down Ashley Madison and Established Men. We have explained the fraud, deceit, and stupidity of ALM and their members. Now everyone gets to see their data.
Find someone you know in here? Keep in mind the site is a scam with thousands of fake female profiles. See Ashley madison fake profile lawsuit; 90-95% of actual users are male. Chances are your man signed up on the world's biggest affair site, but never had one. He just tried to. If that distinction matters.
Find yourself in here? It was ALM that failed you and lied to you. Prosecute them and claim damages. Then move on with your life. Learn your lesson and make amends. Embarrassing now, but you'll get over it.
---
Suggested read: Matchmallows dating app – the Middle-Eastern Tinder
---
And what did the company behind the biggest affair website has to say to this? The company said in a statement:
"This event is not an act of hacktivism, it is an act of criminality. It is an illegal action against the individual members of AshleyMadison.com, as well as any freethinking people who choose to engage in fully lawful online activities. The criminal, or criminals, involved in this act have appointed themselves as the moral judge, juror, and executioner, seeing fit to impose a personal notion of virtue on all of society. We will not sit idly by and allow these thieves to force their personal ideology on citizens around the world."
Only time will tell how many people are really affected by this hack by the Impact Team. Until then, all we can do is wait and watch.
Summary
Article Name
Ashley Madison Hackers Post Millions Of Users' Data Online
Author
Description
Hackers of Ashley Madison cheating website have apparently followed through with their threat and posted millions of users' personal data online. What next?