Who doesn't like ice cream? Everybody does. But it does contain a whole lot of fat. That's why there's fro-yo, but fro-yo ain't ice cream, is it? What if we had a light version of the ice cream? Seems legit.
But this Australian pop up ice cream shop, 196 Below, has taken the word 'light,' quite literally. They have come up with NEON NITRO, a glow in the dark ice cream! How wicked cool is that!
196 Below unveiled the coolest ice cream at a nighttime event in Melbourne, and had aptly named it, White Night.
Currently, there are three flavors – Mango Pass (mango and passion fruit), Pine Lime, and Redskin (which is apparently flavored after a popular Australian chewy candy). The ice cream, which is made from liquid nitrogen, is 'completely safe to consume,' and Australia's equivalent to Food and Drug Administration has certified it. Plus, it's dairy-free, vegan, has no added colors, and is completely preservative-free. And how do they make it glow, you ask? With UV-reactive food coloring, of course!
Steve Felice, co-owner of 196 Below, revealed that he was inspired to make the glow in the dark ice cream by his younger days as a raver. In an interview with Daily Mail, he said,
"I used to be a dance party child in the 1990s and early 2000s and I used to make party clothes out of neon material."
Well, seems very intriguing and exciting, to try out glow in the dark ice cream. But what about … uh … any residual UV aftereffects? Currently, there's no word on it.
This isn't the first time that anyone has come up with such an interesting product. Back in 2013, a British entrepreneur invented glow in the dark ice cream, who used jellyfish protein to lend the fluorescent quality to the ice cream.
Currently, it's just available in Australia. But I'm guessing it won't stay that way for long; we'll just have to wait for our turn to have some glow in the dark ice cream! Till then, patience is virtue!
Summary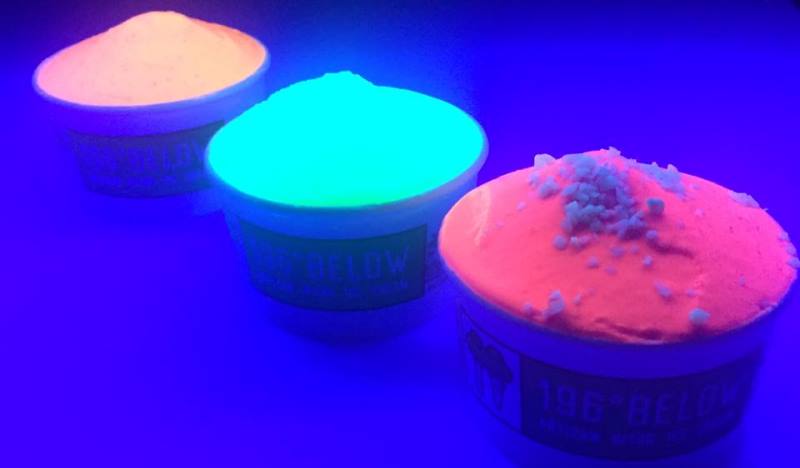 Article Name
Would you eat glow in the dark ice cream?
Author
Description
A pop up shop in Melbourne, Australia, is selling a variation of liquid nitrogen ice cream, Neon Nitro, which is basically, glow in the dark ice cream!