Chamomile oil helps you look your best, takes care of all the damage to your hair and skin, and even works wonders in aiding many medical conditions. So, the bottom line here is, chamomile essential oil is a treasure chest of so many health and beauty benefits. It's easy to find and easier to use, so it's definitely a must-have for all the beautiful people like you.
Bring out your notepads, read on, and get ready to fall in love with this little bottle of magic!
All the skin benefits of chamomile essential oil
1. Conditions and moisturizes your skin naturally
Packed with vitamins, fatty acids, and moisturizing agents your skin needs, chamomile essential oil can treat even the driest skin. It softens your skin, gets rid of all the rough texture, and locks the moisture in.
---
Suggested read: The very best benefits of lavender and lavender oil for your skin and hair
---
2. Cleanses your skin and gets rid of blemishes and dark spots
From freckles, blemishes, pimple marks, and dark spots, there's nothing that this amazing oil can't clear up. It cleanses your pores, unclogs them, and kills all the bacterial and fungal infections that may be causing any trouble – and the result is spotless brilliant skin.
3. Works wonders to remedy acne and eczema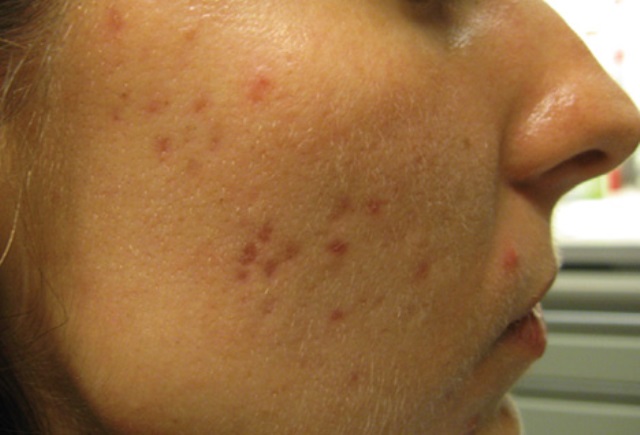 Image source: Pinterest
These skin conditions are accompanied by pain, irritation, and inflammation. But chamomile oil cures these conditions, both appearance wise and medically. It cuts the redness and swelling down, soothes the inflammation, and gives you fabulous skin, as if the acne or eczema never happened!
4. Heals your rashes and fades scars
It can provide instant healing to all the scars and rashes on your skin. Just mix some chamomile oil with coconut oil, dab it on the affected area regularly, and if the condition is more serious, you can even add it directly to your bath.
5. Fights off all the signs of premature aging
When fine lines, wrinkles, and age spots start showing, you can count on the rejuvenating qualities of chamomile oil. It repairs aging skin, gets rid of all the signs and symptoms, and promotes the growth of new and healthy skin cells for a youthful look.
6. Soothes your sunburns and prevents your skin from environmental damage
Regular use of chamomile oil on your skin increases the moisture content and develops a shield against the damage that prolonged exposure to UV rays can cause. You can even diminish sunburns instantly with gentle massages.
7. Cuts back inflammation, and promotes natural healing
With a natural ability to fight off inflammation-causing bacteria, fungi, and viruses, chamomile oil can cure any skin inflammation. A popular relaxing agent, it relieves your skin of irritation and itching as well.
8. Helps you fight pigmentation
Chamomile oil is a great ingredient to enhance your skin's natural color and curbs the causes of damage and discoloration. If you already have a skin condition, regular massages with chamomile oil can help.
9. Repairs and revitalizes your skin, after exposure to makeup or chemicals
Regular exposure to the harsh chemicals in the makeup and other cosmetic products you use can damage your skin from inside. Using chamomile oil as a cleanser not only wipes off the makeup, but also reduces and heals any damage.
10. Works equally well on all skin types
The best thing about chamomile oil is that any skin type can utilize its great benefits. While it restores moisture to dry skin, it also promotes harmony between natural oils in oily skin, and its balancing properties make it an amazing choice for sensitive skin as well.
All the hair benefits of chamomile essential oil
1. Healthy and shiny hair
Image source: Google, copyright-free image under Creative Commons License
If it is luster and natural shine that you're looking for, chamomile essential oil is the answer for you. It nourishes your scalp, brings healthy shine to your tresses, and regular overnight massages can bring about immaculately radiant hair in the morning.
2. Enriches and protects your hair color
Whether it's your natural color or the one that you're wearing, chamomile oil enriches and shields both equally well from any damage. It works great at preventing discoloration and premature pigmentation in your hair.
3. Fights off dandruff
Chamomile oil is a popular natural anti-dandruff agent, used in many hair care products. It supplies your scalp with the much-needed deep nourishment and its wonderful moisturizing properties get rid of all the dryness. When it cleanses your scalp of all the dirt and bacterial and fungal growth, dandruff just doesn't stand a chance.
4. Moisturizes and nurtures your hair with deep conditioning
If you want manageable and softer hair, it's the deep moisturizing and matchless conditioning properties of chamomile oil that you need. It soothes all the irritation and damage, gets rid of scalp dryness, and restores essential nutrition.
---
Suggested read: The many benefits of almond oil for your skin, hair, and health
---
5. Promotes long and strong hair growth
Whether it's dirt, bacteria, or a lack of proper nourishment, chamomile oil can treat it all. When you have a clean scalp that is fertile for hair growth, you'll have long and strong hair you want.
6. Remedies the problem of split ends
Split ends are just a result of unhealthy, under-nourished, and damaged hair. With all its healthy ingredients, chamomile oil provides your hair follicles and shafts a nourishing shield that cures split ends over time.
7. Helps control hair fall
Image source: Google, copyright-free image under Creative Commons License
One of the main reasons hair fall occurs is dirt accumulation, and just shampooing isn't going to be enough. Massages with chamomile oil provide you the nourishment needed to restore hair strength, which will prevent further hair fall.
8. Tames the brittleness and frizziness
Managing hair with difficult textures could be a troublesome job, but not when you have a little help. Chamomile oil seeps deep into your scalp and hugs your tresses with its nourishing hold, taming even the frizziest of hair.
9. Works as a wonderful and safe styling agent
All it takes is rubbing a few drops of the oil on your hair and you'll get fabulous hair ready to be styled as you like it – without worrying about damage.
10. Repairs all the environmental and styling damage your hair suffers from
The UV rays and pollution that you are exposed to, and the heat from styling tools, can be very harsh on your hair. They diminish hair strength, burns, and weaken your hair. But you can treat it with the healing touch of chamomile oil.
All the health benefits of chamomile essential oil
1. Helps you relax and fight off depression naturally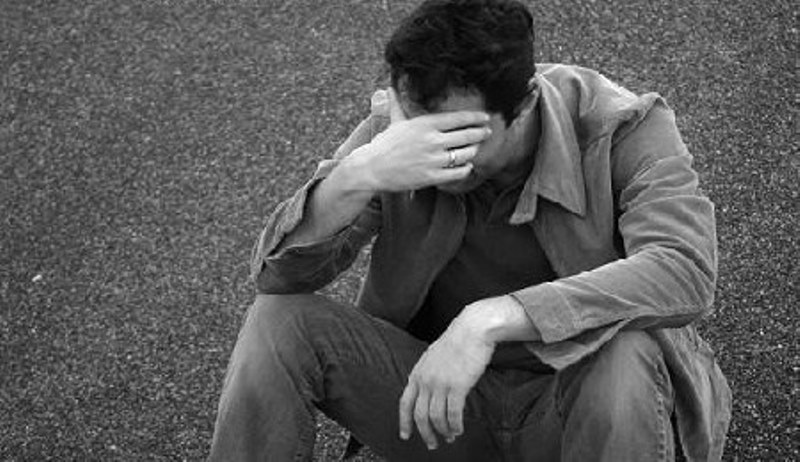 Image source: Google, copyright-free image under Creative Commons License
Nothing beats the efficiency of chamomile essential oil in relaxing your senses and curing depression symptoms. The aroma lifts your spirits and the oil can pacify your anxiety and hyperactivity with its tranquillising and sedative effects as well.
2. Works wonders on pain with its analgesic properties
Popular as an instant remedial measure for many medical conditions, chamomile oil excels in getting rid of the excruciating pain of arthritis. It also gives you great relief from congestion – all it takes is some steam inhalation, and you'll feel relief in your stuffy nose and chest.
3. Cures your stomach disorders and promotes healthy digestion
Chamomile oil can cure many digestive issues by inhibiting the growth of harmful microorganisms and releasing its great antiseptic properties.
4. Keeps your nerves calm and your central nervous system running smoothly
Soothing the tension in your body and senses, chamomile oil conditions your central nervous system perfectly and boosts its working efficiency.
5. Makes falling asleep easier and more effortless for babies
Some children can find sleeping to be a difficult task, but occasional massages and even baths with chamomile oil can help ease the situation. It not only helps you fall asleep, but helps you stay asleep as well.
6. Provides relief from pre-menstrual and menopausal symptoms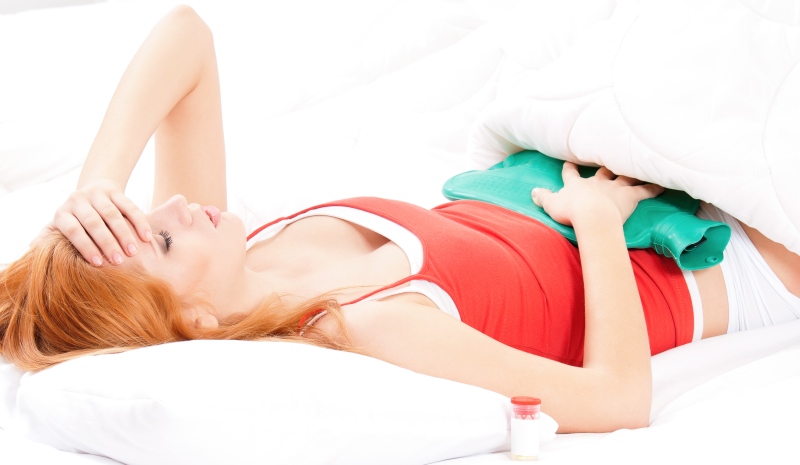 Image source: Shutterstock
Constant mood swings, growth of mammary glands, breast tenderness, and uneasiness are some of the symptoms that chamomile oil can help you fight against. You can alleviate your pain by adding a few drops of this oil to your bath and use it for massages.
7. Cleanses your urinary tract clean and enhances kidney function
A well-known diuretic, chamomile oil is a great option for keeping your urinary tract clean. It betters the flow of your blood and urine, and ensures your health by perfect detoxification.
8. Helps protect against many cardiovascular conditions
An amazing vasoconstrictor, chamomile oil is your best bet for lowering and maintaining your blood pressure level. Regular use can help you avoid conditions like strokes, atherosclerosis, and others.
9. Heals wounds and curbs the chances of infections
It is very efficient in naturally healing minor wounds at the root level by getting rid of the unhealthy infestation of microorganisms and soothes any irritation and inflammation for complete comfort.
---
Suggested read: All the amazing benefits of neem oil for your skin and hair
---
10. Can even help fighting off chronic illnesses
Yes, chamomile oil has been proven to prevent the growth of cancer causing cells and reduce the size of tumors as well.
Now that you have come to know thirty of the most amazing benefits that chamomile oil can offer you, grab a bottle right now and try a month long therapy session to enjoy them all – take in the stress-alleviating aroma, the relaxing wonders, and all the magic that this oil can give you.
Featured image source: Pinterest
Summary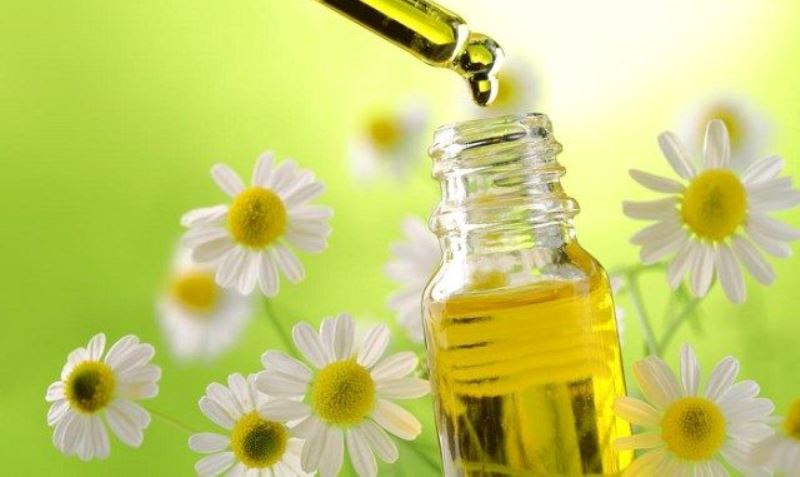 Article Name
Benefits Of Chamomile Essential Oil For Skin, Hair, And Health
Author
Description
Chamomile essential oil is a wonderful oil that has many amazing health, skin, and hair benefits. Learn all about it here.