As you advance in years, your skin ages with you. Your skin starts losing its lustre, softness and suppleness. You start to notice fine lines on your forehead, at the corners of your eyes, and your laugh lines don't seem to vanish as they used to when you were younger. It is not something to rue over because it is the natural course of being a human being. However, you can take certain measures to delay this aging process by a few years.
Ideally, you should start caring for your skin early to avoid aging effects. Nevertheless, if you haven't yet, you can try out these products to keep the youthfulness of your skin preserved for a longer time. All of these are natural and won't have any side effects on your skin. Furthermore, they can enhance the way your skin looks. Here's a list of the top anti-aging products that can help you fight the effects of aging on your skin:
1. Yes to Blueberries intensive skin repair serum
This antioxidant serum can work wonders on your skin. It fights free radicals and gives your skin a healthy and clean look. It can also repair the damage caused by harmful UV rays. You can find light antioxidant serums easily in the market. They can be used at night as they are easily absorbed into the skin.
2. Sophyto anti-aging system
You can find anti-aging system products in the market easily. The Sophyto anti-aging system comes with an antioxidant serum, a skin toner and a moisturiser. Apply this to your skin daily and unveil healthy, glowing skin.
3. Olay Total Effects anti-aging cream
This cream has a light, non-greasy formula and is ideal for everyday use. It will smoothen your skin and give it an even look. It fights the seven signs of aging like fine lines and wrinkles, uneven tone, dark spots, uneven texture, dryness, dullness, and pores. It also prevents your skin from drying out.
4. L'Oreal Youth Code rejuvenating anti-wrinkle concentrate
Fine lines and wrinkles will start appearing on your skin as it loses it firmness because of ageing. This L'Oreal wrinkle smoother has skin firming ingredients which will tighten your skin and give your face a plump and young look.
5. L'Oreal Paris Youth Code anti-wrinkle eye cream
Under eye bags, puffy eyes and tired-looking eyes can make your face look older. As you grow older, an eye cream is a must-have in your cosmetic kit. This eye cream can cure dark circles and puffy eyes. It is infused with antioxidants that can rejuvenate skin and make your eyes look fresher and younger.
6. Olay Total Effects anti-aging foaming facewash
A face wash is another must-have in a woman's make up kit. This is a gentle, hydrating face wash that gives your skin a squeaky clean look without drying it out. Also make sure that you remove all makeup and wash your skin clean before going to bed each night.
7. Body Shop Satsuma shower gel
Scrubbing dead skin off the rest of your body is just as important as scrubbing it off your facial skin. Find yourself a good body scrub that can help you polish the skin on your body and keep it looking smooth and supple. Do not opt for body scrubs that have very hard and sharp elements such as walnut in them as it will only damage your skin further.
8. Clarus face wipes
Keeping wet wipes handy is a great idea. Two of the main reasons for skin aging is pollution and skin collecting a lot of dirt and grime over the course of the day. Wet wipes allow you to cleanse your skin anywhere and everywhere. Wiping your skin with these wipes will clean your pores and allow your skin to breathe. Letting dirt accumulate can lead to skin problems such as acne and skin breakouts.
9. Jergens age-defying multi-vitamin moisturizer
Keeping your skin moisturized is very important. Keep this light moisturiser handy so that you can use it on your skin after every wash. Skin tends to dry out soon and hence it is important that you keep it moisturized to keep it soft and supple at all times.
10. L'Oreal Revitalift anti-wrinkle and firming day cream
Using an anti-wrinkle and firming day cream can completely change the way your skin looks. Make sure you pick one made of natural ingredients, like!
Summary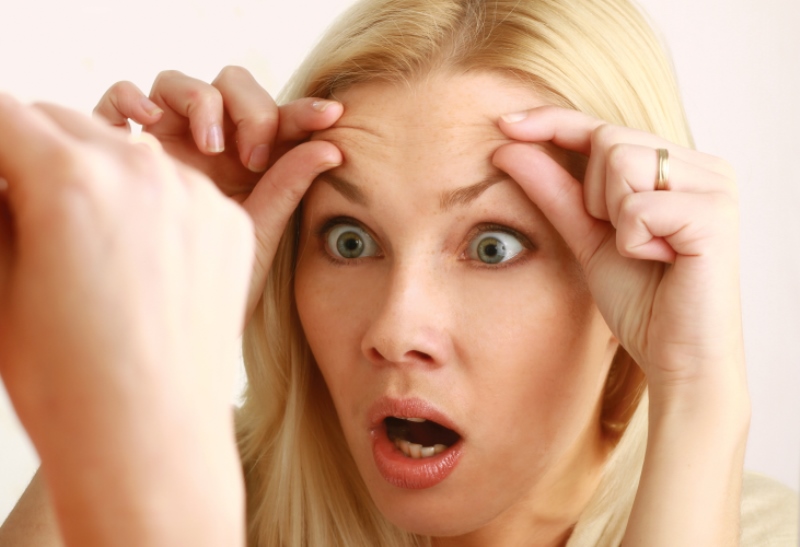 Article Name
Ten best anti-aging products for a younger-looking skin
Author
Description
The market is flooded with anti-aging products. Here's a guide to choosing the best one that suits your skin.