This might come as a surprise to many but your neck ages faster than your face. Necks age about two to three years faster than the rest of your body. A sagging and wrinkly neck is one of the earliest signs of aging.
There was a time when a sagging neck was not a concern at least until one reached the middle age. However, today experts believe that some of us are looking down at our smartphones, electronic devices and tablets up to an average of 150 times a day. This has led to a rise in cases of premature wrinkles and sagging in the neck region especially those who are between the ages of 18-39, because they are the most affected by this change in lifestyle and dependency on technology.
Even though the beauty and cosmetics market is full of  varied options when it comes to retaining youthful skin on the face and preventing the appearance of age lines and wrinkles, not much attention is paid to the neck and chest region. In fact, having face  that looks comparatively younger and less wrinkled than your neck region makes the differences appear more starkly and highlight the problem even more.
---
Suggested read: Rejig Your Facial Skin Care Routine By Making Space For These 5 New Trends
---
Statistics show that only 32% of women actually spend on neck firming creams or chest treatments. Thus the reported differences in skin qualities of the face and the neck is not a surprising fact. The neck region is exposed to constant UVA rays and hormones. It also comprises fifteen times fewer sebaceous glands and less fat when compared to the face. Moreover, the muscles and tissues around the neck are far more weaker than those on your face, and so are more susceptible to visible symptoms of aging. In fact, the terms 'turtlenecks' and 'turkey necks' are both used to denote saggy necks.
There are many who opt for expensive surgical procedures to stop this from happening or to prevent it from worsening in the future. Chest lifts and rejuvenating face treatments extending to the décolletage are some of the common procedures that many are forced to choose. However, one doesn't need to invest so much money for a firm neck. A few good habits and the right product can save a good amount of money and also help combat this commonly faced issue.
A healthy diet goes a long way in solving most skin related issues. Don't forget to include Omega-3 fatty acids in your diet since they help in the production of collagen in the body. Collagen is a vital nutrient that helps in the repairing of skin. Food items like avocados, chia seeds, walnuts and salmon are some easily available Omega-3 fatty acid rich items that can be easily included in your daily meals.
Exfoliate. I cannot stress on how important it is to exfoliate because it helps get rid of dead skin cells which are often the cause of wrinkly skin. Most of the time, we just exfoliate our faces and leave out our neck regions which leads to a buildup of dead skin cells and grime. Exfoliating the neck region twice a week helps in the removal of these unwanted elements and also helps in better absorption of anti- aging products by the skin.
Investing in a skincare product that is targeted towards neck tightening is perhaps the best thing you can do for your skin to prevent it from becoming a victim of gravity's pull. A decent neck cream will ideally help with increasing skin elasticity and smoothness, getting rid of the wrinkly crepe- like texture, and boosting collagen production. Finding the perfect neck cream might sound like a daunting task but that's exactly what we're here for. There are a number of great neck products out there that are waiting to save your skin, and we're here to help you pick the best one.
Here are some of the best neck tightening creams that will solve all your saggy neck problems!
Elemis Pro Collagen Neck and Décolleté Balm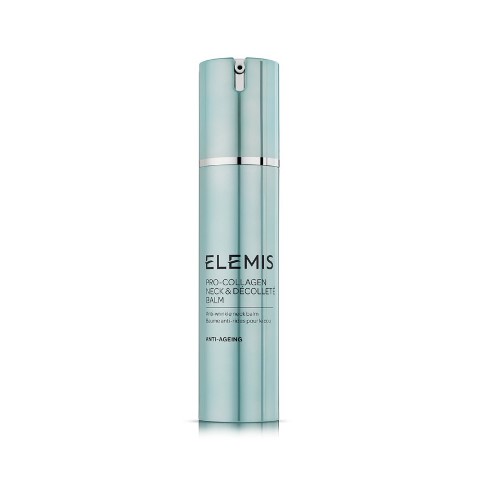 Image source: www.elemis.com
This cream is rich in sea buckthorn oil, one of the richest known plant sources of Fatty Acid Omega- 7, and also includes the special Mediterranean algae Padina Pavonica that helps to keep skin hydrated and nourished. This product from Elemis comes with the assurance that within 28 days you will have a plumper, younger looking and smooth neck region and décolleté. The tree fern extract along with Chlorella Vulgaris improves skin elasticity and smoothness, and reduces the slackening of skin.
RoC Multi Correxion 5-in-1 Chest, Neck and Face Cream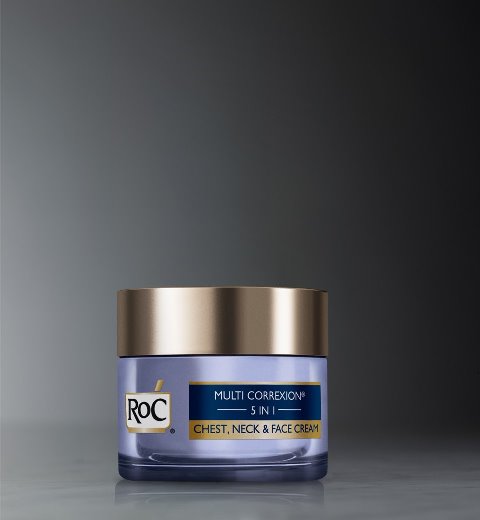 Image source: www.rocskincare.com
Alongside aging, UV rays from the sun are a leading cause of skin sagging and appearance of wrinkles. This cream, containing SPF 30, is clinically proven to smooth fine lines on the chest and neck within 4 weeks only. Made with Hexinol Technology, this cream helps in improving discoloration of skin, smoothing fine lines and wrinkles, and also protects against future sun damage. It restores the overall radiance of skin and also hydrates dull skin.
YSL Forever Youth Liberator Y Zone Concentrate
Image source: www.yslbeauty.co.uk
Yves Saint Laurent's first foray into neck firming treatments, this concentrate is made using the advanced technology of Glycanactif Y complex to help with skin firming in the Y region- face, neck and chest- of the body. Apply only a pea sized amount of this cream on a daily basis basis for visible improvements. Within a month's time, your Y region will be much more denser, structured and firm.
---
Suggested read: The Essential Vitamins For Skin Care That You Need To Invest In ASAP
---
Yeouth Neck Firming Cream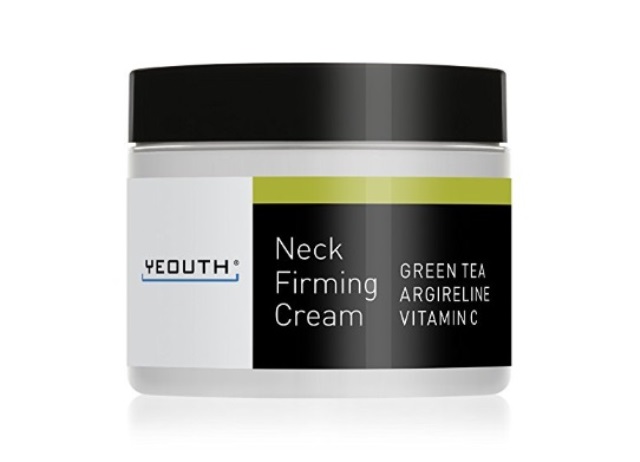 Image source: www.amazon.com
This cream combines a rich mix of antioxidants and hydrating elements that gives skin an even tone by minimizing damage done by UV rays; and moisturizes it to make it appear smoother and, younger looking. The key ingredients of this product include green tea, argireline and vitamin C. Argireline is similar to Botox but much, much less toxic as it is naturally derived from plants. It penetrates the skin to a certain degree and blocks the nerve receptors that cause wrinkle formation. On the other hand, botox is a toxin that paralyzes muscles so that they cannot form wrinkles. Moreover, both green tea and vitamin C are rich antioxidants that help to keep skin hydrated and smooth.
Pure Biology Neck Firming Cream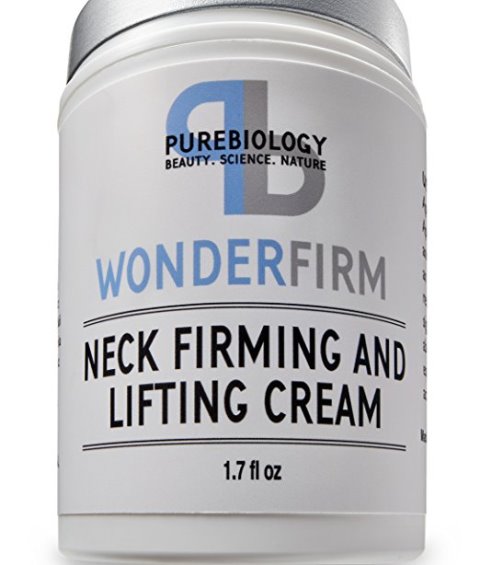 Image source: www.amazon.com
This product contains naturally hydrating and healing ingredients which boost the production of collagen in the skin. It includes Shea butter, Argan oil and Hyaluronic acid. It's perfect for protecting the neck and décolleté area from further damage. The proprietary complexes Fision Instant Lift and Fision Wrinkle Fix have been clinically proven to lift and tighten the décolleté and neck region, and lead to maximum reduction of wrinkles respectively.
La Prairie Anti Aging Neck Cream
Image source: www.amazon.com
Undo the effects of time with this luxurious product from La Prairie's range of anti aging treatment products. Made with naturally available extracts and a patented advanced peptide  compound that helps restore youthful skin, this product is a great investment to make. This cream will help even out skin tone, contour skin and remove dark spots, age lines and wrinkles. The rich texture is great for those having dry skin. The price is slightly on the higher side but it makes up for it in how effective it is.
StriVectin Tightening Neck Serum Roller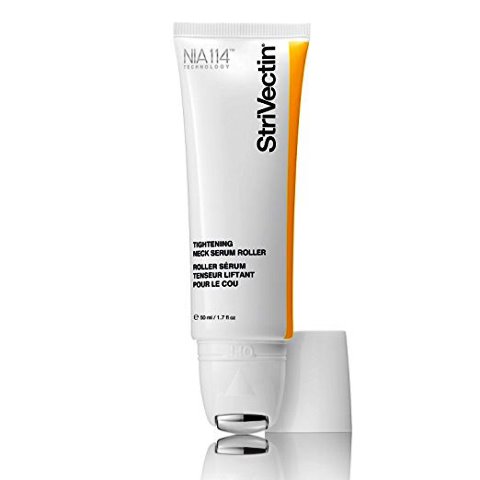 Image source: www.amazon.com
Applying this serum is an easy breezy task! Just roll on the cooling applicator over the neck and décolleté, and you're good to go. The serum instantly gets absorbed into the skin, and visibly enhances neck and facial contours over time. Made with a blend of skin tightening peptides, moisturizing agents and their patented NIA- 114 technology, this non- greasy serum leaves the neck feeling instantly firmer. The massaging roller glides over skin and helps in effective application of the serum.
Fresh Black Tea Firming Corset Cream
Image source: www.amazon.com
This is the perfect pick-me-up for your face and neck! This cream is packed with black tea ferment, black tea extract and lychee seed extract which are proven to inhibit skin damage and, improve skin elasticity. The added goji fruit extract makes the skin bounce, adding a youthful glow to it. It also includes a firming peptide that helps to defy the signs of gravity and prevents slackening of skin. Immediate results are guaranteed with this product!
---
Suggested read: The ONLY 12 Summer Face Mask Recipes You Need For Complete Summer Skin Care
---
The neck and décolleté region is an extremely delicate part of our body, and often the most neglected one too. The lack of fatty tissue, oil glands and collagen makes it susceptible to damage and so it becomes imperative to handle it with care. A daily routine involving any of the suggested neck firming creams can do wonders for your skin and prevent the effects of aging drastically!
Summary
Article Name
Best Neck Cream That Beauty Bloggers Are Swearing By
Author
Description
Here are some of the best neck creams that will solve all your saggy neck problems!