Yep, that's right.
A restaurant in China is offering heavy discounts to all female customers who'd drop those extra inches off their hem. Apparently, this hot pot restaurant has an in-house employee measuring the hemlines at entry so as to enable the ladies to avail their 'due' discount.
Image source: CEN
What a spokesman for the Chinese restaurant discount said:
"We wanted to do a promotion on our hot-pot and we came up with this. Girls like showing off their legs anyway, and now they can get more than just admiring glances from passersby – they can get cheap food too."
What I heard:
"Show us more of your legs and we'll give you the chicken legs at 90% off!"
Image source: CEN
I wonder if the appalling scheme of the legs-for-legs kind is going to next opt for the chicken breast spaces of the menu too. And while I sincerely hope THAT does not happen, I can vouch that if this were a scheme in the 'dress as angels and get chicken wings' (maybe doll up as VS angels?), the whole set of marketing gimmicks could rightfully be clubbed as 'let's-clip-off-their-wings!!'
Coz the most appalling thing about this blatantly sexist (not to mention crude and uncouth) marketing gimmick isn't it's quintessential objectification of women and the relatively ease-of-transitional-mechanics applied in relation to shorter skirts converting to heavier discounts – but the fact that women in the country are opting to be a part of it! Willingly!
---
Suggested read: Layla Ehsan's period illustrations show how menstruation feels like
---
Look at the shocking numbers:
Customers whose hems are measured to be 33 centimeters (12 inches) above the knee are offered a whopping 90% discount on their food. Women wearing skirts revealing a modest 8 centimeters (3 inches) are only given 20% off their meals.
That's right! With the restaurant's sales shooting sky high as the hems continue to drop their inches and the ladies in those hems (or out of it) flock to the restaurant in hordes, the blatantly sexist and perhaps, shrewd consumerist move of monetizing the 'male gaze' has gone unnoticed or worse, ignored by the women who are willingly complicit in a process that is derogatory, offensive, and downright disrespectful of them.
Image source: CEN
While this isn't the first time a restaurant controversy has popped up in the country, it certainly is one of the most sexist ones ever! I mean, yes, they've had plastic surgeons rating women on beauty and discounts correlated to weight – but this – might just be pushing it a tad bit too far!
And I am scared that this shall open the doors for those who want to take this farther! <sigh>
And while that remains to be seen, I hope women in China understand the self-defeatist discounts they are taking pride in availing by wearing those skimpy skirts! Don't get me wrong – I have no problem with the skirts – only with the fact that you aren't doing it for yourself.
As for the restaurant, you have fallen 'short' of any respect that we may have had for you, if we ever came for a hot pot – which, now, will never happen! :/
Featured image source: CEN
Summary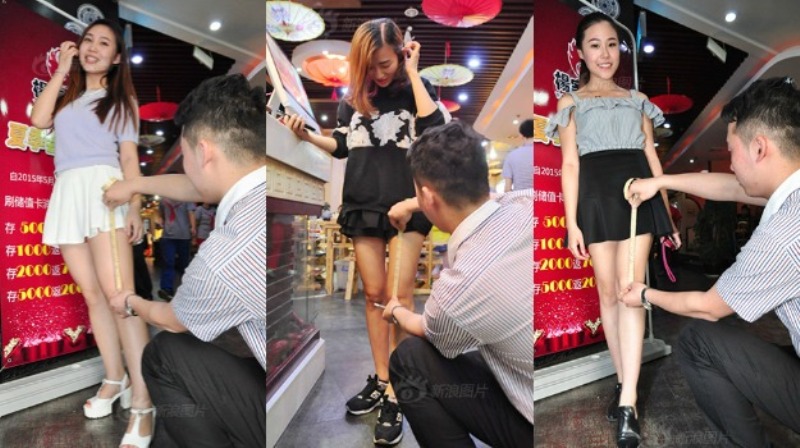 Article Name
Chinese Restaurant Discount: Short Skirt = Bigger Discount!
Author
Description
Chinese restaurant discount - offering huge discounts to women who choose to drop off more and more inches from their skirts! Check out this bizarre news!