If there were a competition for sexist moves in the continent, I wouldn't know whether China or India would emerge champion. However, going at the rate at which China is making sweeping strides in the realm of injecting overt sexism in its culture over the covert and not-as-overt sexism that strolls in our country, seems like China is going to win the last lap.
---
Suggested read: Shorter skirts = larger discounts? The sexist practice at restaurants in China
---
Earlier this year, we brought you the story on how Chinese restaurants were doling out huge discounts to all women who'd dare to drop the extra inches off the hems of their skirts and avail their 'due' discount, based on the transitional mechanics applied on length of skirts and their corresponding discounts. And now we have the IT sector joining in.
Image source: Facebook
Yes, the IT sector of China, known for giving the world efficient technological solutions at enormously slashed prices, is now bringing in dolled-up cheerleaders to keep the male programmers who are 'terrible at socializing' some cheery company!
Image source: Facebook
According to an HR manager at one of the firms which has hired 3 cheerleaders, the presence of the girls has greatly improved the job efficiency and motivation levels of the male programmers. It is reported that these cheerleaders are going to give the programmers some company, help them de-stress via chit chat, build friendships over a game of ping pong, and even inject some laughter into the tedium and monotony of coding!
Great!
Image source: Facebook
If flashing some flesh wasn't enough to avail chicken wings and pot roast at 90% off, now the 'poor' male programmers who work wonky hours and are deprived of the zest of social life will now have the same brought into the cozy ambit of their own cubicles.
Casting women into the mold of a pretty 'thing' that can be used for the much-needed diversion from a serious (read male) job is taking it rather far! And if the poor stereotype of a coder = no life of his own is valid grounds for promoting the existent stereotypes for women and deploying them to promote further sexism, we would rather that the next thing India bans, be China!
Featured image source: Facebook
Summary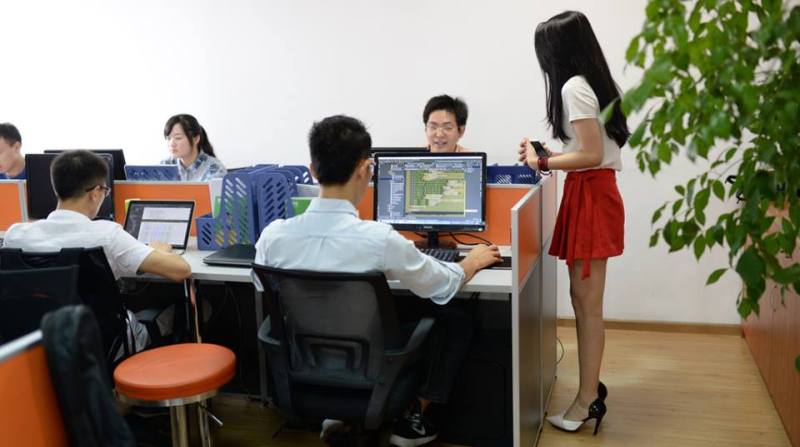 Article Name
China And Sexism: IT Firms Hire Cheerleaders To Motivate Employees
Author
Description
Chinese IT firms are now hiring cheerleaders to give their male programmers who are 'terrible at socializing' some cheery company! Sexism at its worst!