Do not despair! So what if you aren't there to put that beautiful tie pin on his dapper wine-colored tie, so what if you can't put those cuff links on his oh-so-strong wrists, so what if you cannot give him that wallet that he often forgets in the drawer or those keys that you have put in a custom key chain bearing the picture of the two of you together! You can still make his day by sending in some amazing long distance relationship gifts that shall not only make him think of you lovingly, but get him on that next plane sooner than you'd have imagined! Don't believe me, here are a few cool gifts for long distance boyfriend/husband that shall dwarf those miles so much that they might seem like tiny antsy people when your 'plane' of love floats high above in the clouds (seventh sky, do they call it?!? :P)!
---
Suggested read: A comprehensive guide to make your long distance relationship thrive
---
Try our heart-picked list of amazing long distance relationship gift ideas for the 'he' who forms the half of a long distance 'WE':
1. Message In A Bottle
Image source: TimelessMessage
Nope, not the mushy novel by Nicholas Sparks. Send out a beautiful message in a bottle to tell your special one about how much they mean to you! Plus, it doesn't necessarily have to be all lovey-dovey – how 'bout stuffing the bottle of love with some scrolls of erotic ecstasy so that he can get drunk on some of your good lovin'! Bet this would get him on that next plane for sure!
2. Tiny Token of Love
Image source: LeafcutterDesigns
Texts and tweets may be all the rage, but there's nothing quite like finding a mini missive of love in one's mailbox. These teeny tiny tokens of love shall surprise your beloved with the heartfelt and carefully crafted miniature details – and just because it's a mini-missive does not mean it shall fail to convey the massive love you have for your honey! Get one NOW!
3. Bobblehead YOU
Image source: Amazon
A tiny clay figurine of you shall be the sweetest thing you'd ever gift your long distance boyfriend. Get a fully personalized bobble head clay figurine of yours made with the help of your photos and have them sent right to his door. This hand sculpted one-of-a-kind gift is a custom creation that says 'I love you and want to be with you' like nothing else. Order these lovely things now! You can even have a figurine of the two of you done together! <that's two-ly special, isn't it? >
4. In The Zone necklace
Image source: Modcloth
If you want him to keep you as close to his heart as possible (he already has you in there), gift your long distance boyfriend this lovely reminder of the moments that are ticking by on your side of the world so he can keep track of how long it is until he gets your moments and his to collide into a seamless heartbeat! If you wish to experience extreme waves of remembrance and are sincerely devoted to syncing your time zones together so you can have as much time together as possible (even when apart), this is the gift for you!
---
Suggested read: 15 surprisingly easy long distance relationship advice to bring you closer
---
5. The Girlfriend Pillow
Image source: Amazon
If you are in for some silly shower of lovey-dovey mush-much, then get this girlfriend pillow for him. With an arm that he can feel around him and a contour that almost seems like YOU, this one can come in as a handy substitute until he gets up to cuddle under the covers with the real YOU!
6. A Stuffed Version of YOU
Image source: iamastuffedanimal
Another fun and cool gift for long distance boyfriend that shall remind him that you are always there! I mean, what more can you look for in a present than an optimal blend of humor and sentiment? This one nails it. After all, it's a mini ME, with lots of love, for YOU!
7. The Datevitation Book
Image source: Datevitation
This is a date book that helps you create a customized date experience that you'd want to live out with your partner. Especially so when Skype dates are getting too boring. Spice up your long distance equation with date visions that you just cannot wait to send an invite for. When you get to choose from over 500 creative date ideas, including special adult-only date sections to create a datevitation book – an invitation to live out those experiences with you, how on earth would he resist responding to the RSVP? 😉
8. A Love Book
Image source: LoveBookOnline
Create your own custom love book and make him flip through the pages with smiling tears! Give him all the reasons why you love him or collate the moments that are special to you! Choose from red heart laced covers or sunset covers and have stick figures that convey your story. Choose from a variety of options – from love quizzes and erotic games to a personalized romance that has the two of you as the central protagonists. There could be nothing that'd be more thoughtful and heartfelt!
9. A power bank charger
Image source:Urban Outfitters
Now this one may come as a surprise on the list – but we know sometimes, we buy cute gifts for long distance boyfriends and husbands that are indirectly of use to us. Guilty as charged! But even so, coz you are tired of his phone conking off at times when you REALLY need to speak to him to tell him that a sloshed chick in the club just ripped her red skirt! 😛
10. The Monocle
Image source: NativeUnion
A speaker, a handset, and a speakerphone all in one – we know that this one is just compulsory. And there's no two ways about it!
11. A Scrapbook of Memories
Image source: Google, copyright-free image under Creative Commons License
Create your own scrapbook full of your special moments together. Tape in pictures whilst writing out notes of the memory that still has you in splits or makes you feel his absence all the more acutely. Nothing says how much you love him than a sweet jumbo binder that tells him you replay all the moments spent together with him over and over again whilst waiting to build more that can be added to the list.
---
Suggested read: 15 unique problems only long distance couples can understand
---
12. Giant Fortune Cookie
Image source: Amazon
Send a giant fortune cookie with a special message inside for someone who means the world to you! It will just remind him of how fortunate he is to have you in his life!
13. Giant Hershey's Kiss
Image source: Hershey
Whilst a thumbkiss with an app might be the 'in-thing,' there's something immensely sweet about a sweet kiss sent all the way for some cross-country loving. Send him all the love with a chocolicious giant Hershey's kiss! He might want to come and kiss you that weekend, for real!
Pick these long distance gifts for him and watch out for a knock on the window. He might just have climbed the fire escape to see you, after having flown in all the way!!
Featured image source: Google, copyright-free image under Creative Commons License
Summary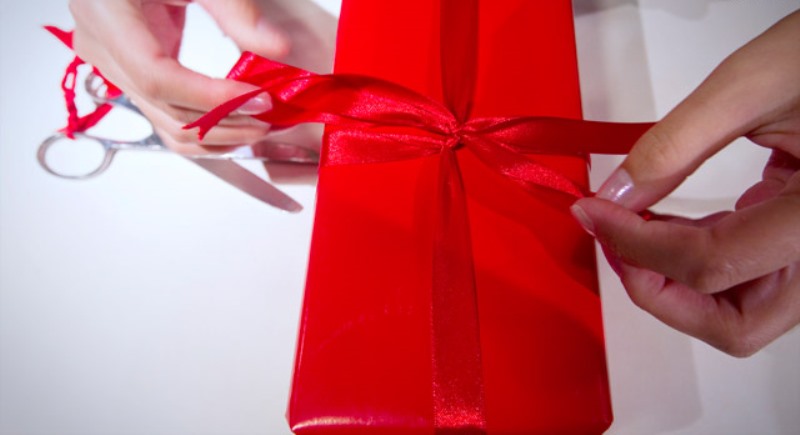 Article Name
13 Best Gifts For Your Long Distance Boyfriend
Author
Description
Check out our heart-picked list of LOVE-ly gifts for long distance boyfriend you're pining to see soon. We bet that these shall melt the distance like that!