A bachelorette party is probably one of the most exciting pre-wedding activities. If you want to make the most of it, then make sure that your bachelorette is pre-planned. It doesn't matter if you are throwing a bachelorette party for your friend or organizing one on your own, you need to start from the basics. First things first – you need to explore a few bachelorette party themes so that you can shortlist some cool ideas.
After all, a bachelorette party without a theme… is literally just like any other party. To make sure that you and your fellow bridesmaids have a memorable time, think something out of the box. Though, keep your budget, the duration, accessibility, preparation time, and other factors in mind as well. To make things easier for you, we have come up with some of the trending party themes for 2019 that you can consider for your bachelorette.
---
Suggested read: How to Host the Perfect Bridal Shower
---
Glam night!
This is probably the most fun, random, and easy to plan bachelorette party. Hang out with your girls in your favorite clubs and even do bar hopping. Hire a ride and get dressed in those heels. Go out to some of the most happening places to party and drink those cocktails. After all, you have earned a night of glam with your girls by your side!
Sleepover themed party
If you want to do something simple yet memorable, then why not plan a sleepover. After all, we all used to love sleepovers when we were kids. Invite your entire gang to your house and prepare some delicious meals for them. Drink, watch movies, and share your secrets with each other to have a lovable evening.
Go to a beach
If you live nearby the beach, then why not make the most of it. After all, there is nothing quite like spending a fun-filled day with your girls on the beach. Just make sure that you go prepared and have some activities planned. The gang can also plan games and numerous other things on the spot as well. Needless to say, it will also look fab on your Instagram feed too.
The Wild West
This is one of those bachelorette party themes that never seem to go out of trends. Put those cowgirl boots on with your favorite pair of denim and try adventurous things like bull riding. You can even go to a farm or plan tons of other western activities to make you a true cowgirl (well, almost).
Bucket list celebration
Let's be honest – we all have a bucket list that keeps expanding with every year. This time, why not let your girls mark a few things off their bucket list. Just ask your friends about the things they always wanted to do and shortlist some ideas. From underwater diving to chugging a bottle of beer – there are literally endless possibilities. While it will demand some planning, it will certainly be a bachelorette party to remember.
Rent a luxurious house
This is something a lot of Millennials prefer doing. Instead of booking a chic hotel room, why not rent an entire villa for your gang. There are so many things that you can do without any interruption. Organize a pool party in the day and a 50 Shades of Grey themed treasure hunt in the night. Indulge in the luxury around you and make the most of this time.
A cozy garden party
If you and your friends are not party animals, then don't worry – there are still plenty of ways to plan your bachelorette party. Consider having an intimate celebration with your loved ones in your backyard or a garden. Drink wine, eat tacos, and simply be your natural best.
CycleBar party
This is something that all the fitness enthusiasts out there would love. These days, CycleBars are mushrooming all around and are considered the new trend. If you want, you can just rent a CycleBar for a few hours for your group. In this way, you can burn some calories and bond with your friends at the same time. You can even have detox drinks together as a post-workout activity afterward.
---
Suggested read: Questions To Ask Your Wedding Planner Before Hiring Them
---
Barbecue Party
Who doesn't love a good old-fashioned barbecue party! Make some space in your backyard for those grills and invite your friends over. Amidst the grilled burgers and fresh drinks, your whole gang can have a great time at your house. The theme is not only raw, but will also save you money as well.
Brewery Party
If you have a thing for fresh beer, then this theme would be perfect for you. Take your friends to a local brewery to have some freshly made beer. There are tons of activities that you can do there as well apart from learning the brewery process.
Go Wine Tasting
Besides hosting a beer themed party, you can go south and be a little classy as well. Take your girl group for a wine tasting session. Your group can learn more about wine and indulge in some fresh drinks as well. You can complete the evening by taking them for fine dining afterward.
Spa Dates!
We all know how stressful wedding planning can be at times. If you are planning everything on your own and have work commitments, then it can get really stressful. Instead of planning a party, why not take some time out with your girls and relax. Take them to a spa and unwind yourself. Let go of all the stress and make sure that you have the right energy to plan your big day.
Everything Naughty
After all, it is now or never. Bachelorette parties are supposed to be sexy and naughty. If you are throwing a party for your friend, then why not give her a treat. From toys to naughty games, you can plan tons of things to make it a memorable night for everyone.
Mermaid (Pool) Party
Nobody likes to miss a chance of being a mermaid. While it is quite common to have pool parties, give yours a special twist. Plan your entire party with a mermaid theme around the pool. Let your girls wear sequined pool dresses and drink mimosas for hours. Get colorful hair extensions and channel the inner Ariel in you!
Classic Hollywood
This one is for all the movie buffs out there. If you ever wanted to be Marilyn Monroe, Audrey Hepburn, or Elizabeth Taylor – then this would be the night. Travel back in time and recreate the same classic Hollywood charm. Besides dressing up as your favorite characters, you can also watch those timeless movies and plan a whole meal around the theme as well.
Sailor Themed Party
If the entire gang is up for a sailor themed party, then you should not think twice. All you got to do is get a boat, have some good food, and your friends on the deck. Just make sure that you have a supervised person to drive the yacht. The entire group can also wear sailor clothes, go swimming in the ocean, and eat fresh seafood.
Glittery Unicorn Theme
Go overboard a little and make sure that you throw a party that everyone talks about for years. Get tons of glitter, have cotton candy, fruit drinks, and tons of cupcakes at your party. Let there be a unicorn themed party with lots of colors and joy around. Dance to the retro tunes and celebrate with your people before your wedding day.
R.I.E.N.D.S
FRIENDS is not just a show, but a cultural phenomenon. If you and your friends are obsessed with the show (like all of us), then plan a whole party around it. You can come up with trivia and games related to it, dress up as your favorite characters, or simply binge a whole season with your gang.
Amusement Park Theme
This is a surefire way of having the best time with your gang. Make sure that everyone is free and surprise them by taking them to an amusement park. They would love all those thrilling rides and cotton candy moments. Click tons of pictures with your girls and have a fun-filled day.
The 90's
We can't come up with a list of bachelorette party themes by leaving the golden era behind. There is just something about the 90's that makes us young and happy again. Travel back in time with 90's board games, video games, TV shows, movies, the fashion trends, food, and so much more. Your friends would love to relive their 90's era and it will certainly be a memorable day for all.
---
Suggested read: Here Are The Wedding Details You Dare Not Miss!
---
Here's the thing. There is no single perfect theme for a bachelorette party. While some girls like to have fun in the pub, others want to have a memorable time in their own backyard. Don't fall for any pop-culture trap or do something that you are not comfortable with. Remember, it is your big day and you should pick a theme that you like the most. Go ahead and pick an idea from our list or come up with something on your own to plan a memorable day with your girls.
Featured image source: Instagram 
Summary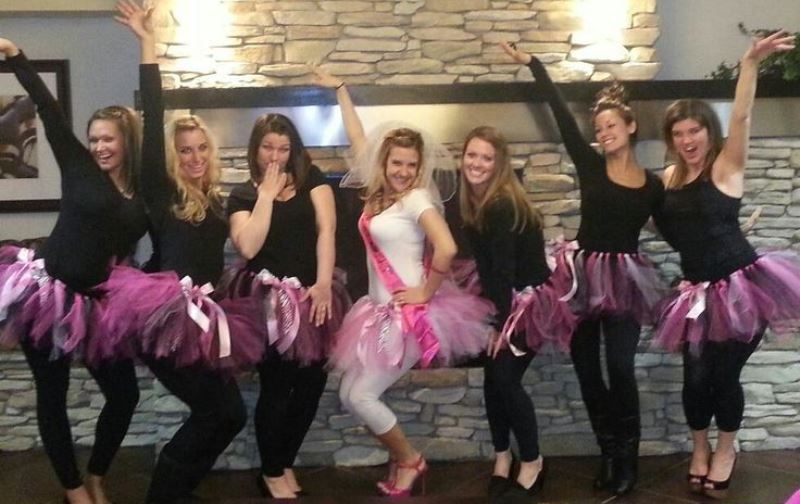 Article Name
Here Are The Top 20 Bachelorette Party Themes For 2019
Author
Description
To make things easier for you, we have come up with some of the trending bachelorette party themes for 2019 that you can consider.