"Ah, Music!", he said, wiping his tears. "A magic beyond all we do here."
-Albus Percival Wulfric Brian Dumbledore.
Magic indeed. An omnipresent enchantment. A medium of expression, a form of art, a confirmation of the capabilities of the human race. It exists everywhere. At every point. During the most inconsequential of times. The pitter-patter of rain, the screech of doors, the wailing of traffic, the whisper of the breeze and the moan of a lover. They are often greeted with indifference and we don't seem to realize how they are always there, somewhere in the background.
Even during the most noteworthy of moments. Picture your most life altering moment. Watching your newly born infant's eyes open for the first time, a faint hum of the harp. Getting back the love of your life, a morose but happy Josh Groban crooning. Losing a family member, the sound of silence. Winning the Nobel Prize, all the marching bands in the universe trumpeting in victory at your feet. Music, you paint every facet of life.
Not to mention all the bonds you form under this pretext. Imagine, sitting on a park bench, feeling lost, doubting your reason to exist, maybe even feeling mildly suicidal. And then suddenly you hear someone, a few yards away, strum a guitar and begin to sing one of your favourite songs (In my head, I hear Please Let Me Get What I Want by The Smiths). Regardless of the quality of the singing, won't it be absolutely wonderful? Won't it restore your faith in your existence and inspire a bit of hope, even if only for a moment? Maybe you take a step towards the person and tell them how you love that song and you two become great friends. Who knows, maybe they turn out to be the Star-Crossed Love Of Your Life who shares your taste in music? Maybe you do approach them to strike a conversation but the person is actually a homeless junkie who will rob you, stab you in the neck and run away. Or perhaps, you never approach them and later when you look back at your life, you wonder wryly about that stranger who saved you momentarily.
---
Suggested read: The Curious Case Of Arranged Marriages
---
As humans we learn to correlate. Most of us have conjectures associated with music. Memories, a whole lot of them. That song you sang at that gathering; that song everyone told you to listen to and even though you didn't really get it, you pretended to love it; that song you danced to the entire summer in the shower; that song you and your friend penned down and had it memorized, word to word; that song whose lyrics meant sense while you were in love and the same song seemed just stupid when you listened to it later. Songs can uplift a certain memory to a height we didn't know existed on our emotional ladder.
Your wedding day is one of the most special days of your life. Tying a knot is not just about declaring to the world that you have decided to spend the rest of your days together; it's also about committing yourself to another person, your other half. You undertake this enormous duty of dedicating yourself entirely to another person and it's not a small deed. It's about celebrating your commitment, your love and your happiness in a room full of people who wish well for you which makes it a big deal. And on such a day, you would not want to play the same old songs that everyone seems to play because they're too lazy to put together a playlist that will liven things up without diminishing the value of the occasion.
So, when one thinks of wedding music, one has to make the choice between live band, a quartet or a DJ. As amazing as a Live band or a quartet may seem, they are the most expensive options out there. Therefore, it leaves the only other alternative of hiring a DJ. But worry not for a DJ can be classy too if they know exactly the kind of music you want to be played or better yet, you can hand over a list of the kind of music you want to be played. While self DJ might be the most economical way out, you also don't want to miss out on the fun if you're very much involved in this wedding.
Here are some lists of best wedding songs 2018 that categorized on the basis of occasion, genre and artists.
Coming to ceremony music, move over the wedding march
When it comes to instrumental pieces, one could go for these instrumental pieces-
The Blue Danube Waltz by Jonathan Strauss or Waltz of the Flowers by Tchaikovsky
Nothing sounds more traditional and classical than these pieces that everyone knows and remembers in different ways and perhaps that is the most beautiful thing about them. Tranquil and full of hope, this might just be the most proper appetizer for everyone's auditory senses.
Claire De Lune by Claude Debussy
Perfect for a night wedding, with this playing in the background, imagine a dimly lit aisle with fairy lights lined with sprays of wildflowers like tiny parfaits around a path through which a white satin clad bride walks to tie the knot with her mate.
La Valse d'Amelie by Yann Tiersen
A piece from the soundtrack of one of the most iconic movies of the 21st Century that is not just every cinephile's gateway to French movies but also uplifts romantic comedy as a movie genre. Some might consider this a strange choice for it may not be the happiest music for there is a certain form of dulled heartache but this piece will express the most romantic sentiment by Hipolito: "Without you, today's emotions would be the scurf of yesterday's."
---
Suggested read: Here's How You Can Plan Your Dream Wedding On A Budget
---
Moving on, we come to the romantic numbers or the first dance and 2018 has some wonderfully romantic songs to choose from.
Among the best wedding songs 2018, here are the classics to choose from-
Can't help falling in love with you by Elvis Presley
If you're not too worried about being mainstream, go for this classic that no one can help singing along to or better yet, choose one of the many wonderful covers of this song by the 21 pilots or Hailey Reinhart.
Can't take my eyes off of you (cover) by Renee Dominique
This soothing number with her smooth, soft voice paired with the ukulele may just be the most romantic song as you sway with your partner.
"Pardon the way that I stare,
there's nothing else to compare;
the sight of you leaves me weak.
there are no words left to speak.
But if you feel like I feel,
please let me know that is real.
You're just too good to be true,
I can't take my eyes off you.
There is a light and it never goes out by The Smiths
In the history of music, death has never been more romantic. An unconventional number for a wedding, this song is the best way to let your partner know that you've chosen the right one. "To die by your side is such a heavenly way to die."
Heroes by David Bowie
While this is hardly a love song, Bowie's yearning for escape may be the best way to sum up wedding day: "We could be heroes, just for one day."
And I love her and Something by The Beatles
The greatest band in the world cannot be excluded when one thinks of love songs. These slow numbers will have everyone crooning in the arms of the one they love.
Everybody loves somebody by Dean Martin
The underrated charmer from the Rat Pack belted out this effortless and wonderful song with the most obvious and mushy lyrics and yet, this song strikes a chord with the music.
You make my dreams by Hall and Oates
This exuberant and fun number is not just super romantic and optimistic but the best song to move to!
Something Stupid by Frank and Nancy Sinatra
How can any romantic song list be complete without the mention of ol' blue eyes?
Other songs one may include
 Put your head on my shoulder by Paul Anka
Unchained Melody by The Righteous Brothers
These arms of mine by Otis Redding
500 miles by The Proclaimers
Ma Cherie Amour by Stevie Wonder
My Funny Valentine by Chet Baker
Ain't no mountain high by Marvin Gaye and Tammy Terrell
Let's Stay Together by Al Green
Alison by Elvis Costello

Among the more recent music, one may pick-
I want someone badly (cover) by Chet Faker
I'm gonna love you like I'm gonna lose you by Meghan Trainor and John Legend
Cold/Mess by Prateek Kuhad
My Love by Sia
Earned it by The Weeknd
Sweet by Cigarettes After Sex
Like real people do by Hozier
You're Beautiful by James Blunt
Creep by Radiohead
Careless Whisper by Wham
Come away with me by Norah Jones
Falling for you by the 1975
The Night we met by Lord Huron
Love on the weekend by John Mayer
Coming to the most fun bit of best wedding songs 2018, is to pick the dance numbers and here are the most fun songs to dance to-
Pony by Ginuwine
8675309/Jenny by Tommy Tutone
Meet me halfway by the Black Eyed Peas
Don't cha by The Pussyca Dolls
Thriller by MIchael Jackson
Despascito by Luis Fonzi and Daddy Yankee
Uptown Funk by Bruno Mars and Mark Ronson
Baby one more time by Britney Spears
Cake by the Ocean by DNCE
Stayin' Alive by the Bee Gees
Shoop by Salt n Pepa
I Like it by Cardi B
Suit and Tie by Justin Timberlake
Baby Got Back by Sir Mix-A-Lot
Everybody by Backstreet Boys
Jessie's Girl by Rick Springfield
American Boy by Kanye West and Estelle
The Ketchup Song
Hips don't lie by Shakira
Crazy in Love by Beyonce
Gangnam Style by PSY
Vogue by Madonna
Just Dance by Lady Gaga
Lose yourself to dance by Pharell Williams and Daft Punk
Falling by HAIM
I love it by Icona Pop and Charli XCX
September by Earth, Wind & FIre
Don't Stop the music by Rihanna
On the floor by JLo and Pitbull
Bang Bang by Jessie J, Ariana Grande and Nicky Minaj
I kissed a girl by Katy Perry
Give me everything by NeYo and Pitbull
Umbrella by Rihanna
Stereo hearts by Gym Class Heroes and Adam Levine
Havana by Camila Cabello
Moves like Jagger by Maroon 5
---
Suggested read: Let's Make Outdoor Weddings Great Again
---
That's a wrap on today's guide. Was this helpful? Let us know in the comment section.
Featured image source: Instagram
Summary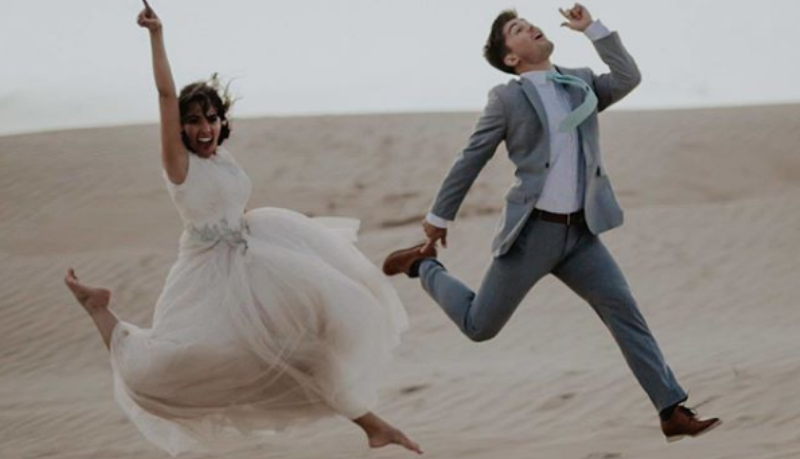 Article Name
The Complete Guide To The Best Wedding Songs 2018
Author
Description
Here are some lists of best wedding songs 2018 that categorized on the basis of occasion, genre and artists.