Your wedding day is going to be the most important day of your life, and you will want to make sure that everything is perfect. Wedding planning can take months and months of pouring meticulously over the smallest details. However, more often than not, when the day finally arrives people realize that there are some things that they are still missing out!
Between deciding on the color of the tablecloths, and the flowers for the centerpiece, there are a few details that are missed out. Since wedding planning can be quite stressful, we are here to take some of the strain away by making sure that you remember to plan for the smallest details!
Take a look at these wedding details that you should not miss out on!
We have compiled a list of easily forgotten wedding details that should not be pushed to the sidelines. While they may be minor details in the grand scheme of things, you will still want to ensure that they are perfect, so that you can have the wedding day of your dreams! Most of these details are not something that you would think about until the last moment when the big day is looming right around the corner. As a result, most couples do not have the time plan these out meticulously and are left to do some last minute fix-ups.
---
Suggested read: 8 Life-Saving Rules You Need To Follow To Pick The Perfect Beach Wedding Dress
---
So, without further ado, let us take a look at a few details for your wedding that you should keep in mind:
Signs and directions
Even if you feel that your venue is not too big, you may benefit from creating signs for the entire venue. If you are planning on having different areas for different parts of the ceremony, then it is going to help guest figure exactly where they should be at which point. Creating signs pointing to the Directions to the venue should be made available to the guests easily. It will help you ensure that everyone is there on time. You can print out the directions to the wedding and reception venue on your invitation itself, or include a Google maps links on with your e-invite!
A great entryway
Create a lasting first impression with the help of a beautiful entryway. When your guests enter the venue as well as the pathway to the venue, you can make sure that they greeted with a beautiful sight. You can employ the help of your florist, or lighting manager to make sure that the entryway is every bit as magical as the rest of the venue. If you have an outdoor venue, then you can make use of flowers, as well as climbers to make a pretty entryway, or use intricate glass hangings which can reflect the sunlight and give it an ethereal feeling.
Get a creative guest book
A guest book is not something uncommon I a wedding; in fact, it is a pretty standard fixture. However, that does not mean that you cannot make it interesting in some way. You can really show off your creativity with the help of unique guest books. One interesting way to ensure that people are eager to sign your guest book is by setting up a photo booth where they can sign their wishes alongside a picture of them. Other than you can ask them to write out any marriage advice, first date ideas, funny stories about the couple and other such exciting ideas! Additionally, instead of using an actual guest, you can also ask them to sign item that you would use day to day, such as game pieces!
Games for kids
If you are going to have kids on your guest list, then you should make some accommodations for them as well. It is natural that kids will not want to sit around for hours waiting for the ceremony to finish. Instead of having kids running around everywhere (and there frazzled parents running behind them) you can make sure that there is some entertainment for everybody! Set up play areas for kids with games that are appropriate for their age! Make sure to have some individual activities for kids who are quite shy. This will help you ensure that the kids are occupied and that their parents are able to enjoy the ceremony without a worry.
Aisle runner
Your wedding day is your chance to walk on the red carpet, so make sure that you make the most of it! A beautiful aisle runner can not only make you feel like royalty when you walk down on it towards your significant other, but it will also ensure that your wedding pictures come out great! Make sure that you pick a light colored aisle runner which matches your theme. When you take pictures of your empty venue, the aisle runner can make all the difference, and it helps in giving the room a "complete" look!
Altar décor
The most important pictures of the wedding are the ones of you and your other half exchanging vows. Hence, you will want to make sure that your altar looks exactly the way that you want it to. Whether you want the decorations to be minimal or extravagant, it is all up to you. All you have to do is ensure that it is "picture perfect." One way to ensure that your pictures come out excellent is to make sure that the décor compliments your outfit, or you may even add some décor to act as a contrast in your pictures!
---
Suggested read: Here Is The Ultimate Guide On Pinterest Wedding Ideas
---
Ceremony chairs
Do you want all your chairs to look dainty and elegant? Or do you want to mix things up? Even something simple as mixing and matching chairs can make the venue look completely different Mixing and matching chairs is not necessarily a bad thing, and when done right, it can actually give your wedding a personalized touch! Just make sure that you do not wait until the wedding day to see the final effect, in case you want to make any changes! Another important detail to add to your ceremony chairs it to mark the ones along the aisle! This will help create a boundary for your aisle runner, and make the venue look more put together.
Outdoor relief station
Having an outdoor wedding venue is great! The natural sunlight works wonders for your wedding pictures, but, it can be a little uncomfortable as well. You do not want your guests to be uncomfortable because of the heat, bugs or mosquitoes! So, make sure that you have a station with all of the necessary items to fend off discomfort. Cool drinks are definitely going to be standard in an outdoor wedding, but apart from that make sure that you have bug spray, sunscreen and little fans available for guests who can use them when they please. This helps show how much thought you put into your wedding as well as the comfort of others!
Escort cards
Make things easier for your guests (and yourself!) with the help of assigned sets. Escort cards take the pressure of having to find a seat from your guest. They are also extremely easy to personalize. In fact, instead of using traditional cards, you can even use spray painted figurines and such to add a quirky quality to your wedding day! Apart from that, if you do not feel up for creating hundreds of escort card, you can forgo it completely with the help of a seating chart. Artistically display your seating chart by painting it on top of a board to give it a rustic quality and place it somewhere that everyone is bound to see it!
Sweetheart chairs
The wedding day is all about the lovely couple! Hence, you should make the most of the all the attention and help you both standout during each part of the ceremony. During the reception, add a little flair to yours and your partner's chair with the help of signs or some additional decoration! It will also add a cute touch to your reception pictures, and give it a more personalized feel!
Table setting
Table settings do not have to be plain and boring! You can make them stand out just as much other details of your wedding! Spruce them up with the help of green trimmings or some flowers, to make them look gorgeous and welcoming!
---
Suggested read: Everything You Need To Know About Wedding Cake Tasting
---
These are some of the wedding details that you should not overlook! Although they may seem small, on your wedding day, you will be glad you paid attention to the minor details as they will make your guests fawn over how much time you spent planning each and every aspect of your special day. However, no matter what your placement cards look like, or your ceremony chairs, your day will ultimately end up being special even without these minor details.  Make sure you enjoy your big day instead of worrying too much about it, and you are sure to have a magical ceremony!
Featured image source: Instagram 
Summary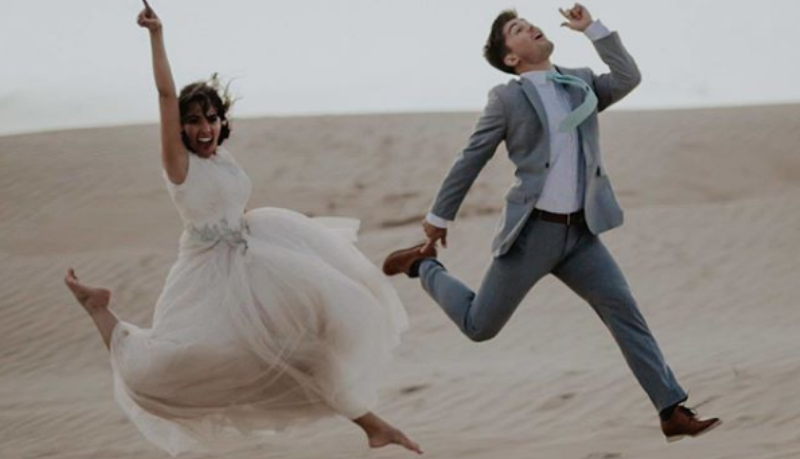 Article Name
Here Are The Wedding Details You Dare Not Miss!
Author
Description
'Tis the wedding season. Take a look at these wedding details that you should not miss out on!