Being diagnosed with an STD is not the end of the world. Although the matter is serious because only some of them are curable and others aren't, it doesn't mean you should give up hope of finding a life partner. And towards helping those with STDs find others with STDs is what a new dating app, Hope, hopes to achieve.
Hope is the first free STD dating app made available on the App Store, with a view of connecting singles with sexually transmitted diseases with a compatible partner – either locally or globally. Members need to sign up using their Facebook accounts. Once they've accessed, they can apply various parameters/preferences and search through the profiles. Users can then start interacting via the chat feature.
---
Suggested read: Netflix dating app to hook you up with a fellow fan!
---
Two of its features stand out among the plethora of dating apps available for a smartphone user – one is called the SpeedMatch, which basically matches a user with other users within their geographic location; and two is the unlimited number of photos that a user can upload. This second feature helps a user to describe and share their lives with a potential partner and interact.
---
Suggested read: FuzzyBanter claims to bring back courtship to 21st century
---
The developer of the dating app said,
"We consider and encourage those with STDs to not see themselves as unfortunate or cursed, but rather to embrace the experience as a blessing. To be afflicted with an STD and be able to find true love as well as enduring friendships is valuable wealth that should be treasured."
According to the literature available on the site, the app Hope hopes to make a difference:
"While it is still a problem for people to date other people with sexually transmitted diseases, Hope gives such individuals a new hope in life; thanks to its revolutionary dating activities as well as extensive support community it offers people with sexually transmitted infections like HSV and HPV. Even though these infections are incurable, you can still find a soul mate with the help of Hope App."
Well, after learning about a dating app for marijuana lovers, an app for people with STDs doesn't seem too exotic. After all, they too deserve to have happiness and love in their lives. This is a brave initiative. All the best for the hope-giving app, Hope!
Summary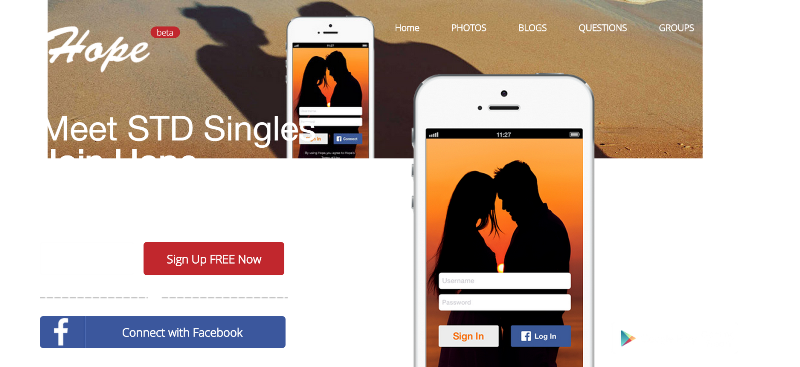 Article Name
Hope is a free STD dating app
Author
Description
Hope is a new, free STD dating app which hopes to give hope to those with STDs. Here's a look at the dating app.