Swiping right on a profile is just the first step in getting to know someone and dating them. And sometimes, this process could land you in trouble you didn't bargain for – sexually transmitted diseases or stalking. It's like being stuck in a rock and a hard place. No way out. Or so it seems.
A 1987 batch Ohio University alumna Jo Lynn Clemens has created a dating tool called Xoxy, an app that aims to eliminate deceitful dating by having a ready database of people free of STDs, free of felony offenses and sexual offense charges in all 50 states. A Xoxy membership is priced at $139 for 6 months or $23.95 for a month.
The idea for Xoxy came to Clemens when her daughter was in college and she came to know the appalling and shocking statistics that one in three women are sexually assaulted, STDs are spread every 30 seconds, and that 1.1 million Americans have HIV, but about 16 percent of them are unaware.
Speaking about why she felt the need for a dating tool such as Xoxy, Clemens said,
"The fact is that casual dating apps like Tinder and others have led to an increase in the transmission of STDs nationwide. Seventy percent of college students date online, and that can subject them to violent crimes, those with criminal intent, and with questionable health background."
This is how Xoxy works:
Users signed up for the app authorize their identification, following which, Xoxy's partner ICS-Merrill, an investigative service, does an electronic background check to see if the user has any record of felonies and/or sexual offenses. And for the STD test, Xoxy makes use of a local lab, where the user is sent for the required tests. Once the results are out, they are sent to the user as well as Xoxy. To become a certified Xoxy member, a user has to pass both tests – the background check as well as the STD test.
---
Suggested read: Dating app Hinge makes non-singles guilty by displaying their relationship status
---
What if a user doesn't pass either or both tests? Worry not, for they will not be put up on the app's searchable database, and no one would even know that you attempted and failed to become a Xoxy member. So, it's a win-win for a user from any angle. Of course, being diagnosed with an STD is no picnic, but you get the point.
"There's no negative ramifications for doing it, and for those who are reluctant to do so, then there needs to be a conversation as to why," said Clemens, explaining why a user has nothing to lose by undergoing the testing. "I wanted to create honesty and integrity in relationships."
Xoxy, pronounced 'zocksee,' is a combination of the text-speak XOXO, which stands for hugs and kisses, and the symbols for male and female chromosomes – XY and XX, respectively. The app, which was launched in January 2015, has both Android and iOS versions.
"(The app) has grown substantially," said Clemens. "Especially with the fact that one in five females are assaulted on college campuses – it's very relevant."
Further, she said,
"It's the world's first credential for dating. There's nothing like it that currently exists. Initially, we had to change our messaging because people assumed that it was a dating site, and it's not because there is no communication within the site."
Talking about the importance of a dating tool like Xoxy, Clemens said,
"When realizing that most people get more information about a car they are buying versus information critical to their health and safety in dating, I devised a way to confirm information that is critical to health and safety without having to engage in an awkward conversation."
The statistics that Clemens stated in her comments were truly shocking, making a dating tool like Xoxy an important one in keeping dating healthy and safe. Let's just hope more and more people get 'Xoxied' and make dating safe.
Would you get yourself 'Xoxied'? Tell us in the comments below!
Summary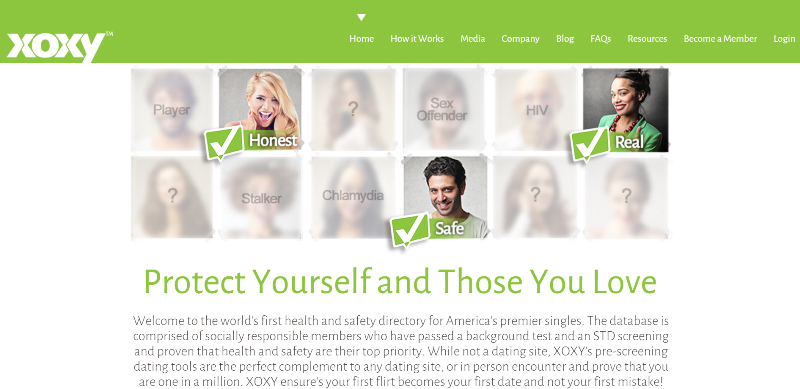 Article Name
Xoxy First Self-credentialing Dating Tool To Make Dating Safer
Author
Description
Xoxy is the world's first self-credentialing dating tool created by an Ohio University alumna to make dating safe. Check out how it works.