Dating app market, it seems, is a bottomless pit of new avenues, with newer apps surfacing practically every other week. And the latest fad seems to be that the app has a certain 'trait' that differentiates the mother of all dating apps – Tinder. If they've achieved this one feat, of having a USP that sets them apart from Tinder, then they're set. I guess, this fad will stick it out till another Tinder takes over the current one.
---
Suggested read: Friendsy is the new Tinder for college students
---
Anyway, taking a leaf out of this 'fad,' a new dating app has been launched in the UK, called FuzzyBanter. Funny name, huh? Well, its premise isn't funny though.
Here's how it works.
Just as Tinder does, FuzzyBanter lets you see profiles of those in your geographical area. A user, when he/she signs up, can list up to ten interests, plus a 160-character bio. Apart from these, a user also fill in the blanks for the routine subheads like age, height, location, ethnicity, plus a new one – star sign. Basically, all these become the filters which you use to search through the profiles.
---
Suggested read: If you're a fan of beards, then Bristlr is just the app for you!
---
The USP? Well, unlike Tinder, where you make a snap decision based on a person's profile picture – which might be anything from photoshopped pic to an Instagram-filtered sepia to a truly cringeworthy pic, that's sure to put you off online dating for life! – the profile pic is 'fuzzed' by the app. The logic behind this fuzzing is that instead of a person's looks, a user is forced to check out their listed interests and other details to make the matchmaking.
This is almost similar to the dating app, Willow, which is a refreshing take on the anti-Tinder rhetoric. Also, similar to another dating app, Courtem, FuzzyBanter claims to 'bring back courtship to the 21st century.' If it's a copy of two other anti-Tinder app, what is the USP of FuzzyBanter?!
---
Suggested read: Dating app, Willow, focuses on your personality rather than on your looks
---
Anyway, once a user has set up their profile and all the other details filled in, they can browse through the potential profiles in their proximity. A user can either give an interested person a 'thumbs up,' or a 'nudge.' If there is a mutual 'nudge,' then those two users are matched and can now start messaging.
Although the app is focused on making matches based on shared interests and compatibility, the matched couple doesn't have to agree to a blind date. Both parties have the option of revealing their pictures either partially or fully, and only then take the interaction forward.
---
Suggested read: Dating app, Courtem, hopes to bring old-fashioned courting back to life
---
And if you're the shy type of person who has difficulty initiating a conversation, the app also provides a list of pre-written message templates.
FuzzyBanter is the brainchild of Allen James Scriven and Michael John Caine, and is targeted at people in the age group, 18 – 45. The app found several VIPs like Danny Dyer, actresses Lisa Faulkner and Angela Griffin, TOWIE cast members Elliot Wright, Jessica Wright, and James Argent at its launch two days ago in London.
---
Suggested read: Hinge, a dating app, is being hailed as 'classier' version of Tinder
---
The celebrities who were in attendance for the launch, also helped out the founders by tweeting about it. Read the tweets here:
Get on my pals new app Fuzzy Banter. It's like Tinder. But with more bollocks and mystery. 😉 pic.twitter.com/xiEPLdFHmy

— Danny Dyer (@MrDDyer) March 16, 2015
So proud of my mate and his new app, launching today. Meet someone new @FuzzyBanter1 it's not just about what someone looks like…..

— Angela Griffin (@Angela_Griffin) March 16, 2015
Story update on 8th April, 2015
The app FuzzyBanter, which was launched with much fanfare, seems to have hit a roadblock, of sorts. Its feature of revealing pictures only after chatting with a potential match, seems to be putting some people in awkward with a capital A situations!
The app coughs up matches based on a user's age, gender, height, star sign, and a short bio. But the app doesn't have any mechanism to check whether a potential match is a relative or a sibling even.
One user, who was put in a similarly awkward situation albeit not with a sibling, thank God! This user said,
"It's a bit strange chatting with someone you have no idea what they look like. It hit it off with one girl, but when she showed me her picture I went off her instantly because it was a friend's ex."
Further, he added,
"There's nothing to stop getting matched with a relative, so that's a bit unnerving."
We'll say! Try this app if you're a single child and have no other dating-aged relatives or friends' exes or your exes or … try it at your own risk! We've warned you!
Summary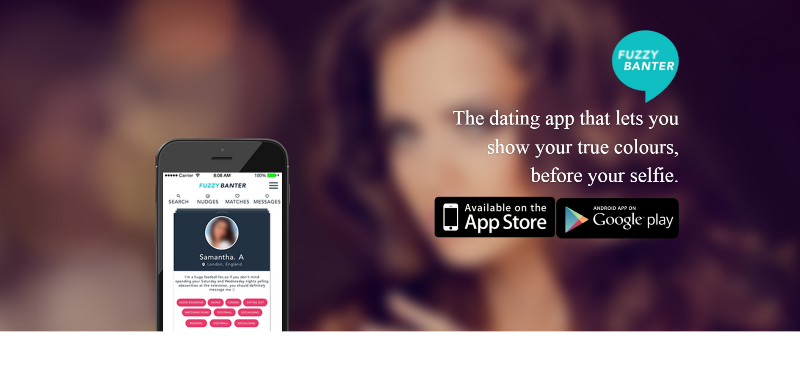 Article Name
FuzzyBanter blurs out pictures to help focus on personality
Author
Description
FuzzyBanter is the newest dating app which has been launched with much fanfare. Here's all you need to know about the dating app.