Whose arms do you secretly desire? Taylor Swift's or Rihanna's? Jennifer Lawrence's or Serena Williams'? It does not matter if your dream model is thin or athletic, the arms are, without a doubt, one of the most important aspects of beauty and grace. While your thighs and abs make an appearance only in the summer months, the arms are ever-present, all year round.
Have you been spending your days searching for how to get skinny arms, but are still clueless? Well, you have come to the right place! Below, we have 12 arm toning exercises planned exclusively for you. While some require an apparatus available at a gym, others can be performed at home! I promise you, this list is not "as long as your 'arm'"! 😉
---
Suggested read: 10 easy exercise tips on how to get slimmer thighs
---
How to get skinny arms at the gym 
Gyms are equipped with exercise machines that help us take our work out a notch higher. They not only help us lose weight, but also more importantly, help tone our muscles. Arm toning exercises are usually cardiovascular. However, strength training also goes a long way if you want to get slim arms. Strength training helps you build your muscle tissue, which in turn lowers your number on the weight scale. Several machines are available at the gym if you are wondering how to get skinny arms. Here are the four most common ones:
1. Elliptical machine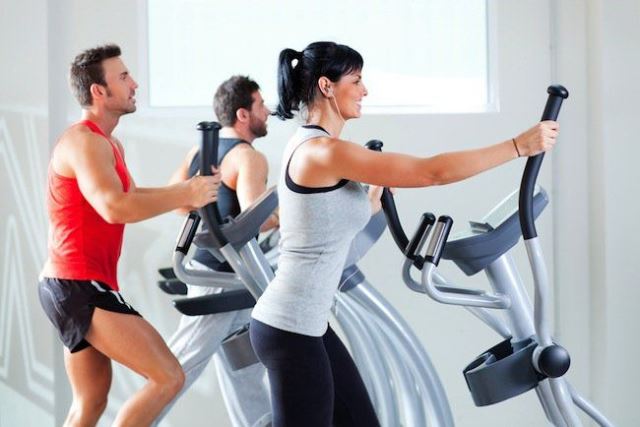 Image source: Pinterest
The elliptical machine at the gym will allow you to work on your arms, lower body, and also your cardiovascular system, all at the same time. Using the elliptical on a regular basis, but at a challenging speed, will tone your arms and help you lose weight overall. These machines allow you to fine-tune the resistance and the inclination for your exercise session. Remember, the steeper the incline and the more the resistance you apply, the more demanding your training will be. To get the maximum advantage of using an elliptical machine, try a challenging resistance with a moderate incline for around half an hour, for six days a week. Use the handles frequently. If you are striving to burn more calories, you should give interval training a try. In interval training, you work out hard for 2 minutes and then use the next one minute as recovery. Keep repeating this work-rest cycle until you feel you have accomplished your desired training time.
2. Cable tower machine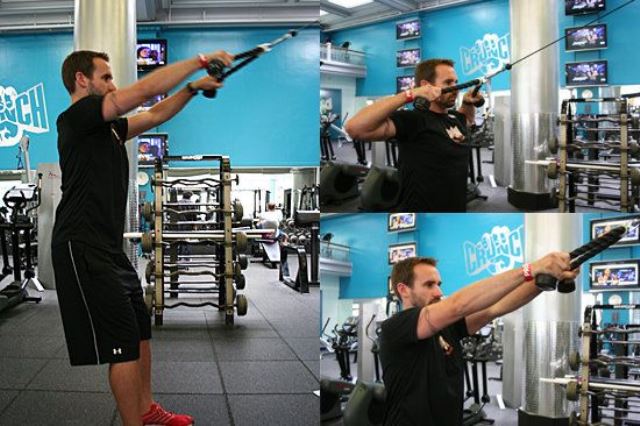 Image source: Pinterest
This is a wonder machine when it comes to slimming down your arms. Firstly, stand facing the tower. Now clutch the low cable's bar handle. It should be an underhand grip, which involves both hands. Remember, you are focussing on your biceps. Tucking your elbows close to your body, raise the bar and bring it near your chest by bending both arms at your elbows. Again, return to your starting position. This must be slow. Perform some triceps push-downs using the cable. This will work on the back of your upper arms.
Next, stand facing the tower and clutch the machine's high cable's bar handle. This will be an overhand grip. Place the handle at your chest level and bend your elbows. Keep your elbows tucked and closer to your body and pull the bar in the direction of your hips. Do this by extending your forearms. Slowly revert to your starting position.
3. Shoulder press machine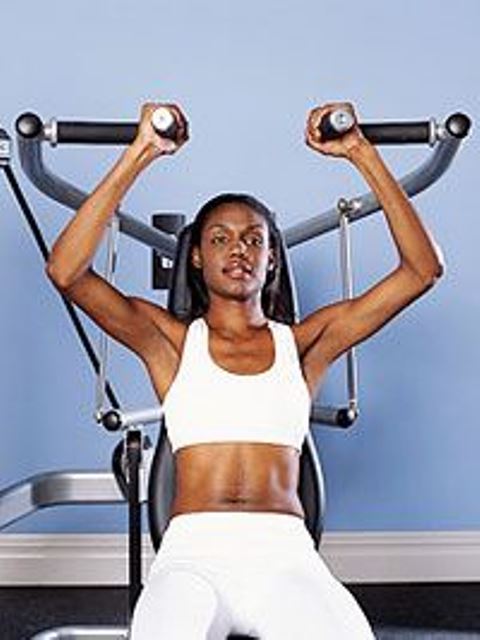 Image source: Pinterest
Shoulder press machines offer some challenging training, targeting your upper arms, with  greater attention placed on your shoulders and triceps. It allows you to copy the movements of a free-weight shoulder press, but it does not need a spotter. This makes the machine superb for beginners. Just sit on the seat provided and regulate the resistance. Reach out and clasp the handles. This will be an overhand grip. Push the handles in the upward direction, extending the elbows. Revert gently to the starting position.
4. Lat pulldown machine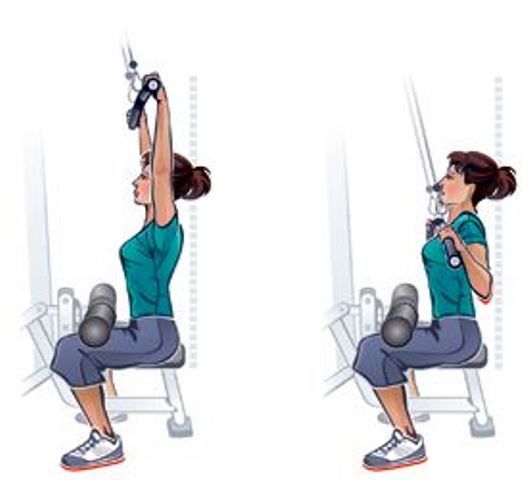 Image source: Pinterest
The Lateral Pulldown Machine focuses mainly on the back muscles. It also extensively works on the muscles in the arms. No matter your fitness level, this machine is your baby! It is one of the most effective ways to develop strength in your upper body. Sit on the provided seat and position your knees under the roller pads. You need to place your feet flat on the floor. Modify the resistance and then hold on to the handle with an overhand grip. Make sure your grip is wide. Bending your arms, pull the bar handle towards your chest. Now slowly come back to your starting position.
How to get skinny arms at home
In case you are not a gym animal or want to work harder by training overtime at home, we have some very valuable exercises that are easy to perform and also very effective!
1. Bicep curl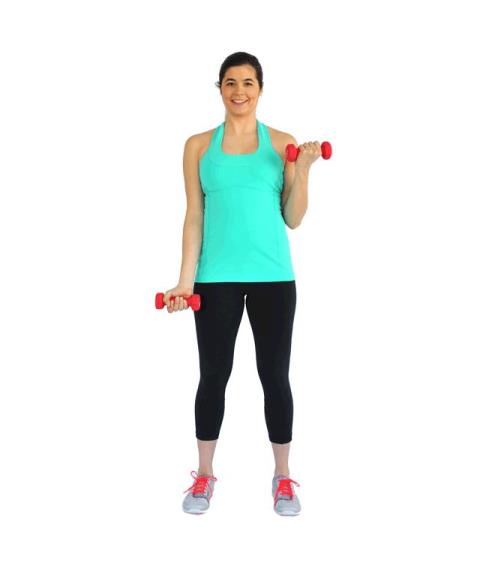 Image source: Pinterest
The bicep curl is the eternal answer to how to get skinny arms! The best part about these arm exercises is that they can be performed at home and are very easy to follow. We will be using small weights for these exercises and gradually move on to heavier weights as our strength increases. As they say, your work out doesn't get easier; you only get better and stronger! Take two five-pound weights and stand with your back straight. Hold on to the weights with your palms facing forward. Now curl your hands towards your shoulders.
---
Suggested read: How to get toned abs like Taylor Swift and rock crop tops
---
2. Hammer curls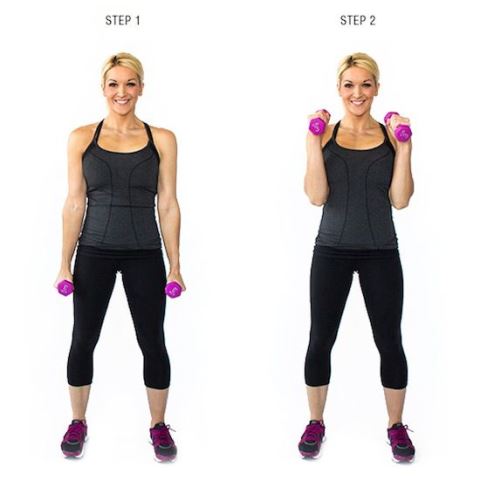 Image source: Pinterest
Hammer curls are effective arm exercises targeting the biceps as well as the forearms. For these exercises, hold the weights with your palms facing inward and not outward. Keep your elbows near your body. It is similar to a bicep curl, because you will again be bringing the weights towards your shoulders, but the change in the direction your palm is facing has an improved effect.
3. Triceps dips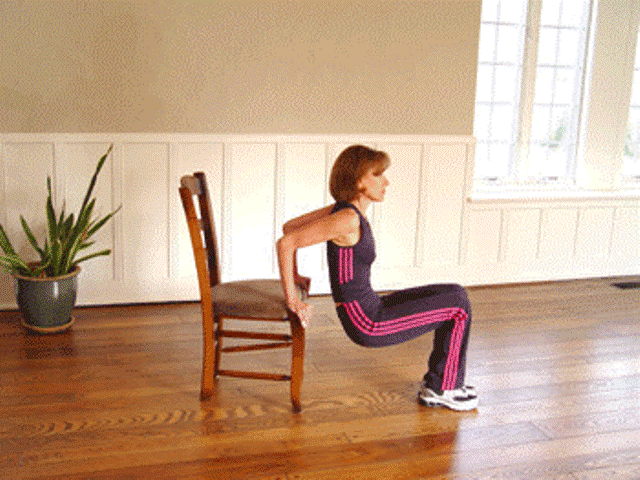 Image source: Pinterest
Triceps dips are ideal for toning the back of your arms. All you need is a chair and determination, of course! 😉 Now position yourself a few feet away from the chair and face the opposite direction. Place your hands carefully on the seat (the seat is behind you now!). However, your fingers must point in your direction and not toward the chair. Now dip down and use your arms to slowly bend. Stop as soon as you are about to touch the floor. Use your arm to push yourself up. You are basically using your triceps to get up, which builds their strength!
4. Triceps extension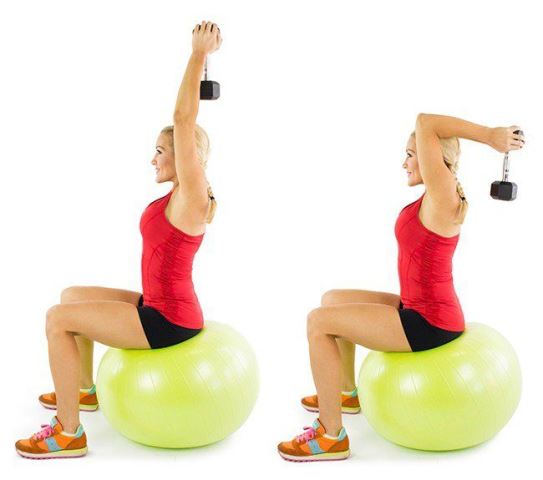 Image source: Pinterest
Triceps extensions work great to slim arms and strengthen the biceps. First, sit down. Keep your spine and head straight. Lift one of your weights over your head with your palms facing inward. This will help you grip your fingers over it properly. Using only the upper arm muscles, lower the weight behind your head. Hold that position for 5 seconds and lift it up while keeping your elbows straight. Repeat 20 times for each arm.
5. Arm circles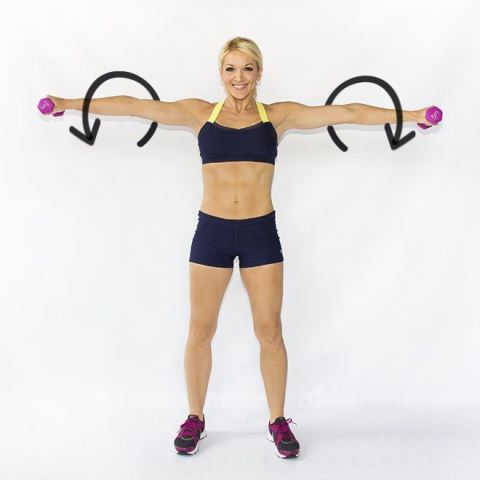 Image source: Pinterest
How do you get skinny arms? Do some arm circles!
This is one of the easiest arm toning exercises. Hold your arms stretched out on either side. Then make circles! You might find this dumb and ineffective at first because it is so easy. However, it is extremely advantageous. Circle your arms clockwise and counter-clockwise. Start with small circles and move on to bigger ones. Perform this for at least 4 minutes.
6. Diagonal raises
Image source: Pinterest
This is one of the best arm exercises and is also great for shoulders too. You begin by standing straight with your right arm stretched out. Hold your weight in this hand and cross your body diagonally. Your right hand will then be near your left hip. Next, slowly raise your arm straight in front of you and hold it over your right shoulder. Hold the position for 2 minutes and then gradually drop it to your sides. After you repeat it a few times, perform it with the left arm.
7. The Pilates press
Image source: Pinterest
The Pilates press is the most beneficial of all arm toning exercises. You begin with a push-up position. In this position, you will be on the palms of your hands and the balls of your feet. Your back and neck should be kept very straight. Your head must not drop down. Next, lower your body as close as possible to the floor. While doing so, your elbows must be close to your body. Perform 12 reps for at least 3 sets.
Tip: If holding your body weight like this seems tough, then lean on your knees instead of the balls of your feet. But your ankles must be crossed.
---
Suggested read: 10 tips for daily skin care routine before and after your workout
---
8. Overhead bend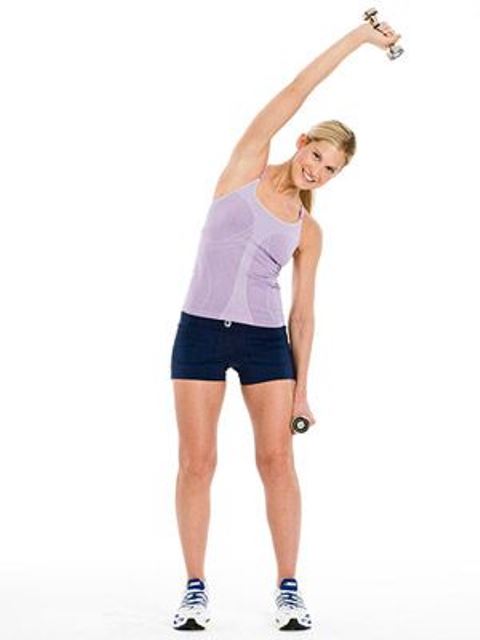 Image source: Pinterest
Take your dumbbells and stand with your feet apart. They should be shoulder-width apart. Keeping the right arm down, bend the left arm and bring your hand near your shoulder. Staying in that position, straighten the left arm. While doing this, lean from your waist towards your right side. Now straighten up and repeat the exercise, swapping the roles of both the hands. Repeat the sets 25 times for each side.
Our body composition is different and so, some of us tend to have more flab on our arms than in other parts of our body. The above combination of strength training, cardiovascular exercises, and a nutritious diet will help you tone your arms and make them stronger in three months' time.
Featured image source: Pinterest
Summary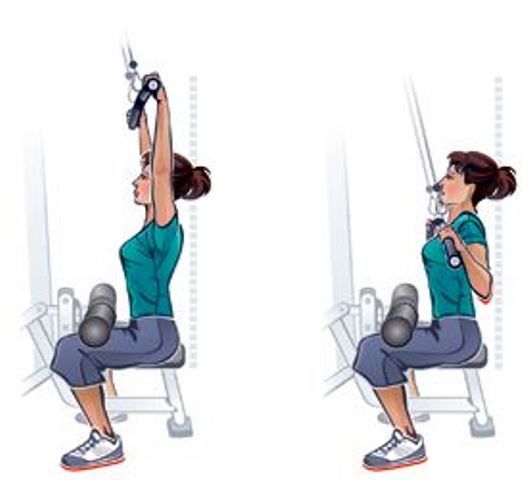 Article Name
Author
Description
If you're wondering how to get skinny arms to rock sleeveless tops without feeling self-conscious, here are all the arm toning exercises you need.