Hello, beauty care freaks. I know hair is an essential part of our overall look, and this weather in particular makes taking care of our locks a bit difficult. Well, worry not, as I have the ultimate solution for any and all off your hair troubles – curry leaves!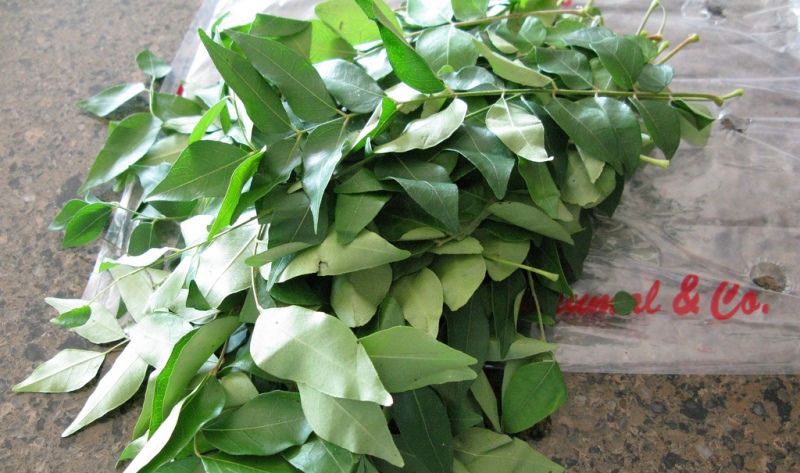 Image source: Google, copyright-free image under Creative Commons License
---
Suggested read: How mint leaves give you glowing skin
---
Ok, now don't let your mouth water; this time we are going to use this wonderful ingredient to assure the health of our beloved hair. But first, let's start with some of the health benefits of curry leaves:
1. If you're anemic, worry not, because curry leaves contain both iron and folic acid to make sure that your blood gets the necessary amounts of hemoglobin and the much-needed ability to absorb it in.
2. A fabulous anti-inflammatory with Vitamin A, C, and kaempferol compound, curry leaves help you in effectively relieving the symptoms of congestion in the nose and chest.
3. Curry leaves keep our digestive systems regulated, making healthy weight loss possible.
4. The anti-inflammatory and anti-bacterial properties that the curry leaves possess along with the presence of carbazole alkaloid, helps us cope with diarrhea symptoms.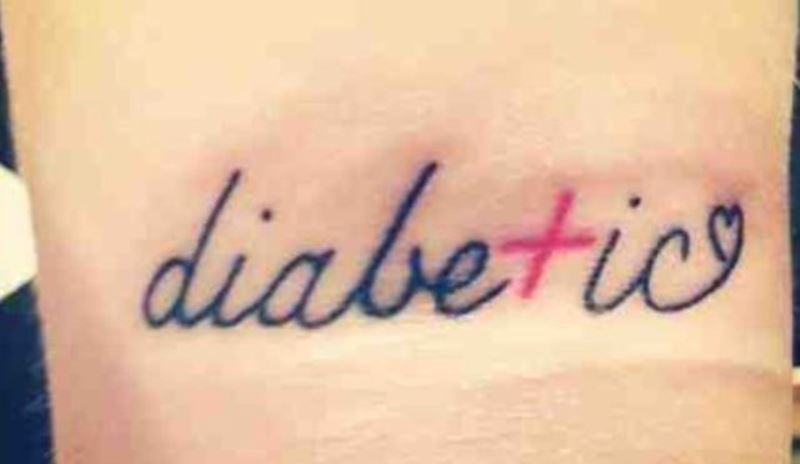 Image source: Pinterest
5. Curry leaves affect your insulin activity, and the fiber they contain helps you in keeping your blood sugar levels low and controlled.
6. Ingesting curry leaves can prevent your liver from being harmed by oxidative stress and damaging toxins due to the rich antioxidant kaempferol it contains.
7. Curry leaves possess a wonderful ability of protecting our chromosomes and bone marrow from the harmful effects of radiotherapy and chemotherapy.
The benefits of curry leaves for hair
Here are some of the most exciting ways that curry leaves can help our hair:
1. Damage repair
When your lovely locks are damaged, curry leaves help restore them to health. A treasure trove of many vital nutrients, these leaves supply your scalp with the much-needed strength to let your hair follicles breathe.
2. Fight hair loss
Image source: Google, copyright-free image under Creative Commons License
Hair loss has become a very common problem due to increased pollution levels and stress. Curry leaves are stock houses of protein and beta-carotene, which aids in reducing your hair loss. Most of the hair loss happens due to a lack of protein in your diet.
3. Dose for dandruff
Using curry leaves regularly on your hair works wonders in providing the right nourishment to your scalp. Along with their rich protein levels, they also replenish the hair with antioxidants and restore the moisture in your scalp, helping you get rid of your dandruff troubles by removing the dead follicles for good.
4. Make your hair shaft strong
Strong hair shafts are a very important but usually neglected concern. Curry leaves contain the vitamin B6, which helps regulate hormones effectively when our hair falls. The high nutritional value they contain helps in repairing and strengthening hair shafts.
5. Healthier hair (because you deserve it)
Image source: Shutterstock
Using curry leaves as ingredients in your special homemade massage oil is a fantastic way to assure a healthy hair growth. The vital components found in these leaves helps in enhancing your hair growth and works wonders in creating long, strong, and shiny hair. So it's a big YES to curry leaves for hair growth.
6. Bye bye grey hair (it's not your time, not just yet!)
Curry leaves make it possible for you to say no to those unwanted, premature grey hairs. Unavoidable pollution damage and stress can cause grey hair, but the splendid benefits of these leaves trigger your hair darkening naturally.
---
Suggested read: 7 routines to follow to get beautiful, lush hair
---
7. Delight for your dry scalp
Every dry scalp needs a bit of revitalization. The amazing vitalizing benefits of curry leaves can help make your dry hair more manageable by making the strands shinier from the outside, stronger from the inside, and super smooth to touch.
8. Thicker hair than ever
Curry leaves have the ability to make new strands grow on your scalp. This has made them a very popular method of fighting alopecia. So if you maintain a regular use of curry leaves, you'll have thicker hair than ever before.
9. Protein power
Image source: Shutterstock
Yes, protein is one of the most important elements when it comes to our overall strength and growth, especially when it comes to hair. Hair strands are made up of amino acids themselves, and curry leaves supply them with the much-required protein from their rich beta-carotenes stock.
10. A complete hair beauty caretaker
That's actually the best benefit of curry leaves – they don't just help you out with a specific problem, but are a complete hair-care solution. The most exciting part being that finding these curry leaves is a piece of cake and working with them is great fun, so, happy hair, girls!
Most helpful curry leaves packs and masks for your hair
Don't hold back ladies, have a go at all of these methods to see your hair swirl in that flawless fall you dream about!
1. The easy-peasy curry leaves and yogurt magic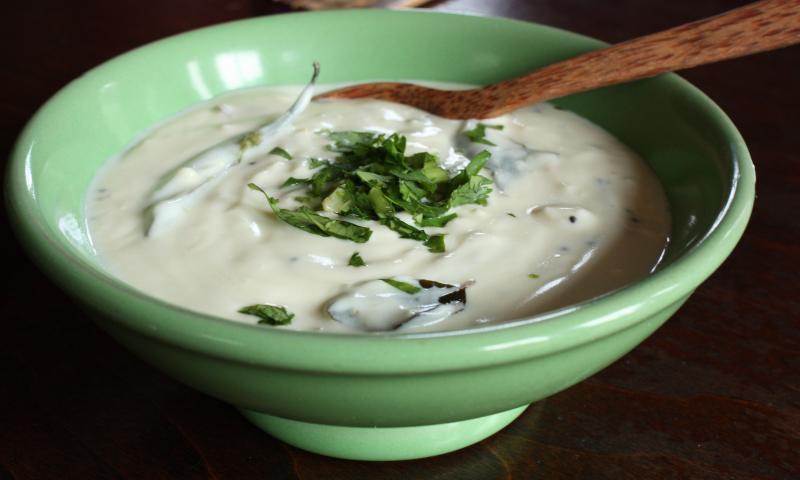 Image source: Google, copyright-free image under Creative Commons License
All you need to do is make a paste out of fresh curry leaves and mix it well with fresh yogurt. Massage it into your scalp and let it soak in, and when you wash it off after half an hour, this mixture will leave your hair shiny and ageless.
2. Coconut oil and curry leaves blissful wonder
Boil a cup of coconut oil with half a cup of curry leaves for about fifteen minutes, then strain and store this oil for a regular massage. It will provide your hair with all the vital ingredients it needs.
3. Savor the curry leaves and hibiscus sweetness
Just get some fresh leaves and petals of hibiscus and grind them into a paste with some curry leaves. Blend this mix nicely with a little yogurt and apply this pack on your clean hair. Massage it gently and comb it in deeply. Wash it off after an hour and you will be met with fabulous hair
4. The awesome trio of curry leaves, almond oil, and mustard oil
Image source: Pinterest
Fill a cup full of all these three ingredients in equal quantities (it's always better to mix the curry leaves in after grinding) and warm the mixture for about 15 minutes. Strain and store the oils and massage your scalp with it regularly (three times a week at least) for best results.
5. The homely goodness of methi seeds and curry leaves
Image source: Pinterest
Soak some methi seeds overnight and grind it into a nice paste with some curry leaves in the morning. Apply this paste thoroughly and leave it on for about an hour. You can wash this off with your shampoo, and doing this every week can make your hair lively naturally.
6. Fight the frizz with the cooling conditioning of curry leaves
This is the simplest way to say goodbye to troublesome frizz for good. Heat some water, and when it reaches a boil, add a cup of curry leaves to it. Let it boil until only half the water remains and you can use this to rinse off your shampoo for the perfect healthy conditioning treatment.
7. The timeless amla, shikakai, and curry leaves!
Soak some curry leaves, amla, and shikakai overnight and boil the mixture for about 15-20 minutes in the morning. Apply it on your hair and leave it on for an hour. Once you wash it off with shampoo, your hair will never need any other conditioner.
8. The overnight wonder-working mixture
Soak some curry leaves in water and a ratanjyot stick in coconut oil overnight. Take the stick out of the oil in the morning and grind it into a paste along with the curry leaves. Apply and let it rest on your hair for an hour and rinse it off with your shampoo to get your healthy hair.
---
Suggested read: Onion juice, the miracle you never knew you needed for your hair!
---
9. Team up the egg mask with curry leaves conditioning
Another good remedy for your hair is an egg mask rinsed with conditioning curry water, giving you perfect hair in no time.
10. The experimental blend of garlic and curry leaves
Both of these ingredients are fabulously rich with hair-helping benefits. So combining them together in a pack could be great fun and extremely beneficial as well. Have fun!
These fabulous uses (obviously made easy!) of curry leaves for hair and health help to ensure a healthy you. So, here's a little suggestion – why not go green, plant a curry leaf tree, and say thanks for these awesome curry leaves! Cheers!
Featured image source: Pinterest
Summary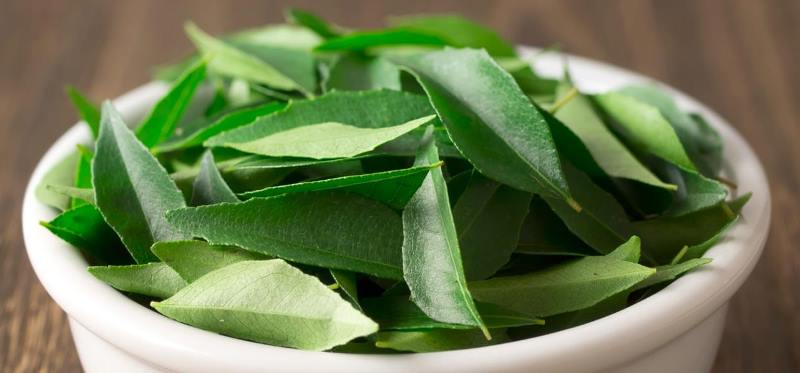 Article Name
How To Use Curry Leaves For Hair Growth
Author
Description
Curry leaves are not only beneficial for your health, they give you shiny, beautiful hair too. Here's how to use curry leaves for hair growth.