Once a fat kid who weighed a whopping 130 kgs, Jackky Bhagnani has come a long way to be the 74 kgs sexy stud he is now. He lost around 60 kgs in two years with rigorous workout and a well-planned nutrition intake to attain that well sculpted, chiseled body with those hot 8-pack abs.
Image source: Google, copyright-free image under Creative Commons License
He used to assist on his home production ventures when the acting bug bit him. On speaking about the time when he pushed himself towards achieving his dream, he remembers the shoot of 'Tera Jadoo Chal Gaya.' He says that he had a crush on Kirti Reddy, the lead in the movie and since everyone on the set knew about his crush, they'd make her sit on his lap. Since he was fat and she knew about his feelings too, she'd pull his cheeks and call him cute. He says he came to hate the word 'cute' and his embarrassment caused him to take fitness seriously. Later, on the sets of Deewanapan, Arjun Rampal praised his dancing skills and asked him to lose weight. When he approached his father with the thought and asked him if he could be launched in one of their home productions, his father laughed and brushed off the idea. That hurt compounded and overweighed all the former feelings of embarrassment, and the desire to be fit became stronger than ever. He then told his father that he'd get back to him soon. And the rest is history.
Here's how his amazing transformation came about:
The mammoth task of losing close to 60 kgs before he could even begin to realize his dream of facing the camera wasn't an easy one for Jackky. He had to make grilling sacrifices for two long years before the results began to appear. Dedication, hard work, and an unrelenting desire were the things that kept fueling his weight-loss mission. From dancing, stunts, rigorous workout schedules, disciplined dietary intake and body sculpting, Jackky underwent a lot of rigor to hone himself to befit industry standards of a 'hero.' When he first joined a gym, he couldn't even lift a dumbbell. His trainer didn't spare him either. The comments made him feel depressed and he quit soon and started binging on junk food.
Image source: Google, copyright-free image under Creative Commons License
On the turmoil that grew inside of him throughout the journey he says,
"I was born in Bollywood, life before Bollywood doesn't exist for me. I have been working here forever. Honestly life before acting has been tough for me and not many people know that because many people feel that my dad is a producer and he's a tycoon and it's been easy for me but that's not the truth. Apart from the tension, my individual struggle was very tough. I was an asthmatic patient and I weighed 130kgs, I was always made fun of, no girl was willing to date me. My struggle has been more mental rather than physical, which involves running around with a portfolio."
When he met Zayed Khan on the sets of Main Hoon Na, Zayed convinced him to meet Satya, a fitness trainer. It was under the guidance of Satya that Jackky began to achieve miraculous results. Soon, he wanted to work out in his own space and built a personalized gym within the ambit of his home. At the end of it all, the hard work was well worth it. Producer Vashu Bhagnani, Jackky's father couldn't believe his eyes.
Image source: Google, copyright-free image under Creative Commons License
Here's what Jackky had to say about his journey:
"I lost 60 kilos over a period of two years by following the right diet and exercising. My weight loss has been gradual yet consistent. I had to work very hard, but the results were worth the effort. Weight must be lost through following a healthy diet and lifestyle. Don't use quick, easy or temporary means.

"Losing weight requires the maximum focus, determination, discipline, willpower and lifestyle changes. You have to stop being lazy and decide to finally make a change. Losing weight is tougher than quitting smoking, because eating is such an important part of our life."
Image source: Google, copyright-free image under Creative Commons License
Here's the workout regimen that Jackky follows:
Warming up the body with some warm up exercises
20-30 minutes of cardio
Weight training for 20 minutes thrice a week
He is following crossfit regime for two years and believes that it makes him more active and agile. He does crossfit routine 2-3 times a week for 40 minutes
To attain that super-toned body, Jackky maintains that an active lifestyle coupled with accurate knowledge of your body type and what suits it is necessary. He says,
"You have to live an active lifestyle. I work out 5-6 days a week, for not more than 1.5 hours. I do weight training 5 days a week and cardio on 3 days. On the seventh day, I rest completely, as the body and muscles need rest to recuperate. I love dancing, martial arts, tennis, and cricket. Instead of running on the treadmill, I dance at times. The point is to enjoy your workout and do what suits you and your body type."
Image source: Google, copyright-free image under Creative Commons License
As for the dietary intake, he maintains that balance is the key. For a fat kid like him who was totally addicted to junk food, a lot of determination, discipline, and sacrifice were necessary to not only eat right and resist the seductive allure of the pizza and burger sitting across from you but also learn to enjoy the perfectly balanced portions you were consuming each day. Of the nutrition plan, he avers,
"I was addicted to pizzas, burgers, chocolates and pastries. Basically, I would eat all the wrong foods. Now, I have changed my lifestyle and eating habits completely. I eat egg whites and multigrain bread for breakfast; I have an apple or coconut water as a mid-day meal. Lunch is 2 multi-grain rotis with a bowl of dal and vegetables. Then, in the evening, I have a subway sandwich with all the veggies and multigrain bread, but without the mayonnaise. I don't have carbohydrates for dinner, so it's grilled fish, chicken or veggies or soup. Inherently, we know which foods are good and bad for us, and we must choose the right foods."
And today, when a shirtless Jackky goes 'boom boom' onscreen, I am sure many a heart goes 'dhak dhak' and then 'dhak dhak' some more!! 😉
Featured image source: Google, copyright-free image under Creative Commons License
Summary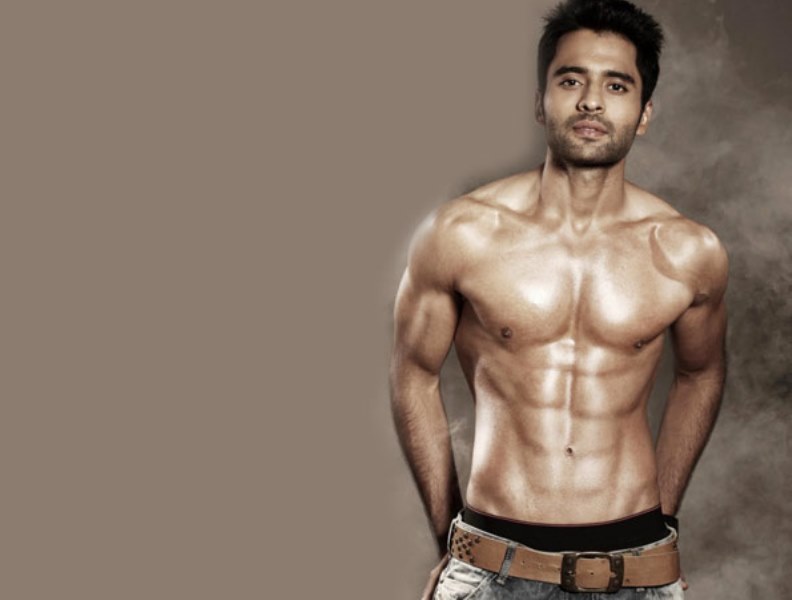 Article Name
Jackky Bhagnani weight loss routine
Author
Description
Jackky Bhagnani was a fat kid, who shed 60 kilos in 2 years! Here's how he achieved his goal of a chiseled body with this planned weight loss routine.