There's only one word that defines this 'fat' to 'fit' saga – Dabangg!!! Yes, it is no hidden fact that this once hefty and overweight actress, Sonakshi Sinha, is now quite a curvaceous cat! But it isn't without tremendous discipline and hard work that this overly voluptuous beauty has attained her present well-toned body! And we shall take you through all the junctions she hit on her way to hit 'fit junction' after she took off from fat-ville.
Image source: Google, copyright-free image under Creative Commons License
---
Suggested read: 'Dabangg' Sonakshi gave a fitting reply to Kamaal R Khan for saying 'Gandi Baat'
---
Her motivation
Once a designer, she was quite delighted to have received a debut lead role opposite superstar Salman Khan in Dabangg. However, she knew that she'd have to work out to get the weighing scale to stop groaning under her 90 kilo-weight. Salman constantly egged her on to get shapelier and fitter, and she took his advice seriously. On the motivation provided to her by her co-star, the one and only Sallu bhai, she says,
"He saw potential in me and egged me on to lose weight. I would say his contribution was the highest as I started taking it seriously only after he told me to."
Image source: Google, copyright-free image under Creative Commons License
---
Suggested read: Why Salman Bhai has the biggest heart in Bollywood
---
She knew that a sedentary lifestyle, love for junk food, and a definite lack of any workout regimen were the reasons for her being overweight. So, she took to a strict diet plan and rigorous exercise routine.
"It was a combination of proper diet and vigorous exercise that got me to the shape I am in now," she says.
Her struggle
Image source: Google, copyright-free image under Creative Commons License
Scorching the surplus weight wasn't an easy thing for Sona. She knew the same and admits to the initial phase being the most difficult one. She also points out the importance of determination and commitment to your vision. On being questioned about her gym sessions during the early days of her weight loss journey, she answers, "It was not easy at all for somebody like me. I am the kind of person who hates the gym. I am allergic to the gym. I want to run away from it. But I think once I put my mind to something, I go out and achieve it, and I guess I did that."
Her workout regimen
Image source: Google, copyright-free image under Creative Commons License
Cardio exercises, cycling, and functional and weight training
Swimming
Playing tennis
Hitting the gym twice a day
Hot yoga and spinning for more flexibility
She dedicates three days to strength training and cardio workouts, and two days to hot yoga.
---
Suggested read: Top 10 most desirable Bollywood actresses of 2014
---
Her diet plan
Even more difficult terrain for Sona was the route of a strict and rigid diet plan.  Being a foodie, it was hard for Sona to cut out on all the 'food' she loved to binge on. However, she has come a far way from being a self-confessed glutton and says that she does not starve herself with fad/crazy diets, but eats in moderation. She has small meals every two hours to help with the metabolism and drinks a lot of water to keep herself hydrated and refreshed. Her diet plan includes:
Breakfast: Cereal and milk with whole wheat toast.
Mid-morning: Some dry fruits and a cup of green tea.
Lunch: Homemade roti and sabzi with salad.
Evening: A fruit or a cup of green tea.
Dinner: dal, sabzi, chicken, and fish.
Image source: Google, copyright-free image under Creative Commons License
She sticks to portion control for her meals but never denies herself the pleasure of eating. She says that claptrap ways of melting pounds are a waste and has admitted to 'food' being her first love in an interview.
"I never followed a diet that makes me cranky and unhappy. I believe I work too hard to deprive myself of the one thing I love the most – food! I eat regular food, but in lesser quantities than before. Eating small meals every 2 hours helps in keeping up the metabolism all day. I even binge sometimes," she says. "Who's gonna stop me when there's a brownie right in front of my eyes? But if I do, an extra 20 minutes on the treadmill is a must."
However, she keeps her distance from junk food and drinks green tea twice a day as it is an effective antioxidant.
---
Suggested read: Sonam Kapoor's fitness mantras for being eternally 'Khoobsurat'
---
Her continued journey
After she lost around 30 kgs for that debut role in Dabangg, she continued on her 'fitness regime' to get shapelier and sexier. She has also hired Shahid Kapoor's trainer Abbas Ali to help her tone up her body. And we have to admit the dabangg girl's persistence and hard work has paid off. Recent movies like Holiday, Action Jackson, and Tevar have viewers witnessing a brand new 'slimmer and sexier Sona.' With her hair cropped short and sporting a red streaked look, she is wearing her new svelte avatar with aplomb. Even her face seems to have lost much of its baby fat.
Image source: Google, copyright-free image under Creative Commons License
As for traversing the distance so far, she admits to being spurred on by her own inner voice and that being a self-driven individual, she'd not have embarked on the weight loss journey had it been for people's criticism alone. A fact evinced by her Instagram post with an image of a skeleton:
Her grit
She is one of the few actresses who has not only been super confident in her own skin but also denounced the extremist craze for being 'skinny/size zero.' In fact, she even bashed Kamaal R Khan when he tried to pull off a cheap poll for Bollywood's biggest butt and had the nerve to tag the actress. She lashed out against the cheapskate and paid him in his own coin with the tweet:
Please RT this if u think @kamaalrkhan is a woman disrespecting waste of space and deserves to be hung upside down and given 4 tight slaps.

— Sonakshi Sinha (@sonakshisinha) November 13, 2014
You go girl!!
---
Suggested read: After Sonakshi, Lisa Haydon gives a fitting reply to Kamaal R Khan
---
On asked to mete out some pearls of wisdom to her fans and others who look up to her as an inspiration for becoming 'fitter,' she says,
"Don't expect results overnight. It took you months or years to pile on the kilos, what makes you think it will be gone in a few days? It is important to condition your mind and be patient during the process. Rather than dwelling on how much more you have to achieve, think of how far you have already come."
There you go – practical advice from the level-headed and dabangg Sona for staying 'happily healthy' and 'fabulously fit.' Now, what are you waiting for? Get started, Dhadang Dhang Dhang!! 😉
Featured image source: Google, copyright-free image under Creative Commons License
Summary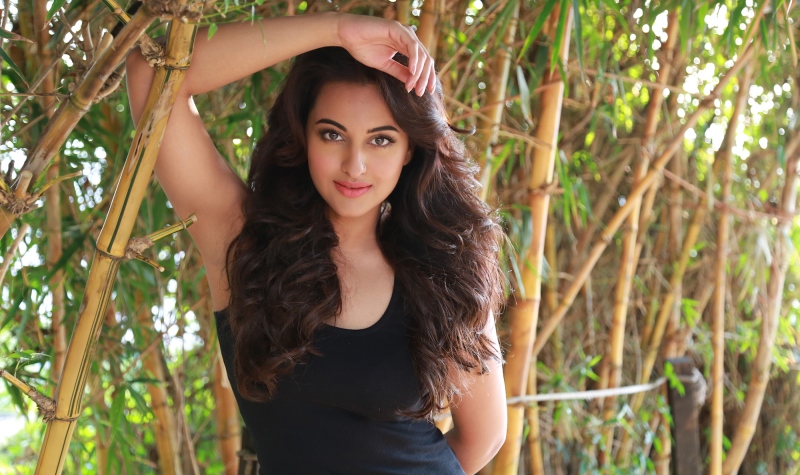 Article Name
Sonakshi Sinha weight loss regimen to shed those extra kilos
Author
Description
Sonakshi Sinha has had to struggle to get to her present toned and sexy body. Here's a look at her weight loss journey to inspire you to a healthy form.