It seems like the ongoing conversation about body positivity always keeps adding participants. Some come in and talk in hushed whispers while some are courageous enough to scream and rend the air while most others have the cudgels to finally speak about it, in normal, albeit inspirational intonations. One such TED Talk The Art Of Asking by Amanda Palmer hit the nail right on its head when it actualized the 'we teach best what we most need to learn' adage. In the talk, Amanda speaks of stripping naked in public and allowing her fans to draw and write anything on her body. The idea, in itself, is overflowing with liberal froth. When we, as a society, tend to be really hard on ourselves for not being able to live up to conventional standards of 'body image,' we refuse to accept all the love that can come our way by dwelling too long and too hard on the unworthiness we have shrouded ourselves in. By refusing to see ourselves in any other light, we not only become our worst critics but steel ourselves against 'acceptance' by rejecting our own selves outright.
Jae West, a body positivity advocate, too realized this a tad bit late in the day. Inspired by Palmer's thoughts, she decided to allow the vulnerability of nudity to bolster her self-esteem. In a public experiment, supported by The Liberals International which creates "participatory public and private events that involve and encourage people of all ages and backgrounds to participate in acts of unconditional kindness, dance, and/or human connection," Jae West took to the streets of London followed by two fellow liberators and a camera to strip naked right in Piccadilly Circus.
Image source: Youtube
Yes, Jae West stripped down to her bra and underwear and stood blindfolded in the middle of the street in broad daylight, a marker in each hand and a board that read:
Image source: Youtube
While the move was another in the horde of bold experiments that relate to body positivity, the relational aspect was an effort to exhort people riddled with self-doubt about their own bodies at any stage in their lives or owing to any struggle (biological or otherwise) to face their own and spread the love to their own selves whilst spreading it on the body-canvas of Jae.
Image source: Youtube
---
Suggested read: Why #ProjectWomanKIND is the Youtube series you MUST watch
---
Of course, the move didn't come easy as Jae West has herself suffered throughout high school and college with an eating disorder, and to grow from a disavowal of her body to acceptance took a lot of courage. She records her own feelings thus,
"As I stepped onto the streets of Piccadilly Circus with white board and markers in one hand and blindfold in the other, I couldn't help but feel an overwhelming sense of vulnerability at what I was about to do. Observing the members of the public on a casual Sunday lunchtime, oblivious to the fear-ridden chatter that was going on in my head. I'd seen a large number of families and individuals of different cultures in the area and was worried about offending them with exposing my body in the act of freedom that I was about to embark on.

"As my clothes fell to the ground and I placed the blindfold over my eyes I could feel a shift of attention and confusion stirring in the air. My heart was racing while all the worst case scenarios were going through my head. I was scared that no one was going to draw a love heart on my body and I was going to be left out there in the open in my underwear on show to be ridiculed."
Image source: Youtube
But then, West speaks of how amazing it felt when people started to do exactly what her heart wanted them to,
"As the minutes passed it felt like hours. Usually during public experiments we have a couple of people planted in the crowd to act like onlookers and step in if nothing happens, however I knew that Elliot and Pete were the only ones out there and both of them were on camera's so I really was putting full trust in the public to step up to the plate. All of a sudden I felt one of the pens in my left hand slip out of my grasp. The feeling of the felt pen was on my skin was one of the most overwhelming feelings of relief, gratitude and love that I've ever felt. I just burst into tears. I don't know who that first person was but I am so thankful for their contribution. After that first love heart was drawn it felt like others were liberated to follow suit because soon all the pens were leaving my hands at a rapid pace!" (sic)
Image source: Youtube
---
Suggested read: American Eagle's Aerie is beating VS at its own game with #AerieREAL campaign
---
Well, in the face of self-esteem issues surrounding our own bodies, participatory moves as these are truly welcome and inspiring. Especially when they do succeed in sending out a ripple of positivity and learning. Read it in Jae's own words,
"One of the most moving and inspiring moments for me was listening to a Father explain to his children what I was doing. He was acknowledging the fact that everyone should love themselves exactly as they are and appreciate the bodies that they are given. It warmed my heart to know that his children and others would grow up understanding the impact of this global issue and have a feeling of contribution after drawing a love heart on my body. If everyone could know and appreciate how beautiful they are from childhood I think this world would be a very different place."
Watch the inspiring lady here:
 Featured image source: Youtube
Summary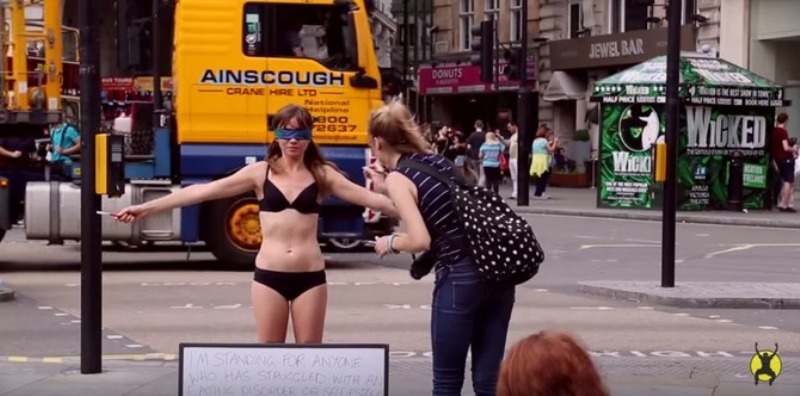 Article Name
Jae West Undresses In Public To Encourage Women To Love Their Bodies
Author
Description
Jae West has managed to send a ripple of positive vibes surrounding people's estimation of their bodies through Picadilly Circus, London. Read how.