Body image has been a hot topic for months now! But in an age where the media still keeps bombarding women with images of a 'perfect body type,' ideas of what it means to be 'conventionally beautiful,' and the beauty 'ideals' that all women should 'aspire' to – it is increasingly difficult for many women (despite all their strength, intellect, and independence) to come to terms with their 'shape or size' as they grapple with the flames of the 'idyllic' fire of beauty ideals that threatens to consume them to douse it with the fresh waves of body confidence by embracing themselves, as they are!
Image source: Isabella Moore
While there is no statistic that can throw light on just how many women are allowing the fire to burn themselves and scar their self-esteem forever, there, definitely, is no dearth of data to evince that women, since eons, have been duped by the misleading notion of a standard or an ideal that they must conform to, in order to be perceived as 'beautiful.'
Image source: Isabella Moore
In an attempt to break the confines of the mold within which society aims to cast all women and challenge the existing definition of the 'ideal' body image, an Aussie model Jessica Vander Leahy, 27, has founded #ProjectWomanKIND, a video web series of honest and raw conversations that encourage women to embrace the beauty that makes them unique.
Image source: Isabella Moore
By attempting to throw open the gates to understanding that the narrow interpretation of 'beautiful' in society isn't quite the definition vis-à-vis which thousands of women worldwide should negotiate their discussions with self about how they feel about themselves, she brings to the fore refreshing ideas on how women view themselves, how 'body confidence' itself, is a variable, how women struggle with their body image and how their relationship with the same is never a constant. Leahy concurs,
"I can't narrow it down to one specific thing, but society has a very narrow interpretation of what it means to be beautiful. Probably why so many women struggle with it so much is they don't understand why we feel like we have to fit in to this really narrow ideal."

"It made me wonder if there is a real lack of honest conversation about the way women feel about themselves and the natural highs and lows they go through — not only about body image, but also on their journey to figuring out what it means to be a woman and being happy and content with themselves," she explains.
#ProjectWomanKIND is Jessica's attempt to capture raw and honest conversations that exhort women worldwide to embrace the beauty they have, which, in essence, makes them the unique and special individual they are.
---
Suggested read: LaneBryant Lingerie's #ImNoAngel Campaign promoting a healthy body image?
---
Image source: Isabella Moore
By choosing five other curvaceous models – Sophie Sheppard, Margaret MacPherson, Stefania Ferrario, Olivia Langdon – alongside herself – she meant to hammer home that even those who bear the societal expectation of being 100% confident in their own skin all the time can undergo the struggle involved with body image and face rejection but bounce back with a self-driven intention to accept oneself, love oneself, and more importantly, project and radiate that confidence outward.
Image source: Isabella Moore
It is this journey of confidence that Leahy has put out there for all the women to be inspired in their own personal journey to self-love and body confidence.
"Being the director of the project I was conducting the interviews and trying to coax honest answers out of them, but you want to hide those insecurities at whatever cost," Ms Vander Leahy said. "The girls were really brave and really courageous. They just really put it all out there, and I think the way they were so frank and open … is something so relatable for women to watch. We captured the real moments women feel every day, the natural highs and lows."
Image source: Isabella Moore
In her web series, Olivia Langdon confessed she spent many of her teenage years focused on what she did not like about herself. In a bid to conform to what she believed it meant to be beautiful, she went on diets and embarked on lifestyle changes that ultimately left her unhappy. When asked what advice she would give to her 16-year-old self, she posited an inspiring answer,
"Your sense of self-worth is not relevant nor proportional to your shape or your size, or of anyone else's," she said. "I think that (advice) would have made my childhood much easier to take."
Image source: Isabella Moore
However, model Sophie Sheppard says that the change isn't going to come easily until women changed the way they, themselves, placed a premium on the societal expectations of what they are meant to be like and drill them into each other vis-à-vis their regular interactions. Sophie has a relevant point there,
"Women can be so mean to each other, it's horrible and something I think has such a major impact on young girls," she says. "There is no need."
By normalizing the issues faced and representing the universal struggle as something that can be collectively overcome, #ProjectWomanKIND is reaching out to millions and encouraging them to approach their bodies positively. Leahy takes Sophie's contention one step forward and states,
"Through #ProjectWomanKIND we wanted to show that you have days where you feel natural highs and lows, and that's okay, that's totally normal. I want people to watch it, get something positive out of it and share the body love. I think the new mantra for women should be – be kind to one another."
Image source: Isabella Moore
---
Suggested read: American Eagle's Aerie is beating VS at its own game with #AerieREAL campaign
---
Ms Vander Leahy hopes to expand the web series to include candid interviews with everyday women.
"I'm really proud of the project, I'm excited about the good it can do for people," she said. "For me, if just one woman watched this project and felt better about themselves it would all be worth it."
We are sure coz after all you are only drilling home what we have always believed- confidence is beautiful!
Featured image source: Isabella Moore
Summary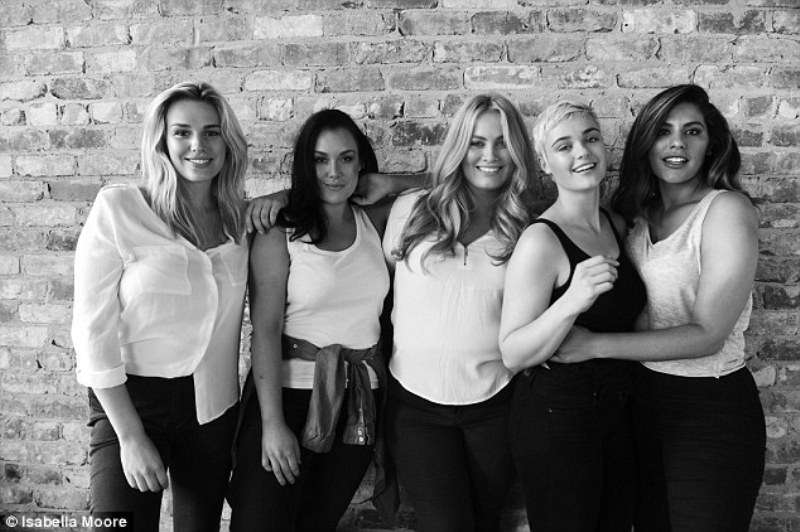 Article Name
#ProjectWomanKIND And The Body Positive Message It's Giving
Author
Description
#ProjectWomanKIND is an online campaign by Aussie model Jessica Vander Leahy to encourage women worldwide to understand that 'confidence is beautiful.'