According to Wikipedia, moral police is the name given to vigilante groups which act to enforce a code of morality in India through violence and intimidation. And the target of this moral policing is any activity that the vigilante groups deem "immoral" and/or "against Indian culture."
And this mantle has been taken up by the likes of Vishwa Hindu Parishad, Sri Rama Sene, Maharashtra Navnirman Sena, Hindu Jagarana Vedike, et al, who think it's their God-given right to police the public on what is "Indian culture" and what is appropriate in public. They denounce anything they consider as immoral and attack youngsters in the name of stopping the Westernized culture that today's youth seem to be embracing.
In a recent incident of moral policing, a group of political activists belonging to the country's ruling party, the BJP, vandalized a coffee shop for alleged 'immoral activities' happening in the premises in the city of Kozhikode, Kerala. Apparently, the attack was provoked after Jaihind Television aired a report on October 23rd with visuals of young couples embracing and kissing, taken from the parking lot of the café.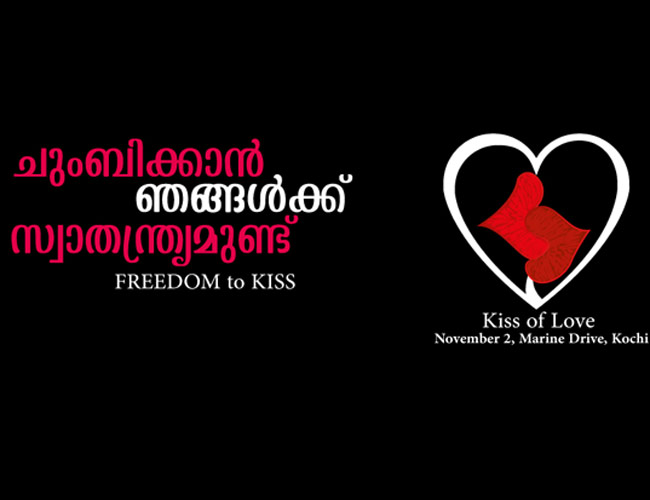 And the youth seem to want to assert their right to love and express it in a manner they see fit, by organizing an event aptly named 'Kiss of Love.' The event invites youngsters to kiss in public "as an expression of love." The event, which has been planned for Sunday evening, November 2nd, was organized by short filmmaker Rahul Pasupalan. He has also opened up a page on Facebook with the same name, which has already garnered more than 16,000 likes and around 2,600 people have signed up for the upcoming event.
"Lovers will kiss each other. We want to send a strong signal to moral police that violence can't overcome love," said Rahul. "Criminalization of affection and love is really bad. The attack against the coffee shop was just a trigger. Sadly this tendency is growing everywhere."
The Facebook page in its description says, "Moral policing is a criminal activity. Most of political parties and religious organizations tries to do that. A group of young bloods join their hands together to prove the society that kiss is the symbol of love (sic)."
After the city of Kochi, the organizers also plan to take the campaign to other cities in protest against intolerance and moral policing. And a number of people from the LGBT (Lesbians, Gays, Bisexuals, Transgenders) community have also lent their support to the 'Kiss of Love' campaign.
Although only a couple of thousand-odd people have accepted the invite to assemble in Marine Drive to kiss or embrace in public, the organizers are expecting at least 10,000 couples to turn up for the Kiss Day even in Kochi.
The city's Deputy Commissioner Nishanthini had this to say about the event: "We can't prevent people from assembling. But if it creates a law and order problem and traffic snarls, we will arrest and remove them from the spot."
Image credit: Kiss of Love