India's diversity, her multicultural identities and narratives, and the myriad of stories that are constantly interweaving have always found an expression in the poetry this land has produced.Our poetry is an extension of ourselves; it is the voice that resonates with the deepest crevices of our soul and is privy to our hidden desires, dreams, struggles, and hopes.
Our country has produced some of the best Indian poets; each coming from a different background and representing various facets of what it is to be an Indian, both within and outside the borders of the country. These poets have created masterpieces that people from every corner of the globe can relate to and appreciate, while at the same time maintaining their authenticity. They have written about loves lost and found; about the squalor that dwells in the lowest rungs of our society; about women finding strength in their vulnerability; about the gods and their charming ways. They have written about the rains that make the farmers sing and the peacocks dance;about being an outcast amidst a frightening and cruel majority. They have written about politics,war, friendship, marriage, death, family and so much more. Their poetry, however regional it may be in character, has had a universal appeal that has the power to make its readers reflect and ponder.
---
Suggested read: 8 Of The Best Contemporary Poets You Should Be Reading
---
Following is a list of some of the best Indian poets, those who've used their words to weave magic that will last forever:
1. Agha Shahid Ali
A Kashmiri- American poet, Agha Shahid Ali's poetry is about friendship, love, the dualities of his language and upbringing, and Kashmir. He wrote about Kashmir with all its varied hues, its beauty as well as its devastation. He wrote about the grief and violence that has become synonymous with life in Kashmir. He was aware of the cultural divisions that prevail in this land that was once a peaceful abode, yet his poetry is brimming with an enduring hope for love and friendship, while also being aware of the difficulty in maintaining those relationships. He was also a translator forFaiz's poetry (which has been written in Urdu); and also introduced American poets to anew form of poetry, the Ghazal.
2. A. K. Ramanujan
A Modernist poet, Ramanujan's poetry provides readers with a glimpse of Indian modernity, its aspirations as well as its emancipation from the self and also from the contemporary society. Having spent a good chunk of his life in the safety of Western culture, Ramanujan looked at his native land, its culture and language with a sense of defiance and irony. There is also a tinge of regret in his poetry, the regret of not having experienced enough or lived enough. Ramanujan's writing has a lot to do with the concepts of identity and displacement. For example, in his poem titled Self Portrait, Ramanujan talks about his 'identity' that seems like a stranger to him; is he merely a shadow left behind by his dead father? He was also a scholar par excellence and taught at the University of Chicago for 30 years. He has earned considerable fame and accolades in both India and abroad for his translations, chiefly those of classical Tamil poetry; and later on of Bhakti poetry into Tamil and Kannada.
3. Javed Akhtar
Besides being a highly successful lyricist and screenwriter of some of Bollywood's blockbuster movies, Javed Akhtar is also a poet; often frequenting literary festivals for readings and discussions on poetry. He has, in fact, won several accolades for his poetry, including the Padma Shri, the Padma Bhushan, and the Sahitya Akademi, along with five National Film awards. His shayaris (written in Urdu) have dealt with the themes of love, childhood, the transient nature of time, self-introspection and heartbreak. Reading his shayaris will make you fall hopelessly in love with the Urdu language, and strike a chord with souls across generations. Javed Akhtar's poetry will make you feelrefreshed and calm, the way the wind makes you feel on a spring evening in April. It makes you want to be alive. I couldn't help but include one of his works that have stayed with me ever since I first heard it (along with a sorry attempt at translating the same, for which I apologize in advance) –
Dilonmein tum
Apni betabiyaan leke chalrahe ho
Tohzinda ho tum

(In your heart
You carry your impatience
Thus, you are alive)

Nazar mein khwaabon ki
Bijliyaan leke chal rahe ho tum
Toh zinda ho tum

(In your eyes
You carry the storm of your desires
Thus, you are alive)
---
Suggested read: 25 Nayyirah Waheed Poems That Will Make You Fall In Love With Her
---
4. Ruskin Bond
India's most beloved writer of fiction has also weaved magic of fantastical proportions with his poetry. Although his poems aren't as widely read as his prose is, they are just as beautiful and enchanting as his prose writings, if not more. Bond has a way with words and this quality of his finds reflection in the words of his poetry. His poems range from those written on love and nature, to childhood and humor, travel and people. They are funny and sad and magical and commonplace, and they're about ghosts and grandmas and gods and mountains and rivers and seas. If you've enjoyed reading his fiction, then his poems too will be a source of lasting delight and joy for you.
5. Jeet Thayil
Unhappiness is a kind of yoga, he tells himself, wrote Thayil, well known Indian poet as well as author of the praiseworthy novel Narcopolis, which tells the tale of Bombay in the 1970s. Thayil's poetry is marked by a sort of lack of the traditional Indianness and is a cosmopolitan blend of styles, owing largely to his upbringing. His poetry is brutally honest and personal; here is a poet who is not afraid to bare himself completely to his readers. His poetic inspirations are heavily drawn from his personal experiences and habits. He writes about the pleasures and pains of drugs, alcohol, sex, and death- exploring subjects which one usually associates with the poetry of William S. Burroughs and other poets from the Beats generation.
6. Kamala Das
It's not much of a surprise that there are so few female poets known to the mainstream media and literary circles. Like in all spheres of life, in poetry too, there is an underrepresentation of women who write breathtaking poetry. However, one name that immediately comes to mind is Kamala Surayya, better known by her one-time pseudonym Kamala Das. Apart from her poetry, Das is also well known and revered for her writings on a wide range of topics, like women's issues, child care, politics, and others. A true iconoclast, Das is remembered for her poems which spoke openly about female sexuality, love, and longing without any sense of guilt or shame. Her confessional style poems, which broke free from the archaic and stagnant styles which still governed Indian poets, were like a breath of fresh air in Indian poetry, and have rightfully been compared to the poetic works of giants like Sylvia Plath and Anne Sexton.
7. Vikram Seth
Seth, who is both an eminent author and a beloved poet, has often written about love. He writes about love tenderly, the way a young boy of 17 would write upon discovering these tingly feelings we call love. His poetry holds the power to establish a bond of intimacy and understanding. He published his most recent volume of poetry in 2015, after over twenty years or so. With the tenderness of his poems about love, however, there were also those which originated from a dark place all of us fear falling into. As Seth has rightly said, "poetry is an emotional act." More than talent and poetic flair, it requires a certain amount of courage, the ability to open yourself up completely and fearlessly to your emotions. Vikram Seth has been doing that, perhaps, ever since he began writing poetic verses. His poetry is marked by this sense of urgency, a feeling of helplessness; usually in response to some pressures and struggles of his life. That is what makes his poetry so relatable as if he were putting words into the inexplicable thoughts that dwell in the dark recesses of our being.
---
Suggested read: Spoken Word Poems By Women That Will Lead You To Yourself
---
8. Tishani Doshi
A writer, dancer, journalist, and poet; when TishaniDoshi was asked why she writes, she said it is simply because she could and she felt compelled to. For her, poetry is an act of remembering- the stories, memories, struggles, hopes, nightmares, and dreams. Poetry is a reminder that we are alive and we are living, and it will continue to remind generations of that even when we are not. TishaniDoshi's poetry is honest and personal- it talks about loss, wonder, fear, strength and the very basics of human nature. In her poem titled Contract, from her collection Girls Are Coming out Of the Woods, Doshi writes about how she is willing to go through every pain in the world, just to make her reader feel something, promising them a life that is marked by wondrous excitement at the prospect of the future, even if she knows it to be bleak.
This list on the best Indian poets, obviously, does not even begin to cover the vast abundance of poets in India whose words alone are enough to cause a stirring in the deepest recesses of our souls. From poets who write in the English language, to those who write in regional Indian languages, there is magic flowing out from everywhere. All you have to do is look for it.
Featured image source: Instagram 
Summary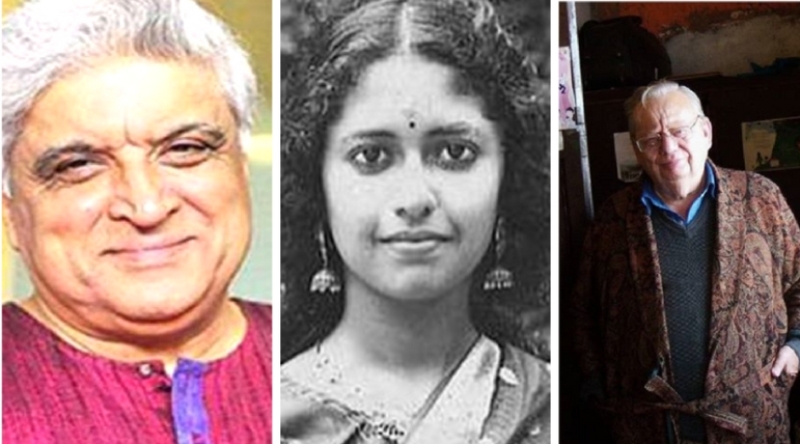 Article Name
#WorldPoetryDay 8 Best Indian Poets Who Deserve To Be Read Over And Over
Author
Description
On World Poetry Day, let us celebrate some of the best Indian poets, who have written masterpieces that deserve to be read and remembered forever.