Niche dating sites are the new IT-thing! From dating sites for black singles to cougars, sugar daddies, adulterers, and even gluten-free people or sea captains, online dating is no longer the 90s den of the lonely and murderous! There is a potential match for just about everyone in the online dating (hide-and-seek?) game – you just need to be looking in the right place!
And if you thought that the players in the dating realm had exhausted nearly everything that they could put out there, pause and rewind.
It was 2013 when Daigo Smith launched LoveFlutter – the quirky Tinder for 'quirky interesting people.' Confused? I was, too.
LoveFlutter launched as a similar playground that aimed at matching prospective dates based on shared interests! Just like any other legacy dating service, right?
---
Suggested read: An honest review of PlentyOfFish.com
---
Nope! Coz LoveFlutter requires users to take a 'Quirky Interesting' test to assess if you are the right 'fit' for its pool of 'interesting' people to date! This so-called 'QI' test is an entrance test that would even annoy the likes of the adorkable Zooey Deschanel!! Comprising of flimsy questions like one's experience with bungee jumping or the desire thereof, one's proficiency in multiple languages or the preferred genre of TV shows, the QI passes the final verdict on whether you can flutter about the LoveFlutter skyscape! My only question is those 'flimsy' wings that QI allots aren't really enough to take off – let alone flutter or fly!
I mean ten questions of the kind listed above and answers like no experience of bungee jumping, proficiency in one language and an interest in comedy shows can get one a respectable score that deems one a 'colorful character,' – quirky and interesting enough – to step past the portals of LoveFlutter.
Thanks LoveFlutter, but no thanks.
Julie Gerstein at The Frisky has similar views about LoveFlutter hangups:
"I would never want to be a member of any group that … meant having to pass some kind of stupid "Are you weird enough?" test. It seems that this is just a way for "quirky-interesting" people to be as exclusive and judgmental as the people around them who consider them outsiders."
The Telegraph's Jack Rivlin had a less-than-flattering idea of what kind of men might be on the site, based on the questions in the "QI" test:
"What bland idiot considers those minor feats the basis for a personality? Probably a spray-tanned, smoothie-drinking windbag who gets his life advice from GQ, and has a "bucket list" of things to do before he dies. Sure he's got a philosophy, it's "everything happens for a reason."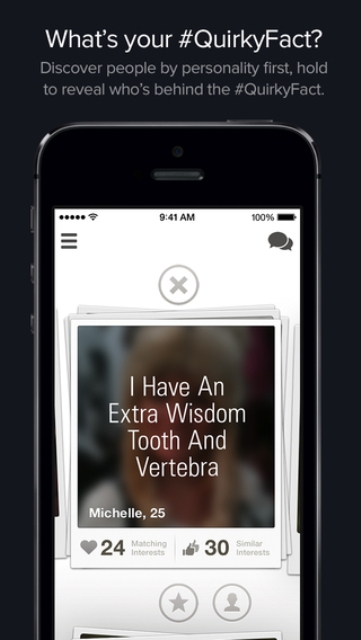 Now, for a site like LoveFlutter that brands itself as a site that offers 'Dating Exclusively For Interesting People,' weeding out the apparently 'boring' types to pick such chumps who think that being quirky and interesting can really be boiled down to an assessment based on a spurious list of parameters like how many people liked, shared, commented on or tweeted about/retweeted your recent status – makes LoveFlutter an 'exclusive' place to meet 'interesting people,' eh? NO? Thought so!
"Looks are important but humour, wit and charm are just as attractive and desirable traits in potential partners," LoveFlutter co-founder Daigo Smith told TechCrunch.
I just have one question for Mr. Smith – where exactly are these desirable 'delights' being offered? We did an FBI-inspection of the LoveFlutter dating scene – the 'desired' elements were NOT FOUND!
---
Suggested read: SoulSwipe dating app being hailed as the 'Black Tinder'
---
Not only is this silly QI test a feature that makes it impossible to believe in a good pool of potential matches (save if you are one of the 'QI' numbskulls yourself and are looking for a mega-bore!) available on LoveFlutter, but the site's 'semantic' technology that deploys Google-owned Freebase (the open database of people, places and things) to power its interest-graph for matchmaking is equally dubious! Don't get me wrong – in as long as it helps throw some light on the life of a person, it's great! But the problem still remains one of limited choice. Why would you want to know more about the lives of windbags on the site??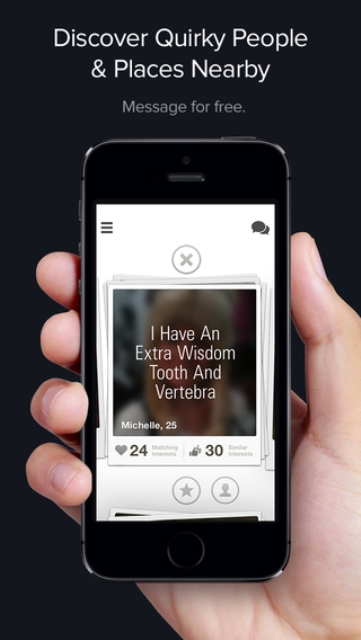 Last year, LoveFlutter launched its mobile app to enable the proliferation of the 'QI-syndrome.' Using the online dating giant Tinder's modus operandi, albeit in part, it uses the same swipe technique (up to pass and down to like) requiring a reciprocation to set up a date. However, it shuns Tinder's photo-centric approach to match potential partners and sprinkles its own 'quirky' sugar crystals to ricochet off the 'dating pie' surface when one cuts through! Does it taste sweet? Let's see.
When you browse profiles on the LoveFlutter app, the first thing you see isn't a photo but a 140-character 'quirky fact' about the other person! It then requires a long-press on the profile holder's blurred-out photo to reveal the person behind the "fact."
And while this definitely is a better indicator, the kind of facts parading the corridors of LoveFlutter do not quite validate the 'noble and altruistic' intentions of the founders. David Standen, co-founder, LoveFlutter, had said,
"We admire the simplicity of Tinder but in arguably over-gamifying things, they've missed some crucial steps needed to help people get on actual dates. By focusing simply on looks you're risking a date with awkward silence, we've all been there! LoveFlutter's focus on two types of attraction, reading an interesting fact first before revealing a photo, gives you an insight into personality before looks."
Try and get the 'better birds' to 'flutter' about – the ones who can type in a really riveting 'quirky fact' that does not even hover about the ones currently doing the rounds – like 'I have an extra wisdom tooth and vertebra!'
'Oh really, I'm in – let's date,' said no sane person ever! Coz you didn't attract that pool to LoveFlutter!
On other unique custom features, Smith boasts of LoveFlutter's 'Suggest-A-Date' feature that helps you pick somewhere to go or something to do, once you begin to message a prospective date. By making use of data from location-based search app Foursquare and its own interest graph, this one surely is a helping hand! Thumbs-up for this one, folks!
"Tinder offers no functionality beyond the messaging stage once you've been matched, leaving you to work your magic alone," adds Smith. "This part of the user journey, the path to organizing a date between two people, is an untouched space in terms of functionality and it's here where 'Suggest-a-Date' comes into its own."
The only thing I have to say is 'added functionality' is a feature that is served to 'enhance' user experience. Please work on a REAL method to achieve your mission of getting 'interesting' users on board first! Just my two cents for a site that can make much more!
Good luck!
Summary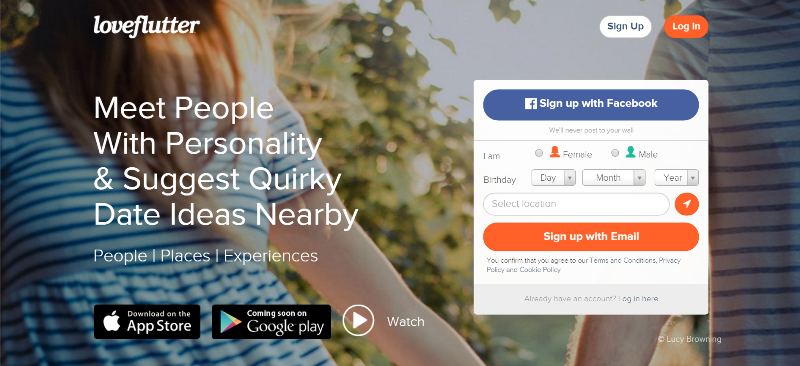 Article Name
LoveFlutter: A Dating Site for 'Quirky Interesting' People
Author
Description
LoveFlutter knows we want interesting people to date. And so it offers help. But is it a REAL offer to help us meet potential matches? Find out.