I'm sure everyone who's ventured into the sometimes-shady and sometimes-exciting and sometimes-fruitful dating-land, have heard of millionairematch.com, an exclusive dating website dedicated to cater to the one percent. The website has been around for close to 14 years now, and because of its reputation for offering a good and satisfying experience, MillionaireMatch.com now boasts more than 2.3 million users.
Now, this exclusive dating website has launched a new version of the dating app, called MillionaireMatch Pro, an iOS app. 'When you are part of the one percent, it can be hard to find romance with someone who really understands you,' says the press release for the new dating app. Right. Poor little rich people can't find anyone to date who understands them and appreciates them for who they are.
Members who wish to sign up for the dating app have to specify their annual income, because, you know, they have a strict 'no riff raff policy.' By the way, riffraff is one word, not two. The site as well as the app boasts of a very exclusive and elite clientele of rich and attractive men and women – from high powered CEOS to pro athletes to Hollywood celebrities and doctors, lawyers, super models, entrepreneurs, investment bankers, and what not, who are all seeking a serious, long-term relationship.
The elite, luxury dating site encourages users to show off their wealth – albeit in a subtle manner – sort of. Millionaire members can upload pictures of their luxury vehicles, art they own, boats and yachts, hi tech gadgets, gourmet food and spirits, expensive and exclusive jewelry, and real estate. Doesn't this remind you of another dating app for the 'rich and the attractive'? Yep, that's right. LUXY, a dating app, which allows its members to weed out the poor and the unattractive from its community.
Then what's the difference between the two?
Apparently, the difference is in their approach and credibility. Since MillionaireMatch has been around longer than LUXY, it's got a slight edge over the latter, in terms of drawing members.
---
Suggested read: LUXY dating app allows members to reject 'the poor and the unattractive'
---
Although signing up for MillionaireMatch Pro is free and easy enough, if you want to get in touch with any of the other members, you need to cough up a significant amount of money towards subscription fees. And since it's for millionaires, they would hardly mind shelling out a pittance in comparison to their millions in the bank!
Sammy Wan, the marketing representative for MillionaireMatch Pro said,
"We've been providing wealthy singles in search of romance with a safe and fun online destination since the infancy of the online dating industry. This new version of our iOS app is something our members really appreciate. Successful people lead very busy lives and their time is extremely valuable. This new update gives them what they need to meet other successful singles in the most efficient and convenient way possible."
Well, whatever they used to offer on an online dating website, MillionaireMatch has taken the next step in its evolution by introducing its iOS app, MillionaireMatch Pro.
Happy hunting for your millionaire! 😉
Summary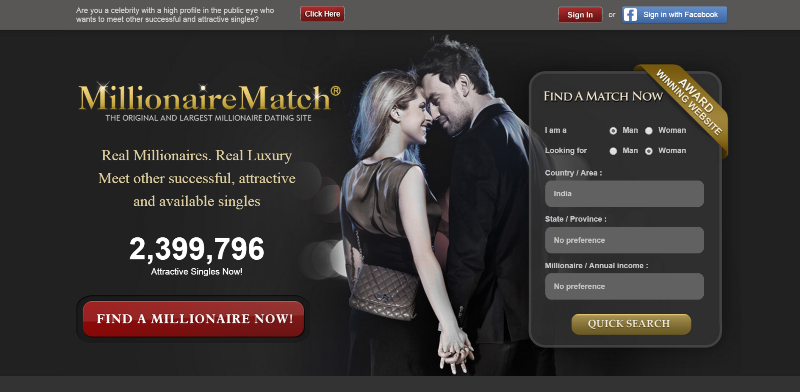 Article Name
MillionaireMatch Pro iOS Dating App For Millionaires Only!
Author
Description
To cater to the exclusive and elite one percent, MillionaireMatch.com has launched MillionaireMatch Pro, an iOS dating app. Check it out here.