"Love one another, but make not a bond of love: Let it rather be a moving sea between the shores of your souls." – Khalil Gibran 
Hyderabad is a city with a rich royal heritage. While many of the ancient traditions have been modernized, the grandeur has not been lost! Also called 'Nawabon Ka Shehar' or 'The City of Kings,' Hyderabad has many rituals unique to its own cultural heritage, and a traditional Hyderabadi Muslim wedding is one of the best occasions to experience them!
Image source: Google, copyright-free image under Creative Commons License
Before the Wedding
1. Mangni
As with all weddings, Hyderabadi Muslim wedding traditions also begin with a Mangni or engagement. This is the official betrothal ceremony, and the date of the wedding is sometimes fixed during this occasion. While this isn't a major ceremony in most households, some do arrange a small party on the day.
2. Mehendi
Image source: Google, copyright-free image under Creative Commons License
One of the most important among Hyderabadi Muslim wedding traditions is the Mehendi. This is a ladies' function where they either hire someone to come home and apply it on all the ladies' hands or they go to a mehendi specialist's home. Everyone who is female gets their hands stained, little girls included!
3. Manjha
This is similar to the 'Haldi' ceremony in other parts of India, where turmeric is made into a paste with sandalwood and/or saffron, and applied to the bride's skin. A token amount of paste is also applied on the groom. The paste for the bride usually arrives from the groom's house and unmarried girls take turns to apply it on the bride to make her glow for her special day. Traditionally, once the Manjha is done with, the bride isn't supposed to leave her house till the wedding day!
Wedding Day
1. Baraat
The groom is usually dressed in a Sherwani, the fabric of which is usually something heavy like brocade. He also has a turban to match the Sherwani, and it is usually decorated with a jewel of some kind. The groom sits on a white mare and is accompanied by his relatives to the bride's home, amidst much singing and dancing!
2. Entry of the bride
The bride dresses in a traditional Khada Dupatta set, which includes a kurta or tunic, tight pants (chudidar) or a long divided skirt (garara) and a long flowy dupatta or shawl that is draped around her. An ornate veil is then placed on her head which flows down her back. Hyderabadi brides often wear heavy gold jewelry, most of which have been passed down several generations. She is brought into the wedding hall accompanied by her relatives (usually siblings) who hold a decorative shawl over her head.
3. Nikaah
Hyderabadi Muslim wedding traditions usually dictate a segregation of some sort, although modern weddings see less and less of it. Traditionally, the men are grouped together around the priest, the groom, and the bride's father, while the women folk sit with the bride at a distance or on another floor. The marriage is made official and legal by the priest and the bride signs on the Nikahnama or marriage contract, after giving her consent by saying 'Qubool hai.'
4. Arsi Musaf
This is a unique wedding tradition that is quite sweet too! After the Nikah, the groom goes to sit next to the bride. Their heads are covered with a veil and both of them are asked to read passages from the Holy Quran. They are then asked to look into a mirror, where they see their reflection for the first time as man and wife. At this point, they usually share a sweetened drink of some sort and are fed dates by the elders to convey their blessings.
5. Walima
Image source: Google, copyright-free image under Creative Commons License
A post about Hyderabadi Muslim wedding traditions cannot be complete without any mention of food! Of course, the famed Hyderabadi Biriyani is the centre of attraction, but there are several other dishes that are just as delicious. The feast usually begins with Haleem, and also includes Red Chicken, Luqmi, Kabab, Vegetable Pulao, and many dishes, most of which feature mutton or mince. Desserts are rich affairs made with milk, cream, and dry fruits.
6. Rukhsati
This is the tradition where the husband takes his new wife to her marital home. In the old days, when the groom and his family were from a distant village, the groom stayed at the bride's home on the wedding night, but in another room. The Rukhsati was then held the next morning, amid tears and chirpy farewells.
We're pretty sure you're craving some fragrant Hyderabadi biriyani after reading this post!! While Hyderabadi Muslim wedding rituals and traditions may vary from household to household, the feast or Daawat is something no one compromises on! So the next time you get an invite for a Hyderabadi Muslim wedding, prepare to get your hearts and tummies filled!
Featured image source: Google, copyright-free image under Creative Commons License
Summary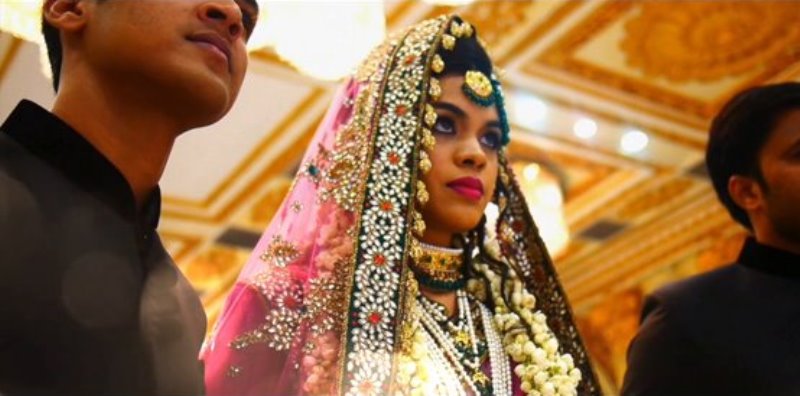 Article Name
Meaning of Hyderabadi Muslim wedding rituals
Author
Description
Weddings consist of different rituals in various parts of our country. Here's a look at the Hyderabadi Muslim wedding rituals.