A lot of brides are confused about whether they should wear a veil at their wedding or not. It is one of those accessories that you can also do without, because traditionally, veils are worn at religious ceremonies where covering the head is considered a gesture of respect. Even though some of the best wedding veils are out there waiting to be worn by you, you might in two minds about whether to take the leap or not.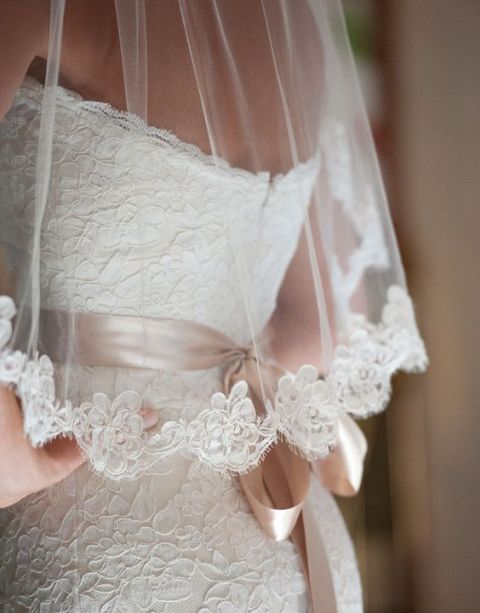 Image source: Blanca Veils
If you are confused, we have the answer for you: DEFINITELY YES! Veils are an indispensable part of a wedding, whether you are having an all-out church ceremony or a simple court registration, or an intimate gathering with your family. Wearing a veil takes your wedding look to a whole new level, and they are most of the reason why you feel like an ethereal princess on your wedding day. Here are the 20 best wedding veils that are going to convince you to add a veil to your wedding ensemble, and take it up a notch.
---
Suggested read: 25 Of The Most Ethereal Wedding Hair Accessories You Have Laid Eyes On
---
1. Gorgeous Pinned Minimalistic veil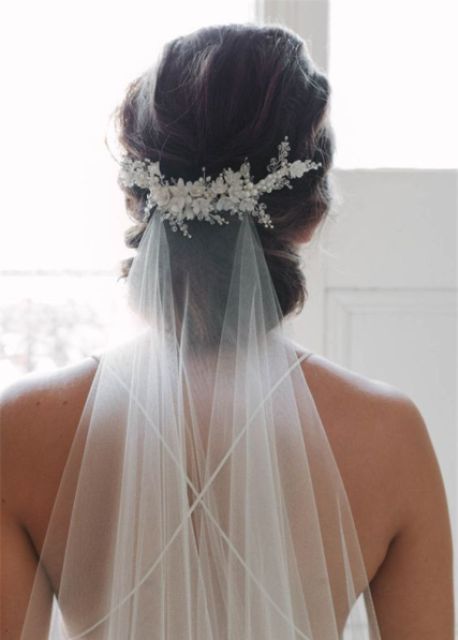 Image source: Tania Maras
This simple tulle wedding veil is perfect when you have an urbanized, non-traditional wedding gown. It restores balance to your dress, and the racer back straps of the wedding dress add an edgy, geometric dimension to the veil as well, with the head piece sealing it all together.
2. Classic netted Victorian veil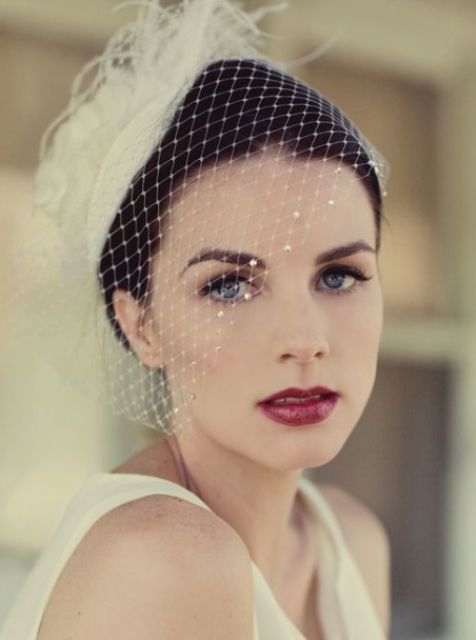 Image source: Maggie Mowbray Millinery
If you are a no-nonsense person, then a classic Victorian birdcage veil is perfect for you. It is especially great because it is hassle-free, simple, beautiful and dramatic and is totally on trend right now. Even though there are tons of varieties in birdcage veils, nothing beats this classic cut.
3. Vintage style full frontal veil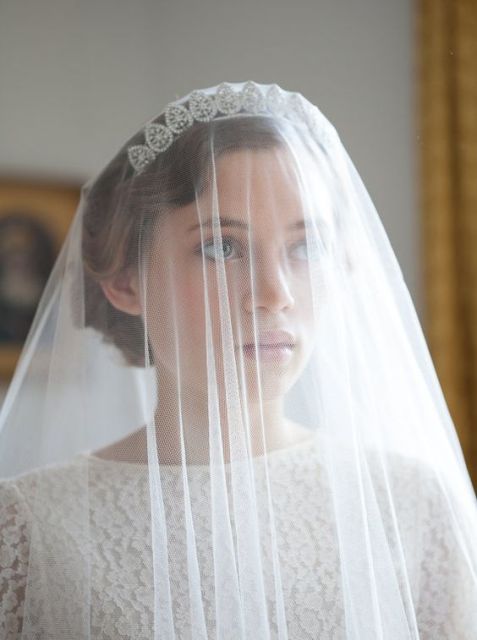 Image source: David's Bridal
Veils like this make you look like a royal princess, and nothing beats the class and beauty that exudes from a veil that covers your face completely. These might be elbow-length, fingertips-length or any other length really. Once it is folded up for the reception or during the wedding, it becomes a beautiful two-tiered veil.
4. Embroidery trimmed veil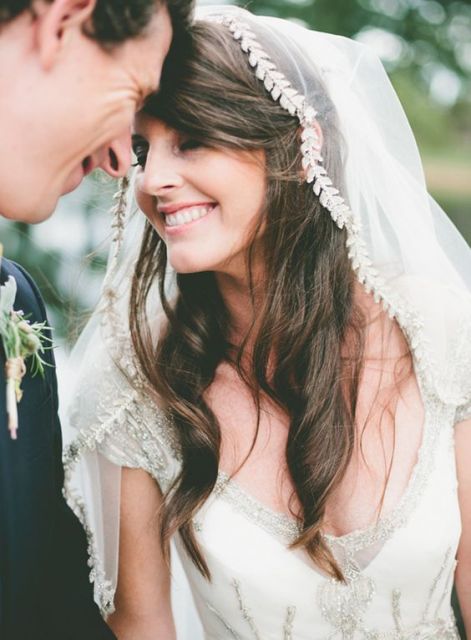 Image source: Amy Oliver Photography
This elbow-length tulle veil exudes class and elegance because of the simple, yet ingenious floral leaf embroidery in dull gold along the hemline of the veils. It adds a whole new dimension to the wedding dress, and makes something deceptively simple, look extraordinary.
5. Minimalistic chic half veil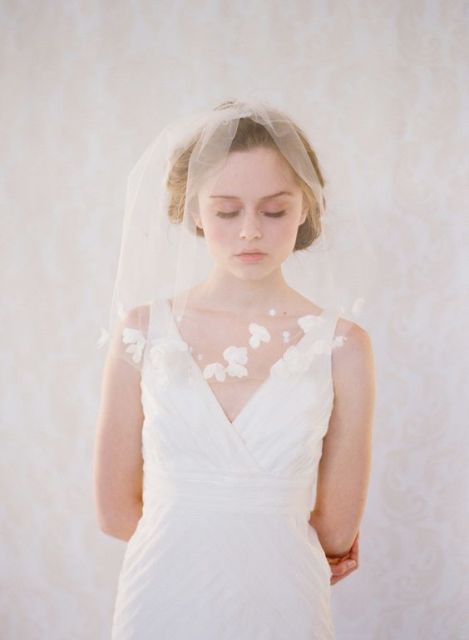 Image source: Twigs and Honey
We are so totally in love with this shoulder-length veil from Twigs and Honey because of the sheer simplicity and beauty of it. Even though the body if fine tulle and the structure is pouffed, the abstract embroidery in dense white fabric doesn't look odd or out of place.
6. Wide pouf birdcage veil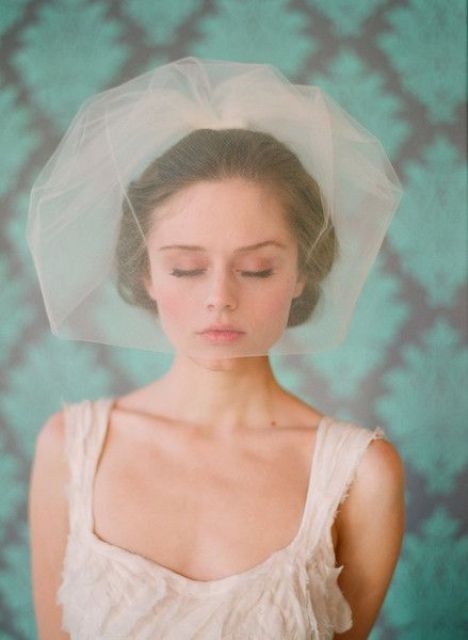 Image source: Twigs and Honey
Here is an ultra-chic pouf birdcage veil that is the perfect style for the hassle-free unrban bride. The simple design and the edgy shape ensures that it looks amazing with any kind of wedding dress, and makes you want to get married asap in a cutie like this.
7. Deconstructed Boho bridal veil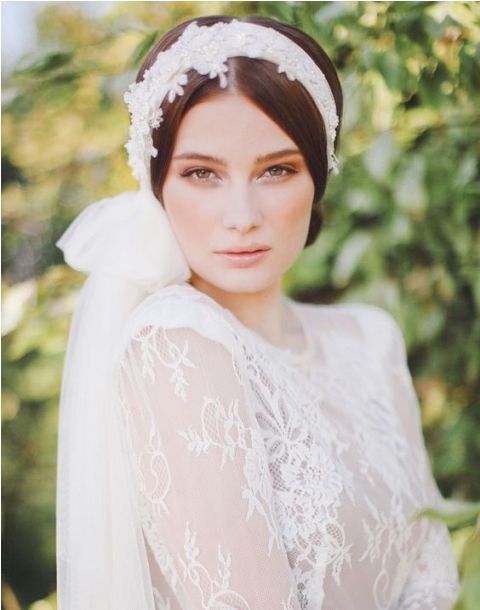 Image source: Jennie Baltzar
This is an interesting take on the Juliet cap veil, with its headband style structure. If you are planning a Boho wedding, it is imperative that you wear something that is this gorgeous and this avant-garde and look like real-life royalty from the 1950s.
8. The embellished and exposed birdcage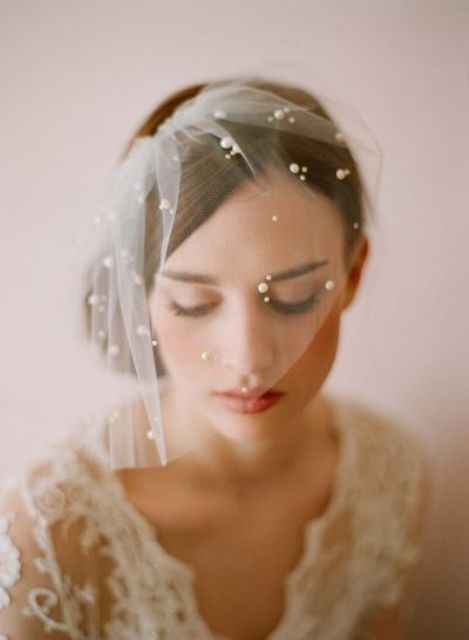 Image source: Twigs and Honey
If you want to take your birdcage veil to a whole new level, check out this open-end embellished masterpiece, with pear-drop detailing that has been hand-stitched onto the pleated tulle body. it is the perfect modern veil for your traditional dress, which could transition seamlessly from the ceremony to the reception.
9. Classic vintage mantilla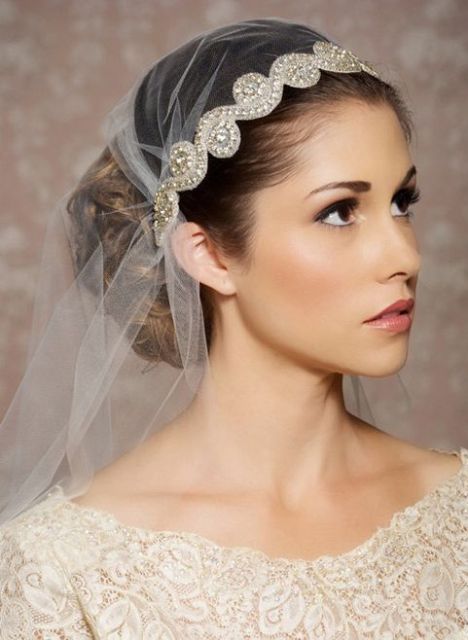 Image source: GildedShadows  
You can't go wrong with a mantilla, if you have the right wedding dress to match. The best part about this mantilla is that the panel is made of rich gold embroidery and not traditional lace, which adds a touch of excitement to this otherwise vintage stunner.
---
Suggested read: 20 Elegant Wedding Hairstyles For Medium Length Hair
---
10. Asymmetrical veils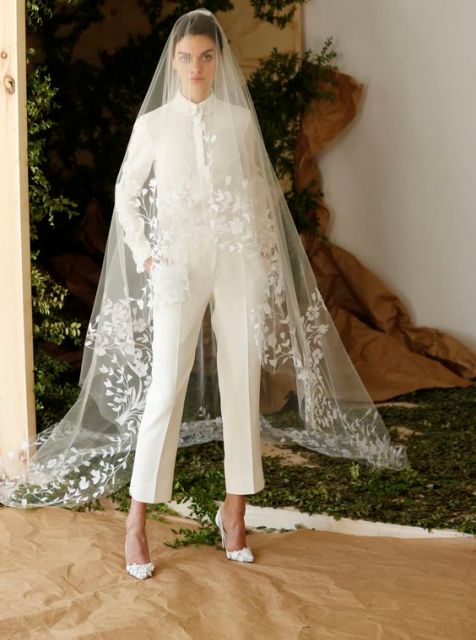 Image source: Carolina Herrera
If you are under the impression that you can't wear full-ankle length cathedral-style wedding veils, then think again, because this Carolina Herrera suit looks perfect with this traditionally intricate veil. It would turn into the most gorgeous two-tiered piece, and in itself, it is edgy, beautiful and one-of-a-kind.
11. Stunning and unique lace veil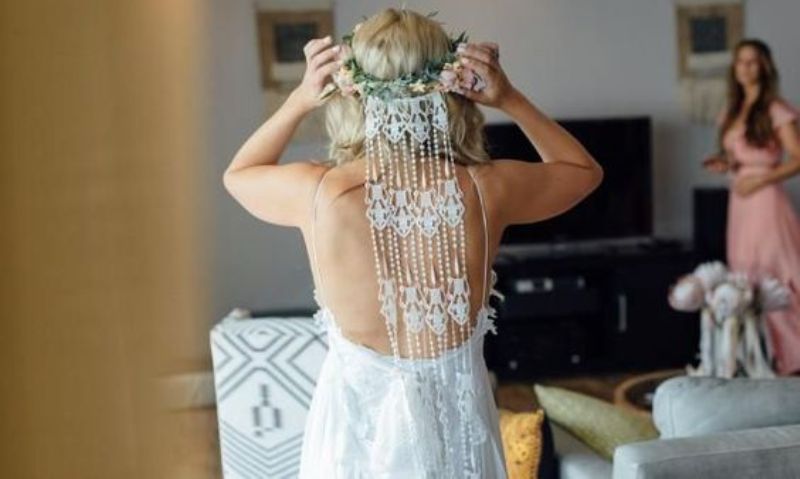 Image source: minna.co.uk
Lace is usually used as part of a wedding veil, but the best wedding veils are those which are made only out of lace. For a rustic, Boho wedding, nothing would beat the gorgeousness that this simplistic lace creation exudes, no matter what kind of dress you said 'yes' to!
12. Star spangled veil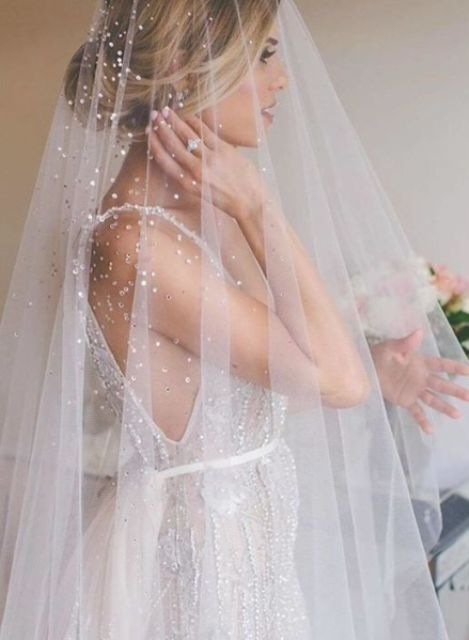 Image source: Weddings by Moris
Work festive chic right at your wedding with this over-the-top, sequinned, cathedral-length veil, so that when you walk down the aisle towards your happily ever after, it looks like you are being pursued by a sea of stars. Truly, it is that romantic.
13. Full length flower veil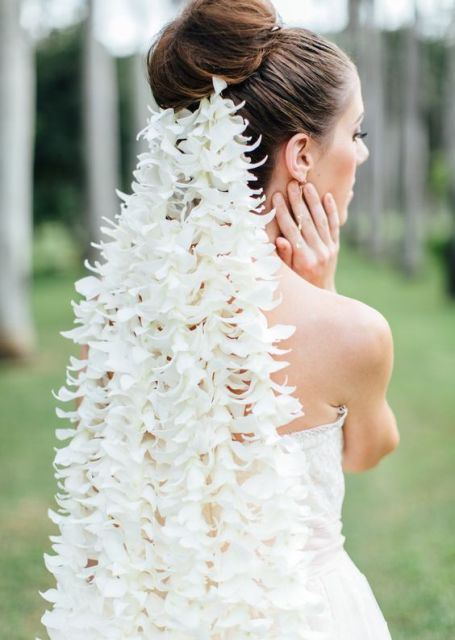 Image source: CarmenAndIngo.com
What is better than a traditional tulle veil for your wedding dress? A veil that is made entirely of flowers of course! This Hawaiian-themed wedding is made complete, and unique because of the brides choice to wear a length of white dendrobium orchids woven together, instead of a traditional veil. Talk about cool and creative!
14. Intricate hand-woven birdcage veil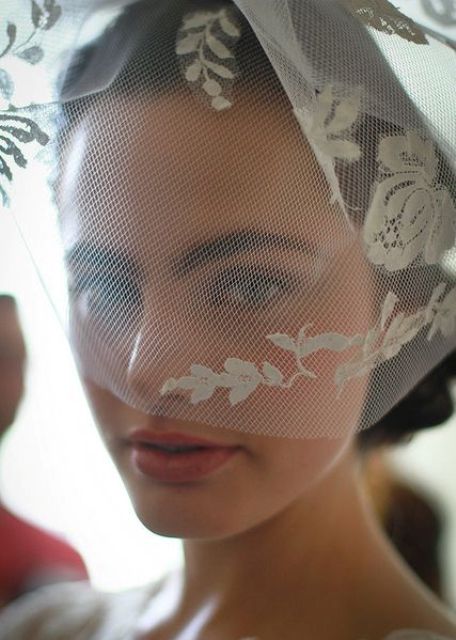 Image source: Oscar de la Renta
Nothing beats a customized wedding veil that has been hand-stitched for your wedding day. It is just the right amount of practical and stylish, making you the unique bride that you always wanted to be. NO matter how big or structured your dress is, a veil like this is bound to be remembered by your guests.
15. Knee-length woven veil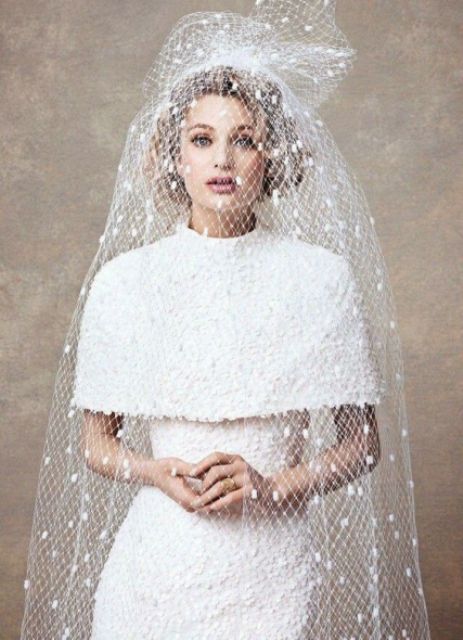 Image source: Inessa Nichols Designs
If you want to sport avant-garde deigns on your veil and look like a queen on your wedding day, this is the way to go. The veil is a full, ankle-length stunner with bold knitted detail on the body and the patchwork embroidery, which gives it such a modernistic look.
16. Nature inspired couture veil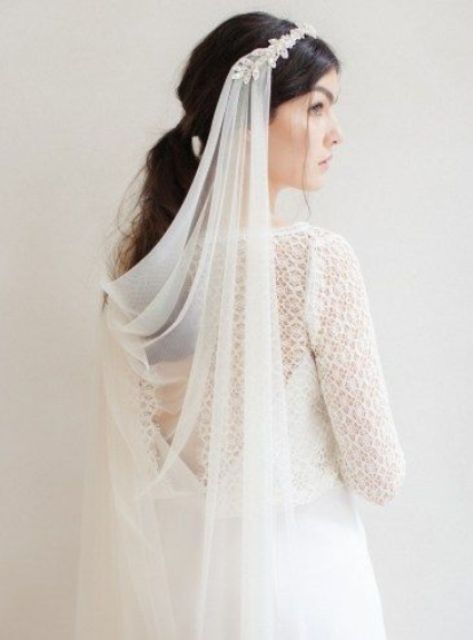 Image source: Jannie Baltzar
This is a modern take on the classic mantilla, where the body of the veil doesn't cover your head, but instead, falls in dreamy pleats on your back, that emerge from an intricately designed headband with sequins and embellishments. It is a must have for brides looking to make a dramatic impact with their veil and dress for their wedding day.
17. Intricate embroidered veil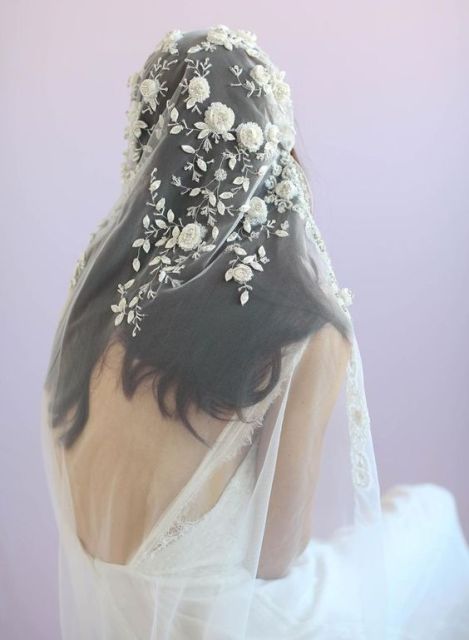 Image source: Twigs and Honey
A Juliet cap veil is an all time classic, which you have to have if you want to look like royalty on your wedding day. The veil has an air of piety and beauty around it, with its full coverage and the intricate patterns that have been stitched onto it, for an effect of natural and effortless elegance.
18. Blue tinted embellished veil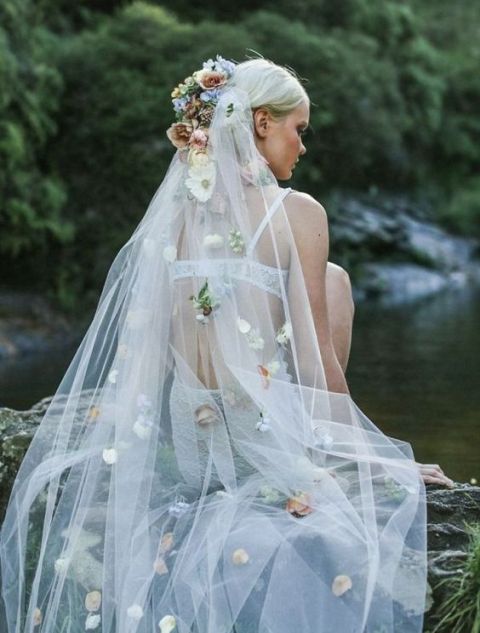 Image source: Swooned Magazine
A tinted veil is exactly what you need to make your wedding ensemble look unique and memorable. This particular veil is also embroidered with realistic floral details, which you can choose to forgo if you have a dress with heavy patterns. With a veil like this, you need a dress to match and definitely not the other way around.
19. Modern patchwork veil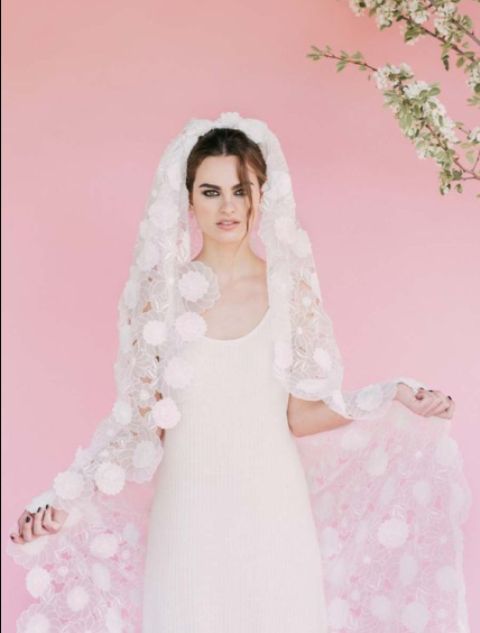 Image source: Beba's Closet
Nothing beats an avant-garde style at a traditional wedding. The veil is definitely the highlight of your wedding ensemble, should you choose to sport something this awesome and this beautiful in equal measures at your wedding. The patters and the uneven hemline only add to the appeal of this wedding veil.
---
Suggested read: Veil-speak: Time To Pick That Perfect Wedding Veil Style That Matches Your Personality
---
20. Divine patterned veil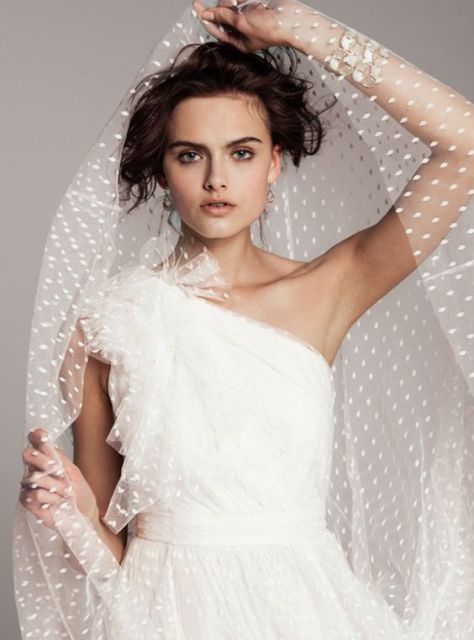 Image source: Something Pretty
An edgy, geometric veil is the perfect addition to your wedding, when you are looking to spice things up a little. It is a stunning piece of work with uniform stitched pattern to create a hand-woven impression. Also, if you have a plain dress, then adding a veil like this to your ensemble will be all the jazz you need. No other accessories are needed to complete your look. It would also create a wonderful double-tiered impression.
After checking out the extent of beauty veils can add to your wedding outfit, I'm pretty sure you are waiting to try some on yourself. There are a million different varieties and patterns and designs in which veils come, to match your dress, and to make it look even more beautiful and ethereal that it is.
Summary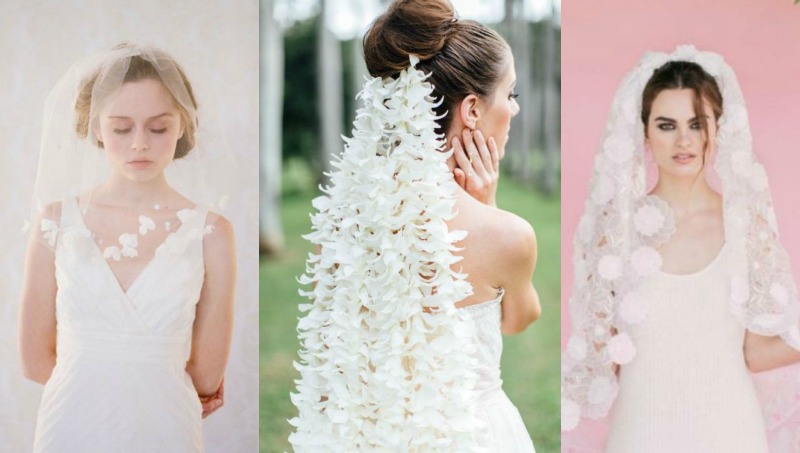 Article Name
20 Best Wedding Veils That Are Totally Breathtaking
Author
Description
Wedding veils constitute one of the most vital parts of your bridal attire, & we have curated the 20 best wedding veils to make you look like a true queen.