Almost all relationships are hard. And long distance relationships are especially hard, factoring in the distance into an already-complicated relationship.
When you're in a long distance relationship, it seems like you spend most of your time either catching or missing your partner who's in a different city, country, or even continent. You spend your time on inadequate Skype calls, hoping you'd be able to just touch them – just once. You spend some time on the phone – talking, texting, or sexting – based on your mood. You spend time social media stalking them to see if they're enjoying their time apart from you a wee bit much. And it seems like the Universe is out to keep you love birds apart. It's a far from ideal situation.
Realizing that it was difficult to keep going and cope with having her boyfriend live in a different country, an ingenious woman came up with an awesome idea to keep her boyfriend's spirits up. She hid a whole suitcase full of goodies and letter in her boyfriend's room.
---
Suggested read: 10 text message you MUST send your long distance love NOW
---
Meet Mikki, a graphic designer, who lives in Minnesota, while her boyfriend Tyson Noel, a photographer, lives in Canada. When she went over there to visit Tyson over New Year's, she hid the suitcase of goodies.
And three days after she left for Minnesota, she texted Tyson and told him to look under his side table.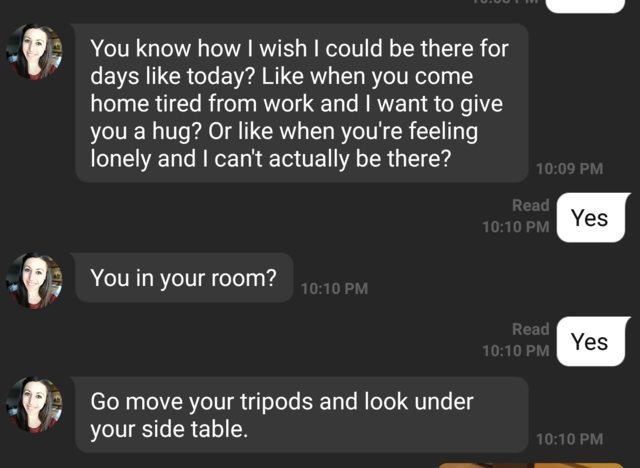 Image source: Imgur
The suitcase was filled with envelopes that contained specific instructions as to when he needed to open each of them – based on his mood or how his day had gone before returning home.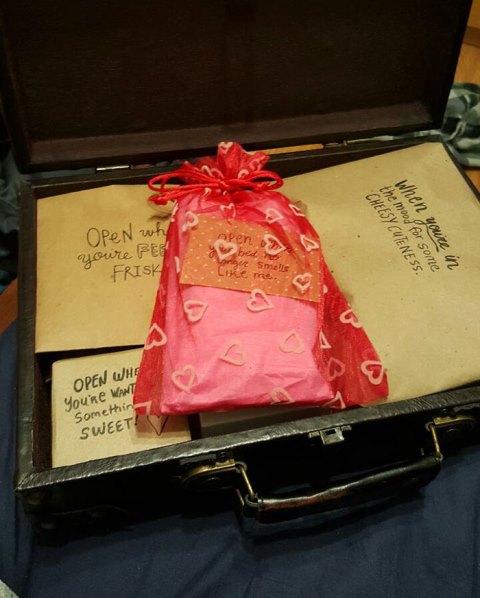 Image source: Imgur
For example, if Tyson was sick of living in Canada, there's a package specifically for that. Or a package for when his bed stopped smelling like Mikki. Awwww, right?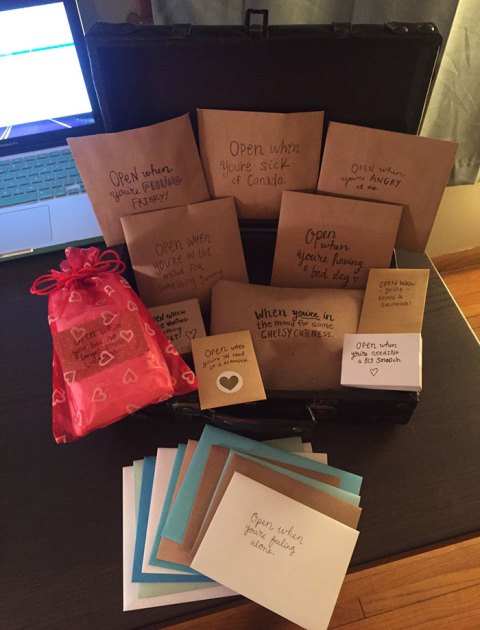 Image source: Imgur
The obviously in love couple met seven years ago on DeviantArt, a platform where creatives showcase their art. Though they kept in touch over the years, they met only in May 2015, and they hit if off instantly.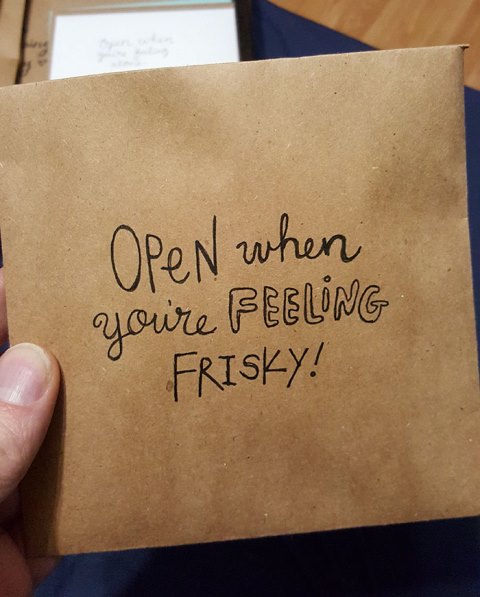 Image source: Imgur
Tyson, touched by the gesture, shared the pictures of the envelopes for different occasions, on Imgur. Since then, his post has been viewed almost 300,000 times!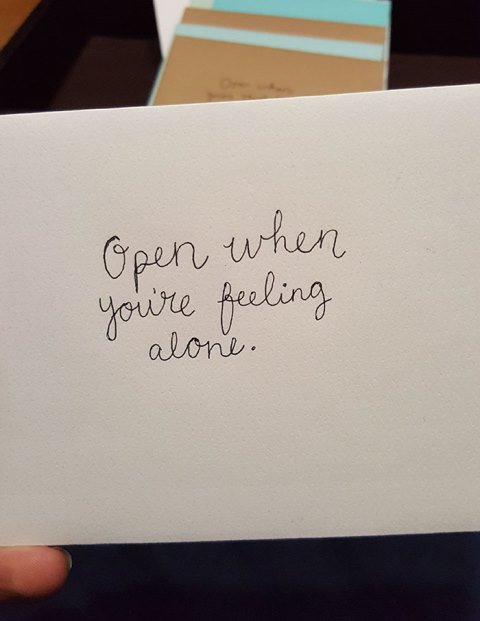 Image source: Imgur
Apparently, till now, Tyson has opened just one of the packages, the one which said, "open when your bed no longer smells like me," and it contained a bottle of Mikki's perfume.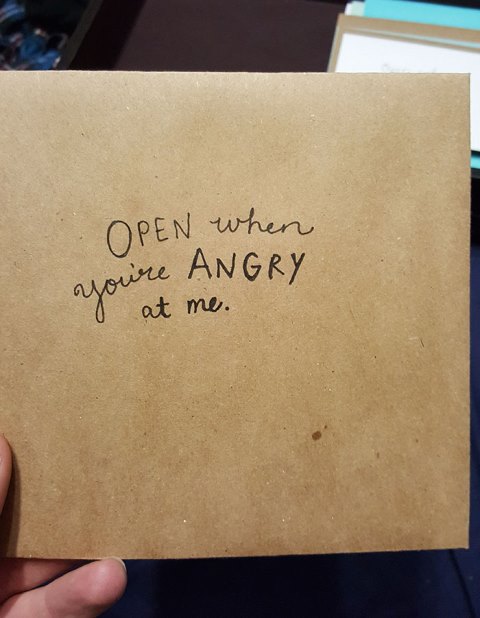 Image source: Imgur
Along with the pictures, Tyson has said a few words about his girlfriend as well. He's said that she's "truly one of a kind," and added: "We are trying to find ways to be together."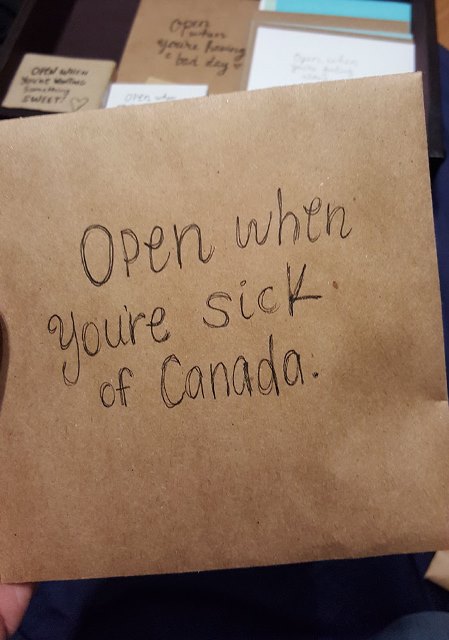 Image source: Imgur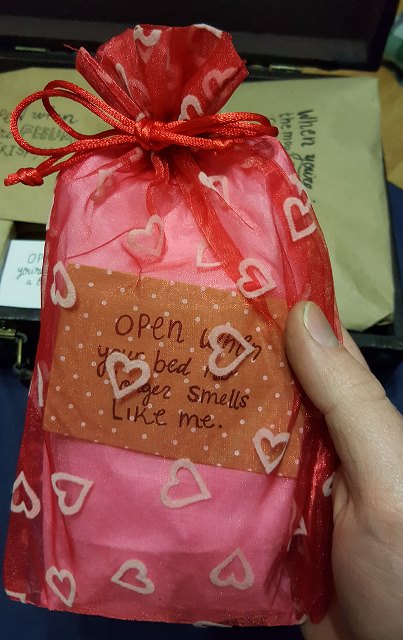 Image source: Imgur
Awwww!
She truly seems like one of a kind. Don't let her go, Tyson. She's the one for you!
Good luck, you love birds!
Featured image source: Imgur
Summary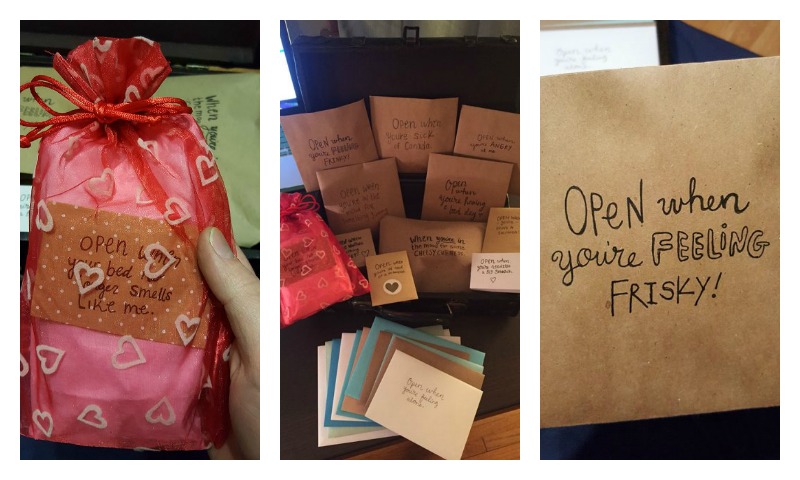 Article Name
Woman Makes Her Long Distance Relationship Work In A Cute Way
Author
Description
Mikki and Tyson are in a long distance relationship, and Mikki has come up with the most awesome plan to make it work. Check it out.