"I am a free-spirit. It (saying Oops rather than What if) has always been the principle of my life. I know it has given a lot of headache to my parents and my folks. But I would keep telling them that at least I am doing something that I love, something that I believe in."
---
Suggested read: The Saree Man of India is making a solid point about the gender fluidity of the garment
---
Earlier this week, I spoke with Victoria Krundysheva (Tonse), a 28-year-old, Russia-born, India-based photographer, whose works have the mystical quality to carry you to a fantasy world, a world she began building with memories from the books she read as a child. She is a story-teller, who makes art, loves eating and wants to trot the globe!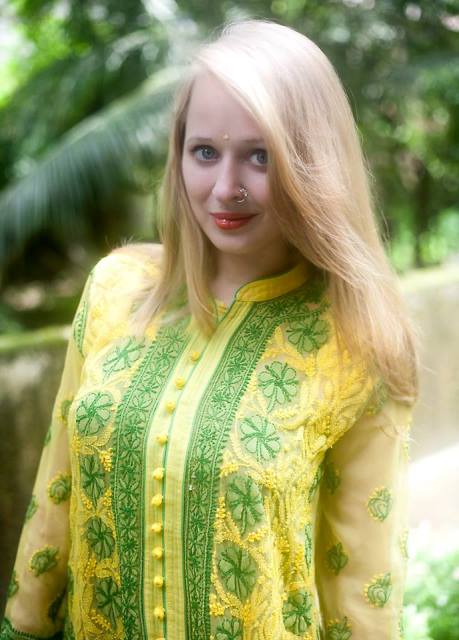 Image source: Victoria Krundysheva
Here we find out what made her fall in love with India that she stayed on and decided to call it home, what motivated her to create projects like "Lost Indian Goddesses" and "Fantastic Women & Where to Find Them", and finally, what stimulates her emotionally to continue freezing moments in time.
"Main teri maa se zyada Hindustani hoon"
"It's my fifth year in India, and I would say that the country has treated me quite good. At the outset, I expected that the culture-shock would hit me, in the first few months, but that didn't happen. I felt like I had found my place finally."
While I thought Victoria visited India for the first time when she took up an AIESEC internship, a detail I HAD TO MENTION since I am an AIESEC alumnus myself (All the things we do to connect!), I was slightly wrong.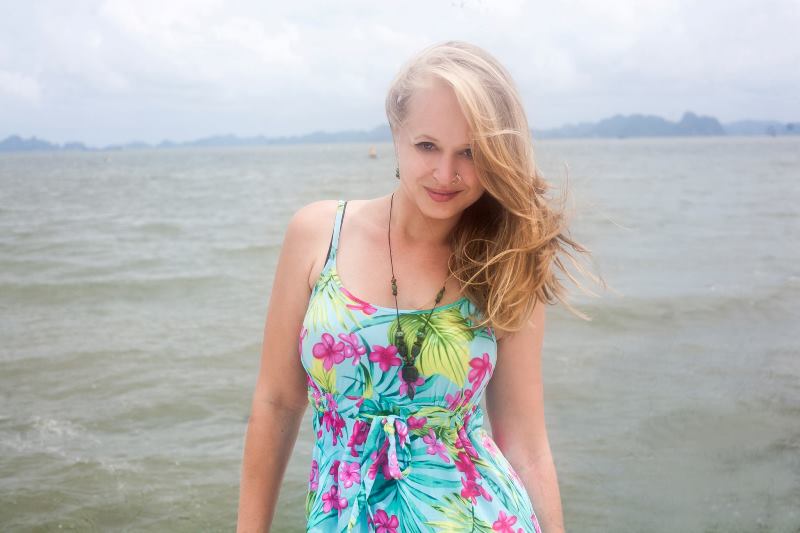 Image source: Victoria Krundysheva
"Goa was my first, but I can't exactly say that was my encounter with India because Goa is just a small part of it. It doesn't reflect the entire culture. So, I am not counting that. I would say that yes my first 'encounter' with India happened in 2012."
Most people go through a real struggle when they leave their country to settle in another one, one that is in most ways different from their own. For Victoria, it was little easier because she already had a few Indian friends who had acquainted her with what to expect in the land of diversity, that is India.
However, the culture-shock hit her only when she went to Russia for a holiday and came back. She told me,
 "Somehow, during this time, it all came to me. That period was harsh. I had to re-adjust to the place."
In her blog, she writes,
"You will forever remain a foreigner to the country you live in, and will very fast become a stranger to the country you left.

No matter how much you adapt to the new place, speak the language or even adopt the mentality, majority will keep seeing you as a guest at the best and as invader at the worst.

But at the same time, visiting your home country won't feel the same either. Your friends and family will sense the changes within you and you will not see the place in the way you did."
"I became a photographer almost by chance!"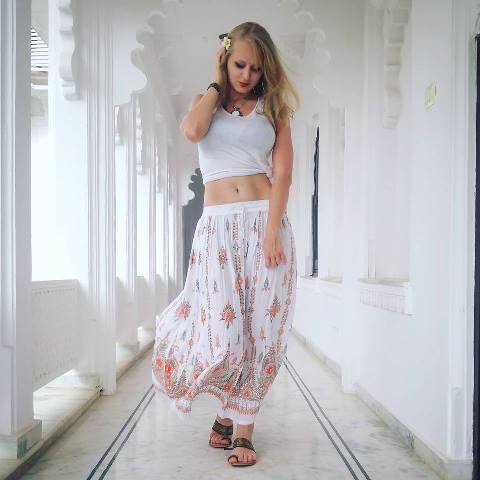 Image source: Victoria Krundysheva
"Initially I didn't plan to take up photography. I used to click pictures, but I was oriented towards some kind of business career, preferably in the area of communications, business development, or marketing. But somehow my passion, something I did on the sides, has grown into a proper profession. At some point, I realized that this is what makes me happy. So I started pursuing it more. I joined a photography studio, and I was working there as an admin, and was involved in its marketing department, which pretty much gave me an introduction to a lot of photographers, who used to chat with me, show me their works, and give me tips. I started practicing in the photo studio itself. Clicking my friends, trying to set up the light etc. I have always believed in studying by practice. I try and create something of my own, something different. I hope it finds reflection in my work as well or at least I am determined for it to happen."
"A girl to look up to" 
Image source: Victoria Krundysheva/ Fantastic Women And Where To Find Them
One of Victoria's most recent works is 'Fantastic Women and Where to Find Them,' where she voices her opinion about the kind of role models we pick for our girls, or the role models we let them pick for themselves. Naturally, I wanted to know who was her role model while she was growing up.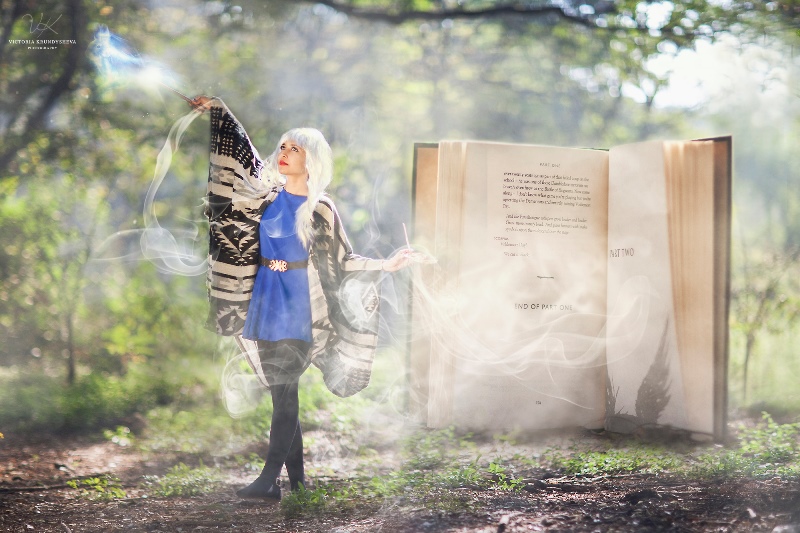 Image source: Victoria Krundysheva/ Fantastic Women And Where To Find Them
Victoria exclaimed,
"Initially, I read all stories from Grimm Brothers'. I also read Snow White, Cinderella, but somehow I never got motivated by those kind of women, and very soon my role models were female characters who explored the world, travelled around, and those who were very passionate about what they did. I never liked any character that just sits around and waits for the prince. The moment that was the scenario, I would decide that this person cannot be my role model!"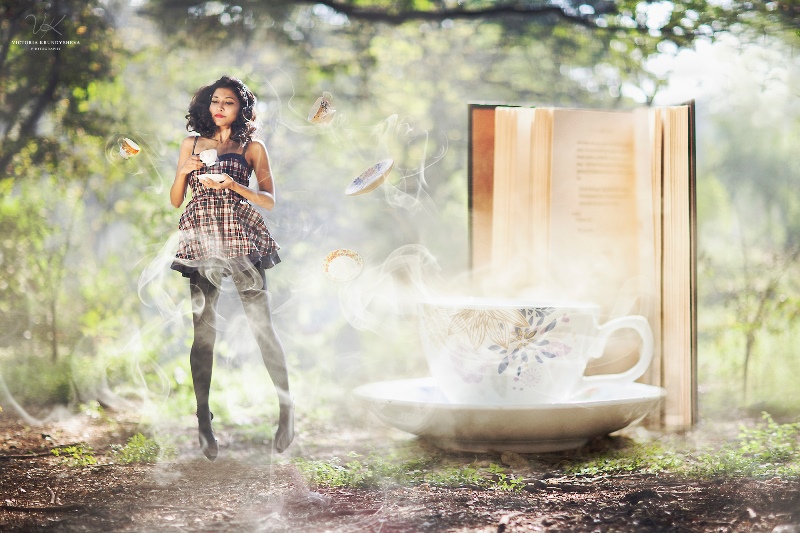 Image source: Victoria Krundysheva/ Fantastic Women And Where To Find Them
The womenfolk in Disney cartoons were my role models when I was growing up, I wanted to be just like them! But thank God, some dreams don't come true! According to Victoria,
"My problem with Disney princesses is, firstly, it is not a very realistic representation of anything, starting from how the girls look. They all have big eyes, tiny waists, beautiful and perfectly-set hair! They don't even have that much of national diversity. At some point, later on, they brought in some variety, but initially, they didn't have any multiplicity, when it comes to cultural representation. And the biggest problem with them, for me, is the concept of doing everything for love, but doing nothing for their own life."
"Those goddesses you worship are walking daily among us"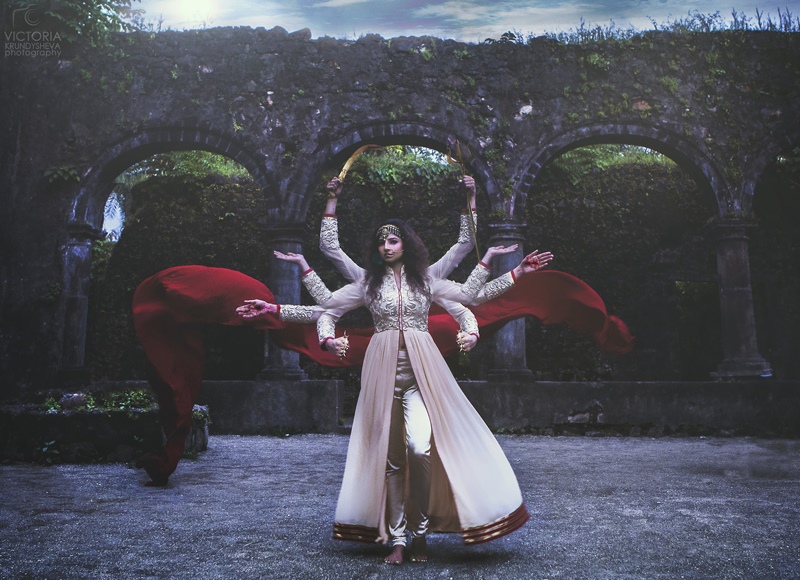 Image source: Victoria Krundysheva/ Lost Indian Goddesses 
Victoria's most powerful project so far, without a doubt, is Lost Indian Goddesses. It is a subtle but very compelling depiction of the hypocrisy in the Indian society. While Indians worship female deities, they ridicule, molest, disrespect and rape the women around them. Talking about what inspired her to work on this project, she told New Love Times,
"Living in India as a local, I observed the things that women here go through on a day-to-day basis. The hypocrisy is so blatant; it is right in front of your eyes. The men and women worship goddesses who are supposed to represent the women right next to them. But the fact that they don't connect to this idea, is striking. I think because I was not born here, I was able to see it evidently. When you grow into a particular culture, there are things you just accept the way they are. Today, if you go to any other country they will have their own type of culture, issues, which you will see, but they will not because they have been raised like that."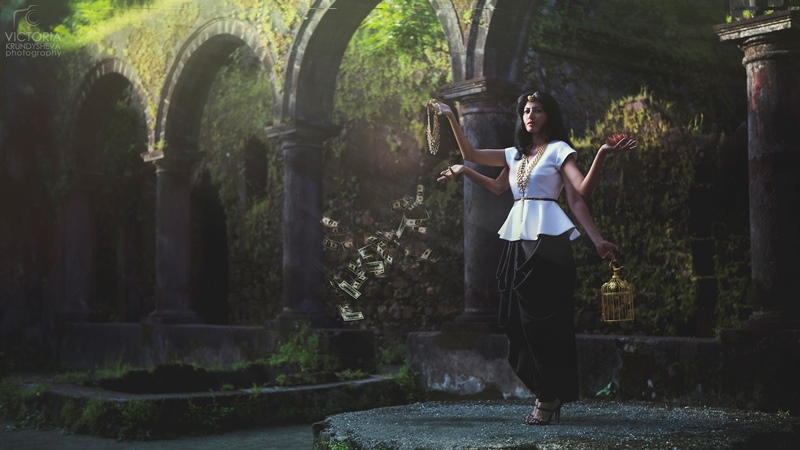 Image source: Victoria Krundysheva/ Lost Indian Goddesses 
---
Suggested read: Saloni Chopra lashes out at patriarchal stereotypes through bold photo-series
---
Talking about how women too are responsible for their plight, Victoria says,
"Women have a huge part to play. It's not just men to blame for current state of things. That's why I did a project on men called 'It's A Man's World.' Because after Lost Indian Goddesses became public, few women went to extremes in saying you know, 'it's all men.' 'The male species is like that.'

(Laughs) "I needed to show that any kind of society, that is, in its core, looking for dominance and submission, harms both sexes. So, in this sense, patriarchy harms men just as much as it harms women. In my opinion, it is not the problem of gender at all, it is the problem of labels. If a woman is taught that she is there to serve men, men are taught that they have to be the provider. They are disrespected if their wives are the breadwinners, which is unfortunate because there are some men who are happy staying at home and letting the wife be the provider, if she is happy about it. But the pressure of society does not even allow this man to do what he wants. And in the end, it is the family that suffers, both the man and the woman."

"Women who can actually bring in change are those who raise the kids. It's their responsibility to teach the right values to both their girl child and their son. And every woman, whether she is a sister, a friend, or even if she is no one, can set an example by respecting other women. I, myself, have been a victim of this kind of mentality, when another woman, just because I am foreigner, speaks to my husband, about me, in a derogatory manner. She says something like, "Once you are done with the Russian, it is time to move on to an African." And that woman was a married woman, and I wasn't married then.

"Women need to stop talking about each other in a pejorative way just to become friendlier with men. I mean, some women think that to be able to connect with boys and be accepted by them, they should degrade other women. That is a huge problem."  
Lost Indian Goddesses illustrates how well Victoria knows the Hindu mythology, which obviously made us question how she was introduced to it.
"That's actually an interesting story," she says. "The first time I was introduced to Hindu mythology was through Mahabharata. Obviously it was a Russian interpretation of it. I was in the hospital for a few days and I was bored. So I asked my grandmother to get me a book. She got me the Mahabharata. I started reading it. I got very excited since it was something different, something interesting. There were pictures, and as a visual person, I started imagining the scenes from the book. That was the first time. After that, I forgot about it. But when I knew I was coming to India for my first trip, I didn't want to be a stranger. I didn't just want to come and visit. I wanted to know. I wanted to understand what the country was about and how the culture is. I started going through the literature, the history books, just to get myself acquainted with the society."
Having read a fair share of books on history, literature and mythology, of different cultures, Victoria feels that the misogyny is not in the scriptures but in the interpretation. She says,
"The problem with literature and art is that with time, what might have been intended (mind you, unless author specified we can only interpret), can be changed to reflect how society feels at that moment, or what the majority wants at that moment. The same case with history. History is interpreted a particular way to suit those people or trends that are dominant in the society."
"No, no, I am not a feminist. I like men."
Relax, guys! That's Victoria quoting some celebrities who don't like being called feminists. When I asked her if this trend bothers her, she says,
"Yes, it does. On top of that, people use words like FemiNazis to define women, who are 'too expressive' about their rights or if they share too much on Facebook. I think getting labeled as a FemiNazi is synonymous to saying: "Not attractive for men anymore" or "Too aggressive for men". The problem is that most people misread and misinterpret feminism because it has the root 'feminine' in it; they think the philosophy is biased to women. There are people who call themselves Equalist, nowadays. They say they are not feminists but equalists. But feminism is exactly that, it talks about equality of both genders."
"If you want to make people pay attention, you have to attract their attention."
Before calling it a day, Victoria and I, talked a little about her style of photography. She not only gets the person or place in front of her onto the film, but also adds a feel of magic and enigma to her subjects. She says,
"I believe that like beauty is in the eyes of the beholder, magic too is in the eyes of the beholder. We look at a lot of things and think they are ordinary. But they have power in them, strength in them, magic in them that we can tap into, through art and creation." 
While we love Victoria's work, she is a fan of Brooke Shaden's art, which she thinks, is different and open to interpretation. It is artistic, and at the same time, emotional. What emotionally motivates Victoria to continue clicking pictures is the fact that this is her way of expressing herself; it is a meditation, a sort of therapy for her, "it is a way to connect with the world inside me and outside."
---
Suggested read: Dark and lovely: My experience of growing up as a dark-skinned Indian girl
---
Before she ends the conversation, she gives me a little sneak peek into her upcoming work on beauty standards: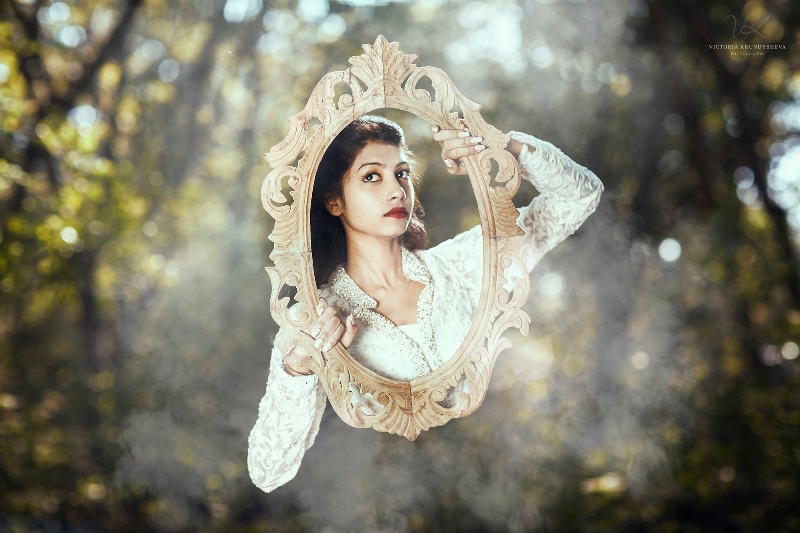 Image source: Victoria Krundysheva/ Vanity Fair 
"The project talks about how beauty as a concept is being imposed on us. But beauty is subjective. To every person it means something else. However, we are being taught that beauty can be defined, it can be measured with a tape, like the size of your waist. That is making women torture themselves, to attain these standards even if they may not believe in it or be fine with it.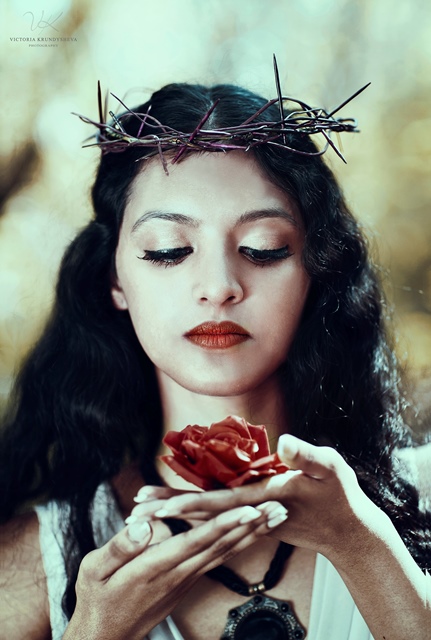 Image source: Victoria Krundysheva/ Vanity Fair 
"To look like roses, they need to constantly stick thorns in themselves. I wanted to highlight that through my pictures."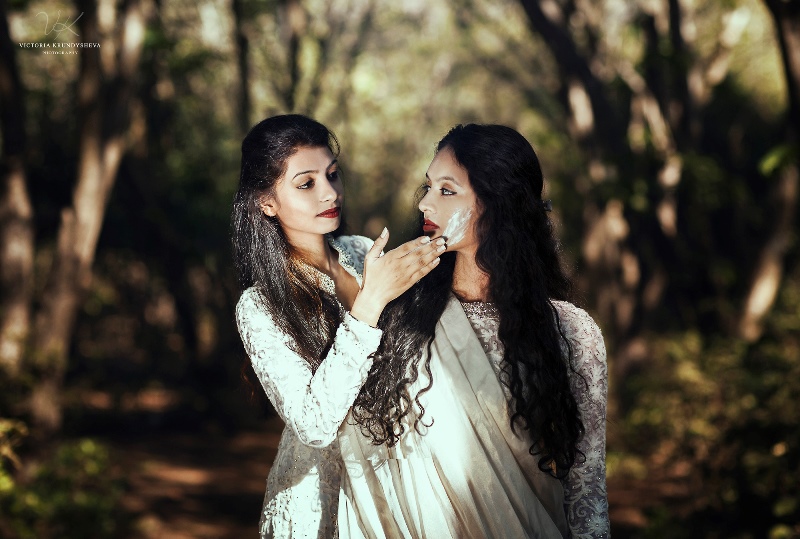 Image source: Victoria Krundysheva/ Vanity Fair 
Victoria is right, but when people like her work to bring in change, change happens, even if it might take some time. She thinks that if she can bring in positive change in at least a 100 people, she would consider her work successful. Only if all of us set such targets for ourselves, the world would be a better place!
Featured image source: Victoria Krundysheva 
Summary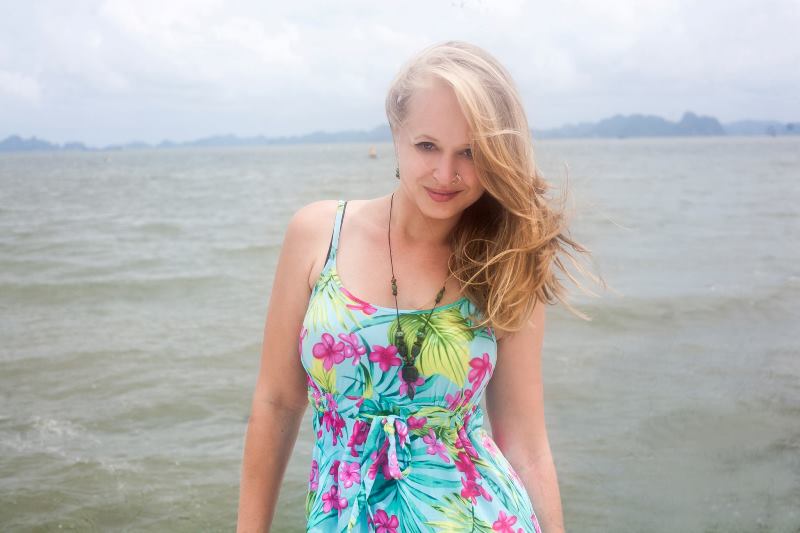 Article Name
In Conversation With Photographer Victoria Krundysheva
Author
Description
In conversation with Victoria Krundysheva, a 28-year-old, Russia-born, India-based photographer, who is a story-teller, artist, foodie and travel enthusiast! Here we find out what made her fall in love with India, what motivated her to create compelling projects like "Lost Indian Goddesses", & finally, what stimulates her to click pictures.