As of 2017, the makeup industry has reached unprecedented heights, and mostly because of a new, chic, sharp and bold makeup look that is so on-trend right now, made popular by several A-list celebs. There are approximately a gazillion makeup artists taking over every single social media platform to show how gorgeous makeup can be, and introducing the most bizarre and some pretty useful hacks, which has made makeup an everyday routine for a lot of people who had no clue what a beauty blender was before.
---
Suggested read: Who Is Huda Kattan: The Story Of An Internet Sensation And Beauty Mogul
---
However, that isn't the best part. Earlier, makeup was targeted exclusively at women, and men didn't really foray much into this other than an occasional kohl liner to get that typical 2002 goth look. The last few years have brought in a fresh wave of revolutionary trends, one of which is men totally owning makeup and looking like badasses and showing the world that stereotypes in the world of fashion and beauty are things of the past and that something as amazing, versatile and fun as makeup, cannot be gendered.
Here are some of the most gorgeous men with makeup, who could show women a thing or two about how to own these looks.
1. James Charles
James Charles became famous when he posed for his high school yearbook photo with a full face of makeup. Also, it made for possibly one of the most iconic yearbook photos ever. He now has over 2 million followers on Instagram and his makeup skills are a force to be reckoned.
2. Ariel Diaz
His Insta bio reads "cosmetic illusionist" and we couldn't agree more because each look created by him is drop dead gorgeous. With his beard, his highlight game on point and some of the rad-est eye makeup in the business, Ariel Diaz is giving the patriarchy's fragile masculinity a run for its money, and we are here to cheer him on till our voices are sore!
3. Adam Rox
A lot of celebs have difficulty looking this flawless with a sharp highlight and contour makeup look. Adam Rox has been schooling people on the sharp and chic look since forever and tbh, he looks prettier than most makeup artists I have seen.
4. Patrick Simondac
Patrick Simondac is one of the most sought after makeup artists on Instagram and his feed is littered with pictures of him casually chilling with the likes of Kim K and Katie Perry and other people who are super famous. His looks are super glam, super chic and the no-nonsense attitude is a bonus which makes him totally the best.
5. Manny Gutierrez
Say hello to one of the most gorgeous men on other, who is best friends with aforementioned Patrick Simondac, Kim K, Jeffree Star and is one of the best makeup artists in the industry. He has 3.8 million followers on Instagram and over 3 million subscribers on YouTube. Need I say more?
6. Angel Merino
Better known as one of the world's best beauty influencers on Instagram- Mac Daddyy, Angel Morino, with looks, sense of style and attitude could give Kylie Jenner a run for her money. The light stubble and the flawless hair only add to the sexy aura of his looks and proves that men look infinitely better with makeup.
7. Jonysios
He has been named one of the top upcoming men makeup artists by several important magazines, and we can totally see why. His looks are so beautiful and he knows how to wield a highlighter brush like a wand. If you thought you couldn't possibly lust after a man with bright red lipstick, this picture is likely to change your mind.
8. Allan Macias
Alan Macias is just 18 year old and is better at what he does than most people twice his age. He has some of the most lucid makeup tutorials and his looks and talent proves how much in love he is with his art. I have one word for this boy- flawless.
9. Alex Faction
Here is Alex Faction, one of the biggest names in the makeup industry, posing for Marie Claire magazine. His motto in life is go big or go home, which is why most of his makeup looks are super intense and is a dream for anyone looking for big and bold looks. He and his equally beautiful and talented girlfriend are out to conquer the world.
---
Suggested read: The Quintessential Festival Makeup Trends That You CANNOT Miss Out On!
---
10. Zachary Edward
This gorgeous specimen of mankind is so good at what he does, it almost makes me want to weep. This is another rising talent on the Instagram makeup circuit, purely because of his talent and beauty. Not only is he great for everyday makeup looks, but he also isn't afraid of going big and bold with glitter, paint and sequins on his face.
11. Juniinho Rusty
Juniinho Rusty might not upload some everyday makeup selfies, but his brow game is so on-point that his inclusion on this list was imperative. With brows like that, and flawless eye makeup like that and the ability to pull it all off, complete with the bold lipstick look while at the same time sporting a generous beard is everything your Instagram newsfeed and your ovaries need right now.
12. Gino Baileau
This Italian makeup artist's talent when he wields a couple of makeup brushes is nothing short of art. It is perfection in the true sense of the term, because very few people can execute and then carry off a natural highlight with such a sharp bone structure. Honestly though, those cheekbones could literally cut through glass.
13. Arieh Jacob
Arieh Jacob, who is legit a child, has the inside scoop on how to look like an A-list celebrity like you have been one for the entirety of your life. He had a gorgeous pair of pouty lips, which he doesn't fail to take advantage off by showing off some of the best bold lip looks you will find anywhere on Instagram.
14. Ryan Potter
Let me start off by saying that such beauty is hard to find, and when you do, you follow the hell out of it. Ryan B. Potter has some pretty incredible and blissfully easy makeup looks that could make anyone look like a goddess, just like Ryan here does. There isn't a single thing in the makeup world that he cannot do, and if you are looking for a flawless natural makeup look every day, you know where to find it.
15. Michael Finch
Michael Finch is one of the youngest and most famous beauty bloggers. This boy from Australia has one of the biggest fan followings ever, which also includes several celebrities. Even his looks are bold, but chic and edgy and can give any professional a run for their money. If you are heading to a party, or it is time to look your flawless best, take a leaf out of Finch's book for inspiration.
16. Randy Silva
Randy Silva has a face that is sharp and handsome AF and when he does makeup the way that he does, you can't help but swoon as the sheer amount of confidence this man in his masculinity.  He has some bold looks, but some natural, mellow and soft natural looks as well, which just goes to prove that men with makeup look hella fabulous.
17. Miguel Ghalichi
Miguel is super hot, super talented and there is no makeup look that he can't pull off like a pro. He can sport every lipstick shade like a bawse and his contour and highlight game is on point. Also, if you are looking for someone to show you how to rock revolutionary eye makeup of the future, you have access to his Instagram account, and you need nothing else to be honest.
18. JC
Here is a one-stop tutorial page for how to look super masculine and super attractive while going all out with your makeup. A bright red lip is nothing difficult for JC, who has been practising makeup and been an ardent worshipper of everything makeup related since he was young. The dedication has certainly paid off, and now he is an inspiration for more than 340,000 Instagram followers.
---
Suggested read: The NLT Master Class On Getting The Most Popular Makeup Looks Of This Season RIGHT!
---
19. Jeffree Star
No list about men with makeup would be complete without Jeffree Star included in it. Even though the idea that men can wear makeup has been accepted and adopted over the last two years, Jeffree Star has been striding his way confidently into the makeup world over the last decade and has now established an empire of his own, which gives competition to some of the best makeup brands in the world. He has been a role model for people everywhere, irrespective of gender.
The idea that men can wear makeup, and that there needs to be greater cosmetic recognition for men in an industry that has largely and predominantly catered to women is shown by these fabulous people, whose talent and sheer confidence give us life, tbh. Here's to more men looking hotter than ever with a highlight here and a liner there!
Summary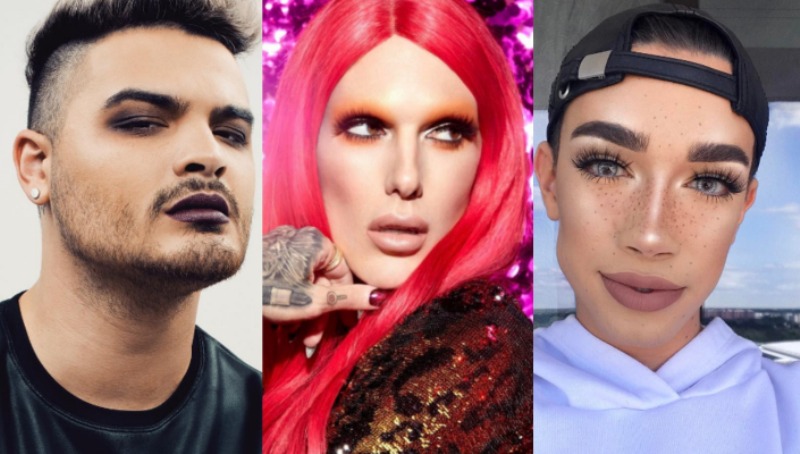 Article Name
19 Men With Makeup Who Are Breaking Stereotypes And Slaying The Makeup Game
Author
Description
If you haven't seen men rocking high-end makeup looks, then you're totally missing out. Here are some talented men with makeup that you follow on Instagram!