Last week, I interviewed Danica Da Silva Pereira, a 24-year-old illustrator and visual artist from Goa, whose art works reveal an unusual and imaginative way of not just looking at the ordinary, but also creating something marvelous out of it.
Innovative interests and imagination are usually developed early in life. And this was true for Danica as well. Talking about how the creative spark in her was ignited and fueled when she was a kid, she says,
"I feel what we are is built only through experiences, other than having the genes of course. I am lucky to have been born and brought up in Goa, a state so rich in culture and tradition, and also enveloped in nature. A lot of the nature I see around me is portrayed in varied ways in my art. Growing up, I was always encouraged to participate in every creative activity by my parents, who are the backbone of what I am today. I have imbibed most of my creativity from my mother, and my father is the one who always taught me to think differently.

As a result, I prefer not following the herd not only in my art, but in life as well."  
---
Suggested read: "My role models are the children I work with": #NLTTalks with Dr. Priya Virmani, the entrepreneur behind 'Paint Our World'
---
Danica who has practiced *take a deep breath* the Bharatanatyam, the Piano, photography, modelling, swimming, cooking, professional singing, and of course, illustration and visual design, had to, at a point, settle for a career, and she chose what she loved the most. But with so many interests and so much talent, being faithful to just one profession can be pretty tough. She says,
"Practicing all my interests including illustration and visual design has not only let me dip my hands in various creative pools, but has also enriched my thought process as a person and a designer. I loved the different activities I pursued, but I always knew that art was my calling right from when I understood I could make a career out of it. Professional singing though is a major part of my life even now, and it keeps me occupied when I'm not busy drawing."
When Danica started taking illustrations seriously and was willing to go the extra mile to find her unique style, her focus was mainly geometric lines. But as we now know she has made a transition to natural forms like human figures. Talking about this changeover, she says,
"The funny thing about this is, most of my college projects reflect my current illustration style; the lines, forms and colors are very similar. At one point of time, a few years back, while reflecting on my art I thought it didn't speak of any specific style, and went ahead trying to create one. I was a big admirer of Annirudh Mehta's work (The Big Fat Minimalist) and began making conceptual illustrations using just lines. But when I was working only with lines, realistic forms made their way back into my work and so did all the colors, that I had greatly missed. Eventually I reached back to my style, unconsciously, and it built up from there. It is only now that I look back at all of my work I realize this. (Laughs)" 
The art series 'Meera' by Danica Da Silva Pereira is my personal favorite. The colors and the concept, according to me, are captivating. I had always wanted to know what the muse was behind the character and the way she was illustrated, and so I asked Danica.
"The creation of "Meera" began years ago when our professor asked us to illustrate a girl plucking fruit. Last year, I found the line art on a tracing sheet and thought I should work on it again. In the process, the illustration reminded me of the Indian miniature paintings where a girl is seen waiting for her lover in the forest, or playing the Veena and attracting a herd of deer. It was then that I was struck by the idea of portraying Meera as a simple Indian village girl, performing her daily chores, away from all the hustle of the city. The situations were inspired from the themes seen in Indian Miniatures. That was how Meera was born. (Smiles)"
---
Suggested read: Idalia Candelas artfully reveals why women who are single are not suffering
---
From the time an idea pops into one's head to the time it finds itself on paper, the creative process has always fascinated me. Talking about the ritual that goes into the making of her creations, Danica told me,
"I have this book called the "Brainstorm" book where I jot down all my initial ideas in text and as tiny doodles. That is where the idea takes form and once I am satisfied, I immediately sketch it out in my sketchbook. Depending on whether I want to go the traditional or digital way, I then make a neat illustration either on my very large drawing pad or on Photoshop. Finally, I begin the coloring process."
Danica has started working on canvas fairly recently, but she finds the change fun and thinks that it has expanded her style.
"I have always wanted to paint on canvas but I never knew how to achieve the kind of effect I attain on paper or through digital art. So after years of procrastinating, I tried out a mini canvas, and it actually turned out quite okay for a first time! I now feel a bit more comfortable using the canvas, knowing the process of working on it."
Do you want to have a look at Danica's workspace? Well, you are luck, because we have a picture!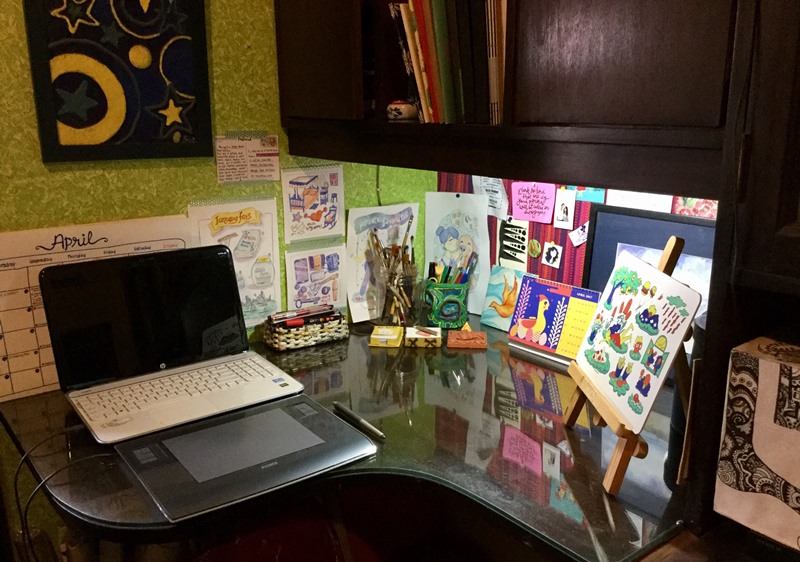 Image source: Danica Da Silva Pereira 
Describing it as a "beautiful mess", she says,
"My workspace has my art on display that dates back to 2005! Papier mache penholders and framed artworks that I made while in school, Art college clay sculpture, tile paintings, water color paintings, a big box that I doodled all over in 2010, all this with my current illustrations and motivational quotes pinned in every corner. And a big hand drawn monthly calendar!" 
Those of you who follow Danica on Instagram or Facebook will know about her pet project, #6daysofillustree. I asked her to let us in on the story behind the project and also, if she could pick a favorite week so far.
"I had always wanted to start a daily illustration project. I used to see many artists participating in different endeavors like #365daysofdrawing, #drawingaday #drawordie, etc. I wanted a project that would make me not just draw daily, but experiment techniques and styles, hone my drawing skills and let me create mini projects out of these daily illustrations. So I thought of creating a weekly project for myself where I illustrate on a certain topic for 6 days of the week (taking a Sunday break!).
Two weeks into this project, I thought this idea would be useful to other artists as well and invited a few to join me in this challenge. Quite a few of them loved the Idea. I now post a topic every Sunday on my Facebook page, and I and a few other artists illustrate on the topic during the week.
Till now my favorite week has been the "Dreams" week because I love creating whimsical illustrations, and I created the wildest ideas I had in my mind in that week. I am now thinking of making a zine of that series of illustrations." 
Deadlines scare the hell out of people of our generation. The struggle is real, and Danica knows how it is. Here is how she deals with a cutoff date. (You can steal a tip or two!)
"Deadlines were never my thing back in the day. I loved making art at my own pace, but ever since I had to take things seriously, I have learnt how to deal with them deadlines.
"My hand drawn calendar is a huge help. My month is planned and sorted with big red dots highlighting all my deadlines RIGHT IN FRONT OF MY FACE every day. This and a strict to-do list is what helps me keep up with deadlines."
An amazing artist who has achieved so much at such a young age, what does Danica's bucket list look like, one wonders. Well, I asked her!
"My bucket list would include, working from different parts of the world for short spans of time. – This would let me travel, meet new people in the industry and enrich my inspiration database. Also, since the past 6 years, I have dreamt of having my own physical YetAnother by Danica store, and someday it will come true. (Smiles)" 
Instagram has become a huge platform for artists to express themselves and present their work to the world. It also helps you build contacts and collaborate with curators and fellow artists. The channel has been very important for Danica too. Here's what she told us,
Instagram is the new age art gallery for illustrators and the advantage being, it's completely free! People all over the world are your audience and the only way to gain a following is to put out consistent, exceptional art also while bringing a smile on people's faces every day. I love that many of my followers tell me my art makes them smile and that, for me, is one of the most constructive things I could do on a daily basis. Yes, Instagram is a great platform to collaborate with fellow artists and build some exposure, but the fact that I get to make people smile, in the middle of their hectic day is what motivates me to keep posting my illustrations and make the world a happier place in my own small way. 
---
Suggested read: "We don't have to limit ourselves by defining ourselves": #NLTTalks with photographer Victoria Krundysheva
---
With so many people following Danica on various social media platforms, who is that one person on Instagram who's work she loves the most, and it would mean the world to her if that person followed her back?
"Alicia Souza, of course!!! (Laughs) The Queen bee of India's current illustration scene. Her drive and consistency is so inspiring and has set a very high benchmark for me to keep working harder." 
Danica has her very own online store now. Talking about it she told me,
"I have waited to start an online store ever since I began YetAnother by Danica, and last week I ticked that off my to-do list. I sell my products at various flea markets that I participate in, but I wanted my work to be available to people all over India and the response has been great! I will be releasing a new collection next month and I am very excited! (Smiles)"
 So, dear dreamer, yes I am talking to you, Danica has a message for you!
"One of the major things that I have learnt out of taking illustration as my career is, if you stick to doing what you love doing, then you will never cringe on a Monday.   Do not follow the herd, create your own unique path. Also, you reap what you sow, so put your best into anything and everything that you do and success will come to you. (This is a message to myself as well. :D)"  
If you are not already following Danica Da Silva Pereira's Yet Another By Danica, then do that now!
See you again next week with another artist, another trendsetter! Until then goodbye.
Summary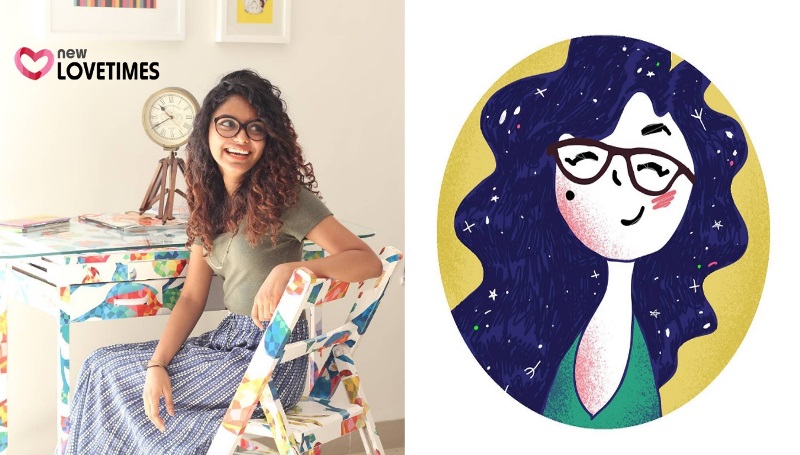 Article Name
#NLTTalks With Danica Da Silva Pereira: "If You Do What You Love, You'll Never Cringe On A Monday"
Author
Description
In conversation with Danica Da Silva Pereira, 24-year-old illustrator & visual artist who is taking the art space in India by a storm with her YetAnother By Danica.