If you are new to Pilates, then the initial experience can be a bit intimidating. I remember when I first visited a Pilates studio, it felt like everyone was dressed on-point and had a perfect body. Truth to be told – I was comparing my first day with one of their hundredth days. If you are also new to Pilates and would like to make the best of this experience, then we have got you covered. To start with, you need to get some Pilates clothes and be familiar with the basic do's and don'ts.
As you know, Pilates is all about the controlled movement of our body. Unlike a weight-oriented exercise which is focused on a part-by-part development, Pilates is focused on the whole-body movement. This results in strengthening our core and making our body more flexible. Though, in order to do all those Pilates exercises, you need to move freely. At the same time, you don't want to have friction between your clothes and the mat that can affect your body movement. In this guide, we will let you know how to pick the right clothes for Pilates and what other important things you need to keep in mind before taking this big step.
---
Suggested read: How To Do Kegels? 12 Life-changing Kegel Exercises That Will Make Your Vajayjay Happy
---
What should I bring to a Pilates class?
This is the first thing that almost every beginner asks before starting Pilates. Ideally, it would depend on your environment and the approach that you are following. Most of the Pilates studios are well-equipped with all the important gears and other accessories. Therefore, if you are taking a class at a reputed studio, then you can simply walk in, with the right clothes.
Though, some studios don't have the needed Pilates mats and would ask you to carry one yourself. Pilates mats are quite similar to yoga mats, but they are thicker and more cushioned to give our back added support. You can ask your instructor for any recommendation and get a Pilates mat beforehand. Also, consider carrying a water bottle with you. While you won't be drinking a lot of water during the workout, you might get thirsty in the end.
What should I wear?
Pilates is quite similar to yoga and would demand your body to move a lot. You would have to work on several postures and body movements on a mat (or a reformer) in a Pilates class. If you are not wearing the right clothes, then you would be a lot sweaty and your movement will also be restricted. Therefore, you can consider the following things before buying clothes for Pilates.
Non-restricting: Since there would be a lot of stretching and bending of your body, you should not wear anything that would restrict your movement.
Body-hugging: Mostly, body hugging and form-fitting clothes are recommended. Not only does it make it easier for us to move, but the instructor can also monitor the position of our muscles in a better way.
Breathable: Needless to say, your body temperature would increase during the workout and you might sweat a lot. Therefore, you should consider getting some sweat-wicking and breathable clothes.
Comfortable: Last, but most importantly, you should be comfortable in your clothes. Just because something looks stylish, it doesn't mean that it will be an ideal outfit to wear for Pilates. Don't compromise your comfort while picking your Pilates wardrobe and blend your style thoughtfully.
---
Suggested read: Want To Work Those Triceps? Try These Bodyweight Exercises Now!
---
After keeping these suggestions in mind, try to get yourself some of these clothes:
Leggings or tights: Most of the people make mistakes while picking their bottomwear for Pilates. Instead of getting loose-fitting pajamas, buy some leggings. While it is recommended to get tight leggings, just make sure that you are comfortable and that you can move freely in them. Guys can get some durable tights as well that would have the same functionality.
Lounge pants: A lot of people don't feel comfortable in leggings. Also, guys mostly like to wear lounge pants instead of tights as well. In that case, you can get a pair of lounge pants that would have a slim fit cut. Get a pair with elastic fit so that you can move freely.
Shorts: Apart from getting pants, you can consider buying some smart shorts as well. Though, don't get chino or denim shorts as they are not lightweight and will make you sweaty. Get a pair of lightweight form-fitting or compression shorts with a more refined fit so that you can lift your legs without being revealing.
Sports bra: It doesn't matter if you are hitting the gym or a yoga class, a comfy sports bra is a must for every lady. It will give you the support you need to move your body in the needed direction.
Tank top: Tank tops are usually the go-to thing to wear for a fitness class. Since they are quite breathable, they help in regulating our body temperature. At the same time, it allows us to move without any restriction.
T-shirts: If you are not comfortable with a tank top, then you can also get a t-shirt as well. Just make sure it is not an oversized tee else it will make it hard for you to move. Also, check the fabric of the t-shirt in advance. It should be lightweight and breathable.
Grip socks: Lastly, consider getting a pair of grip socks that would have anti-slip properties. As you know, Pilates is done barefoot. Though, a pair of grip socks will do wonders during your Pilates workout. It will help you get the right resistance so that you can move your body in a more controlled way.
Expert Tips for Picking Pilates Clothes
As you can see, buying clothes for Pilates is not rocket science. You only need some basic clothes like a pair of leggings and a tank top to be ready. While it is quite simple to pick Pilates clothes, a lot of people get confused with the basics. I would recommend keeping your attire simple and making sure that you stay comfortable in your clothes. Give your ensemble a test run and stretch a bit before hitting a Pilates class directly. Also, consider the following tips in mind to be ready for your Pilates workout.
Go barefoot
As stated before, Pilates does not involve running or any other extensive leg movement. You can just skip those sports or athletic shoes before going to your Pilates class. Most of the people do Pilates barefoot on a reformer. Though, if you are doing it on a mat, then you can consider getting a pair of grip anti-slip socks.
Avoid jewelry or heavy accessory
This is the golden rule of Pilates. Before you start working out, make sure that you are not wearing any jewelry or heavy accessory. While a ring or nose pin is fine, a heavy necklace or bracelet might make it harder for you to move your body. Not only can it be distracting, you might end up losing them in between as well.
More fitting and less baggy
When we say comfortable clothes, a lot of people associate it with baggy outfits. Needless to say, you should always avoid wearing baggy clothes to a Pilates class. Your clothes should be more fitting and stretchable instead of being oversized. Form-fitting clothes will make it easier for your instructor to see the movement of your muscles. Also, during some exercises, you might need to lift your legs or move your torso. Wearing baggy clothes is just not a good idea in this case.
Tie your hair
If you have long hair, then you need to tie them beforehand. Your hair should not come over your face while moving your body. Ideally, a ponytail or a bun would be the best solution to keep your hair organized.
No makeup or heavy scent
When you go to a Pilates studio, make sure that you go naturally. Wearing heavy makeup is a big no. You can simply apply some moisturizer before heading out and avoid wearing anything that can make your face sticky. Also, avoid wearing heavy deodorants or perfumes. Go for a fresher approach as a heavy scent might distract you or other people during their workout.
Avoid zips, clasps, belts, etc.
While selecting your clothes, make sure that there are minimum or no embellishments. For instance, zips, buttons, buckles, clasps, belts, etc. can make it harder for us to move or even get caught in Pilates equipment. Ideally, you should avoid plastic or metal accessories as well. Also, tassels and drawstrings should be avoided as they can get caught in a gear.
---
Suggested read: Pilates For Men: Why Pilates Should Be A Part Of Your Fitness Routine
---
I'm sure that after following these suggestions, you would be able to pick just the perfect outfit for Pilates. You can also consider your body type and personal preference while picking your ensembles. In this way, you would be able to pick clothes that are not only comfortable but stylish as well. If you already have some favorite workout clothes for Pilates, then let us know about your picks in the comments below.
Featured image source: Flickr 
Summary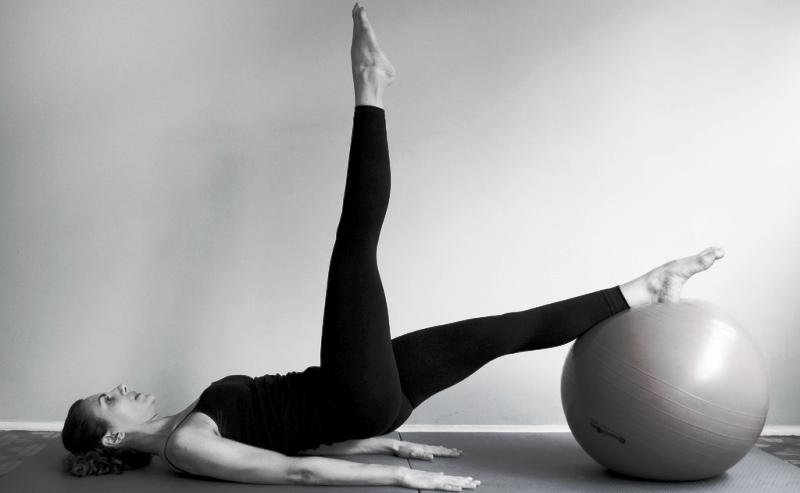 Article Name
Pilates for Beginners: How to Be Fit and Fab with the Right Pilates Clothes and Gears
Author
Description
While it is quite simple to pick Pilates clothes, a lot of people get confused with the basics. I would recommend keeping your attire simple & comfortable.