With more and more niche dating services populating the ever-widening world of sex and dating app market, there is never going to be 'something' you cannot find here! No kidding, seriously! What do we not have in the fast-growing digital dating-scape – dating sites for adulterers, for 'ethical cheaters,' for sugar daddies, for cougars, for sea captains, for black singles, for religious and ethnic minorities, for gamers, for 'exclusively attractive people,' for 'exclusively ugly people,' for 'nerds,' for those looking for a kick .. . err … kink, and even one for farmers – we have it all and more!
---
Suggested read: LoveFlutter aims to match 'quirky interesting' people to date
---
So, it isn't quite a surprise that amidst the increasing populace of dating apps that are getting more and more specific (and maybe creepy?) by the day, Pure dating app announces its grand entry with an aim to remove the Tinder/Grindr effect on those looking to score. Yes, you read that right – Pure is here to supply pure pleasure – in unlimited doses!
Unabashedly unashamed of its 'pure' motive to filter out the crude scouring of Craigslist pages for landing an anonymous sex partner or going the 'flirtation-ship' way of OkCupid to trudge toward a feisty f**k, Pure dating app makes the task of hooking up incredibly quick, easy, and safe!
Touting itself as a dating app that paves the 'fastest way to find more frequent and diverse sex,' Pure is an up and coming contender in the minimalist app club – making it easy for people looking for a quick bang to be able to solicit it from strangers without the 'shame' that tags along with it. How, you ask? Good question.
Pure, with the tagline, Uber for Dates, erases the 'undignified' token of one's 'shameful' moment of need by making your presence on the 'pursuit of pleasure' forum minimal at all times. You are required to input a few basic details – and your profile is 'available' for listing to people on the same 'pursuit' in and around your location – only for one hour! Yep, your photo and information is hosted for one hour only and then wiped off until you 'choose' to make it available again. Of course, that is both a blessing and a curse as your 'pursuit of pleasure' isn't chronicled to be a part of cyberspace forever, but also because the ticks of the clock are too scarce to perhaps fructify your search. After all, how your listing – consisting of up to five pictures, a tagline, and your location – yields results is based on how large is the pool of similar 'sex-hunters' around you and of course, the reciprocation. Just like any other 'safe' app, Pure dating app ensures that you can hookup only after you have mutually acknowledged that you find each other attractive.
There's also a catch that you would do well to know about: Pure only allows the first five attempts at sex-hunting free! Whether or not those attempts get you laid or go unheeded, thereby compounding your desperation (yes, let's admit it folks – that's what you are there for and there's no shame attached to it), you get only five chances for naught. After exhausting your big five, you need to dole out some wads of green for scouring the greener pastures that Pure offers by way of tickets for the stroll.
Image source: Google, copyright-free image under Creative Commons License
While there is a huge debate surrounding the premise on which Pure dating app operates, one needs to applaud their modus operandi. The most common concern for apps that propagate the hookup culture is safety. And Pure sure scores highly on that front – whilst it allows you to score. 😉 While most other players in the realm like Whisper have no dearth of horny men spamming women for a ravaging romp, Pure ensures that such Anthony Weiner-esque behavior is obliterated on their forum. After all, no woman enjoys the process of scouring through junk (and we might be 'pushing' the pun through this bracketed reminder) – whether she is looking for a romantic association or a plain night of fun – no strings attached. Pure ensures that only after a mutual attraction can one set up a meeting, albeit in complete preservation of the anonymity until the face-to-face interaction transpires.
---
Suggested read: Is PlentyOfFish a dating site for plenty of potential catches?
---
Of course, the idea behind the app is subject- but there are two sides to the coin. Whilst one faction may argue about the lascivious endeavor being a clean-slate for the STD's to write themselves- there is another faction that enjoys the 'safe' realm of posing a challenge to the dominant ethos of rigid boundaries pertaining to sexuality. Take for instance the artful albeit slightly NSFW Pure ad that upheld this free love way of life – by depicting the rift in a complicated New York monogamous relationship – effectively bridging the widening gap by bringing another woman into the picture, using (cue orgasm face and a breathy scream of yes!) Pure.
Now, I am no expert myself to take sides but I have to admit to the logic on both sides. While I am all for pomosexuality and defying labels – even effecting a flux in the way society views sexuality and the interactions therein, I cannot help but remark upon how small a percentage of the population is in fact, as liberal, educated, and smart to understand this dynamic. As such, there remains no doubt about the fact that the 'pure' intent of Pure – the dating app that aims to supply unprohibited amounts of pure, unadulterated pleasure for your pleasure – is clearly tainted by mere skeevy, shady, and sex-crazy strangers  who attempt to make the 'creepy' cajoling even creepier with their corny taglines and crass pictures!
Now, plain carnal instinct or the injection of monogamish into monogamous, or even a once-in-while-dalliance, Pure dating app has nailed the 'sexy' way of offering sex on a platter – that's a 'pure' delight for many!
Summary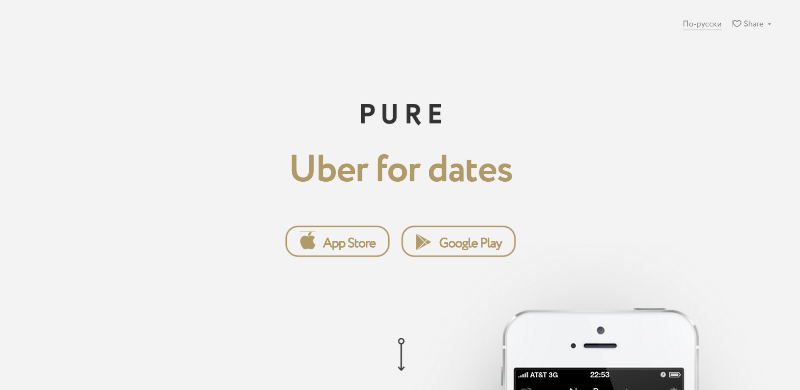 Article Name
Pure Dating App - For Pure Pleasure!
Author
Description
Pure dating app offers you quick bangs - right now! It comes with the promise to remove the Grindr-esque effect with SAFER access to hookups. Check it out.