A dating app for cat lovers? Check. A dating app for vampire and mullet passions? Check and check. Another bizarre dating app for gluten-free singles, who're looking for zombie lovers, or bribing the lady to go out with you? Check, check, and check!
When dating apps have become super niche in catering to equally super niche user base, why not something that many people love – a bacon lovers dating app? Oscar Mayer, the meat company has come out with 'a totally real dating app,' that hopes to connect singles based on their mutual love for bacon. Seems totally logical and legit, no?
Right. The dating app is called Sizzl, and works almost similar to the ever-popular Tinder, i.e., a user needs to login via their Facebook account first, from which their Sizzl profile gets populated, which can then be manually tweaked by the user.
Unlike the plethora of dating apps available in the market, Sizzl asks its users on their favorite kind of bacon – pork, turkey, or both, and how they like their bacon – hardwood smoked for a really long time, thick cut, maple and sweet, or lower sodium. These do seem like very pertinent questions for a potential mate to get the answers right to, right? 😛
---
Suggested read: MeetMeOutside dating app hopes to connect fitness enthusiasts
---
Instead of the boring swipe right or left to indicate like or dislike respectively, on Sizzl, there is a Sizzl-meter, which is how a user lets the other user know if they'd like to connect with them or not. When the app's Sizzl-meter page opens, a user needs to press and hold on the screen – the longer a user presses and holds, the higher will be that person's sizzl score. And if two people 'sizzle' each other at a similar level, then they'll be matched.
Once matched using the Sizzl-meter, the two users can take the interaction to the next level by chatting via the app's chat feature.
In a statement, Eric Dahmer, Oscar Mayer's marketing director said,
"In love, as it is in bacon, it's important to be discerning when selecting your perfect match and to never settle for less than the best. With the launch of Sizzl, we're thrilled to give our true bacon lovers the chance to find each other and potentially meet their soul mates, in life and in bacon."
Awww! True love facilitated by bacon! How romantic!
However, Sizzl app is exclusively available for iOS users from iPhones 5 and up, and not for Android users. Maybe Oscar Mayer will realize the potential for bacon love and release the app's Android version in the near future. Let's see.
Check out the video explaining why you should choose Sizzl to find your bacon-loving better half:
Till then, iOS-toting bacon lovers, good luck finding your bacon-loving soul mate!
Summary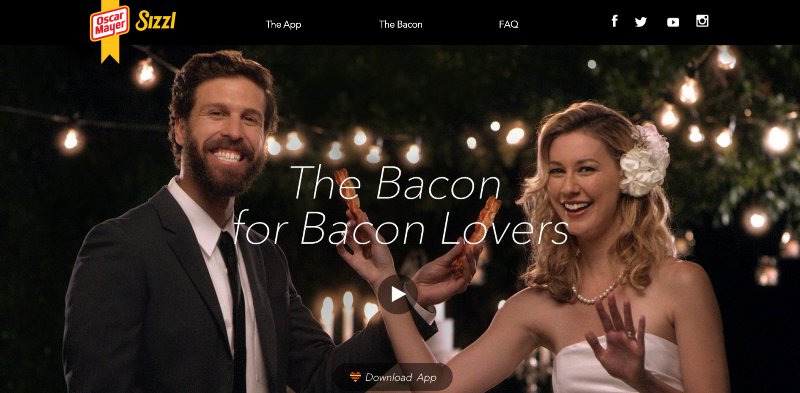 Article Name
Sizzl Dating App From Oscar Mayer Is For All Bacon Lovers
Description
Oscar Mayer has come out with a new dating app for all bacon lovers out there, called Sizzl. Check out how it works.