There is literally no dearth of dating apps/sites on the Internet. You can take your pick from super niche ones like Clown Dating to Zombie Passions to The League (for Ivy League professionals) to Sea Captain Dates to Gluten-free singles to MillionaireMatch to Seeking Arrangement (the sugar daddy/sugar baby site) to Carrot Dating (bribe your way to get the first date) to any number of weird and oddball online dating services. You just have to install the app on your (super) smartphone and voila! All the singles in your area at your fingertips – swipe right for a 'yay' and left for a 'nay.' The dating game has been reduced to impersonal swiping and making snap judgments based on a profile picture.
As if the dating app market isn't saturated enough, there's a new dating app that will literally shove all the singles in your area every time you open a new tab in your browser! That's what we needed – a dating app that's a built-in extension of your browser!
This might just become the next 'it' thing in the online dating scene, making every interaction on the Internet a potential date. The app's name is Tab, which is straightforward and unoriginal. But its tagline is catchy enough – 'Puts serendipity back into digital dating.'
You can add the Tab browser extension to Google Chrome, which will provide you with potential matches every time you open a new tab to search for anything – be it about how to prevent neck darkening or check out how to make the perfect croissant or check out what are the events happening in your area.
---
Suggested read: Dating app Tindog is Tinder for dog lovers!
---
Just like Tinder and its clones have a 'like' and 'decline' buttons, Tab dating extension has a heart, which you can click if you like what you see. If the other person hits the heart as well, then it's a match. You both can start interacting from then on. However, if the guy/girl you 'hearted' opens their mouth and out comes a bigot, then you can wave them goodbye and move on with other options that the Tab dating extension shoves at you.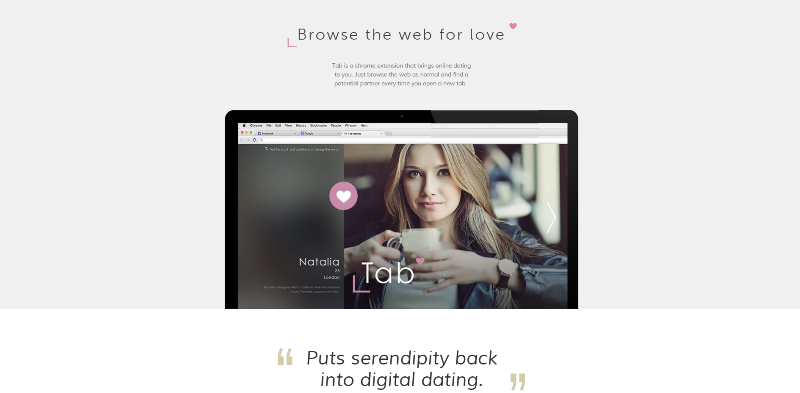 This kind of reminders every time you open a new tab on your browser can be quite daunting, and keep you from achieving anything worthwhile at the office. So, we recommend that you don't add this extension on your work computer; instead opt for your personal one in which to install this.
The Tab dating extension is still in the 'sign up' phase. If you're interested in checking this new service, you can sign up too and see what all the hullabaloo is about.
Would you use this Tab dating extension on your Chrome browser? Tell us in the comments below!
Summary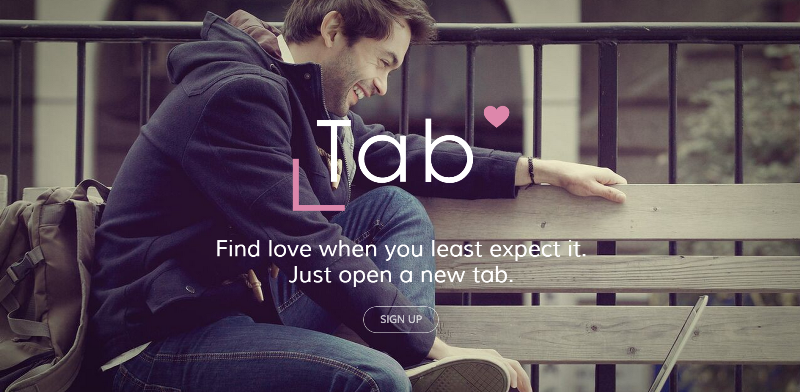 Article Name
Tab Dating Is A New Dating App Built Into Your Browser!
Author
Description
Tab dating is a new dating app that is built into your Chrome browser as an extension. Check out this new and rather bizarre yet ingenious app!