Whether you've just started dating, or been together for years, 14th of February is a special day for those who are in love. It's that time of the year when all you want to do is celebrate your relationship with your special someone. Mumbaikars in love, here's what you can do with your partner this Valentine's Day.
1. Try the midnight buffet at Boulevard
Image source: Google, copyright-free image under Creative Commons License
A visit to the 24-hour coffee shop in Vile Parle is a must on Valentine's Day. They have a popular midnight buffet, and what can be more romantic than a dinner for two in the middle of the night? The spread is fabulous, with continental and Chinese cuisines to choose from.
Location: The Orchid Hotel, Nehru Road, Vile Parle, East Mumbai – 400099
2. Valentine Weekend at Riverside Resort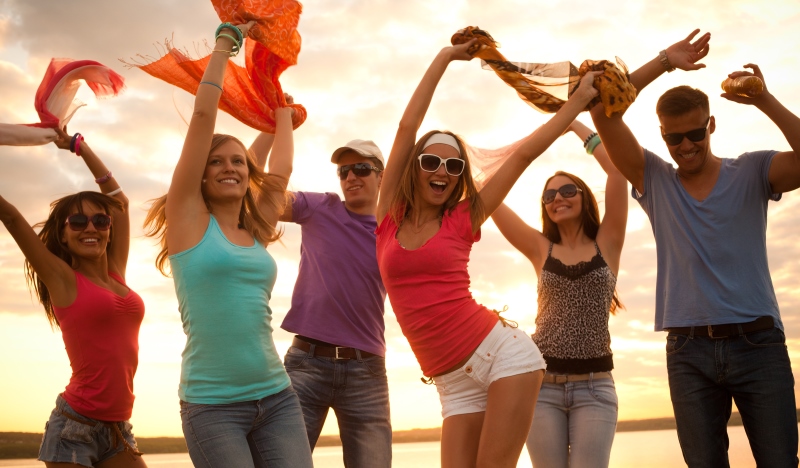 Image source: Shutterstock
Why just take one day celebrating love when you can spend an entire weekend partying at a resort? If partying with your special someone is your idea of romance, you should head to the weekend poolside party at the Riverside Resort at Chenna Creek. Dance the night away to live music, and get to know other like-minded couples. Sounds like fun!
Location: Riverside Resort, Chenna Creek, Near Heritage Hotel, Patil Pada, Mumbai – 401107
Time: 5 PM onwards on the 14th and onto the next day
3. Learn everything you need to about the Battle of Da Sexes
If the two of you often argue about who is better, then you should definitely be heading to the Tata Theatre on the 14th. Comedian Vir Das acts as fight referee in this one-of-a-kind show you can only watch with a partner. What's even more interesting is the fact that men and woman will be seated separately. Yes, you read that right. Why don't you find out who wins the battle, so that you can have yet another celebration?
Location: Tata Theatre, NCPA Marg, Nariman Point, Mumbai – 400021
Time: 9 PM
4. Watch Broadway's Romeo and Juliet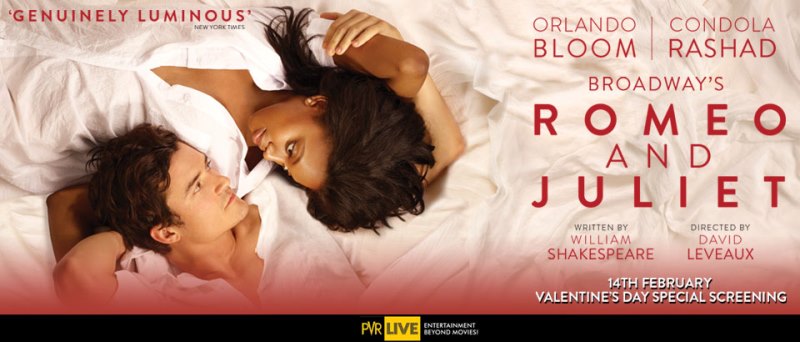 Go the Shakespeare way and watch Orlando Bloom play Romeo and Condola Rashad play Juliet. This emotional tragedy revolving around two lovers who were never fated to be together, has touched the hearts of many over the years. Valentine's Day is the perfect time to relive this iconic love story.
Location: PVR Cinemas, Mumbai
5. Nicolai Friedrich: The Best Mentalist in the World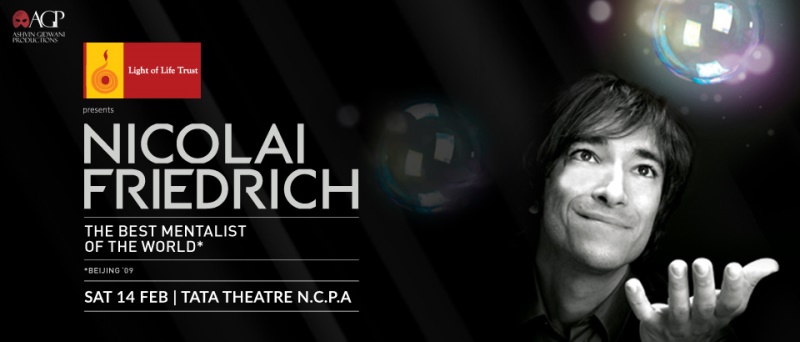 Make it a truly magical evening by taking your partner to Nicolai Friedrich's mind blowing performance. Let him fascinate your world with his visual illusions and effortless humor. He will make you believe in things you never thought you could believe in. He will make you want to get lost in a world he created, full of intense enchantments you cannot easily forget.
Location: Tata Theatre, NCPA Marg, Nariman Point, Mumbai, Maharashtra 400021, India
Time: 7 PM
6. Mahindra Blues Festival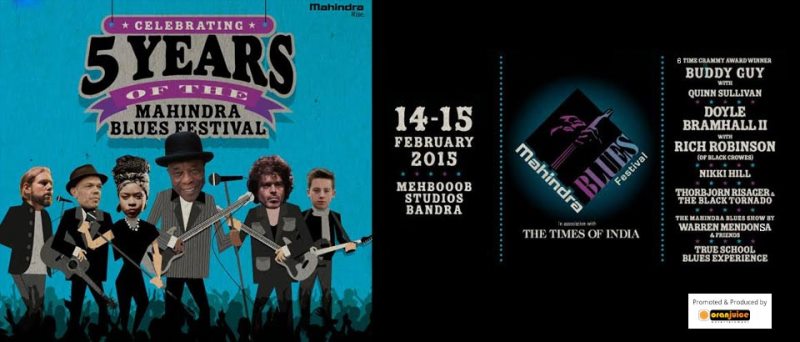 This landmark festival is a must watch for music-loving couples who wish to experience the best of the blues world. The festival is celebrating five years of wonderful music with an amazing line up that will touch your lyrical souls. So why not spend this Valentine's Day evening swaying to artists like Buddy Guy, Nikki Hill, Doyle Bramhall II, Rich Robinson, Thorbjorn Risager, and Quinn Sullivan?
Location: Mehboob Studios, Hill Road, Bandra West, Mumbai – 400050
Time: 7 PM
7. Couples' pottery workshop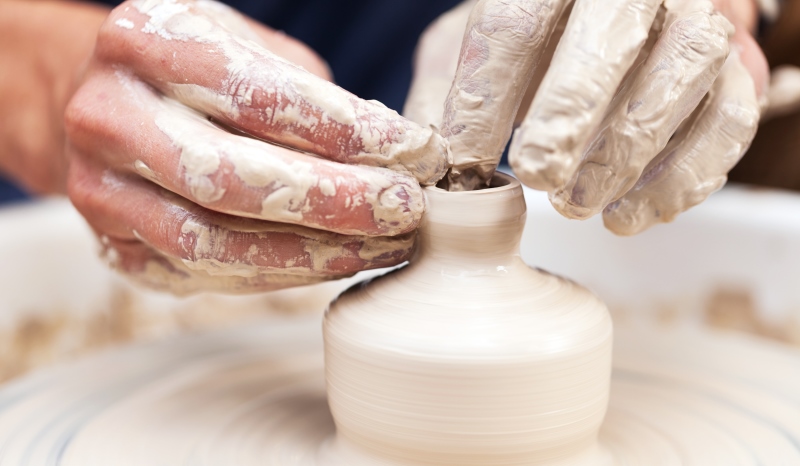 Image source: Shutterstock
Do something with your hands and get dirty. We are suggesting nothing but a couples pottery workshop! The two of you will learn how to mold clay into beautiful art pieces using your hands while you learn the beautiful art of pottery. In this two-hour session, you will learn different techniques and will also be able to use the pottery wheel. You could try to make something unique for your sweetheart with your newfound skills. Won't it be an extra special way to celebrate the day of love?
Locations: Chembur, Dadar, Andheri, Goregaon
8. Fishing
Image source: Google, copyright-free image under Creative Commons License
If you want to try an outdoorsy experience that stands out from the rest, catch some fish! Valentine's Day spent at an agro farm, village style, is one of the most memorable things you could do with your partner. Learn how to catch fish with a fishing rod, and also about different types of fish. You could also ride a buffalo in the river, or swim around so that you can work up an appetite for a delicious meal of fresh fish. End the day content, gazing at the setting sun with your partner beside you. Now isn't that an unforgettable Valentine's Day?
Location: Nerul
Time: 10 AM
9. Experience sunset on a yacht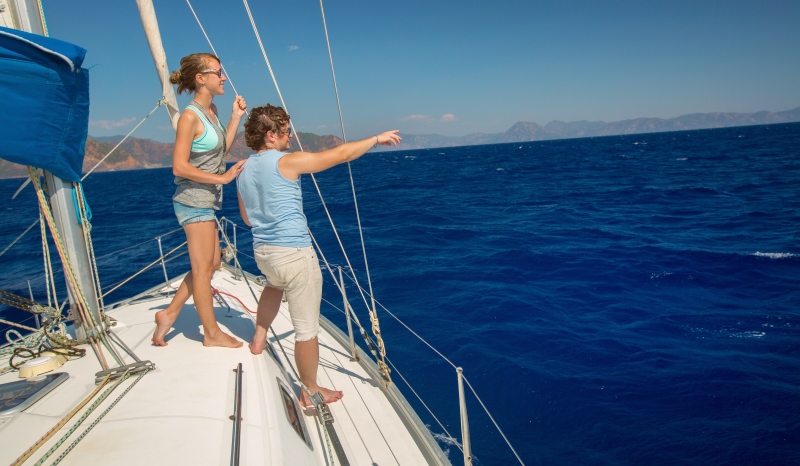 Image source: Shutterstock
What can be more romantic than watching the sun go down as you sail on a luxurious yacht on a calm February sea? Book a yacht or a sail boat from the iconic Gateway of India and spent two hours (or more!) romancing the one you love with some music, serene waters, and the glorious setting sun. Such is the beauty of romance.
Location: Gateway of India
Time: 4 PM
10. Imagica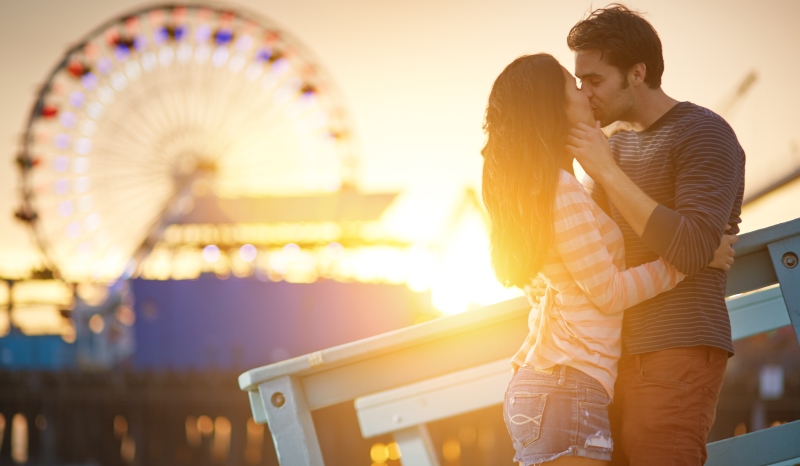 Image source: Shutterstock
Scream, shout, and squeal with joy, because Valentine's Day is a great occasion to relive your childhood at the newest theme park in the country, just a two-hour drive from Mumbai. A day spent at Imagica will be packed with so much excitement that it will leave you asking for more, even though your limbs will want rest. Hold hands as you scream together on the scream machine, and sneak in a hug at the haunted ride. Don't miss the pirate-themed Spanish bar and the Imagica parade. Valentine's Day at Imagica is exhilarating and unconventional, and perfect for couples bored of run-of-the-mill romance.
Location: Imagica, Sangdewadi, Khopoli-Pali Road, Khopoli – 410203
Time: 11 AM – 9 PM
Featured image source: Shutterstock
Summary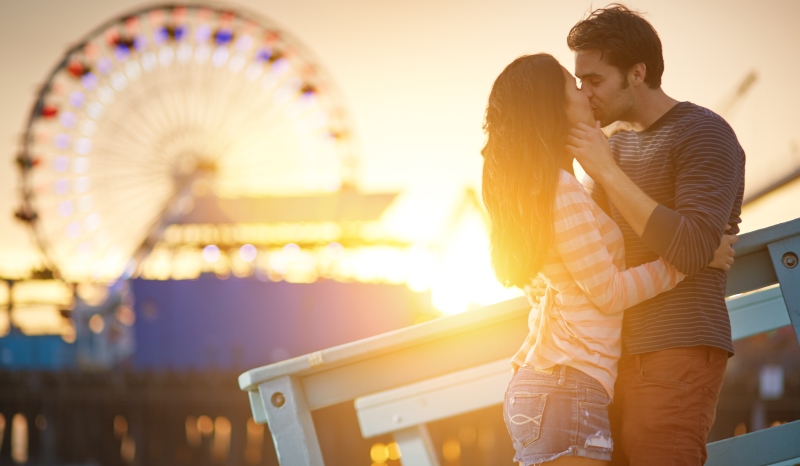 Article Name
Top 10 things to do on Valentine's Day in Mumbai
Author
Description
With February 14th just around the corner, here are the top 10 things to do on Valentine's Day in Mumbai.