Yes, Mumbai is fast and crazy and all about the 'present moment.' So, how does an exclusive Valentine's Day exactly fit into the plan of a Mumbaikar when that deal that the company HAS to land has its memo due the same week, and of course, there's the conference one just cannot bail out on and everything leading up to the 'day of love' is at best, wonky and as already mentioned, CRAZY!!
SIMPLE – by skipping the 'fuss' that goes behind making V-day a day of 'gold-shower' for retailers!
Yes, skip the splurging on gifts and skip those movie-and-dinner dates too!
Instead, try some chilled out and relaxing ways to spend the day that should be spent inching closer to the one you feel close to and strengthening that bond rather than flooding her room with soft toys, flowers, and chocolates! Actually, a pack of chocolates with any of the V-day celebration ideas we are going to suggest now is a great combination! After all it's chocolate!!
So, here are the NLT-recommended ways to escape the bustling cityscape (not to forget, the crazy traffic) and get 'crazier' for each other with these heart-warming ways of celebrating Valentine's Day in Mumbai:
1. Sail into the sunset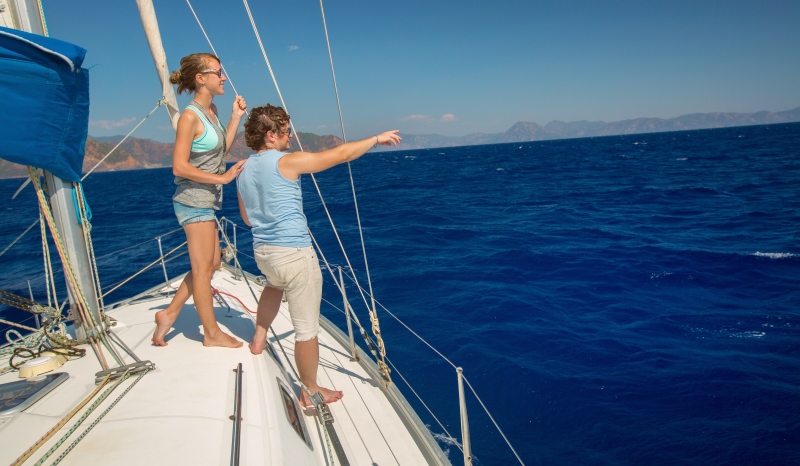 Image source: Shutterstock
Ride the waves with your loved one just as the sun rays are melting into the water! Set sail on a J24 sailboat at sunset and experience the distinctive skyline of Mumbai awaken while your love melts away in your arms. Let the occasional sea sprays drench you in an eternal shower of love whilst the winds keep whispering tales of togetherness in your ears! We bet you'd only be wishing for time to stand still!
2. Happy hobbies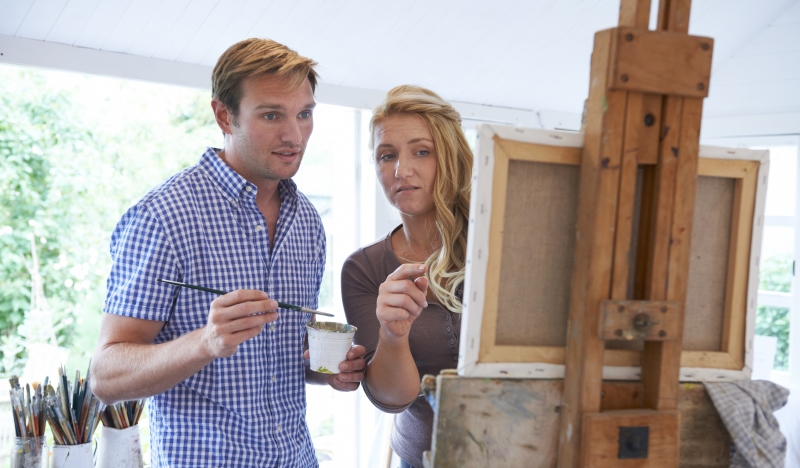 Image source: Shutterstock
Take some time to bond over hobbies that you know you have in common, or maybe don't. If one of you likes painting but hasn't quite had enough time to devote to the art or the other likes gardening but can't manage to live his 'hobby' owing to 'work,' make sure the 'day of love' brings each of you closer to what you love doing whilst being up and close with the one your heart beats for! Think of how you'd forge a bond over the activity, share humorous anecdotes of earlier times when you were engaged in the same, get your partner to participate in something that drives him/her out of their comfort zone (albeit gradually and of course, enjoyably), laugh together, and live together. The thoughtfulness and the effort that both would make to make their own realms of interest interesting to the other are going to keep the relationship healthy and lively. Imagine planting saplings, trimming wild outgrowths, and naming new blossoms together over coffee. Plus if her hand is soiled, you can make her drink off your cup! 😉
3. Have a picnic on the terrace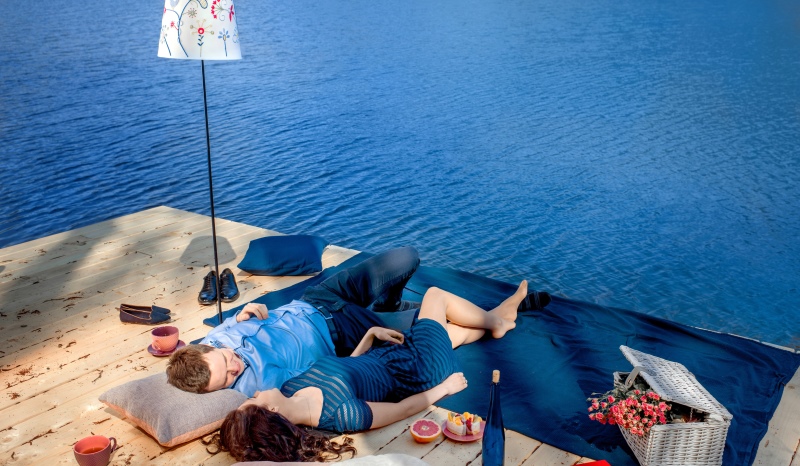 Image source: Shutterstock
If building your own love cave and going in for some wild love sounds like an exciting proposition to you, we have the perfect date idea for you. Pack food, grab the blankets, cushions and mats, and head to your terrace for celebrating V-day like never before. Build your own cozy love cave and get inside for a cozy meal, a cozy conversation, and some cozy cuddling! Yes, you can come thank us later!
4. Spread the love
Image source: Google, copyright-free image under Creative Commons License
Valentine's Day is the day to celebrate love and whilst we agree that some of those ticks of the clock need to be devoted to the one you love, we'd encourage you to spread the love to others too. You could both volunteer at an orphanage or spend some time with street kids. Make their Valentine's a colorful experience – paint their V-day red with balloons, cakes, candies, and flowers. Not only would it be a humbling experience for you and your special someone, the smiles you spread would enrich your bond with a sense of fulfillment that no other 'exclusively romantic' moment could match!
5. Wake the sun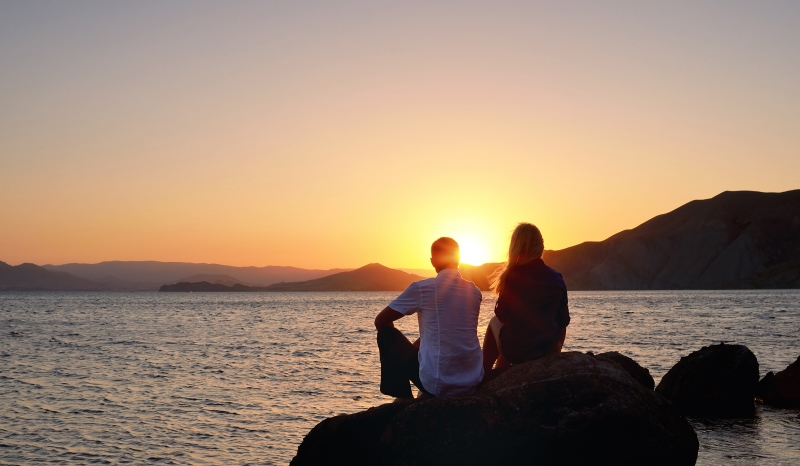 Image source: Shutterstock
There is something endearing about watching the world come to life with the one who means the world to you. So this Valentine's eve, do just that. Stay up the whole night or wake up just before the sun's alarm clock goes off to see the sun paint the eastern sky a resplendent golden. Breathe in the cool, crisp morning air and hear the birds' wake-up song – all whilst you rest your head on his shoulders!
6. Go the comedy way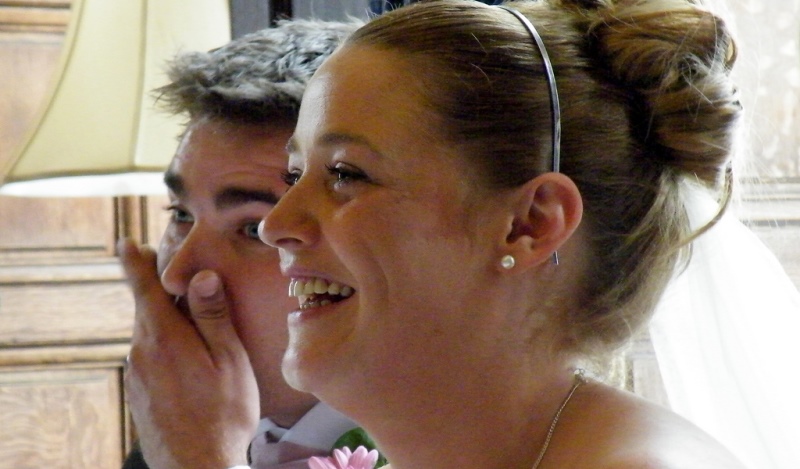 Image source: Google, copyright-free image under Creative Commons License
Head for a night of laughter with your beloved at the nearest stand-up club. Nothing brings you closer than cracking up at the jokes that click with you and in unison! So whether you're falling off your seat and need to clutch harder on his arm to keep yourself from the 'fall,' or you'd pee your pants whilst the jokes keep rolling out, you'd go home having 'fallen' a li'l more in love! Try the comedy way of getting closer and closer still!
7. Chill with thrills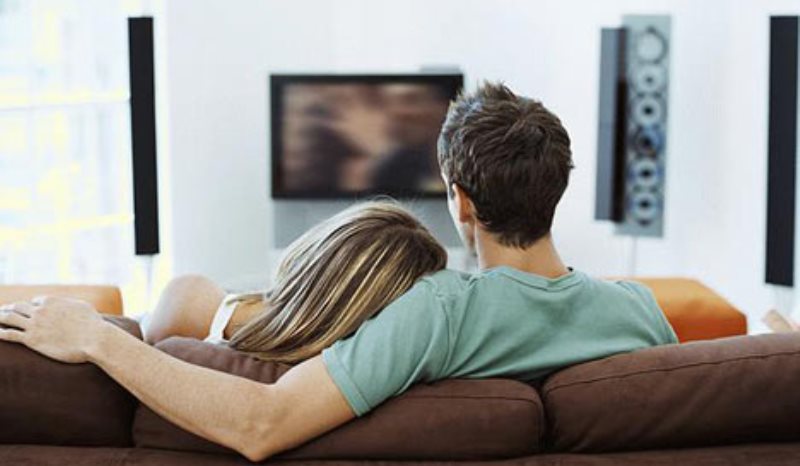 Image source: Google, copyright-free image under Creative Commons License
If you are a horror movie buff, a horror moviethon is the perfect date idea for you this Valentine's. Chills and thrills are indeed a 'chilling' way to inch closer and closer to your loved one when munching on popcorn and looking at the grotesque screen is no longer bearable! 😉
8. Honeymoon, the staycation way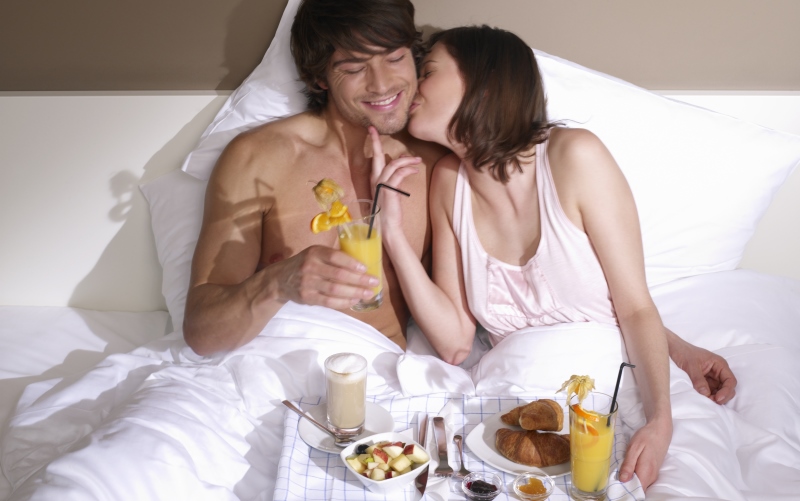 Image source: Shutterstock
Another honeymoon with your beloved is a dream that CAN come true. You don't have to plan months in advance or stress over the expenditure involved. You only need to opt for a staycation honeymoon. Sprint off to the nearest resort in the city and enjoy a peaceful stay with no interruptions from the outside world. Make it a tech-free zone for yourself and have room service work up the ambience to 'picture perfect' before a 'do not disturb' sign goes up. Yes people, you are welcome! J
9. Splurge on an oasis of love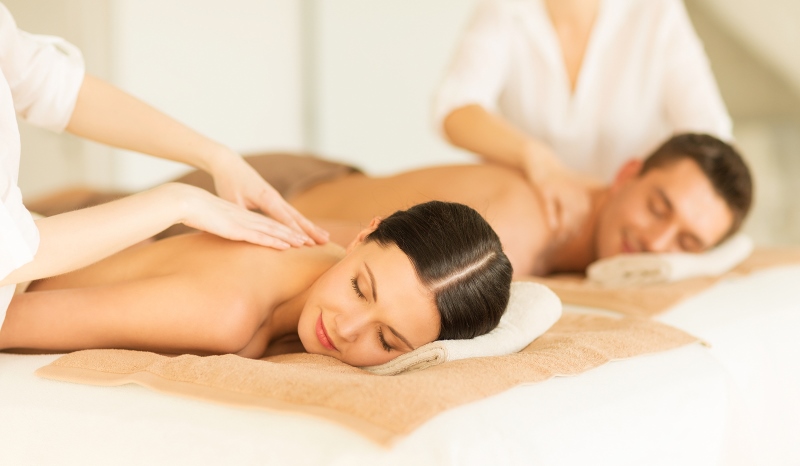 Image source: Google, copyright-free image under Creative Commons License
Get a customized couple spa treatment deal at Myrah Spa and indulge in a LOVE-ly experience of side-by-side treatments for lovebirds. The candlelit ambience, the love ballads, the rose petals, the glasses of champagne, and the platter of fresh fruits is the most healthy and romantic way to relax whilst revving up the ante on a passionate getaway. Indulging yourself in an amorous oasis of sensual and sensory stimulation would not only up the 'LOVE' in the air, but would get that flowing in your veins gushing with trebled speed too! Who knows what might await you when you head back to your bedroom! 😉
10. Walk on the clouds
Image source: Google, copyright-free image under Creative Commons License
Head for a weekend getaway to Nature's kingdom – Mahabaleshwar! Let the fluffy clouds be your cozy blanket whilst you snuggle up close! Enjoy the expanse of green, breathe in the cool, crisp air, and capture your precious celebration moments in the verdant surroundings and atop lofty peaks. Live your own movie moments whilst you revel in the 'magical serenity' of the place and can't help but wonder whether it's the enchanting effect of the place or the 'jadoo hai, nasha hai' effect of your beloved! 😉
11. Say 'Be Mine' with wine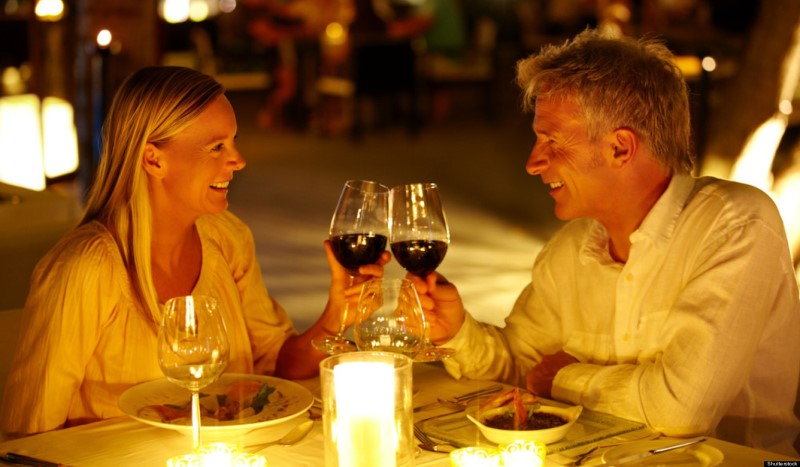 Image source: Google, copyright-free image under Creative Commons License
Bring home an exclusive wine tasting experience with a wine appreciation session from A Wine Evening. The session shall capture everything that you needed to know about wines – from harvesting to bottling. Plus no one keeps count of the number of glasses that you'd down. Sounds like a great chance to experience the unbridled flow of your favorite tipple along with the pro-benefit of being adjudged a wine connoisseur when asked to pick a wine for that next party, huh? It surely is. So, grab the chance and uncork the magic with your loved one for an evening of getting drunk on wine and maybe more on 'love.' 😉
12. Indoor-sy gaming
Take out those old board games, cards, and indulge in a day full of chess, carrom, monopoly, poker, memory, UNO, and more!! You could even have special punishments for the loser! And we're definitely hinting at 'naughty.' After all, unleashing a 'naughty' kid in you that hadn't quite been so as a child is 'game time' that you do not want to miss with your honey! And don't forget to tell us who scored! 😉
So Mumbaikars, we've done our bit and now it's your turn!!
Have a LOVE-ly Valentine's Day! J
Featured image source: Shutterstock
Summary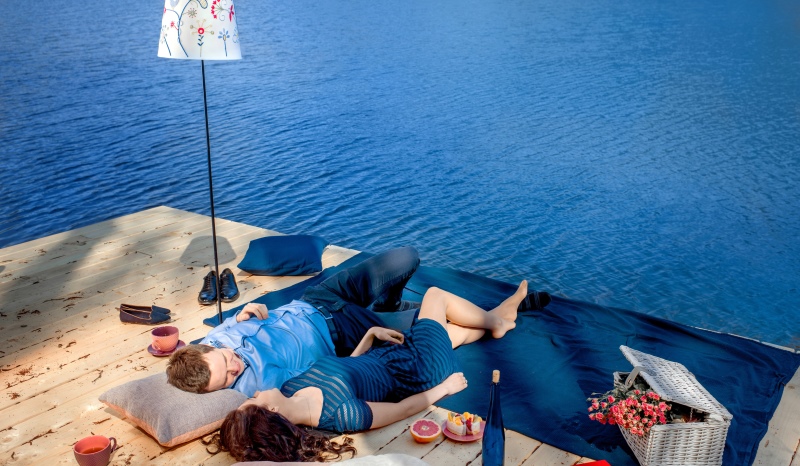 Article Name
12 chilled out ways to spend Valentine's Day in Mumbai
Author
Description
Come February 14th, everyone wants to have a good time. But with these 12 chilled out and relaxing ways to spend Valentine's Day in Mumbai, you'll thank us!