Most married couples are stuck in a limbo when it comes to the amount of time they actually spend with each other! Now, you may laugh all you want at that statement but research has shown that 85% of the time that married couples spend with each other is whiled away in having CEO-GM kind of conversations, planning the family finances or worse, getting the ohh-so-passionate 'K' replies to any discussions about how your day was! So, how do you plan to spice up this drab dish that is increasingly becoming unsavory, so much so as to give you an upset stomach?
Yes, maybe you try and pop the seductive 'hon, you and me, Friday night?' at a moment you chose after endless hours of deliberation. The answer – an exciting 'K.' As unappetizing as the routine 'daal chawal, right?' And a certain handsome Kapoor said, "Shaadi is daal chawal for pachaas saal till you die, arey life mein thoda bahut kheema pav tangri kebab hakka noodle bhi hona chahiye na!"
Here are some innovative experiences in Mumbai for a married couple by adding the 'Aamchi Mumbai' pav bhaji, missal, and of course, bhel:
1. Sailing into the sunset: There is nothing more romantic than riding the waves at a time when the sunrays are melting into them. Set sail on a J24 sailboat at sunset and watch the distinctively beautiful skyline of Mumbai come to life as you melt into the arms of your beloved. Every time the city lights blink to life, a teeny tiny flame of romance shall be kindled in your hearts.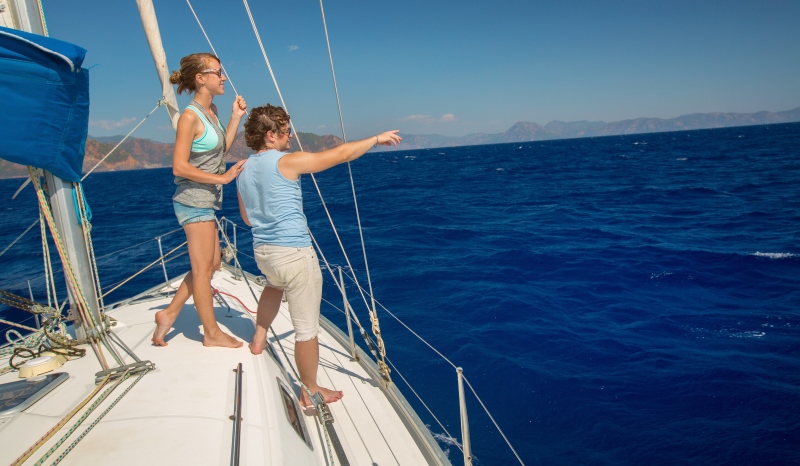 Image source: Shutterstock
And once you find your sea feet, you get to handle the boat. Boy, is she going to wish for some Captain love later that night! 😉 Book this private sailing experience at Apollo Bunder, Colaba at INR 4750 only. With the wind in your hair, the spray in your face, and your wify in your arms, how can your heart do anything but wish for time to stand still!
2. Crossword date: You have tried the 'jogging and yoga together' tricks but your love affair with the blanket has proved much more important than going running down the cobbled paths together, with the ascent of the golden globe in the eastern sky.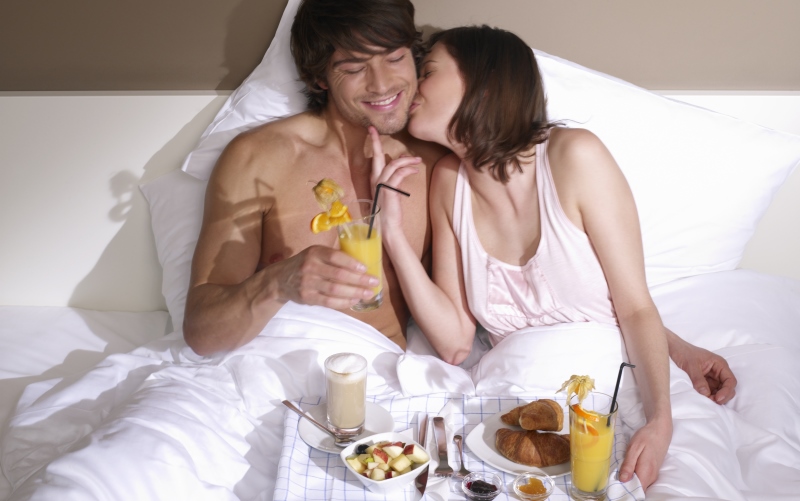 Image source: Shutterstock
So, how about bringing the romance under the blanket? Sign up for breakfast-in-bed, throw in the crossword challenge and laugh and love like never before! Plus, studies show morning sex is healthier and sexier!! See, skipping the 'healthy' jogs worked out healthily and happily, right? 😉
3. Romancing the waves: Work hours and the fatigue thereof, stifles much of the adventure in marriage, whether in the bedroom or out! But you do not have to push that leave application up your HR's nose for reliving that adventure trip from your glorious courtship period.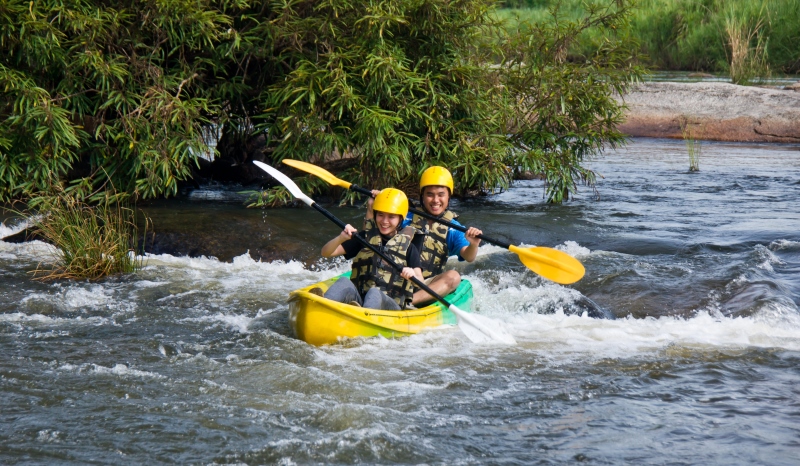 Image source: Shutterstock
Book an adventure blast at Kolad for a day of white water rafting, kayaking, zip lining, and river crossing. You can unwind after the adrenaline pumps have slowed down at a river side camp and enjoy slurpy sips of tea over conversations that have nothing to do with your maid's incessant leaves and your tiny tot's diapers! And all of this at INR 1899 per person. See, told ya!
4. Honeymoon, the staycation way: Sprinting off for another honeymoon with your honey is not impossible. You just need to say 'Yes.'  Yes, is that a 'yes' I hear? Alrighty then. Here's how: instead of shooting a stream of invectives at your boss for rejecting your application to dart off to the Bahamas, opt for the staycation way of honeymooning.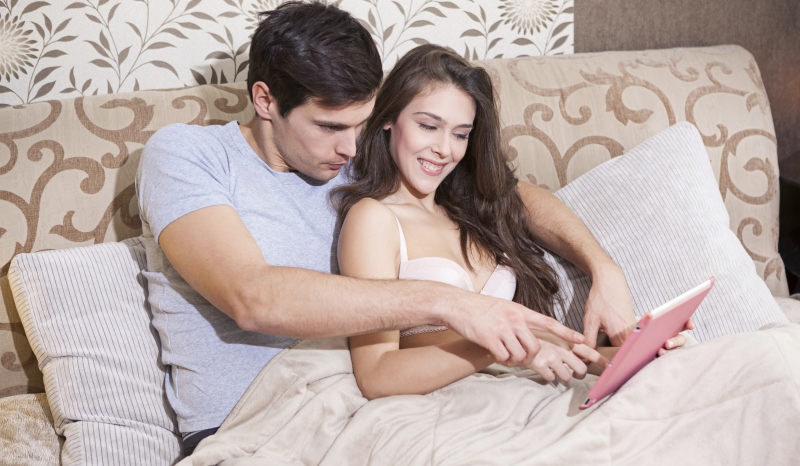 Image source: Shutterstock
It's the new way for living the 'lifelong honeymoon' dream. Turn one weekend each month into a mini-vacation by booking a stay at a comfortable motel and throw out household and work worries into the trash before the 'do not disturb' hanger goes on that door. Now, you are praying for the Lord to bless me, eh? Thankie! J
5. Splurge on an oasis of love: Indulgence is a way of love and there is no better way to achieve this than by stimulating your senses to experience a rekindled passionate ardor for your loved one.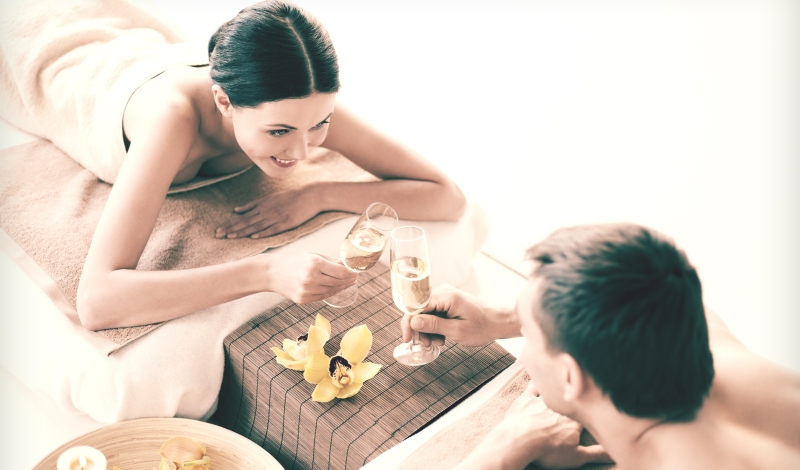 Image source: Shutterstock
Get a customized spa deal for lovers at Myrah Spa and dip into an aromatic bath that brings you together, while those candles burn themselves out to ignite your love for each other! Roses, chocolates, love ballads, and a platter of fruit-y delights add to the mystical charm of this LOVE-ly experience!
6. Walk on the clouds: Let the cottony soft clouds come embrace you two as you cuddle to become one in the cool, crisp air of Mahabaleshwar. Majestic peaks, breathtaking valleys, lush surroundings, and serene lakes make for a peaceful setting to envelop each other in Nature's kingdom.
Image source: Google, copyright-free image under Creative Commons License
Sing 'Pehla Nasha' or 'Gazab Ka Hai Din,' and relive the coy snuggling of the days when you'd sneak out from home/work to meet on the sly!
So, try these tasty recipes to turn your 'daal chawal' meal into an immensely appetizing, palatable masala treat. And let us know how yum it turns out!
We never tire of hearing about love and more love!
Featured image source: Shutterstock
Summary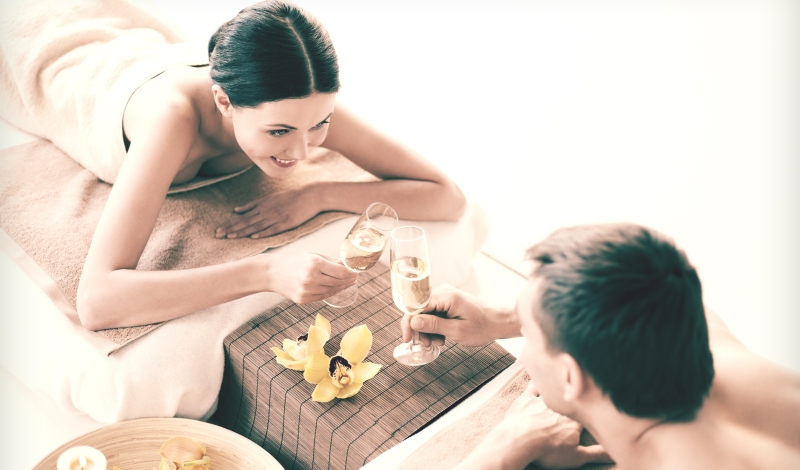 Article Name
6 innovative couple experiences in Mumbai under INR 10,000
Author
Description
A married couple seem to lack the element of romance as time passes, and they form a routine. Here's a list of 6 innovative experiences in Mumbai for them.