Just recently, the biggest player in the dating app world, Tinder, released a new set of paid features called PassPort and Rewind, which were priced differently based on a user's age. While PassPort allowed users to look for potential matches while traveling, Rewind allowed them to undo their latest (accidental) left swipe. As is universal knowledge, a left swipe on Tinder is a 'nay,' and a right swipe is a 'yay.' Although both the features were nifty in their own right, they drew flak for their varied price structure that was based on a user's age. As if people over the age of 28 (in the UK) or 30 (in the US) were somehow subpar to their younger counterparts. As if their 'advanced' age made it necessary for them to shell out more than the younger users.
---
Suggested read: Tinder updates features with ageist pricing policy
---
That aside, there's a new update that Tinder has released just yesterday. A user can now integrate their Instagram pictures into their Tinder profiles. So basically, Tinder added Instagram photos into the mix for users to swipe through. Since most Tinder users already include their Instagram handles within their profiles, it was just a matter of time till the app made it accessible to other users as well. Instagram is mostly used to document one's life through pictures. So, inclusion of Instagram profiles into their Tinder dating profiles, gives a potential mate a more rounded-out view of a user's life. A potential mate can see just the most recent 34 pictures, with the ability to check out their profiles, along with comments and who else has liked the pictures.
Image source: Youtube
The feature isn't universal though; so private users with private Instagram accounts are given an option to allow access to them or not. Even then, this would make their Instagram accounts public only on Tinder.
Earlier, Tinder just pulled profile pictures, bio, and any shared interests with mutual matches from Facebook. But now, Tinder also displays any friends or friends of friends you may have in common with a match. Plus, along with shared interests, it also lists out all the things a user has 'liked' on Facebook. The rationale behind this feature is that it gives a user more information of things they have in common with a match, which in turn will aid in taking the interaction forward.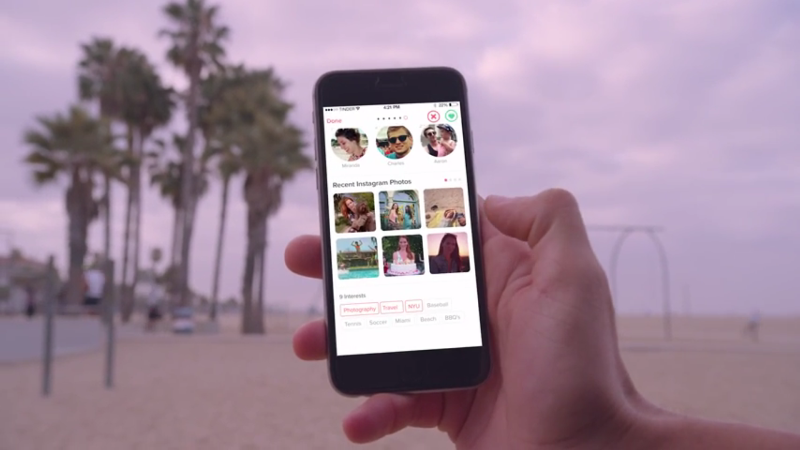 Image source: Youtube
Speaking about the new changes, co-founder and President of Tinder, Sean Rad, said,
"This is the first of many steps to take the recommendations engine to the next level and help you assess the person you're matching with and start those conversations. If we can provide our users with more relevant information for each connection, we can take them halfway there in terms of getting a conversation going."
The new changes are available on the free as well as the paid version of the app, which is called Tinder Plus.
Tinder released a video to launch the inclusion of Instagram. Check out the video here:
Tinder, although the biggest player in the dating app sector, has drawn flak from all quarters in the recent past. It has faced criticism not just for its recent ageist pricing policy, but for the way it is subtly telling people to make snap judgments based on one or two or three pictures and a few lines about a person. A Tinder user is expected to make a decision to date someone or not with just these meager details. A person is so much more than a few pictures or a few lines on a dating app. Sometimes it takes years to get to know a person, let alone a single glance. Sometimes even years aren't enough to fully know a person and all their idiosyncrasies and quirks. Not just the swiping left or right making judgments, but the fact that Tinder is full of creeps who harass women with unwanted and unwarranted hostility and lewd messages and pictures is another sore point for me, as a former (brief) Tinder user.
Well, there are still millions of users on Tinder and they are happy to be judged on their looks in a few pictures. Who am I to say otherwise? To each his/her own, right?
Featured image source: Youtube
Summary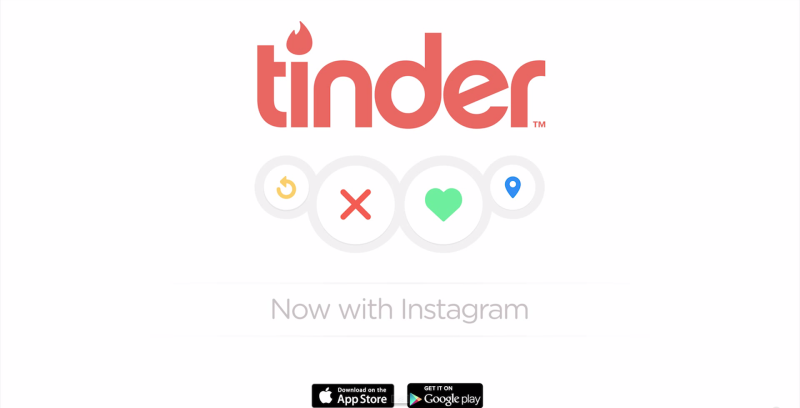 Article Name
Tinder Adds Instagram Photos To Users' Profiles
Author
Description
Dating app Tinder adds Instagram pictures to users' profiles. Check out the new features and how they work.