With the holidays and the New Year right around the corner, it seems like every day of work you need to get through till then is pure torture! But the best way to do it is to plan a romantic weekend getaway with your partner. Or, it could even be a surprise from you. Whatever it may be, it's sure to get you excited and eager to think about getting away from it all.
And we're here to help you plan that perfect weekend getaway that is sure to leave you and your partner exhilarated after your visit to any of these places.
---
Suggested read: 15 best beach getaways for couples to soak up some sun
---
Take a look:
1. Get artistic
Image source: Google, copyright-free image under Creative Commons License
To get a taste of artistry and satiate that inner artist in you, visit one of these artist villages – Bishnupur, Cholamandal, or Nagarnar with your partner. Learn how they go about making their interesting wares and bring back souvenirs to remember your memorable weekend spent with your partner. There are places to visit around these artist villages and things to learn anew – just keep your eyes and mind open for the experience!
PS: Bishnupur is famous for its terra cotta art work, Cholamandal for sculpting and painting, while Nagarnar for bell metal work. You can look for the artist village closest to you and plan one of the perfect romantic weekend getaways with your partner.
2. Go wild!
Image source: Google, copyright-free image under Creative Commons License
Plan and visit any of the numerous wild life sanctuaries that our country boasts. Be it a tiger reserve, a musk deer sanctuary, a bird sanctuary, an elephant reserve, or a butterfly preserve, they are unique in their own way contributed by rich flora and fauna indigenous to the region. Enjoy an early morning safari or a scheduled hike amidst the forest, and let your undiscovered shutterbug go crazy! Is there a better way to unwind and reconnect with your partner than in the lap of nature? 😉
3. Be marooned
Image source: Google, copyright-free image under Creative Commons License
If you and your partner are crazy for the sand, hit the pristine beaches of the Andaman & Nicobar Islands. There are more than 500 islands in the group, and only 38 of these are inhabited. It offers private beaches and fine sea food to dine on. It has a rich ecosystem with a diverse flora and fauna. It is home to about 225 species of butterflies and has some of the largest and most spectacular species. It's the perfect weekend getaway for those looking for a really isolated place to spend quality time with their partner.
PS: Port Blair is the capital and has several tourist attractions like museums and island tours that you can check out – that is, if you can make yourself get away from the call of the sandy beach!
4. Savor peace
Image source: Google, copyright-free image under Creative Commons License
Explore any one of the idyllic states of the Northeast. Assam, with its breathtaking beauty, diverse flora and fauna – Kaziranga and Manas National Parks, the mighty Brahmaputra and its charming festivals, offers an off the beaten path experience. Manipur with its exotic scenery and mystic atmosphere is perfect for a weekend away from all the hustle and bustle of the urban life. Meghalaya, the abode of the clouds, is wrapped in green and is home to lush rolling hills, about 250 different orchid species, meandering lazy rivers, waterfalls, and murmuring mountain streams.
PS: Sikkim, Arunachal Pradesh, Mizoram, Tripura and Nagaland – the other 5 states of this idyllic part of our country offer many such unforgettable experiences for the avid traveler as well.
5. Get mystical
Image source: Google, copyright-free image under Creative Commons License
The Sunderbans, with its densely covered mangrove forests, is a UNESCO World Heritage Site. Sunderbans, literally translated as "beautiful forest," houses many endangered species like the Royal Bengal Tiger, the Gangetic Dolphin, the Olive Ridley Turtles, and King Crabs. You can visit the Sajnekhali Bird Sanctuary, which has some beautiful birds like the Large Egret, Grey Heron, Open Billed Stork, etc., You can always hope to catch a glimpse of the striped creature with the majestic roar – the Royal Bengal Tiger. The Sunderbans is as exotic as you can get, within the bounds of our country. And it'll sure be a once in a lifetime experience.
---
Suggested read: 15 awesome adventure getaways for couples
---
6. Explore splendor
Image source: Google, copyright-free image under Creative Commons License
You can beat the mundane blues with a romantic road trip to Rajasthan, which literally translates to "Land of the Kings." It is ideal to travel around Rajasthan by road, which has uninterrupted stretches of dry land, as far as the eye can see. It has a vivid culture and offers plenty of colorful celebrations. Jaipur – the Pink City, with its numerous palaces – Hawa Mahal, Jal Mahal, Ambar Palace; Jantar Mantar, and Albert Hall, offers a plethora of places to spend quality time in. Similarly, Ajmer, the Mecca of India, has the tomb of Khwaja Moinuddin Chishti – the Sufi saint. The Tiger Reserve at Ranthambore is a must-see, and Jodhpur, a quiet and graceful medieval city, is not to be missed. Soak in the rich cultural extravaganza Rajasthan has to offer, and come back renewed and rejuvenated like never before!
PS: Try out the rich local cuisine to tickle your taste buds – it's one of the most unique cuisines our country has to offer.
7. Be daring
Image source: Google, copyright-free image under Creative Commons License
If you and your partner are the adventurous type, try out river rafting in the Zanskar Valley, Leh. Or, you could try out one of the best white water rafting destinations in the South, Dandeli. It also has a wildlife sanctuary which is inhabited by tigers, leopards, black panthers, elephants and many more wild beasts. It'll be the perfect getaway with your partner, which would be equal parts adventurous and romantic!
8. Be entranced
Image source: Google, copyright-free image under Creative Commons License
The erotic carvings of the UNESCO World Heritage Site of Khajuraho, Madhya Pradesh, are the height of your romantic weekend away with your partner. The Sound and Light Show is fascinating with its play on light and shadow, and also the history that you get to learn. Apart from stifling your simultaneous gasps from the sheer eroticism of the magnificent sculptures, there are many more interesting places for you to visit and enjoy. The Dhubela museum, located on the banks of a lake, is home to a wide variety of sculptures. The grandiose Rajgarh Palace and the Panna Tiger Reserve are the icing on the whole sublime cake – so to speak. You are sure to be entranced and enchanted with this getaway to Khajuraho, and who knows, the sculptures could ramp up your romp too! 😉
9. Experience serenity
Image source: Google, copyright-free image under Creative Commons License
Lord Curzon called Allepey "the Venice of the East," and with good reason too. The backwaters of Alleppey, Kerala, are perfect for that laid back, serene, and verdant romantic vacation experience. Rent a houseboat to cruise along the backwaters, and enjoy the peace and serenity with your loved one. Indulge yourselves by opting for cleansing Ayurvedic massages and get ready to cheer the participants of the famous annual boat races. You are sure to come out relaxed and revitalized after this romantic getaway. It can't get any better than this!
10. Go caveman/woman
Image source: Google, copyright-free image under Creative Commons License
If you're both history buffs and don't mind the smell of bat poop, then visiting caves is an ideal vacation experience. The Bhimbetka Caves in Madhya Pradesh, another UNESCO World Heritage Site, are a veritable treasure trove of pre-historic rock paintings. These caves date back to the Paleolithic and Mesolithic period, and the paintings depict the lifestyle of the then cave-dwellers. Another set of interesting rock-cut caves are the Ajanta and Ellora Caves in Maharashtra, which are also marked as a UNESCO World Heritage Site. These include many captivating paintings and sculptural masterpieces of the Buddhist religious art, which depict the Jataka tales. Prepare to be fascinated and in awe of your forefathers!
---
Suggested read: 15 getaways for couples who love a stunning view
---
While these are just the tip of the large unexplored iceberg of exotic places in our country, these will set you in the right path to discover it at your own pace. And if you have an equally enthusiastic partner beside you to do the exploring, then what more could one ask for? It'd be the DREAM!
Happy travels!
And don't forget to let us know which of these romantic weekend getaways you loved and which ones you absolutely adored! We always love to hear from our readers!
Featured image source: Shutterstock
Summary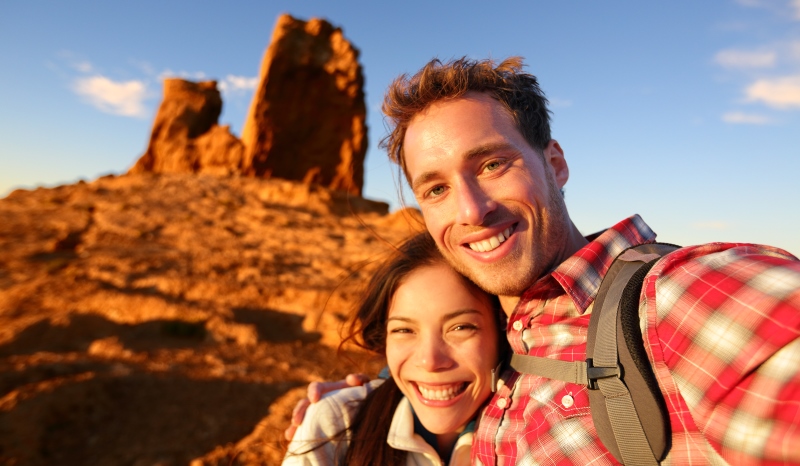 Article Name
10 Exotic Romantic Weekend Getaways In India
Author
Description
With the holidays just around the corner, it's the perfect time to get away with your partner to one of these exotic romantic weekend getaways!