If you remember the rom-coms from the '90s, let me tell you this – the crazed wedding planner who staved off hunger pangs, only to take a disappointing bite of a rather questionable hot dog at some 'late' point in the day, is now going completely hungry to keep his business running. And not just in the movies!! The lack of hours in the life of the soon-to-tie-the-knot-lovers is creating a rather overwhelming situation for the wedding planning industry. Con calls are being pushed back, meetings are constantly being rescheduled, checklists expanded faster than things being ticked off, and the rise in the number of stakeholders in the process is umm … annoying to say the least.
Solution?
---
Suggested read: 18 unique ideas to personalize your wedding ceremony
---
Well yes, technology of course. Every step of getting hitched, without a hitch, is being made easier with newer, better, and easier-to-use, customized versions of wedding planning apps that make the whole grueling, tedious, and baffling-ly laborious task of wedding planning a breezy breeze!! 😀
Here are the best picks from among the App-world, to make wedding plans without breaking a sweat:
1. Appy Couple
If you like to club all your info in one place, your jumbo binder is not the place to go. Try Appy Couple to look after your wedmin and in a gorgeous way. Collate all about your wedding day into one beautiful site and use the personalized digitized space as a handy RSVP service. Add event timelines, venue details, your personal story, notes, gift registries, and maybe even shareable blurbs about close friends and family. There's a one-time fee of $35, but isn't it all worth it?
2. Wedding Wire
If there is just one magical app that I'd have to choose to handle everything, well … let's say, almost everything, it'd be WeddingWire. It has a suite of wedding apps that help do everything leading up to the 'I do' bit. You can use the WedTeam app to find vendors, give an affirmative nod to your bridal couture with the WedStyle app, curate photos and social events with the WedSocial app, and even tick off things from the checklist in your own custom organizer! Do you NEED anything else? <Chandler style>
3. Mint
If there is a wizard in town, who can budget-ize the whacky wonky expenses with the digitized wave of a wand (which, happily, is in your hand), it is Mint. Planning to reallocate a part of the catering budget to book that dream venue? Need to manage the reckless purchases? Want to trigger alerts for when the extra reserve is being too hungrily devoured by impulse buy-avalanches? Mint will be your budget-buddy. It will honestly and gently let you know that you don't need that ice-sculpture in the middle of the reception hall!!
---
Suggested read: Disney's Frozen inspired wedding dresses are now a reality!
---
4. Wedding Happy
With plenty of all-rounder wedding planning apps available, you could be spoilt for choices. Needless to add, a tad bit confused too. Wedding Happy is the perfect choice in the gamut, as it is super-simple to use and does not even need you to input your email to get up and running. When you enter the D-date, it shall build a customized to-do list for you, with a dashboard overview available at all times. What's more – you need not even have a network connection to use it. The handy 'Export & Email' feature lets you send your schedule and vendor information to everyone who needs to know. And with Facebook and Twitter integration, I say, let's seal the deal!
5. The knot
Created by the masterminds behind the immensely popular wedding website theknot.com, this wedding app shall help you find your dream wedding dress. What we are saying is your fairy dress mother is sitting right in your hand, and all you have to do is swipe through to embark on a brilliant on-the-go (h)appy shopping experience for the most spectacular bridal ensembles. What's more, you can add your vital stats, the style of your wedding and other filters to generate a customized list of options. After you shortlist a few, you have the option to locate the nearest stores, designers, and price points. Could it get any easier? We doubt!
6. Cozi
Coz we know how easy it is to miss an appointment when there are tonnes to catch already. Cozi is a shared calendar app with plenty of alert options that can help ensure nothing falls between the cracks. After all, you do not want to incur the wrath of your spouse-to-be by missing on an appointment that took weeks to fix, right?
7. Wedding Song Planner
Yes, A DJ at your beck and call too. A one-click preview option for a customized song-list generated by the DJ, along with the options to filter by categories like prelude, processional, unity candle, recessional, grand entrance, first dance, father/daughter, mother/son, cake cutting, bouquet toss, garter toss, and last songs. All of this at $1.99? Calls for a high five, eh? How 'bout a dance on the Lionel Richie number you picked, huh? 😉
8. Room Planner
A free app, this one makes the task of deciding upon the venue layout easy and super-quick coz you don't have to lug tabletops around. You can decide where the floral displays go, where the custom sculptures would be, where you'd have the band playing, and yes, where the arch would be with mere clicks!!
---
Suggested read: 15 ideas to make your wedding ceremony truly memorable
---
9. Skitch
Don't you just hate it when vendors, suppliers, designers or anybody else for that matter just don't get the idea in your head? Now, you can annotate the photos you find online to highlight your favorite bits or explain changes much easily with this free app, Skitch. Plus, it is integrated with your email and Twitter accounts, so sharing is a click away too!
10. Zola Registry
Developed by Gilt founder Kevin Ryan and several other former Gilt Groupe-ies,Zola is the best solution for registries. The newly-released app has a Tinder-like feature to make adding or passing up an option for registry super easy. You can even add things to your wish list and share with guests so they can pool funds to make your wishes come true!! Isn't it like three magical wishes? Only, it could be many more than three!
Those are our top ten picks to make planning for your big day easy and breezy! (H)appy, are you?
If there are certain others that helped you breeze through the otherwise-not-so-easy process, we're listening – there's a comments section below! J
Featured image source: Shutterstock
Summary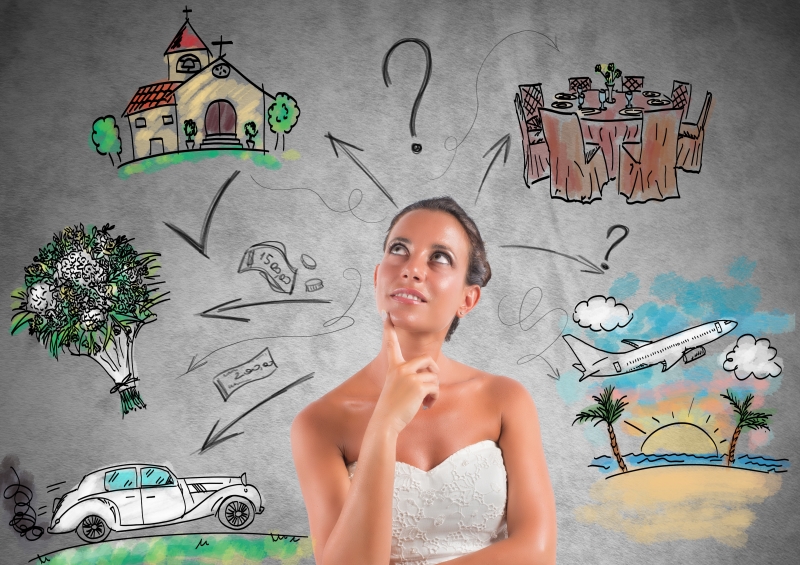 Article Name
10 best wedding planning apps
Author
Description
Wedding planning isn't an easy task for any bride. We have here a list of 10 best wedding planning apps that will ease the stress of the bride-to-be.