For all the boyfriends who just whine with beer and bros quoting lines from Pyaar Ka Punchnama about how you can never win while fighting with your girlfriend, have we got the surprise for you. Well, 'tis surrender alright, but one in which the white flag does let you enjoy the tacit sweetness of victory- the one in which you'd surely feel you outsmarted her.
All ears, are you now, boys?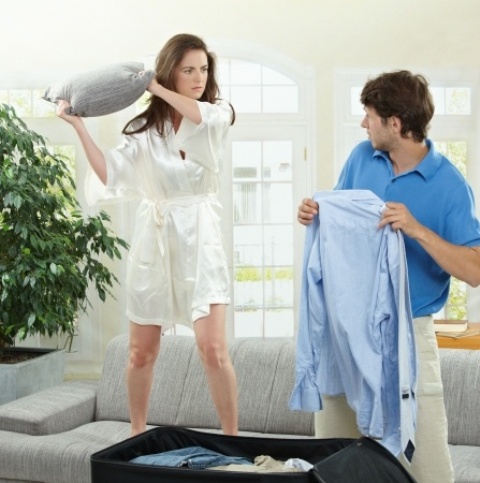 Image source: exbackguide
Well, let's teach you all about 'winning' when fighting with your girlfriend…
1. When you didn't reply for three hours in spite of BEING ONLINE! (Seriously, how could you let this happen, dude?)
You know the threat, so don't log off and plant the cell nicely in the bedroom WHILE fighting…
She: WTF! What were you so busy doing that sending in a single reply was so hard for you?
You: What are you talking about! *innocent face*
Now look surprised, confused, walk with her to the phone, voila!
---
Suggested read: Listen up ladies, NEVER say these 7 things in a fight
---
2. When you couldn't hold back the dangerous 'BUT…' after complimenting her for the cooking. (Frankly, you had it coming!)
She: But… but… what???
You: Don't be mad honey, can't we just forget the sugar and help ourselves to a second serving of the food those sweet hands cooked, please, please (puppy eyed..) please!  
3. When you made her wait for hours (Made HER wait, may the Gods be with you now!)
Always stay ready for this with a stack full of her favorites in your trunk…
She: WHERE WERE YOU!
You: Will you stay mine forever? Getting her favorite cranberry cookies (she knows is a two-hour drive away) out of your bag, going down on your knees and making a sweet face…
4. When you stay out late, really late, AGAIN! – This is a treat for her, like Christmas and she's going to cherish the merry for sure, unless…!
She: Couldn't you just give me a call?
Lose the phone bro, it's better than losing your precious!
You: I'm so sorry Hon. They took it away, I was so scared, come here, please! <crying and making a scared face>
5. When your conversation took an ugly turn in bed…
She: So you had something to say about it?
You: …just, WOW!!
And save the day.
6. When the very thoughtfully marked calendar tells you that she's PMS-ing
She: I'm so frustrated, I could kill you right now!
You: Don't worry baby, I'll get home early tonight so you can yell at me all you want. Love you!
And that's how it's done..she can't really yell after that dose, can she? 😉
7. When you forgot it's her dog's birthday…again! (I mean, after forgetting hers', her mother's, and her cat's! How?)
She: So, what day is it, hmm?
You: (Start humming) Happy birthday to you…hmm..hmm…hmmhmm..hmmhmm!!
How does it matter- whose birthday it is? Just stop it from being your death-day!
8. When you walked into the anniversary party she planned for almost a whole year, without remembering!
Hint: It's the time to use the ring in your pocket…
She: And there you are…
You: I Love You (and bend the knee) *applause*
We'd say, use this one at your own ring…err…risk! 😉
9.When the cry-baby you just couldn't handle the heat of a slight fight and blurted 'Enough is enough I've had it!!!'
She: So you've had it all, hmm???
[the brain-bell rings – tading!]
You: Yeah baby, enough is enough, just no more hurting my sweetie! (+puppy face and you're invincible!)
10. When she wanted you to talk her to sleep, but you were just too busy….SLEEPING already!
She: Too busy during the day and too tired at night, huh!
You: Just can't resist my dream girl's call.  
She: Who???
You: You!
Victorious!!!
11. When your conversation took a 'my parents Vs you parents' turn for the worst…
She: So my mum's recipe just wasn't good enough as yours', huh?
You: Oh baby, it was better!
Who said lies hurt? 😛
12. When you thoughtfully…erm.. thoughtlessly just couldn't hand over the password of your accounts (Oops! Now that's a big pool of hot water she'll hope you never come out again, like EVER!)
She: I WANT TO SEE IT NOW!!!!
(Ctrl+A) + (Shift+Del)
You: Here sweetie, what would I have to hide from you?
---
Suggested read: 10 fights between couples that help strengthen their bond
---
13. When you know that you're the one who's done it wrong (like always)! (I know this one should be the easiest, but trust me; I know how hard the truth can be!)
She: That's just what you do. You do it over and over again!
With the saddest face and the gloomiest pout, use your smallest voice for the masterstroke…
You: … … … … … … I'm sorry
14. And….When you know that you've done nothing at all!
She: That's just what you do. You do it over and over again!
You: ……..I'm sorry
Well, there's no escaping it, ever!
Yes, you are welcome! 😉
Featured image source: Pinterest
Summary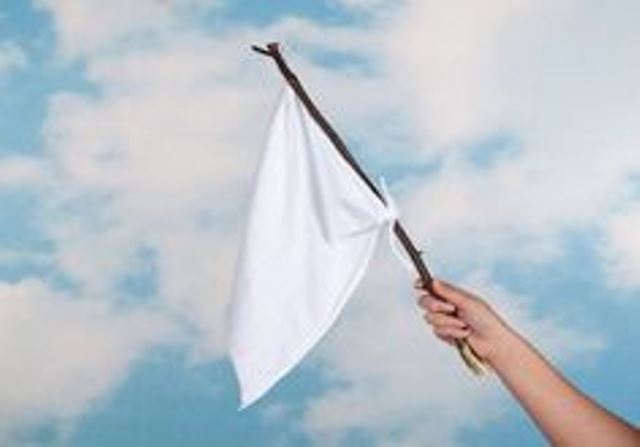 Article Name
Fighting With Your Girlfriend: 14 Awesome Ways To Put Up Your White Flag
Author
Description
Fighting with your girlfriend? Shhhhh...don't tell anybody..... But here's how you can win! ;)