The quest for love has fueled multiple narratives. Love is a universal theme in all our lives; unrequited love, even more so. All of us have experienced it at some point in our life — felt the pain of pining for someone who doesn't love you back. It's like a rite of passage for anyone who's ventured into the world of relationships. And even if we've been lucky enough to escape this agony-filled situation, unrequited love has this sense of loss surrounding it that is fascinating.
The wistfulness attached to such one-sided love makes movies about unrequited love irresistible. It is heart-breaking to watch someone, even a fictional person, live in eternal hope that their feelings might one day be reciprocated. But we can't help but be drawn to such films.
---
Suggested read: 10 effective tips for getting over unrequited love
---
Here are 15 of the best unrequited love movies ever made.
1. 500 Days of Summer, 2009
This movie, presented in a non-linear narrative, details the life of Tom, who falls in love with his beautiful co-worker Summer. It is entirely from his perspective, as he recalls the memories of his failed relationship with her, the five hundred days he spent with her. To her, their affair was of a casual nature, while his feelings are more deeply engaged. This contrast between the depth of their emotion for each other is the basis of the film.
2. My Best Friend's Wedding, 1997
Julia Roberts stars in this flick which revolves around a woman who wants to win her best friend's love. It is only when Michael calls Julianne to tell her that he's getting married that she realizes she wants him for herself. Her unrequited love for him drives her to do crazy things — she's determined to sabotage his wedding and end his relationship with his would-be bride.
3. Edward Scissorhands, 1990
Johnny Depp delivers a brilliant performance in this dark fantasy film, set in an eccentric world. Edward, a young man with scissors for hands, falls in love with Kim, the teenage daughter of the family he's living with. She's taken in by his sweet nature, and they do spend a lot of time together, but their love was ill-fated from the start. Society is not kind to this anomaly, a man who is human in every way but for his hands, amidst them.
4. The Double, 2013
Simon James, a shy man ignored by most of his peers, is head over heels in love with his colleague and neighbor, Hannah, who knows nothing about his feelings. He is unable to make a move, and his situation becomes even more dire when his doppelganger, a charming, extroverted man — in fact, Simon's exact opposite — joins his workplace and tries his best to woo Hannah.
5. Pretty in Pink, 1986
This film is a great representation of social cliques in American high schools in the 1980s. High school senior Andie is a working-class girl, and the boy she has a crush on, Blane, is rich and preppy. Their high school is not okay with them dating — it's just not done. Blane's friends constantly harass and bully Andie and her best friend, Duckie. The fact that the boyfriend of the principal aggressor Benny, a rich girl, is interested in Andie, doesn't help. Andie's navigation of this high school drama and the world of dating and her quest to understand herself, form the main theme of the movie.
6. Casablanca, 1942
Set during the Second World War, Casablanca is one of the classics in the romantic genre of films. American expatriate Rick Blaine is the proprietor of a nightclub and gambling den in Casablanca, Morocco. When his former lover Ilsa Lund re-enters his life, it is changed irrevocably. Ilsa's husband, a Czech resistance leader, desperately needs Rick's help. In his bitterness at being abandoned by Ilsa earlier, he refuses at first. But as events unfold, his love for her, though it is doomed, conquers all other emotions.
7. The Great Gatsby, 2013
This cinematic adaptation of one of the greatest American novels of all time remains a favorite. We cannot talk of movies about unrequited love without mentioning this iconic story. Jay Gatsby, a mysterious businessman who throws extravagant parties, is fiercely in love with Daisy Buchanan, who is married to Tom. They share a tumultuous affair but when the outside world makes its presence known, it has to end. Gatsby, through some of his actions, alienates Daisy to an extent, and she leaves. He, however, continues to pine for her, constantly staring at the green light near her house across the water.
---
Suggested read: 15 unrequited love songs that made our hearts ache
---
8. Brokeback Mountain, 2005
This movie details the conflicted emotional and sexual relationship between Ennis and Jack, two men who live in the American West in the twentieth century. It contains heart-breaking moments of love unrequited. Jack wants to acknowledge what they feel for each other, but Ennis doesn't have the courage to. Twenty years of a tug-of-war of sorts, exists between them, amidst marriages, children, and divorces, until a tragedy changes everything.
9. The Perks of Being a Wallflower, 2012
A film firmly rooted in the coming-of-age genre, this is a touching movie about high school friendships and infatuations, and the wish to belong that every teenager has. Charlie, a shy freshman, finds difficulty in talking to people. When Sam, played by Emma Watson, and Patrick, two seniors in the same school, meet him and realize he doesn't have any friends, they make a conscious attempt to include him in their social circle. It is perhaps only natural that Charlie falls in love with cool, confident Sam, and aspires to be in a relationship with her.
10. Paradise: Hope, 2013
An Austrian drama film, third in the director's Paradise trilogy, this is a poignant story of a teenager who falls in love with a man decades her senior. It's not difficult to deduce that it does not end well. Melanie, an overweight teen, is sent to a diet camp, punctuated by its drills, rationed meals, and counselling. She becomes deeply infatuated with her physician and director of the camp, a middle-aged man.
11. A Short Film About Love, 1988
This Polish film is a moving tale of a sweet young man who is smitten with a beautiful older woman who lives in the apartment block opposite him. She is unattainable — a cynical, jaded woman who does not believe in love. Nineteen-year-old Tomek spies on Magda's everyday life through a telescope. She finds his innocence charming but isn't averse to shattering it. Here we see the ultimate foundation of unrequited love: Tomek admits that he loves her but says that he expects nothing in return.
12. Eternal Sunshine of the Spotless Mind, 2004
A beautiful representation of the aftermath of abandoned love affair, this movie has elements of science fiction in it. Joel and Clementine, an estranged couple, decide to erase all memories of each other. Much of the film takes place from Joel's perspective during the memory erasure procedure, a process that devastates him. He desperately tries to hold on to the happier times he had spent with his former beloved.
13. Forrest Gump, 1994
Another iconic film in the history of cinema. The story follows Forrest Gump, a slow-witted but kind-hearted man, and his life, across several decades. Boy meets girl, and falls in love with her. Forrest feels deeply for Jenny, and proposes marriage to her, but she declines because she sees him only as a friend. He proceeds to run across the country and becomes famous in the process. Years later, he meets Jenny again.
14. Never Been Kissed, 1999
This is a light romantic comedy. Josie (Drew Barrymore) is a copyeditor with a newspaper who has never had a real relationship. Her boss assigns her to report undercover at a high school to help parents become more aware. Well, her experience there is a disaster from the start, but she falls in love with her English teacher Sam, who feels a connection to her too but struggles to control his feelings because he thinks she's a student.
---
Suggested read: 14 unrequited love poems that are sure to resonate with you
---
15. Broadcast News, 1987
The film revolves around three characters who work in television news. Aaron, a writer, is secretly in love with Jane, a producer, who has no idea. Jane is attracted to Tom, a new hire. It drives Aaron nuts to see Jane pursue Tom, who is not at all right for her, but he keeps quiet. This is a good old love triangle, with the obvious girl, the handsome guy, and the loyal pining best friend.
Unrequited love — the perpetual mix of pain and longing — is a beloved theme in all storytelling. We all have a weakness for movies about unrequited love, and this list, that pinpoints some of the best such movies, should feed all your cravings for a while!
Featured image source: Tumblr
Summary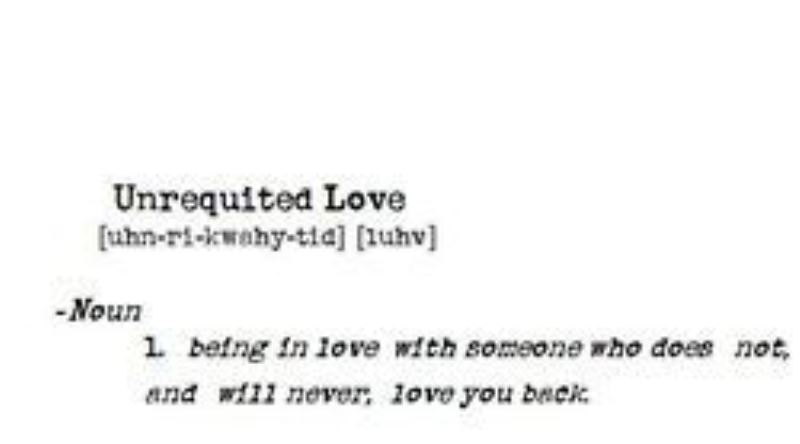 Article Name
15 Movies About Unrequited Love That Will Touch Your Heart
Author
Description
Watching movies about unrequited love may seem like an exercise in futility, but they have a way of touching you that you never thought of.