Unrequited love; oh! The painful feeling of love that is not returned – it kinda sounds a tad bit old-fashioned, doesn't it? It paints a picture of an 18th-century setting where broken hearted souls are out wandering around misty moors, composing heartfelt poetry, and yearning for their beloved (something right out of Emile Bronte's Wuthering Heights novel).
But despite this concept seeming so out of date, it still haunts us even in this century. Whether it is a broken relationship where one person walks away leaving the other pining for their lost love or one where a person waits and hopes in longing desperation for the person they love to love them back. But their love is never returned – the pain is the same of the love that is one-sided.
---
Suggested read: My recovery playlist after my breakup: These songs helped me get over you
---
Infatuation, longing, and one-sided love can be agonizing; when the focus of your love sees you as 'just a friend' or at times, not even that. At some point in our lives, we have all faced this heartache and it has brutally tortured us and left us lost and broken.
Below is a list of some of the best unrequited love songs that tormented us. As you go through these painfully saddening songs, make sure you keep those tissues in hand my friend!
1. To Be With You by Mr. Big
This is one of the great unrequited love songs, which has a true story behind it: Mr. Big's lead singer Eric Martin wrote the song when he was still a teenager, for a girl he had it bad for, but she wanted nothing more than friendship – poor chap!
Lyrics that made our hearts ache:
I'm the one who wants to be with you
Deep inside I hope you feel it too
Waited on a line of greens and blues
Just to be the next to be with you
2. With or Without You by U2
The magic of this song is that it isn't specifically about unrequited love. However, many people seem to be able to relate to it when thinking about their own matters of unrequited love.
Lyrics that made our hearts ache:
See the stone set in your eyes
See the thorn twist in your side I'll wait for you
Sleight of hand and twist of fate
On a bed of nails she makes me wait
And I wait without you
With or without you
With or without you
I can't live with or without you
3. Fix You by Coldplay
This song's beautifully molded tragic lyrics leaves a haunting impression on anyone who listens to it – a captivating tale of unrequited love.
Lyrics that made our hearts ache:
And high up above or down below
When you're too in love to let it go
But if you never try you'll never know
Just what you're worth
Lights will guide you home
And ignite your bones
And I will try to fix you
4. Iris by Goo Goo Dolls
This unrequited love song tells the classic story of loving someone in secret and desperately wanting to tell them how you feel, but at the same time being afraid of the outcome.
Lyrics that made our hearts ache:
And all I can taste is this moment
And all I can breathe is your life
When sooner or later it's over
I just don't wanna miss you tonight
And I don't want the world to see me
'Cause I don't think that they'd understand
When everything's made to be broken
I just want you to know who I am
5. You're Beautiful by James Blunt
This is one sad tale of a man who sees a woman whom he can never ever be with – this song's heart-breaking lyrics and alluring melody has a magic of its own.
Lyrics that made our hearts ache:
My life is brilliant.
My love is pure.
I saw an angel.
Of that I'm sure.
She smiled at me on the subway.
She was with another man.
But I won't lose no sleep on that,
'Cause I've got a plan.
You're beautiful. You're beautiful.
You're beautiful, it's true.
I saw your face in a crowded place,
And I don't know what to do,
'Cause I'll never be with you.
6. Somebody's Me by Enrique Iglesias
This is one of the unrequited love songs that is guaranteed to bring tears to your eyes. Wrapped up in sweet innocence, it'll leave you heartbroken.
Lyrics that made our hearts ache:
You, do you remember me
Like I remember you?
You'll always be in my life
Even if I'm not in your life
'Cause you're in my memory
Somebody wants you
Somebody needs you
Somebody dreams about you every single night
Somebody can't breathe, without you it's lonely
Somebody hopes that someday you will see
That somebody's me
7. Losing My Religion by REM
This unrequited love song talks about love which is felt by only one side and is never reciprocated. It is about being afraid to tell someone your feelings.
Lyrics that made our hearts ache:
That's me in the corner
That's me in the spotlight
Losing my religion
Trying to keep up with you
And I don't know if I can do it
Oh no, I've said too much
I haven't said enough
---
Suggested read: 15 heartbreaking breakup songs that made us cry harder
---
8. Creep by Radiohead
Creep is a sad, unrequited love story of a boy in love with a beautiful girl who barely knows he exists. This leads him into thinking he is weird and too unpopular for her – hence he refers to himself as 'creep.'
Lyrics that made our hearts ache:
You're just like an angel,
Your skin makes me cry,
You float like a feather,
In a beautiful world,
I wish I was special,
You're so very special.
But I'm a creep, I'm a weirdo,
What the hell am I doing here?
I don't belong here.
9. Teardrops On My Guitar by Taylor Swift
This is similar to her song You Belong With Me – the story of a girl who is deeply in love with her friend but he has no idea of her feelings and treats her like any other friend.
Lyrics that made our hearts ache:
Drew walks by me, can he tell that I can't breathe?
And there he goes, so perfectly,
The kind of flawless I wish I could be
She better hold him tight, give him all her love
Look in those beautiful eyes and know she's lucky 'cause
He's the reason for the teardrops on my guitar
The only thing that keeps me wishing on a wishing star
He's the song in the car I keep singing, don't know why I do
10. White Flag by Dido
White Flag is a little different. It's about someone who has been in a relationship and, now that it's over, she just can't seem to get over it and move on because she still loves him.
Lyrics that made our hearts ache:
I know you think that I shouldn't still love you,
Or tell you that.
But if I didn't say it, well I'd still have felt it
Where's the sense in that?
But I will go down with this ship
And I won't put my hands up and surrender
There will be no white flag above my door
I'm in love and always will be
11. Heartless by Kanye West
The unrequited love song is more edgy and filled with more anger than sadness – the pain is reflected through fury.
Lyrics that made our hearts ache:
In the night, I hear them talk the coldest story ever told
Somewhere far along this road, he lost his soul
To a woman so heartless
How could you be so heartless
Oh, how could you be so heartless?
12. Waiting in Vain by Bob Marley
This is a story of a man who is waiting in vain for three years for his love to be returned. The groovy reggae music is blended in with aching words of a broken man.
Lyrics that made our hearts ache:
I don't wanna wait in vain for your love;
I don't wanna wait in vain for your love.
From the very first time I rest my eyes on you, girl,
My heart says follow t'rough.
But I know, now, that I'm way down on your line,
But the waitin' feel is fin so don't treat me like a puppet on a string
13. I Can't Make You Love Me by Bonnie Raitt
This song depicts the story of a relationship that is on the verge of ending. A woman is still deeply in love with a man who no longer loves her back. She still longs for one last night with him, even though she knows she can't make him love her again.
Lyrics that made our hearts ache:
'Cuz I can't make you love me
If you don't.
You can't make your heart feel
Something it won't.
Here in the dark
In these final hours,
I will lay down my heart
And I'll feel the power;
But you won't.
No, you won't.
'Cuz I can't make you love me
If you don't.
14. Shiver by Coldplay
Another unrequited love song by Coldplay which talks about a person who is in love with someone to a great extent; only, the person they love can't see it at all.
Lyrics that made our hearts ache:
So I look in your direction,
But you pay me no attention, do you?
I know you don't listen to me.
'Cause you say you see straight through me, don't you?
I'll always be waiting for you,
So you know how much I need you
---
Suggested read: 10 songs to help you mend a broken heart
---
15. Grenade by Bruno Mars
Here the song talks of a man who wore his heart on his sleeve but was crushed badly by the girl he loved oh so much!
Lyrics that made our hearts ache:
Gave you all I had and you tossed it in the trash
You tossed it in the trash, you did
To give me all your love is all I ever asked 'cause
What you don't understand is I'd catch a grenade for ya
Throw my head on a blade for ya
I'd jump in front of a train for ya
You know I'd do anything for ya
All these unrequited love songs are a sad symphony of unreciprocated, unreturned love. A feeling we are all too familiar with, our unrequited loves are tragic and will always leave a scar on our hearts.
Featured image source: Pinterest
Summary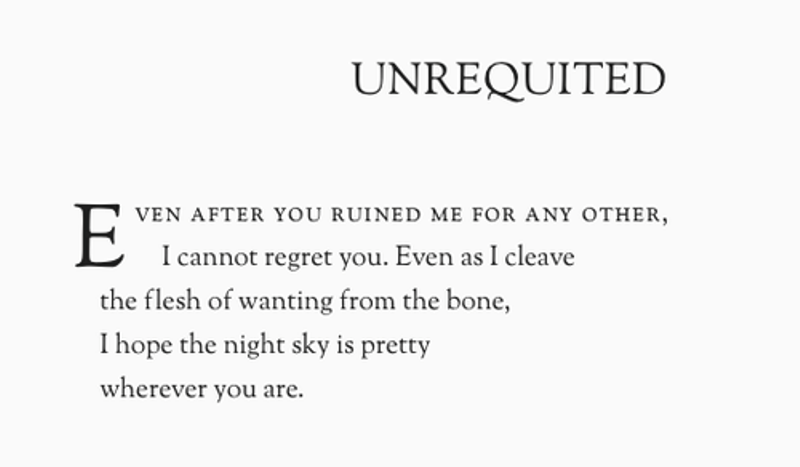 Article Name
15 Unrequited Love Songs That Made Our Hearts Ache
Author
Description
Unrequited love is painful, and to ease some of the pain, here are some of the most touching unrequited love songs that we've listened to.