If you are half as obsessed with books as I am, you know the joy that comes when you surround yourself with books, quite literally. You like to carry a book wherever you go, you like every surface of your house to be covered with some kind of book or the other, and your social media presence is also not exempt from your love for books.
---
Suggested read: The Ultimate Guide On How To Read More Books
---
Every though there are a number of wonderful book Instagram accounts out there, I have scoured the app for hours and hours and curated for you the best, most aesthetic book Instagram accounts, that are filled with all things books and will make your feed infinitely more satisfying to look at!
1. Folded Pages Distillery
One look at this page and you will know that the person who runs this account truly loves her books. The pictures are wonderfully orchestrated, with the book always being the center of all the chaos and the beauty that is created with careful and loving precision. It is satisfying, exciting and informative.
2. Hot Dudes Reading
I mean, we all have enough negativity in our lives without our feed being filled with dark, angsty and depressing posts. If you are into books and you have a brain that can appreciate hot dudes, then you have to follow this account, which is going to become your daily dose of happiness, I kid you not.
3. Eden Hammond
Talk about aesthetics, and you cannot possibly miss out on this drop dead gorgeous Insta account that makes books look even more magical than they actually are. Playing with colors, doing outdoor shots, using flowers and accents are all part and parcel of this display of books, which is going to be something you keep coming back to.
4. A Literary Life (Siobhan)
If you are looking for inspiration on how to take the best pictures ever for you books, then you absolutely have to check out this account, which is super realistic, but also super aesthetic at the same time. You can also get some excellent book recommendations and reading list updates from here, if you aren't sure about what to read next (which is, quite frankly, an eternal dilemma).
5. Natasha
We love our books and we love our coffee, so imagine my ecstasy when I found an account that celebrates both with the aesthetics that they deserve. Different books being read with different kinds of coffee is exactly the kind of nerd vibes I needed on my feed, and when you smash the follow button on this account, you too will wonder what ever were you doing all this while without it.
6. Gray Wolf Press
It's true that there are a bunch of publishing houses on Instagram doing a fantastic job uploading pictures of their books, but these guys just have OVARY-EXPLODING AESTHETICS you guys. I mean, I probably spent 2 hours staring at all their pictures because they find the most perfect spot and background to take pictures of their books with, which just makes the whole ogling-at-books experience spine-chilling.
7. CATS ONLY
Incredible books and the cutest animals to ever exist? YES PLEASE. This is the kind of account that you would stalk every day for your daily dose of incredible books, as well as to see the cutest cats pose with those books. It is a curated account full of pictures sent in by other users, so you will have plenty of variety (of cats and books) to get you through the day.
8. Tiffany | Taiwan
You have to be absolutely crazy about books in order to make them look this good. These photos are not only about the incredible books (which are always the center of attention in all the pictures) but also about aesthetics, beauty, and art. Basically, you have a field day with this account if you like symmetry in color, and you are obsessed with books.
---
Suggested read: Here Are The Best Books Of 2018 That We Are Looking Forward To Reading
---
9. Hhandana
Istanbul in itself is one of the most beautiful places in the world. However, this account not only perfectly captures the beauty that the various places it has to offer, but also makes sure that books, cats, and coffee are featured abundantly in these posts. Needless to say, you are going to have a great time going through these incredible pictures.
10. Emily Ables
Emily Ables is a 21-year-old from New York who has over ten thousand followers on Instagram, simply because she makes reading and book arrangement look like an actual art form. We all have our own ways of arranging our books, but simply looking at her bookshelf will bring you joy. Plus, she has some excellent book recommendations, so double whammy.
Summary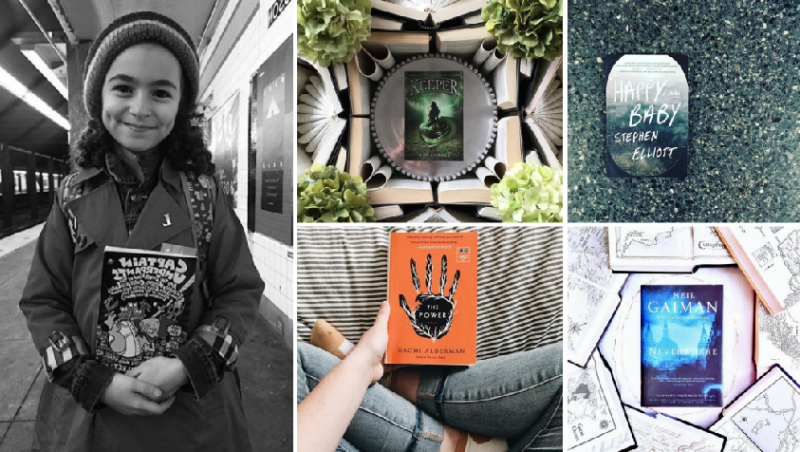 Article Name
18 Of The Best Book Instagram Accounts For Bibliophiles
Author
Description
If you are super obsessed with books, then check out these incredible book Instagram accounts, that are going to satisfy the bibliophile in you!
Read the rest of the article:
Next