Let's be honest, 2017 has been a truly awful year, and every day we are praying that 2018 is marginally better than last year. However, no matter how bad life gets, and how much crap you have to deal with on a daily basis, there is one thing that always gives you hope- the arrival of new books to read. While subtly ignoring the growing pile of books that you haven't read yet on your night stand, it is time to get excited about the best books of 2018, starting from fiction novels, YA romances to essay collections and autobiographies!
---
Suggested read: Today's Book on #50BooksInAYear: The Bad Feminist By Roxane Gay
---
Here are all the best books of 2018 that we can't wait to get our hands on!
1. The Cruel Prince by Holly Black
Genre: YA, Fantasy, Adventure
We have had a bunch of super exciting YA novels to keep us on our toes these last few years, and we have already been blessed with another exciting take on the young adult genre with The Cruel Prince, written by Holly Black, which is the first of a trilogy.
It follows the story of Jude, who lives in the High Court of Faeries, and they aren't the good kind either. She wants to be a part of their world, but earning their favor is not going to be as simple as it looks! This thrilling adventure novel has already been getting rave reviews, and we can't wait to see what the other two parts have in store!
2. Neon in Daylight by Hermione Hoby
Genre: Coming-of-age, Urban fiction
A new genre of novels, which talk about the outsider in a big city, has been taking the literary world by storm, and our pick from this massively popular genre is Neon in Daylight by Hermione Hoby. It follows the story of a young woman from Britain in New York City, who is ever so attracted to the idea of gaining new experiences that sometimes, that desire overshadows her instinct of self-preservation.
The novel is set during the onset of Hurricane Sandy, and while the city prepares itself to deal with a natural disaster, our protagonist finds herself caught in a personal, emotional storm of her own.
3. This Will Be My Undoing by Morgan Jenkins
Genre: Biography
We are at a very crucial junction in history, which is why it is natural to expect some important books from 2018. Of these, one of the top picks is This Will Be My Undoing by Morgan Jenkins. The book is a collection of essays that talks about a lot of important contemporary issues such as feminism, black history, pop culture, racism, and misogyny. If you are a fan of contemporary feminist narratives like Roxane Gay's Bad Feminist and Chimamanda Ngozie Adichie's We Should All Be Feminists, then this is a collection you are going to enjoy thoroughly.
4. Why I Am A Hindu by Shashi Tharoor
Genre: Non-fiction, History
In a country where the topic of religion is becoming increasingly inflammatory, it is important to address the meaning of Hinduism, and being Hindu in today's India. Thankfully, one of the greatest, most sophisticated intellectuals in the country today- Shashi Tharoor- has come up with a book about exactly that, as he explores the lengths and breadths of being Hindu in contemporary India.
---
Suggested read: "Once I Touched The Cover, I Was No Longer A Human Of This World": My Love Letter To Books
---
He not only delves deep into the ancient tenets of Hinduism, but also his own personal belief in his religion, and what separates the values of Hinduism from the ideologies of Hindutva. This is an important read that we can't wait to add to our reading list!
5. The Widows of Malabar Hill by Sujata Massey
Genre: Historical fiction, Mystery, Legal Story
2018 is going to be an exciting year because we can expect another thrilling tale by best-selling author Sujata Massey. This time, she writes about the adventures of a lawyer named Perveen Mistry, who is inspired by the real-life badass Cornelia Sorabji, who was the first female lawyer of India, and the first woman to study law at Oxford University.
The protagonist- Mistry- investigates a strange will that she discovers, written on behalf of the titular widows. The narrative is rife with thrill, murder, mystery, and adventure, and is going to be an exciting read, to say the least.
6. Red Clocks by Leni Zumas
Genre: Literary fiction, Fantasy
We have had a fair share of dystopian novels written for the future, but unlike her predecessors such as Ayn Rand, Zumas' treatment of this grim theme is funny, humorous and nuanced. She talks about serious issues that are likely to plague America and the world at the rate which things are deteriorating. He imagines a world where the fetuses have more rights than women, and how five women navigate such a world.
7. Feel Free: Essays by Zadie Smith
Genre: Autobiography
Here is another reason to be super excited in 2018- Zadie Smith is coming out with her new book of essays! For one of the most well-loved authors in contemporary times, no topic is too niche, or too taboo for her to speak about. Add to that her incomparable wit and you have an un-putdown-able book.
This book has been included in the most prestigious list of books to look out for in 2018. Smith speaks about what it means to live in a world which is digitally driven with unassuming candor and her trademark brilliance.
8. Sadness is a White Bird by Moriel Rothman-Zecher
Genre: Jewish Fiction, Fiction, War Story
Not only does this novel have an incredibly poetic title, but it is expected to be an incredibly gripping read as well. The story is set in a contemporary war-torn Israel, where the protagonist, Jonathan is on the brink of joining a political party, established by his grandfather. His grandfather was the only member of his family to escape Nazi Germany during the Great War and came to Israel.
However, just as he is about to take up his post in the party, he finds himself in an intimate connection with a pair of Palestinian twins, who are supposed to belong to the enemy faction. Jonathan finds himself in jail on the day of his drafting because of his connections, and a gripping narrative ensues.
9. BRAVE by Rose McGowan
Genre: Autobiography, Biography
Rose McGowan recently gained a lot of attention after she became one of the first people to speak out against Harvey Weinstein in Hollywood, and is one of the loudest voices against sexual harassment in Hollywood. She documents this and much more in her autobiography, which is set to be released in 2018, appropriately called "BRAVE."Not only does she share her encounter with Weinstein and what it means to be an actress in Hollywood today, but also stories about her childhood spent in several cults, and how she came out of that culture. We are sure it makes for a gripping read.
10. Freshwater by Akwaeke Emezi
Genre: Autobiographical Fiction, Psychological Fiction, Biographical Fiction, Literary Fiction
Akwaeke Emezi's debut novel- Freshwater is already being hailed as one of the most brilliantly written novels about self-discovery and finding oneself. It follows the story of Ada, a young Nigerian girl who grows up in Nigeria and travels to America for her education, and in the process, deals with the various aspects of her own personality that exists within her. It is an externalized narration, and while you know that Ada is narrating, you can almost hear the several voices in her head, and feel her internal turmoil, as she makes her way through an unforgiving world.
---
Suggested read: 9 Body Positivity Books To Shape Your Body Loving Journey
---
11. All the Names They Used for God by Anjali Sachdeva
Genre: Short Stories, Fiction
"Riveting", "mysterious" and "haunting" are only some of the adjectives that have been used to describe this collection of short stories by Anjali Sachdev, which is likely to become a best seller instantly. It explores a set of diverse characters, belonging to different continents, different periods in time, but sharing one thing in common- their fight to exist.
Her ability to create poignant scenes, written with utmost beauty and elegance is what we are looking forward to the most. The plots are imaginative, the narrative is logical and the endings are profound and telling of the fact that a small thing can affect so many people in so many different ways.
We have our reading lists teeming with the best books of 2018, which gives the book nerd in me infinite hope, for it goes to show that people haven't yet given up the art of reading, just yet. This is what we have lined up for you for the first few months of the new year, and we can't wait to see what else we are surprised with as the year progresses!
Featured image source: Instagram 

Summary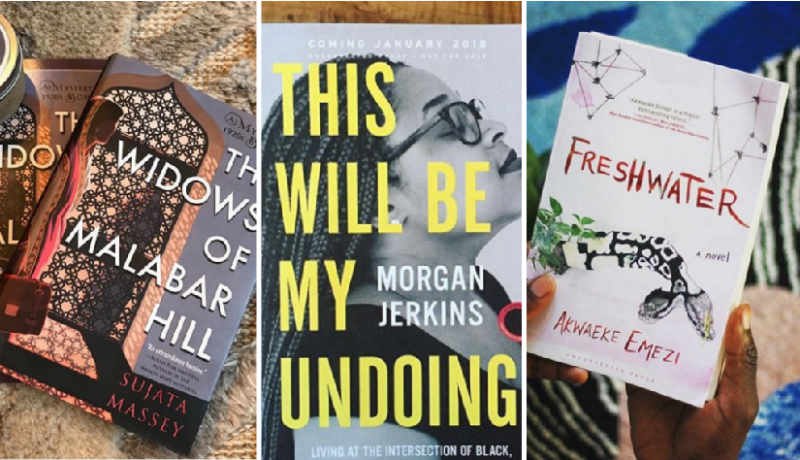 Article Name
The Best Books Of 2018 We Can't Wait To Get Our Hands On
Author
Description
Exhausted your reading list? Here are the best books of 2018, that you can add to your reading list now!