Meet Aisha Arif Esbhani, from Karachi, Pakistan, who has set herself on a quest of reading books from every country. And guess how old she is? Just 13!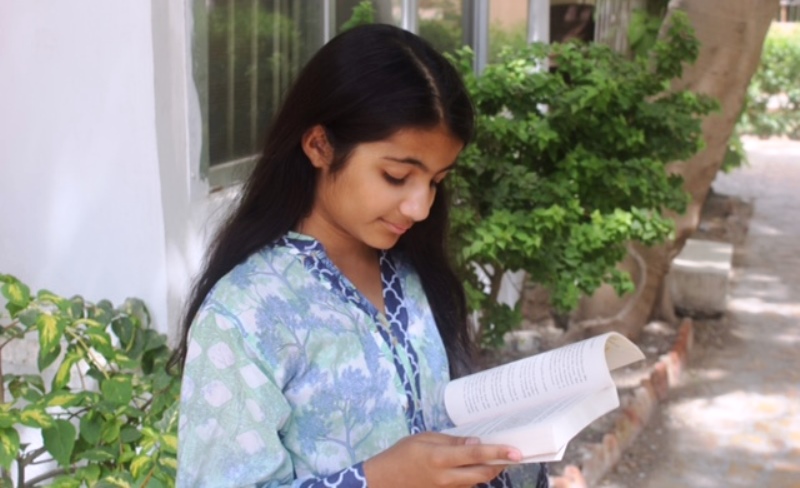 Image source: Aisha Arif Esbhani 
I came across Aisha's Facebook page a month ago, and when I read about this young girl's mission to explore the writings from around the world, I knew I had to cover her story. I interviewed Aisha last week, and I guarantee that by the time you finish reading this post, you will be filled with some major inspiration to reawaken the book-lover in you!
---
Suggested read: "If You Do What You Love, You'll Never Cringe On A Monday": #NLTTalks With Danica Da Silva Pereira
---
"Reading Books From Every Country", the inspiration behind such a unique idea had to be special. When I asked her whether it was a particular incident or a person or her sheer love for reading that motivated her to begin this project, Aisha said,
"As a child, my mother would buy me stories like Cinderella and Bella and the Beast, but unfortunately, the books never really caught my interest. It wasn't until my brother bought me, "Series of Unfortunate Events" by Lemony Snicket, that I developed a passion for reading. This book made me realize that there were books of different genres in the world, that there were books of my interest in the bookstores of Karachi. 

And soon, reading became a hobby. From realist fiction to fantasy, and history to military non-fiction, you name it, it was all there on my bookshelf. I was quite proud of myself and my habit until I looked upon my shelves of books with a rather different perspective. Most, in fact all of the books I had read were by authors from Britain or North America. There was nothing from countries like Tanzania, Swaziland or Peru. This was a truly heartbreaking and devastating discovery. 

And so, I did some research on African as well as Asian authors and world literature when I came across a woman named Ann Morgan who had read a book from every country just in a year's time. The idea fascinated me, and in April, the very next month, I began my journey, a little different from hers, to explore the world from my armchair."  
Reading a book from every country is as challenging as it sounds, and considering how young Aisha is, this is so stirring, to say the least. Telling us about how she manages to stay driven and focused, Aisha said,
"The books and the motivational comments and messages from different people around the world are what keep me driven. I'm so engrossed and interested in all the books I read that I can't stop! And of course, if you have the support of your family, friends and even strangers, there is no way you can drift away from your goals! I have been getting comments and messages every day. They are just so motivating and make me even more determined to achieve my goal! Translators, authors, literary agents, publishers and even regular readers are willing to send me books; many of which have sent me stories already! So as Ann Morgan said, "If you really want to read the world, the world will help you."
Almost all journeys have a few roadblocks that the traveler has to endure and work around, and our little Aisha has set upon herself a journey of traveling to all the countries of the world through the written word. So it was quite obvious that she must have faced some holdups along her trail too. She says,
"On the 6th of December 2016 as I tried logging into my account, I couldn't access it. Then, Facebook informed me that I was underage. I was devastated. I lost my page and all my followers. But my parents continued supporting me. And so, I opened a new page and guess what, it got so many shares that within an hour, the audience I gained was larger than my previous page. I got loads of recommendations, authors were willing to send me their books. I think when someone is determined, nothing can come their way!"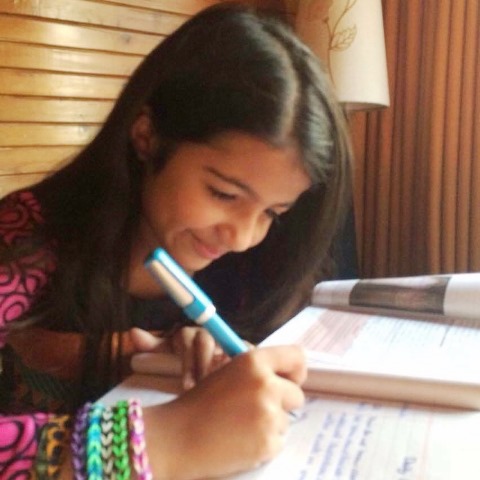 Image source: Aisha Arif Esbhani
So far in this project getting a book from a few countries has been tough for her. She says,
"You won't find literature commercially available in English from every country of the world. This is because there are many nations where English is hardly spoken and others that do not produce too many books that can be translated. For Comoros for example, global reader John Brookes sent me a copy of an unpublished translation of a French book. The Kaafir of Karthala was translated by his friend and the French version is said to be the only book published from Comoros. I urge publishers to look into the book and Memon's translation, I'm sure it can become a bestseller!

Translator Allison Charette is also sending me a galley of a book from Madagascar this month, so I'm very excited about that. There are a few countries I'm very puzzled and terrified about finding books to read from, one of them being Sao Tome e Principe. But life is an adventure and I am unwavering in my quest to find a book from these nations."
---
Suggested read: "My Role Models Are The Children I Work With": #NLTTalks With Dr. Priya Virmani, The Entrepreneur Behind Paint Our World
---
Aisha has already read 82 books/countries, up to now in this pursuit, but talking about the first book she picked up to begin the journey with, she said,
"I read a book from my home country, Pakistan, "The Wandering Falcon" by Jamil Ahmed. Before this book I really didn't know how talented Pakistanis' were, but this book and project allowed me to open my eyes to the literature of my country. I have discovered many brilliant writers since then, and hope to read their works once I'm done with reading "one" book from every country."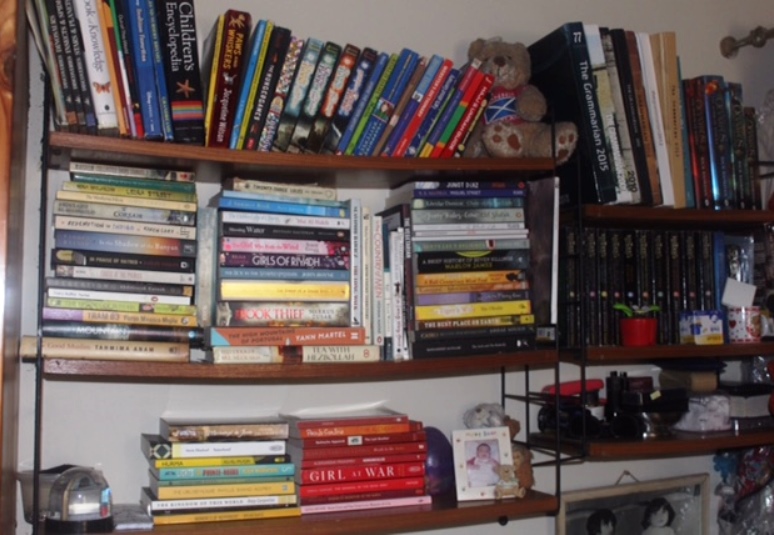 Image source: Aisha Arif Esbhani
Now that Aisha has read so many books from different countries, different cultures, she feels there is a common thread that binds these stories and these tales. She says,
"All the books I've read thus far, for this quest, whether they're by African or Asians authors, have one thing in common: They all promote empathy. Books uphold the value of empathy. Whether the book is about a war or it is an adventure with a happy ending, they all make you feel for the protagonist. And this is what the world really needs today; empathy, to be able to put yourself in someone else's shoes!"
I follow Aisha on her Facebook page (and I urge you to do the same!). I have seen so many people give her suggestions and recommendations, and it feels great to see the love and support.
But how does Aisha screen a book once someone suggests it to her? What are the factors she considers before picking a particular book?
She says,
"Every book that is recommended to me is added to my list; whether it's appropriate for me or not. However, people do know and understand that I'm just thirteen so almost all the books on my list will be age appropriate. Then, when I want to read a book from a particular country, I do a little research, read reviews and if I think the story is fine for me, then I pick it!"
82 books into this project, Aisha believes there are a few books that should be compulsory readings for everyone. She says,
"A Long Way Gone by Ishmael Beah (should be compulsory reading) because it's very heartbreaking and yet inspiring! It's a must read because it really makes you feel for those forced into war!"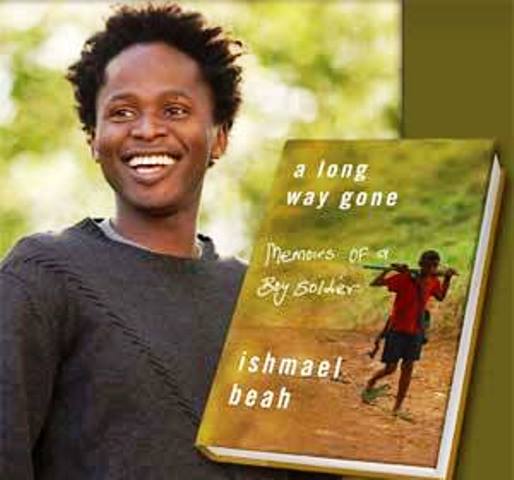 Image source: Aisha Arif Esbhani
"I also believe everyone should read The Alchemist by Paulo Coelho from Brazil. It gives people hope and builds their resolve to achieve their dreams!"
Aisha loved "A Long Way Gone'' so much that she thinks it is her new favorite. She says,
"The book is a brilliant read about a child soldier in Sierra Leone. It gave me an insight into the war. The book focuses on aspects like rehabilitation which I hadn't read about before! Also, the book I'm currently reading from Angola, "A General Theory of Oblivion", will definitely make it to my list of favorites!  It's very well written, as in the author's style of writing is tremendous and the idea too is marvelous! (Smiles)"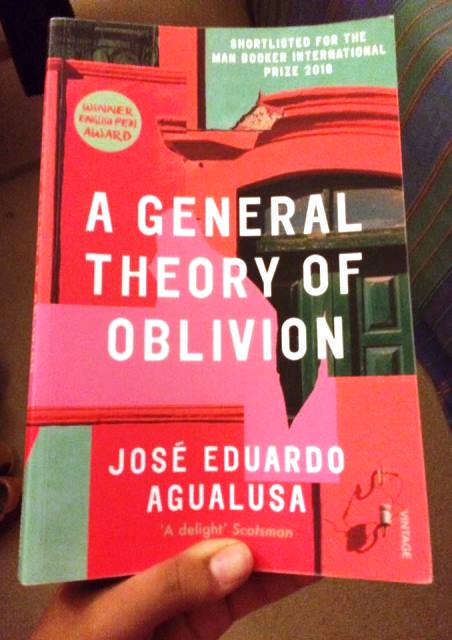 Image source: Aisha Arif Esbhani
Does Aisha imagine writing a book of her own someday, this was something that had been on my mind from the day I had read about her, and so I asked her.
"Yes, I've always wanted to write a book. Military and war Fiction is my favourite genre so maybe something along those lines."
Taking about her most cherished moments along this journey, Aisha says,
"I contact authors and publishers, asking if they know of any books from countries that do not have too much commercially available literature in English. 

Firstly, I had received a message from Robi Gottlieb, an author from Luxembourg! He was willing to courier me his book and just a few days later, it was in my hands. Xi Xu from Hong Kong, a literary agent from India, Irfan Hafiz from Sri Lanka and others too did the same! Armida Publications from Cyprus sent me a book too!

Another moment I would remember forever is when I got a message from Allison Charette. So far Madagascar has no novel published in English. Charette is currently translating one and since the publication process is going to take time, she is sending me an unpublished version of the book next month! 

For Comoros, I couldn't seem to find any book in English. Then, I heard of Anis Memon who had translated a novel but it was never published. I contacted him but there was no reply. A little time later, I got in touch with his friend and he sent me the unpublished translation, "The Kaafir of Karthala"!

I have been mentioned in leading newspapers around the world including The Telegraph, The Times of India, Dawn and BBC (yes, BBC) and will remember these moments forever!"
Aisha has received overwhelming support and adulation for her endeavor, from the general public and the media alike. She thinks people from all over the globe are being able to connect with her project and coming together to help her find recommendations. Speaking about one such moving incident, she says,
"A group of people from Iraq gathered together some books for me from their country, and sent the bunch to me. Sometimes, I find people from various countries discussing a book through the comments! And readers from so many nations are following my page together! So this way my page is collecting an audience from all over the world!"
Reading a book from every country has not only helped Aisha intellectually, but also on a personal level. She believes,
"I have been connecting with so many people around the world because of this project. It has really helped me groom myself. I have become so confident. I was always a shy kid. (Smiles) I've learnt so much not only from people but also from the books. I can empathize more now, and this quest has allowed me to handle multiple situations, deal with foreigners and strangers and yes, multitask. I believe I have changed as a person."
More than half way through her journey now, Aisha is already thinking (and pretty excited) about the next mission that she wants to take up. She says,
"There might not be another reading "one" book from every country, but I'm thinking about what project I can do which will allow me to continue reading widely."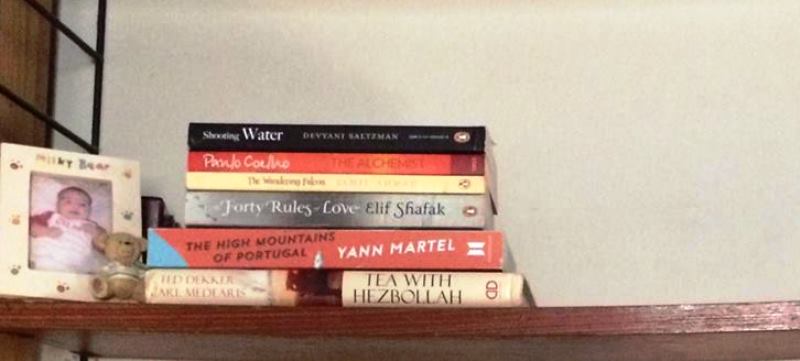 Image source: Aisha Arif Esbhani
Aisha reminds me of the famous quote from Roald Dahl's, Matilda,
"The books transported her into new worlds and introduced her to amazing people who lived exciting lives… She traveled all over the world while sitting in her little room."
We at NLT wish Aisha all the best in all these new worlds she will be travelling to through her books.
---
Suggested read: "We Don't Have To Limit Ourselves By Defining Ourselves": #NLTTalks With Photographer Victoria Krundysheva
---
If you are not already following Aisha Arif Esbhani's Reading Books From Every Country, then do that now!!!
See you again soon with another artist, another trendsetter! Until then goodbye!
Featured image source: Aisha Arif Esbhani 
Summary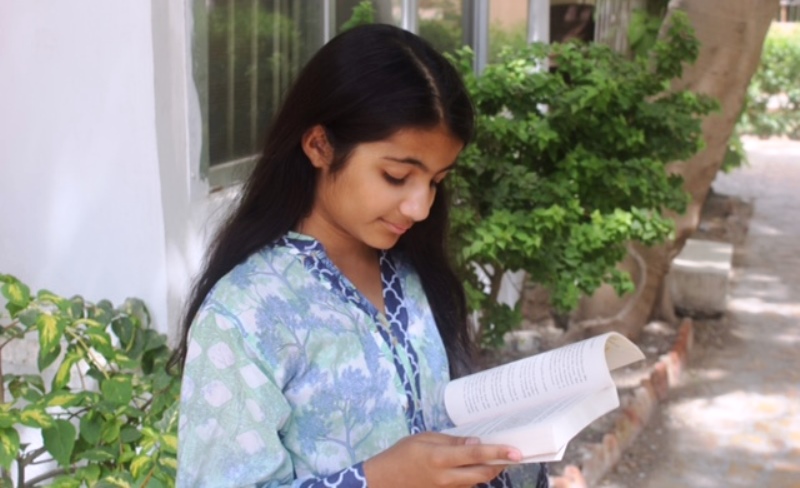 Article Name
#NLTTalks With Aisha Arif Esbhani:
Author
Description
In conversation with Aisha Arif Esbhani, a 13-year-old from Karachi, Pakistan, who has set on a quest to read a book from every country.