8. Glow in my love
Image source: wishpicker.com
Innovative Valentine's Day gifts are always fun! Make it a magical night by turning off the lights and serving his favorite drink with these glowing ice cubes!
LED Ice Cubes, Rs. 299.00/- Buy it here.
9. Hum hai Hindi
Image source: wahgifts.com
Does he complain that Hindi doesn't get the importance it deserves? Refresh the Hindi alphabet with these funky pyjamas!
Gabi Life Hindi Pyjamas for Men, Rs. 679.00/- Buy it here.
10. Play, boy
Image source: giftsmate.net
It's unlikely that your man hasn't fantasized about the Playboy mansion; give him a little ego boost by putting him on the cover of Playboy magazine! Personalized Playboy Magazine Cover, Rs. 699.00/- Buy it here.
11. For your honey 'bun'
Image source: flipkart.com
If your man's a foodie, he'll love this adorable burger-shaped pen drive; so cute you could eat it!
Burger-shaped 16 GB Pen Drive, Rs. 649.00/- Buy it here.
12. Kiss the cook
Images source: wishpicker.com
Encourage your man to cook up a storm in the kitchen, in his own style!
Man Cooking Apron, Rs. 1,375.00/- Buy it here.
13. All that glitters
Image source: wishpicker.com
Bappi Lahiri made gold the 'in' thing, and this little gift celebrates the man's obsession with the yellow metal!
Bappi da Sandaas, Rs. 2,500.00/- Buy it here.
14. Wipe it
Image source: ebay.in
We'll admit; we have quite a few toilet-themed Valentine's Day gifts here today! Let your man feel rich as he goes about his 'business' every day!
Dollar Tissue Paper, Rs. 299.00/- Buy it here.
Summary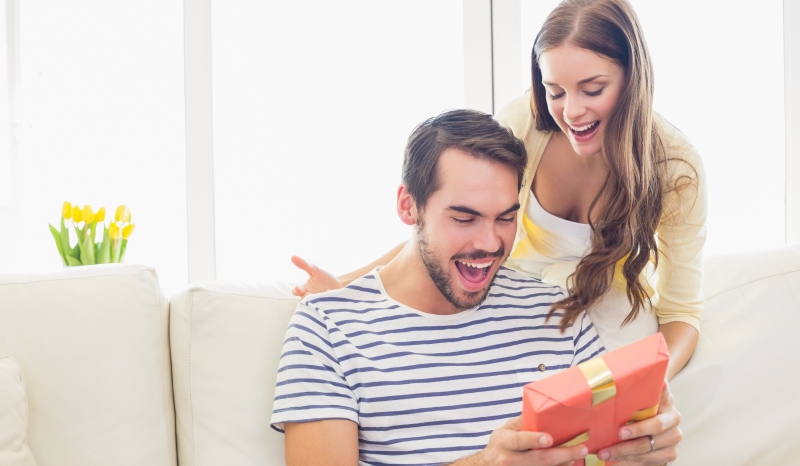 Article Name
21 wacky Valentine's Day gifts for him
Author
Description
This weekend, gift your man something wacky from among these 15 wacky Valentine's Day gifts for him to put a smile on his face.